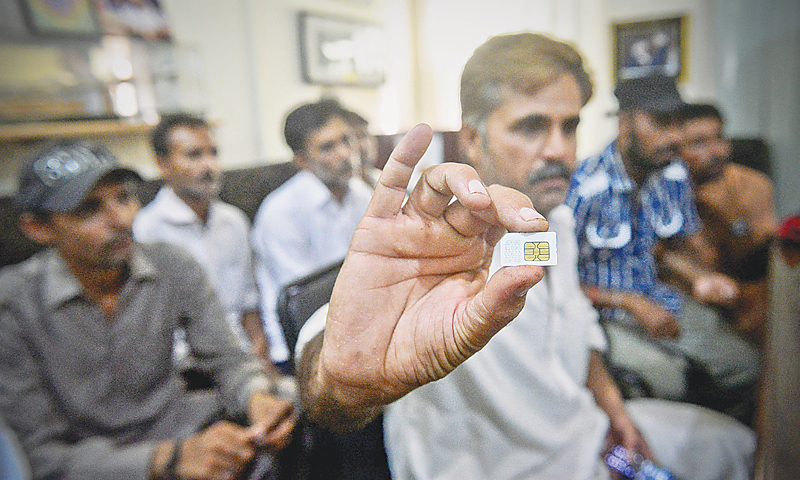 KARACHI: "The prospect of a regular livelihood that pays well, too, attracted us to the newspaper advertisement calling fishermen to work in Saudi Arabia. Being able to perform Umrah now and then was an added advantage of being there. But instead of the holy land, we ended up in Somalia," said Feroze Bhatti, a poor fisherman from Bhit Island, while narrating his ordeal on Saturday.
Bhatti and 11 others returned to Karachi in the early hours of Saturday after brisk efforts for their freedom by social activist Ansar Burney. The group that had been tricked into slavery back in May initially comprised 20 people of which eight are still in Somalia. "They are, too, afraid to stand up against their captors so they didn't come back with us," Bhatti told Dawn.
"I still don't know how we gathered the courage to defy the odds and refuse to listen to those men who called themselves our masters. They beat us, showered abuses on us, threatened to kill us but we didn't bend to their whims. God also helps those who help themselves, so here we are," he added.
One of the men, who requested anonymity, has returned in very bad shape due to the torture inflicted on him. "Our story begins from the time I saw this advertisement by a recruitment agency in a leading Urdu daily. They were calling fishermen for a Saudi Arabian employer. I am not a fisherman but a technical adviser with years of experience so I applied for an administrative post there," said the elderly gentleman.
---
"We thought we were going to Saudi Arabia but ended up in Somalia"
---
"The recruitment process was rather odd. The others were not educated and quite plain otherwise, too. They agreed to and accepted everything being told to them. But I wanted to know how we were being recruited without any medical, etc. Also the visa we got was just a visit visa and not a work visa. There was no work permit. But the agent, Tariq, here said that the main recruitment procedure would be carried out in Dubai.
"Once we reached Dubai, our passports were taken from us and we were put on another plane to Berbera, Somaliland. The man we met there claimed that his brother-in-law was the president of Somaliland. The others couldn't communicate with the people there but knowing Arabic and English, I could. I demanded to know what was going on because it looked like we were victims of human trafficking. But I was told that the company we had applied to had sold us to a Somali employer. I questioned how they could keep us there against our will and received blows in return," he recalled.
"Tariq, the agent here, had come to our fishing villages to recruit people. He has his office in Nursery, off Sharea Faisal. The fee we had to pay him was Rs50,000 but adding up other things such as the Rs15,000 form, etc., it all came to Rs80,000. We don't have that much money so some of us sold the jewellery of our wives while others borrowed from relatives," said Mohammad Adam, another fisherman.
"We are now being told that the agents have job agreements signed by us with some Somalian fishing company. We are illiterate fishermen who only know how to sign our names in Urdu. We did sign on some document but we were told that it was an agreement with a Saudi Arabian employer. The moment we realised we had ended up in Somalia, we almost died from the shock," he said.
Three of the men who returned on Saturday, namely, Mohammad Jamil, Mohammad Yunus and Bashir Ahmed, aren't even fishermen. Jamil is a forklift operator, Yunus a carpenter and Ahmed a driver. But they said they, too, decided to go as any job in Saudi Arabia promised to be well-paying.
But no one was paid anything. After working like donkeys and being beaten up constantly, they decided to quit. "We went to the mosque for Maghrib prayers last Saturday and decided to take refuge there. We called our families from there and without worrying them too much asked for Ansar Burney sahab's contact number," said another fishermen, Mohammad Iqbal, who said that he has four little daughters for whom he wanted to be able to earn enough to marry them off respectfully one day.
Ansar Burney told Dawn that besides getting the phone numbers of the recruiting agents, he immediately involved the Ministry of Foreign Affairs in the matter. As a result of the effort, the agent, who had put the men on the plane to Somalia, travelled to Berbera to meet them there, he said.
"The agent along with a local beat up the mosque imam and demanded he let them see us. They also bribed him with bags full of cash that's really equal to our Rs150 or Rs200. Then finding us, they beat us up, too, and tried to separate us but we stood united. They also took all of our mobile phones and SIMs so that we won't be able to contact Ansar Burney sahab again," said Mohammad Jaffar, another fisherman.
"But we managed to deceive them into thinking that we had no more means of contacting anyone any more as they dragged us out of the mosque. One mobile phone and a Somali SIM was still with Feroze Bhatti though and we made sure this was never discovered as Ansar Burney sahab remained in touch and guided us through secret calls and SMS in Urdu."
Mr Burney said: "Somaliland has declared independence and follows its own rules. Basically, there are no laws in place there.
"They could have killed any of these men and no one would have done anything about it. They are very lucky and I will try my best to get the remaining eight in the group back here too."
Published in Dawn, June 29th, 2014