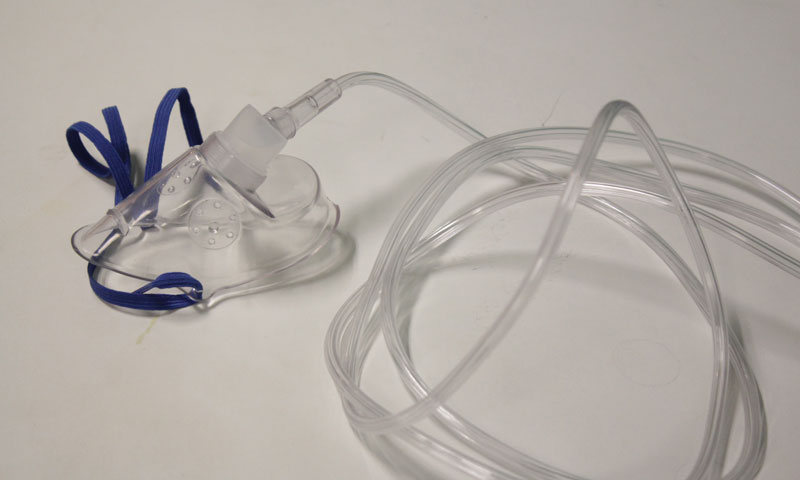 If you're the mother of a young child and living in Karachi, you can most likely relate to Nida H Rizki's story. A few months ago Nida's two-year-old son fell ill with pneumonia and was rushed to a private hospital in Clifton.
"He was diagnosed with pneumonia and the medical attendants kept insisting that they need to insert a cannula to give him drips," she recalls. "But they were not at all compassionate that this child is crying his eyes out and that they should try and comfort him or look at alternative, perhaps oral options, to give him the required medicine," she says, clearly upset about the experience.
Eventually the attendants managed to insert the cannula after multiple needle pricks to find the young child's vein, further adding to his agony.
It's like they have this set protocol of how to treat cases; they did not even consider that they are treating a child not an adult.
Close to half of Pakistan's population is in the paediatric age group and one in 10 children under the age of five do not live to see their 5th birthday, mostly due to acute illnesses. To cater to the needs of a city home to nearly 20 million people there are barely a handful of paediatric emergency units.
According to President of Pakistan Paediatric Association (PPA), Dr Iqbal Memon, the available centres include "National Institute for Child Health (NICH), Civil Hospital, Karachi, Aga Khan Hospital (AKU), Abbasi Shaheed and perhaps another private hospital at most."
Besides the influx of Karachi, NICH absorbs cases from across Sindh, neighbouring areas of Balochistan and lower Punjab. Director for NICH, Dr Jamal Raza states,
On average, the hospital receives up to 18,000 paediatric patients a month.
There is a huge void in the private sector as well.
"Children are not young adults, there are some subtle but critical differences between treating children and adults in certain situations," explains Dr Junaid Razzak, head of the Department of Emergency Medicine at AKU. "And it can be the difference between life and death."
Citing some fundamental medical differences, consultant paediatrician at the South City Hospital Dr Sohail Thobani says, "For example if a child is suffering from chest pain, the last thing one would think of is a heart attack while it's always on the top of the list in adults."
The same applies for stomach pain, he adds. "In adults you will have to rule out cancer but may look at other medical conditions in children. It (medical care for adults and children) is a completely different ballgame."
A different level of planning is required when treating children, says Dr Seemin Jamali, who heads the emergency department at Jinnah Postgraduate Medical Centre. "We have to look at diseases and trauma that are prevalent in children — which may not necessarily be the same in adults."
Razzak elucidates by giving the example of the dosage of medicine. "A medical officer used to prescribing medicine for adults can easily make a mistake or miscalculate when prescribing for a child."
This may not seem overtly dangerous but in children even the smallest difference in dosage can have a huge (negative) impact, where as that is not the case in adults.
NICH's Raza estimates between 70 to 80 per cent of emergency cases at the public sector hospital are 'medical emergencies' which include pneumonia, diarrhoea, sepsis and other respiratory problems. Diarrhoea, which causes dehydration, is one of the most common causes of death in children between the age of six months and two years. In fact, Pakistan is among the five countries in the world with the highest paediatric deaths due to pneumonia and diarrhoea.
The remaining 20 to 30 per cent of cases are 'surgical emergencies' which include burns, foreign bodies, acute abdomen etc.
Chaliya (betel nuts) are the most common foreign bodies ingested by young children. PPA's Memon narrates a recent example of a 14-month-old Pashtun child who swallowed and choked on chaliya.
"Fortunately, I came across this little boy and immediately referred him to NICH as the private hospital (where the child was presently admitted) was not equipped to handle paediatric emergencies," he says hinting that had the child not received the appropriate medical care at the time, the situation could have had fatal consequences.
In a manner that can only be described as disbelief, Memon adds, "And it wasn't like his parents didn't know their child was having chaliya, nor was it the first time, they were well aware and allowed it!"
Disturbingly, Memon has witnessed eight similar incidents in the last four weeks.
Understanding the (sub) specialities
"I think in a large number of cases the paediatricians first recognise the problem and then refer them for emergency care," says associate professor, Department of Emergency, Department Paediatrics and Child Health Dr Asad Iqbal Mian. "There is no doubt paediatricians have a crucial role but they can not replace the skill set of a paediatric emergency care specialist, who can help avoid the situation getting to a stage where the child gets very sick."
Nida cautiously agrees. "In case of medical emergencies, not including trauma, the only reason I would not take my child to a paediatrician is due to the long wait at the clinic."
PPA's former president, Dr Amir M Khan Jogezai speaks about the different stages of paediatric care that require attention. "When thinking of emergency care, newborns are often ignored, rather people rely on gynaecologists and obstetricians but they need to understand that they (gynaecologists and obstetricians) are not trained to deal with paediatric emergencies."
And then as the newborns become toddlers they need proper facilities and resources to cater to their needs as well. That includes trained professionals who can identify, diagnose and treat their medical problems.
At present, there is a severe dearth of paediatric emergency care specialists in Pakistan. Therefore, even training potential recruits will present challenges.
"One needs to understand that formal training requires qualified trainers, something we currently lack." Giving an analogy, South City's Thobani explains, "If you want to learn how to drive you need to get people who know how to properly drive to teach you."
Besides the training, a separate size and set of medical equipment is required for paediatrics. In addition, some medical professionals suggest a "friendlier" atmosphere be created for the young patients as well.
"As it is, children do not like hospitals," Jamali says, adding "they need a more comfortable and friendly environment (unlike an adult ER)."
Training and planning
Presently, AKU has a section for Paediatric Emergency Medicine (PEC) which falls under the department of Emergency Medicine. And for training purposes there is a rotation for speciality residents from both paediatrics and emergency medicine.
However, the sub-specialty requires an additional two to three years after completing primary training in either emergency medicine or paediatrics. This is known as a Second Fellowship. The College of Physicians and Surgeons Pakistan (CPSP) is a body which officially recognises and certifies the various disciplines of medicine and medical professionals in the country.
Associate professor for PEC, Department of Emergency Medicine at AKU, Dr Jabeen Fayyaz has been in talks with the PPA for a little over a year now to get PEC the attention it deserves. "We work in a private hospital but we can not ignore the needs of a huge chunk of the population which is reliant on the public sector," she says.
"Since many members of the CPSP are also in the PPA getting the latter on board will help a great deal when we approach the CPSP (for recognition) later," Fayyaz elaborates.
NICH's Raza explains the CPSP requirement for a trained supervisor to mentor the fellows choosing to pursue to a particular (sub) specialty. "Getting such a trainer will take some time, because we have to train one of our own, we can not afford to rely on those from abroad given our law and order situation.
Raza estimates it will be five years before there are qualified specialists for supervisory positions and hope the CPSP will recognise the specialty soon after. Meanwhile, Fayyaz says the PPA's bureaucratic setup is causing the delay in moving forward with the recognition for the sub-specialty.