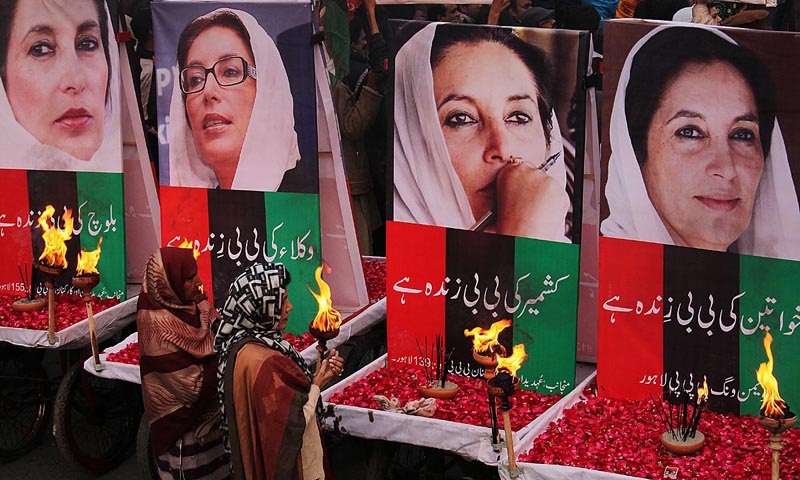 KARACHI: In a fiery speech at Garhi Khuda Bakhsh to mark the sixth death anniversary of his mother Benzair Bhutto on Friday, patron-in-chief of Pakistan Peoples Party (PPP) Bilawal Bhutto Zardari declared war against Taliban militants while announcing the start of his political career.
He also indicated that his two sisters, Asifa and Bakhtawar will also participate in practical politics before the next elections, scheduled to be held in 2018.
Accepting that the path he has chosen was full of dangers, Bilawal, in an obvious reference to the tombs of his mother and grandfather Zulfikar Ali Bhutto, said his destiny was "martyrdom and Garhi Khuda Bakhsh".
Besides criticising his political rivals, specially the government's policy of negotiating with TTP militants, he tried to reduce prevailing despair in traditional workers and jiyalas of the PPP.
On behalf of his party, he suggested very strict conditions for dialogue, if any, with the proscribed Tehrik-i-Taliban Pakistan. They include surrendering arms, blood money for victims of terrorist attacks and respect for minorities, among others.
Bilawal blamed the 'establishment' for conspiring against the PPP and engineering its defeat in the May 11 general election. However, he said his party would support the Pakistan Muslim League - Nawaz (PML-N) government against any conspiracy to derail democracy in Pakistan.
Lauding his father for his efforts in the first ever democratic transition of power in Pakistan, he said Asif Ali Zardari did what everyone thought was impossible.
With a touch of ZAB's style and enunciation of Benazir, the PPP patron-in-chief eloquently used Urdu in his speech to the surprise of many. He used political chants and slogans along with poetry throughout the speech.
"PPP is not the party of any landlord, industrialist, player or a mullah but it's the people's party."
Ruling out the notion that the PPP had changed, he said traditions do not change. "Peoples Party is a passion….it's zeal and a tradition," he added.
Assailing the ideology of Imran Khan's Pakistan Tehrik-i-Insaf (PTI), Bilawal said the complicated issue of terrorism and extremism was not going to get resolved through sit-ins and long marches.
"It's not a kids' game of cricket which can be resolved through a magic bat," he said in an obvious reference to Khan.
"Tsunami cannot be brought by pouring water in four lotas."
Bilawal rejected Khan's perception of a 'link' between prevailing terrorism and drone strikes. He said Pakistan was a victim of terrorism before the drone campaign started and that terrorist attacks will continue even if drone strikes came to an end.
"Buzdil (coward) Khan has stopped Nato supplies to mourn Hakimullah Mehsud's death."
He said it will take several generations to resolve the issue of terrorism from the country. "Friends of terrorists are traitors," he chanted.
"Only by eradicating terrorism from society can Pakistan become prosperous and peaceful," he said, adding that the Pakistan Peoples Party was standing in front of terrorists and blocking their way.
Meanwhile, former president Asif Ali Zardari during his speech said his prayers were with Prime Minister Nawaz Sharif for his success in bringing back peace in the country.
He, however, added that the government alone could not achieve such a big objective without the support of all political forces of the country. "We will have to stand by the government to make it successful," he added.