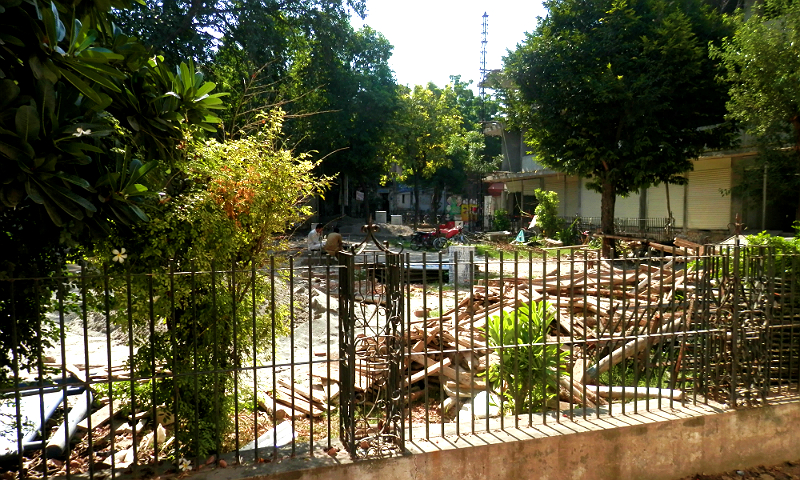 Lakshmi is the name of the goddess of wealth in Hinduism. She is considered to be the symbol of prosperity. Since she is a goddess, of course the followers of Hinduism worship her as much. The Hindu belief is that if goddess Lakshmi becomes unhappy with someone, that person instantly becomes a nobody; bankrupt and with no silver linings.
There are two known buildings named after this goddess in Pakistan. One is on the M. A. Jinnah Road in Karachi, while the other is near the famous Mall Road in Lahore. Lahore also has a Lakshmi Chowk (roundabout). The renowned Urdu literato, Sa'adat Hassan Manto, famous for his contribution to the form of short stories in Urdu, lived in the Lakshmi Mansion in Lahore. Other than him, former caretaker Prime Minister Malik Mairaj Khalid and the father of the well-known intellectual Ayesha Jalal were also residents of the same building once.
While Malik Mairaj Khalid and Ayesha Jalal's family moved away eventually, Manto sahib's eldest daughter Nighat Patel still resides in a flat in this building. We had a word with Nighat Bashir Patel regarding her memories of the building, and also spoke with a Johar Abbas sahib, an elderly resident of the area. Johar sahib is around at least a 100 years old. He told us he always wanted to ask Manto sahib the meaning of the Urdu word chughud (idiot) from. I'll later get into why Johar sahib wanted to know meaning of that particular word.
Usman Damohi, the renowned historian, writes about the Lakshmi Building of Karachi in his book, Karachi Taareekh Kay Aaeenay Main (Karachi in the Mirror of History):
"Before the partition, Lakshmi Building was the tallest building in Karachi. It is located in the centre of the commercial area on Bandar Road. It was commissioned by the Lakshmi Insurance Company of Lahore, whose owner was Lala Lajpat Rai. The building was inaugurated by the famous Indian political figure, Mrs Sarojini Naidu on 24th of December in 1938. Back then, a sculpture of the deity Lakshmi could be seen atop the structure. The sculpture was demolished right after partition. The architects of the building were from the Karahci-based firm Maysers D H Daruwala & Co., while the Hindustan Construction Company was the contractor."
Manto sahib's daughter Nighat Bashir Patel too, is soon moving out and selling the flat she currently lives in. The flat holds memories from her childhood to her wedding and beyond. I asked her why she wanted to sell the flat. She tells me: "I was born in 1946. We came here to this house after 1947, when I was only a year old. My wedding, my sisters' weddings, a number of weddings of my cousins, I remember them all. I remember Noor Jehan came to my wedding. She visited us again after that. It is just not the same anymore. There are so many shops here now. It's all too much! We might as well move from here."
She goes on: "Doctor Mehmood Ali Malik did a lot to save the building. He also got a stay order for it. With my husband often unwell, who will help me save this historical building from being brought to ground? No government is interested in it. It would be great if the Lakshmi Mansion were allowed to stand as tall as it has all these years. It was good to so many people, especially my childhood friends. Now, with the grace of God, everyone has gone on their own ways. Some people still call on us sometime. They call it their lost paradise. We cannot value this property enough.
"You know, there are not many people who value such things anymore. A Babar Mehmood and a Khalid sahib have bought it all, or so I have heard. I was in India last year so I do not know what happened. I was invited to my father's centenary there. When I came back, this Khalid sahib called on us and said we are bringing the building down. I could not believe it. Then I saw them breaking our building bit by bit. I gave a number of interviews, appealing to the people to save the place. But, no one paid any heed, and now it is all sold.
"There were so many homes. One by one they have all been sold. The people in-charge of culture and heritage affairs never thought of this. How can someone live here now? With all the shops and everything … Look at the litter, the garbage. It has already begun. The garden in front has also been taken over by them. And so, my sisters and I have decided to sell the place. Hamid Jalal sahib used to live a floor above us. His daughter Ayesha Jalal is an asset to Pakistan.
"Malik Mairaj Khalid's home is sold too. It was his son who sold it. Manto only had us daughters, why can we not sell our property? Who can live in a commercial centre? It does hurt a lot to see this happening. People say things like Manto never lived here, and that the house never belonged to Manto. They are right. It never did. Because it belonged to my mother, Safia.
"When Najam Sethi sahib was the caretaker chief minister of Punjab, Faiz Ahmed Faiz sahib's daughter Salima Hashmi, a provincial minister then, had come to me. She spoke of turning the place into historical heritage. I told her I appreciated the idea of making our home a library or something like that, but we could not just donate the place. We could sell it to them. She never came back. Nor did she ever get in touch with us again. The government has never helped us. All they gave in so many years was this recent award.
"Sang-e-Meel is the only publishing house that pays us some royalty for Manto sahib's work. Others just keep printing it again and again without even bothering to notify us. I know they will keep doing it. Once, some people knocked at my door saying they want to paint our house. I did not allow that. I told them they could do whatever they want once I have sold the place."
Johar Abbas sahib, the elderly man also live in the building, told me that the Lakshmi Mansion was Sir Shadi Lal's personal kothi (mansion). He sold the mansion to the Lakshmi Insurance Company around 1930. The company replaced the kothi with flats. Right beside the flats, quarters were constructed for the servants of the families living in the flats. Johar sahib says he has been living in the building before the partition. "The rent of the flat was 62 rupees per month back then," he recalls.
When the Pakistan movement began, the mostly Hindu and Sikh owners of the Lakshmi Insurance Company started selling out their flats. Some were bought by Hindus, some by Parsis. The flats that could be sold were sold. Some, however, remained vacant. "Then Pakistan came into being," Johar sahib remembers, continuing, "When the mohajirs came, the flats were allotted to them mostly. Some of them sold their flats about a decade ago."
When the Mall Road began swelling with commercial prospects, shop owners started cajoling the Lakshmi Mansion residents to sell their homes. So the people did. One part of the mansion was completely bought by the shop owners. It was brought down. A soon-to-be-finished market is replacing it. Only a handful of quarters remain. They too are soon to be replaced with commercial corners.
Johar sahib shares his feelings:
This is historical heritage right here. These flats made beautiful homes. I am often sad now when I look at them. I do not intend to sell my home for now, since I own a shop here, too.
He goes on to share more, "Manto sahib was a friend. He used to come to me. His brand of cigarettes was Capstan. Yes, my name is Johar Abbas. If I am forced by powerful people, I am sure I will not be able to hold back for too long. I might soon sell my place then.
He then narrates a little story: "I ran a juice shop here quite some time ago. A group of ladies visited the shop once. The glasses they had the juice from bore lipstick marks when the ladies left. A couple of guys standing by came around and asked me if I could sell the glasses to them. A rupee a glass, I told them. They agreed. I asked them to wait while I go get the glasses washed. They stopped me, saying if the glasses were washed the whole purpose of the deal goes kablooi."
Johar sahib sounded quite amazed even now when he narrated it. I wondered what his reaction would have been back then. He continued, "I asked them what they were going to do with the glasses. They said they will put them as decorative pieces in their drawing rooms, and will stare at the lipstick marks. Manto sahib was standing there at the time as well. He shook his head, said out loud, "Chughud!" and left. I did not understand what this word meant. So, I tried to get hold of Manto sahib, but he was always busy, always surrounded by friends."
"He was a good man," Johar sahib said, "With his thick spectacles. He used to come a lot to my shop. He had a huge circle of friends. May God forgive his soul."
Though Karachi's Lakhsmi's building is not being demolished, Sarojini Naidu's name has been erased from the inaugural plaque.
---
Translated by Aadarsh Ayaz Laghari
---
Read this blog in Urdu here.
Listen to this blog in Urdu: