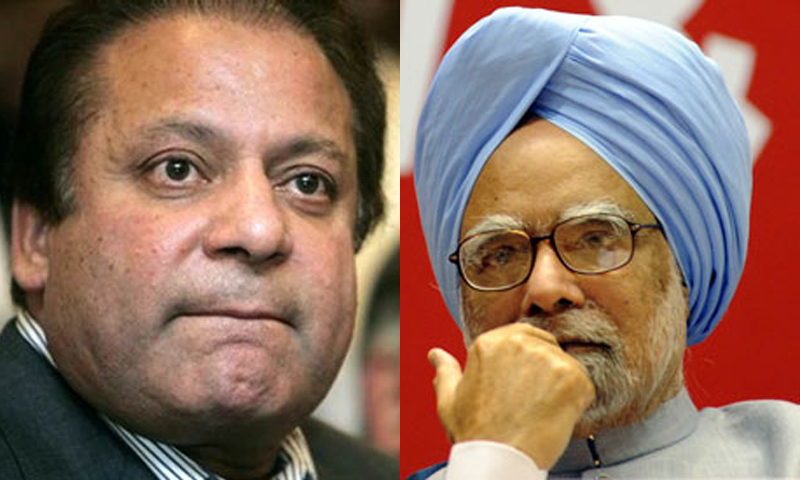 ISLAMABAD: Nawaz Sharif's government may be enthusiastic about resuming back-channel negotiations with India – but the feelings aren't mutual.
According to a senior Pakistani government official, Islamabad's ambition is that this "secret" mechanism between the two prime ministers will prevent the fragile peace process from being derailed unexpectedly; but independent observers don't see it as a viable option. Although reports and officials statements in both New Delhi and Islamabad indicate that such contact has already been revived, the efforts seem to have been lacklustre at best so far.
Nawaz recently reportedly told the British foreign secretary that his government has revived back channel negotiations with India. In addition, both Pakistani and Indian media has reported on the not-so-secret contact between former Pakistani foreign secretary Shahryar Khan and senior Indian diplomat S.K Lamba. In an off-the-record briefing at the foreign office last month in Islamabad, senior officials also told a group of journalists that they were in the process of reviving such talks with India.
Earlier this month, the Prime Minister's Adviser on Foreign Affairs, Sartaj Aziz met Indian Foreign Minister Salman Khursheed on the sidelines of the Asean Regional Forum (ASF) in Brunei. It was obvious that Aziz was making efforts to revive cordial relations: Confidence Building Measures (CBMs) were 'reviewed', and both ministers publicly hoped that bilateral dialogue would resume.
So on paper, the wheels are in motion. However, Indian foreign policy analysts say New Delhi is apparently uninterested in reviving the process. "The unfortunate reality is that talks with Pakistan do not occupy Indian mind space anymore, at the official, political and popular or media level. It is doubtful too, that with elections just a few months away, any government will begin experimenting with India-Pak ties," said Nirupama Subramanian, Deputy Editor at The Hindu, one of India's leading newspapers, while talking to Dawn.Com.
The United Progressive Alliance (UPA) government in India, led by the Congress Party, is currently mired in several corruption scandals, and has seen a steady decline in popularity. In these circumstances, the elections will likely be focused on problems other than ties with Pakistan. The opposition, the Bharatiya Janatiya Party (BJP) will also be looking at how the upcoming Manmohan Singh-Sharif meeting in September plays out, which will also shape how much of an issue Pakistan will be in the 2014 India elections.
Composite dialogue on hold
The problem is, back-channel talks aside, the more public bilateral talks (the composite dialogue) aren't doing so well either. The dialogue was initially stalled following the 2008 Mumbai terrorist attacks. Since then, the process has been moving forward at a snail's pace. Similarly, trouble along the Line of Control (LoC) in January also caused a setback to direct talks – India refused to send its representatives to the negotiating table.
But experts say that the idea of using back-channels as a 'shock absorber' for when the composite dialogue process is under threat, isn't viable. "Back-channel talks could only be used to defuse a crisis, but there is no crisis in Pak-India relations right now," says former foreign secretary, Shamshad Ahmed Khan.
According to Khan, there is "no need for special emissaries to sustain a composite dialogue process," because, "Composite dialogue can produce results if it is sustained over a longer period of time … engagement should be there, but it should be diplomatic engagement through foreign offices."
Independent experts in New Delhi are also skeptical about the utility of the back channel, but don't completely reject the benefits of direct contact between two prime ministers in improving bilateral ties.
"It (Direct contact between two prime ministers) can definitely help but it is no guarantee by itself. There was direct contact between Sharif and Vajpayee, but that could not prevent Kargil," says Subramanian.
The Mumbai attacks changed bilateral ties
In addition, India's acceptance to resume talks is always followed by a caveat: Pakistan will have to punish all the perpetuators of the Mumbai attacks before any formal negotiations can resume. In his latest speech in New Delhi, Indian FM Khursheed said that Pakistan would have to implement CBMs (a code for punishing those responsible for Mumbai attacks) before the composite dialogue process could resume.
Although Nawaz has a history of holding secret negotiations with his Indians counterparts through special emissaries, things have changed beyond recognition since the last time he did so.
Fourteen years ago, the premier agreed with his Indian counterpart, during the famous Lahore Summit meeting in Lahore in 1999, to start secret negotiations on Kashmir. There was no public announcement about it from either side. The media and public in both the countries came to know about it much later through inspired leaks.
Now, a formal interaction between the two premiers is at least three months away and even in this expected summit meeting in New York, there is no assurance that Prime Minister Manmohan Singh will agree to a formal resumption of the dialogue process given the Indian insistence that Pakistan will have to punish the perpetrators of the Mumbai attacks.
In Nawaz's second tenure, the composite dialogue process and back-channel diplomacy started almost simultaneously in the wake of the Lahore Summit. Experts and analysts in Islamabad say that it appears that the Pakistani prime minister seems to be convinced that now, again, the composite dialogue process and back-channel negotiations will have to start simultaneously.
The big question mark surrounding the initiation of back-channel diplomacy is certainly related to the issues that are to be discussed in these talks. The previous rounds of secret diplomacy between the two countries were almost exclusively focused on Kashmir and security issues. Given Indian aversion to discussing Kashmir with Pakistan as a bilateral issue, experts rule out the possibility of Kashmir becoming the focus of covert negotiations.
However, there is a feeling within political circles close the Pakistani premier that they could, perhaps, resume dialogue with India in the context of framework agreed at the time of the Lahore Summit in 1999. Experts and analysts, meanwhile, describe this thinking within the ruling party as extremely naïve, which may prove to be hurdle in the way of resuming talks between the two countries.
But according to observers, it's the Mumbai attacks, and not Kashmir, which have been the defining feature of Pak-India relations since 2008: "Forget about the Lahore declaration, remember the Mumbai attacks have happened and we have to live with its implications," says Hassan Askari, a security analyst.
After the military coup in October 1999, the government of former military dictator, General (retd) Musharraf continued back-channel negotiations with India. According to the officials of the erstwhile military government, the negotiations were at a very advanced staged in terms of solving the Kashmir problem when Musharraf stepped down.
The good thing for Nawaz is that later, the Pakistan Peoples Party (PPP) government refused to own the back-channel negotiations on Kashmir held during Musharraf's tenure. The then foreign minister, Shah Mehmood Qureshi told Dawn.com that "There was no record available in the foreign office about the back channel negotiations that took place during Musharraf's time."
It now remains to be seen whether whatever progress was made at the time – of which there seem to be no official records – can be reignited.