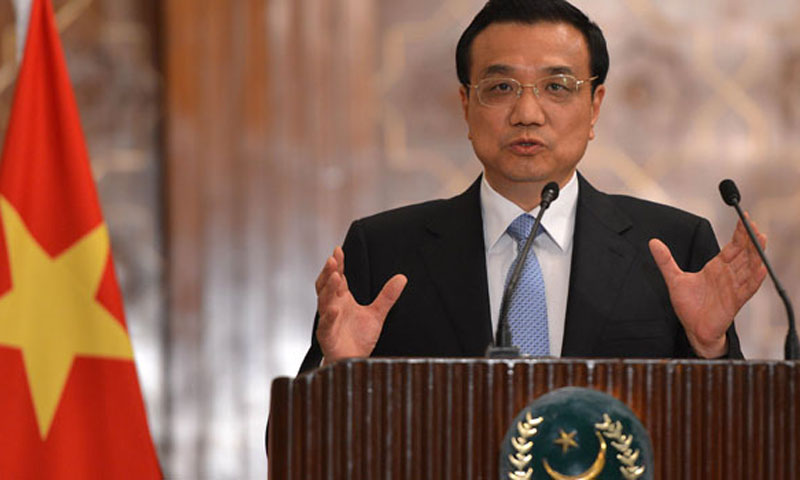 ISLAMABAD: Chinese Premier Li Keqiang wrapped up on Thursday his two-day official visit to Pakistan after promising a deeper and more comprehensive strategic engagement and a closer coordination for security and stability in Afghanistan.
Cementing the "strategic partnership is the shared objective of both countries", a joint statement issued at the conclusion of the visit said. Both sides noted that their bilateral relationship had acquired strategic importance in the context of the changing regional and international scenario.
The roadmap agreed by the two sides for taking the strategic ties to next level included strengthening strategic communication, moving ahead with negotiations on free trade agreement, convening the next round of meetings of Pak-China Joint Working Energy Group for cooperation on conventional, renewable and civil nuclear energy, enhancing connectivity through upgrading Karakoram Highway and other such transport infrastructure, working on proposed economic corridor, jointly combating non-traditional threats to maritime security and guarding international sea-lanes, expanding air routes, counter-terrorism cooperation and working together at regional and international fora.
It was particularly important for Islamabad that Beijing expressed confidence in its counter-terrorism strategy.
China "reiterates that it respects the anti-terrorism strategy developed and implemented by the Pakistani side in light of its own conditions. …China expresses its appreciation and continued willingness to help Pakistan build up counter-terrorism capacity", the joint statement read.
China had in the past reservations over the presence of East Turkistan Islamic Movement (ETIM — a rebel Chinese group) in Pakistan. During Premier Li's visit the Pakistani leadership recommitted to "continuous, active collaboration with and assistance to China in combating terrorist forces including the ETIM".
ETIM was declared a common threat for Pakistan and China.
Pakistan's counter-terrorism strategy has quite often been criticised by the West for being flawed. The criticism largely stems from the continued presence of militants in ungoverned spaces in tribal areas.
With Beijing's endorsement for its counter-terror strategy in hand, some in Islamabad think that they would be able to better counter the "Western propaganda".
Beijing and Islamabad broadly identified eight sectors for enhanced cooperation — political relations; economy and trade; connectivity; maritime security; aviation and aerospace; people to people exchanges; defense and security collaboration; and cooperation on international and regional issues.
"Pak-China friendship has stood the test of time and is more precious than gold," Li told Senators at a special session of the upper house of parliament that had been convened for his speech. Address to the parliament is a special honour given to some of the visiting foreign leaders.
Prime Minister Li had at the start of his visit said that China would consolidate its friendship with Pakistan no matter how the international situation developed. He had also effusively praised Pakistan for significantly contributing to regional and world pace and stability.
Mr Li hoped that Pak-China cooperation in the fields of economy, maritime security, aerospace, energy, agriculture, transportation and cultural fields would grow.
Prime Minister Li and his delegation were given a warm send-off. The special Air China Boeing 747 aircraft carrying Mr Li was escorted by a formation of six JF-17 Thunder aircraft in Pakistani airspace as the Chinese leader embarked on the European leg of his four-nation tour.
During his stay in Islamabad, Mr Li met President Asif Ali Zardari, Prime Minister Mir Hazar Khan Khoso, Senate Chairman Nayyar Bokhari, former speaker of the National Assembly Fehmida Mirza, PML-N chief Nawaz Sharif, Chairman Joint Chiefs of Staff Committee Gen Khalid Shameem Wynne, services chiefs and leaders of major political parties. He, along with President Zardari, also witnessed signing of 11 agreements and was decorated with highest Pakistani civil award of Nishan-i-Pakistan.