Procedures performed under such circumstances have included amputating limbs and fingers, stitching up serious wounds, and treating serious burns, Al-Shifa hospital director says.
GAZA: The little girl was weeping in pain and screaming "Mummy, Mummy" while the nurse stitched up her head wound without using any anaesthetic, because none was available at the time at Al Shifa Hospital in Gaza City.
That was one of the worst moments nurse Abu Emad Has­sa­nein could recall as he des­cribed the struggle to deal with an unprecedented influx of wou­nded people and a dearth of pain relief medication since Israeli forces besieged Gaza Strip.
"Sometimes we give some of them sterile gauze (to bite on) to reduce the pain," said Hassanein. "We know that the pain they feel is more than someone would imagine, beyond what someone their age would stand," he said, referring to children like the girl with the head wound.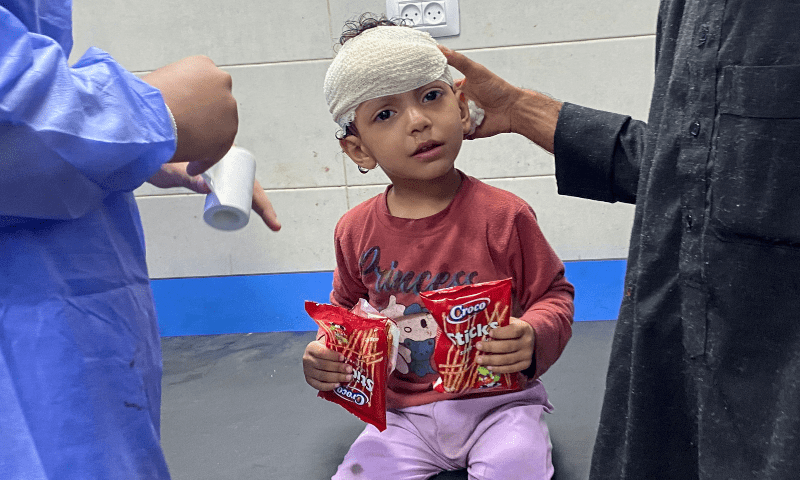 Arriving at Al Shifa to have the dressing changed and disinfectant applied to a wound on his back caused by an air strike, Nemer Abu Thair, a middle-aged man, said that he was given no pain relief when the wound was originally stitched up.
"I kept reciting the [Holy] Quran until they finished," he said.
Mohammad Abu Selmeyah, the director of Al Shifa Hospital, said that when very large numbers of injured people have been brought in at the same time, there has been no choice but to deal with them on the floor, without adequate pain relief.
He gave as an example the immediate aftermath of an explosion at the Al Ahli Arab Hospital on Oct 17, when he said some 250 injured people arrived at Al Shifa, which has only 12 operating theatres.
"If we had waited to operate on them one by one, we would have lost many of the wounded," said Abu Selme­yah. "We were forced to operate on the ground and without anaesthesia, or using simple anaesthesia or weak painkillers to save lives," he said.
Procedures that have been performed by staff at Al Shifa under such circumstances have included amputating limbs and fingers, stitching up serious wounds, and treating serious burns, said Abu Selmeyah, without elaborating.
Pain or death
"It is painful for the medical team. It is not simple. It is either the patient suffers pain or loses his life," he said.
At Nasser Hospital in Khan Yunis, in the south of the Gaza Strip, director Dr Mohammad Zaqout said: "Some procedures were carried out without anaesthesia, including Caesarian sections on women, and we were also forced to operate on some burns that way too," said Zaqout.
He said that staff did their best to alleviate patients' pain with other, weaker medications, but this was inadequate. "This is not the ideal solution for a patient inside an operating theatre, who we want to operate on with full anaesthesia," he said.
Zaqout added that while the shortage of anaesthesia had been eased at his own hospital thanks to aid deliveries, there were still severe shortages at Al Shifa and at the Indonesian Hospital, both of which are in the heavily bombarded north of the strip.
---
Header image: A Palestinian woman who was injured in an Israeli strike and was staying at northern Gaza's Al Shifa hospital, moves south­­ward on Friday as Israeli tanks started rolling into Gaza City. — Reuters
Published in Dawn, November 11th, 2023