Over the past 4 years, IDP has expanded its reach, making IELTS tests and international student placement services accessible across five major cities.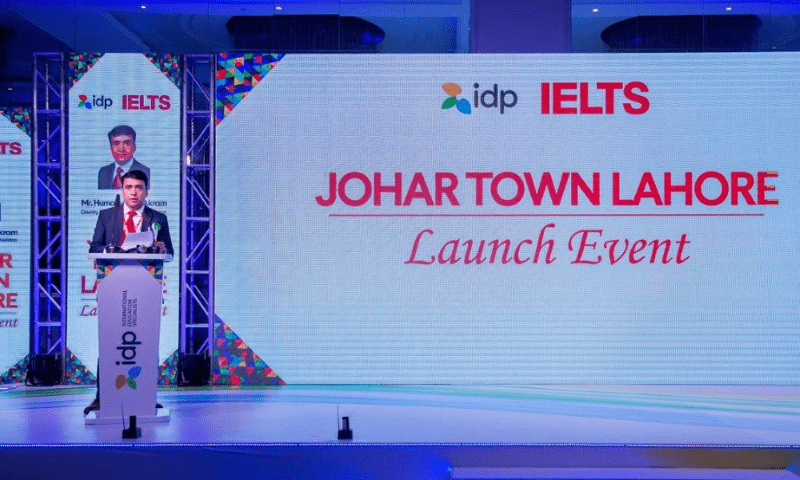 In a momentous occasion, IDP Education Pakistan celebrated the grand opening of its yet another new office in Johar Town, Lahore. Mr. Humayun Bin Akram, our Country Director Pakistan, hosted this splendid ceremony and welcomed High Commissioner of Australia His Excellency Mr. Neil Hawkins and Mr. Imad Chaoui, Regional Director, MEA, EU & CIS to join him for this historical milestone, accompanied by our esteemed partners, customers, and education fraternity.
This marks a significant progress in IDP Pakistan's journey to provide globally recognised IELTS tests and high-quality international education services to the youth of Pakistan.
A commitment to international education
At its core, IDP Education believes that education is the key to unlocking human potential and creating a brighter future for all. Mr. Humayun Bin Akram took the opportunity to provide an overview of the organisation's rich history, global footprint, and exceptional services.
IDP is an ASX-100 listed company on the Australian stock exchange, with its headquarters in Melbourne. As global leaders in international student placement services, IDP has established a presence in more than 65 countries, boasting a network of over 190 offices worldwide. With a legacy spanning 50 years, IDP has assisted students in gaining entry into more than 600,000 courses and has forged partnerships with over 800 leading institutions across Australia, Canada, New Zealand, the United Kingdom, and the United States.
Moreover, IDP takes immense pride in being a co-owner of IELTS, a test recognised by over 11,000 organisations worldwide as evidence of English language proficiency. This synergy of student placement services and IELTS certification positions IDP as a one-stop solution for students aspiring to pursue international education.
Building on these solid foundations, IDP Education has continuously evolved and expanded. In 2017, the organisation acquired the Hotcourses Group, a prestigious repository of course information and a platform for student engagement. In 2022, Intake Education, a prominent international student support agency, joined the IDP family. And in May 2023, IDP further extended its portfolio by including The Ambassador Platform, a UK-based student peer chat service.
Empowering Pakistan's youth
Within Pakistan, IDP Education has been making significant strides since its establishment in 2019. The organisation's commitment extends not only to expanding its global presence but also to actively contributing to the local educational landscape. With aspirations set high, IDP aims to establish market leadership in both student placement and the IELTS business by 2025.
Over the past 4 years, IDP has expanded its reach, making IELTS tests and international student placement services accessible across five major cities with a total of 6 offices in Pakistan. But the exciting news doesn't stop there. The organisation has introduced IELTS UKVI in Faisalabad and IELTS LifeSkills in Gujrat, making its services even more accessible to students across the country. In a recent development, IDP Education is thrilled to announce the introduction of IELTS on Paper in Lahore. While IELTS on Computer testing is on the horizon, IDP recognises the preference of some individuals for IELTS on Paper. In response, the organisation is pleased to offer the option of IELTS on Paper, prioritising the convenience of test-takers and students.
A vision for the future
Country Director, Mr. Humayun Bin Akram, highlighted strategic geographic expansions across major cities in Pakistan, stating, "Our strategic expansions now encompass Lahore, Islamabad, Gujrat, Faisalabad, and Karachi, bringing IDP's IELTS tests and student placement services closer to a broader audience with convenience and international quality. Local students can benefit from expert guidance on the application process, gain access to prestigious institutions in six major English-speaking countries, and leverage IDP's high visa application success rate backed by our expertise, integrity, and care."
Inauguration of this new ecologically friendly office in Lahore's Johar Town represents IDP Education Pakistan's commitment to empowering Pakistan's youth with quality education and international opportunities. The presence of esteemed leaders and dignitaries at this event reflects the organisation's dedication to its mission along expanding collaborations.
Mr. Imad Chaoui, Regional Director of IDP, expressed, "Pakistan is a globally strategic market for us, and with this extraordinary performance, expansion, quality, compliance, and vision, we have no doubt to be leaders in both IELTS testing and student placements."
About IDP
IDP Education is a world leader in global education services. With a network of over 170 international student placement centres, IDP has a global presence in 65 countries and our websites attract 100 million visits per year. IDP Education Limited is an Australian (ASX) listed company. For more than 50 years, IDP has played a major role in international education by offering comprehensive counselling services to students and placing more than 600,000 students into quality institutions in Australia, the United Kingdom, the United States of America, Canada, New Zealand and more recently Ireland.
IELTS
IDP is a co-owner of IELTS (International English Language Testing System). Since its launch in 1989, IELTS has become the world's most popular high-stakes English language proficiency test. IELTS is accepted as evidence of English language proficiency by more than 11,000 organisations worldwide. Last year, more than three and a half million tests were taken globally.
For more information about IDP Education Pakistan, visit www.idp.com and follow their social media handles on Facebook/Instagram/Tiktok @idpPakistan. For student placement assistance and to avail our Fastlane service, download our IDP live app from google and app store. To book, prepare and check IELTS results we recommend downloading the IELTS by IDP app, available on Google Play and Apple App stores.

This content is a paid advertisement by IDP Education Pakistan and is not associated with or necessarily reflective of the views of Dawn.com or its editorial staff.