No India-Pakistan contest is ever truly a low-stakes one.
16 June 2019, Old Trafford, Manchester. That was the last time Pakistan squared up against arch-rivals India in an ODI, in a World Cup fixture which was as one-sided as they come. Virat Kohli's men triumphed by a whopping 89 run margin, stamping their authority vs Sarfaraz's unit, with the Pakistan skipper himself coming under the spotlight for yawning on the field.
It is no secret that Pakistan and India have not played a bilateral series across any format of cricket for over a decade, with the last such instance coming in January 2013, when Junaid Khan ripped India's much-acclaimed batting order to shreds, inspiring a Misbahul Haq led Pakistan team to a 2-1 ODI series victory against MS Dhoni's formidable cohort, that too in their own backyard.
Since then, however, Pakistan and India's men's teams have come head to head in 50-over cricket just eight times in ten years, that too in global tournaments. It is important to mention that Pakistan has come up trumps on just two of those eight occasions, with only one game going down to the wire, when Shahid Afridi muscled Ravichandran Ashwin for two towering sixes, during the 2014 edition of the Asia Cup, taking his team over the line to record a memorable 1 wicket win in Mirpur.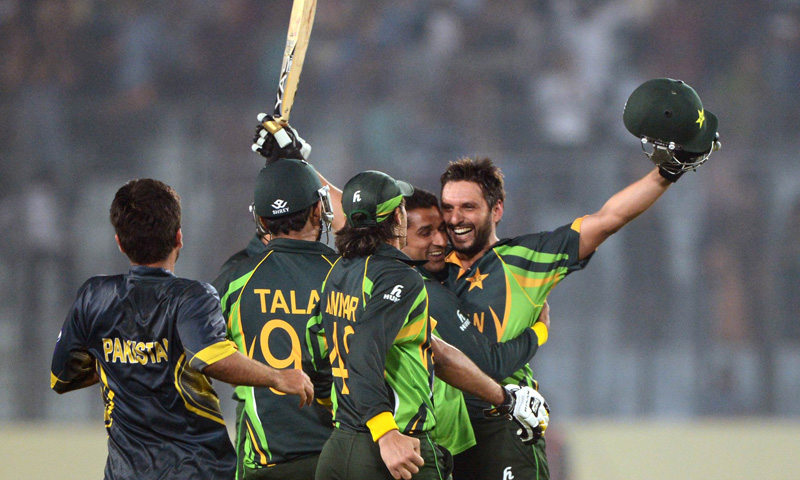 We can all harp on about the fact that out of the 132 ODIs that both nations have played against each other, Pakistan have come out on top 73 times, but the truth is that since the advent of the Indian Premier League (IPL), which has coincided with India's rise as cricket's global powerhouse, the Men in Blue have had the upper hand in what is arguably one of sport's greatest ever rivalries.
When it comes to tournament cricket in particular, Pakistan have defeated India just once in World Cups across formats, and in the Asia Cup, they have fallen short in 9 games out of a grand total of 16.
On first glance, and even the fifth, this shows an apparent gulf between both sides not just since the turn of the millennium, but also when the stakes are high, and a trophy is on the line.
One could argue that the big brother syndrome has gotten the better of Pakistan, and that they haven't particularly handled their nerves better than India, but we must not ignore that there has unquestionably been some variance in quality between both sides, particularly when we look at the last two decades.
This time promises to be different though, as India and Pakistan embark on their road to the 2023 ODI World Cup, facing each other in the first of five potential encounters, provided they both reach the Asia Cup final, and lock horns in the knockout stage of the World Cup later this year as well.
This Pakistan team simply hits differently, and there are plenty of reasons behind that reverberating emotion. Not only do Pakistan enter these run of games as the number one ranked side in ODI cricket, but they also boast the likes of top-ranked ODI batter Babar Azam, who is in fact leading this rejuvenated and talent-rich squad.
In addition to captain Babar, they have in their arsenal one of the most potent new ball bowlers in the world in Shaheen Shah Afridi, who is partnered by speed demon Haris Rauf, and the ever so accurate all-phase superstar Naseem Shah.
In Mohammad Rizwan, they possess one of the most sought-after wicketkeeper-batters across the globe, and Shadab Khan's all-round ability across all three facets of the game provides Pakistan with impeccable balance.
Mohammad Nawaz's left-arm orthodox spin and diverse skill set completes an extremely skilful bowling attack, which is aided by Fakhar Zaman and Imam ul Haq at the top of the batting order, who could be considered Pakistan's best-ever opening pair in ODI history, if you go by the numbers.
Middle-order batting is Pakistan's weakness, but only relatively, when you compare it to other elements within the team.
In Iftikhar Ahmed, Salman Ali Agha, Mohammad Haris, and Saud Shakeel, Babar and the team management have a plethora of options at their disposal, and while this collection of players does not scream 'world class', it is certainly in far better shape than what Pakistan has been accustomed to since Misbahul Haq hung up his boots in 2015.
In short, this is as settled a squad as Pakistan have ever had, which in itself as a phrase, is quite alien to cricket enthusiasts. Not to mention the unity and camaraderie that exists within the team, spearheaded by the captain himself, is something this cricket-mad nation has not quite experienced since Imran Khan willed his group of young superstars to World Cup glory in 1992, which is still Pakistan's only ODI World Cup title to date.
Infighting and controversy have been synonymous with Pakistan cricket for the better part of their 71-year history as a Test-playing nation, but you will find no such scent in this current lot.
Babar's gelled band of brothers have built a reputation for themselves as a troupe of cricketers who celebrate each other's successes, and take on challenges as one cohesive outfit, leaving supporters with a lingering feeling of wholesomeness.
And so, Pakistan enter this high-octane stretch of ODI cricket with almost all bases covered, knowing very well what their best XI looks like; again, not something that they have managed effectively in the build-up to major tournaments of yesteryear.
All roles and responsibilities have been optimally conveyed within the squad, which from the looks of it is absolutely raring to go, ready to add an all-important trophy to what has been an impressive run in limited-overs cricket. Unlike Pakistan teams of the past, which were known to be unpredictable and mercurial, and required some galvanizing in order to pull off something special, the hallmark of Babar's brigade is its consistency. You don't just end up as the no.1 side in ODI cricket by happenstance, and to have a cup to show for it will help cement their legend, leaving an imprint on the sport at large.
Now that we have highlighted Pakistan's health as an ODI team extensively, let us shift our focus to India. There is no doubting the fact that the Indian squad is littered with talent, experience, and proven ability.
Captain Rohit Sharma, along with living legend Virat Kohli are two of the most successful ODI batters of all time, and without question, all-time greats of the game.
In Shubman Gill they have one of the most exciting and dynamic young batters in contemporary cricket across formats, and all-rounders Ravindra Jadeja and Hardik Pandya are two of the most coveted all-rounders in the game.
To top it off, their seam bowling trio of Jasprit Bumrah, Mohammad Shami, and Mohammad Siraj is the best pace attack they have ever assembled, according to several observers.
What India does not have, however, especially when you compare them to Pakistan, is knowledge of what their first-string team looks like. Given that Rishabh Pant is unavailable due to injury, and KL Rahul is still not fully fit, Ishan Kishan is most likely to keep wicket, who is not a regular glovesman and prefers to bat at the top of the order — an area where India has no vacancy.
Ace fast bowler Jasprit Bumrah has just returned after a year-long injury, with negligible miles under his belt since, due to which Rohit and management will be keeping a close eye with respect to managing his workload. Furthermore, India's well-documented troubles in the middle order have persisted, with that elusive number four position still up for grabs.
Shreyas Iyer, who himself has recently recovered from injury, is the front-runner to plug that gaping hole, with the explosive Suryakumar Yadav and inexperienced Tilak Varma waiting in the wings. The former, while having staked his claim in the shortest format, is yet to make an impression in 50-over cricket, and the latter is yet to debut for India in ODIs.
Lastly, India have opted for Axar Patel as their third spinner, set to join Ravindra Jadeja and Kuldeep Yadav in the list of 17 selected players, dropping the wily leg-spinner Yuzvendra Chahal, who could have, in theory, provided them with another attacking option with the ball. Axar and Jadeja are both all-rounders who bowl left arm off spin, and do not differ an awful lot in terms of the value they add.
The rationale behind this selection call is to add batting depth to India's lineup, at the expense of another out-and-out bowler, given that their tailenders aren't quite capable of whacking a few out of the park — in stark comparison to Pakistan's lower-order resources, might I add.
Whether or not this gamble pays off is something that only time will reveal, but it most definitely will come under scrutiny, provided it fails.
Coming to the question of who will win the battle of Pallekele on Saturday, when India kicks off its Asia Cup campaign vs a red-hot Pakistan — who already have commenced their journey with a colossal 238 win against Nepal in Multan — it simply can not be predicted, with confidence.
Yes, Pakistan have stability on their side, probably for the first time since 1999, but India are still one of the leading teams in international cricket, and while they do not have a starting XI locked down, they definitely have what it takes to not just beat Pakistan, but win some trophies of their own.
Conventional wisdom suggests that the match in Kandy, which might even be washed out or impacted by rain at the very least, given the dour weather forecast, is nothing but a dead rubber, considering the high probability that both teams will qualify for the next round of the Asia Cup. That said, no India-Pakistan contest is ever truly a low-stakes one, is it?
What we can predict, to some extent, is that the competition between both teams will be as stern as ever in recent times, in light of what unfolded last year in the Asia and T20 World Cups, with all three games decided in the final over, and the notion that in terms of skill level and team composition, both squads look evenly balanced, for the most part.
Here is to hoping that unlike the lopsided ODI results in the years gone by, these two Asian heavyweights can produce some all-time classics, regardless of whoever takes the spoils at the end. If that happens, then ultimately, as cliché as it sounds, cricket will be the winner.
---
The author is a former IT consultant who currently works as a cricket correspondent and video content lead at Grassroots Cricket in addition to producing podcasts with renowned cricket journalist Jarrod Kimber, making frequent appearances on ABN news as a cricket expert and doing voiceovers and hosting Twitter spaces for GAME Sports Management. He tweets at @DeafMango