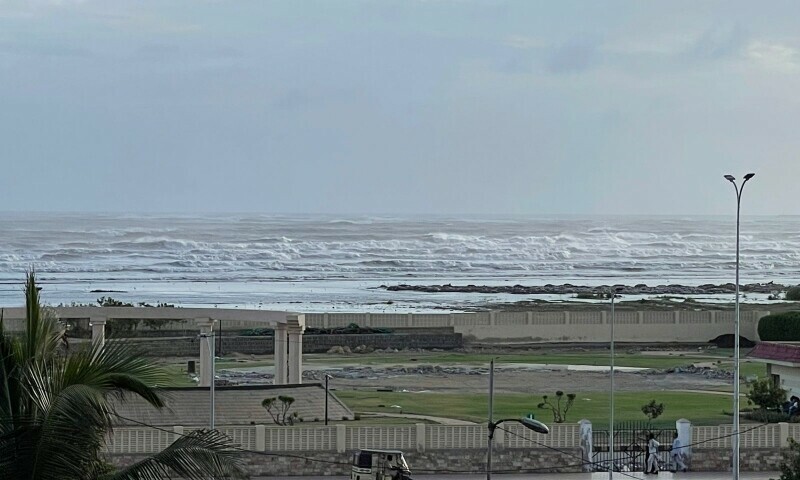 DHA spokesperson says only "voluntary evacuations underway"; Seaview residents complain authorities forcing them to vacate homes.
As Cyclone Biparjoy edges closer to Sindh's coastline, authorities have stepped up evacuations in vulnerable areas across the province including Keti Bundar, Thatta, Badin, Sujawal and Karachi.
According to the latest alert issued by the Pakistan Meteorological Department (PMD), the cyclone is now at a distance of 340km south-southwest of Karachi, 355km south-southwest of Thatta and 275km south-southwest of Keti Bandar.
The PMD alert added that the "very severe cyclonic storm" was now likely to recurve north-northeastward and cross between Keti Bandar and the Indian Gujarat coast on June 15, packing winds of 100-120km/h.
According to Sindh Information Minister Sharjeel Inam Memon, over 60,000 people have been evacuated to safer locations across the province, excluding Karachi.
In the port city, areas falling under the jurisdiction of Defence Housing Authority (DHA) have been marked as some of the hotspots that could be affected by the storm. However, residents seem to be confused regarding evacuations.
If you live in the DHA, here is all you need to know about evacuations.
Nothing forced
DHA spokesperson Farrukh Rizvi told Dawn.com that the following areas had been highlighted as vulnerable to the cyclone.
Seaview Apartments
Darakhshan Villas
Chota Bukhari
Chota Shehbaz
Khayaban-i-Nishat
Rizvi explained that Seaview and Darakhshan areas were the top priority for evacuations at the moment because of their proximity to the sea. "There are predictions of high tides during the cyclone's landfall which could put the residents at risk."
With regards to the other areas administered by DHA, Rizvi explained they were low-lying and prone to inundation as witnessed during the 2020 rains. He clarified, however, that mandatory evacuations had not yet begun in any of these areas; instead, the authority was focusing on raising awareness on how to mitigate the effects of the cyclone.
"We are urging people to go for voluntary evacuations by providing door-to-door leaflets, announcements through mosques and social media advisories," said the spokesperson.
He added that DHA's search and vigilance teams were also going door-to-door and advising residents to take precautionary measures, including voluntary evacuations.
Responding to a question regarding when mandatory evacuations would be enforced, Rizvi said: "We are waiting for the Karachi commissioner to sign the evacuation notice because we need the city government's legal cover for this."
Once the signatures are done, the DHA would begin enforcing evacuations.
The spokesperson added that the immediate focus was on evacuating ground floors as the danger persisted there. "But if the situation worsens, we will evacuate other floors as well."
He further said that the DHA was constantly in touch with other relevant authorities — Pakistan Navy and the National Disaster Management Authority — that are closely monitoring the situation.
"Mother nature is unpredictable … the moment we feel the threats have increased, mandatory evacuations will begin. We are preparing for the worst."
At your discretion
Meanwhile, voluntary evacuations are already underway across the DHA.
Rizvi told Dawn.com that around 30 families had been moved to relief centres in the locality so far. "Anyone who wants to move to safer locations can call the helpline 1092 and we will send our vehicles to move them to relief camps."
He said DHA buses had been assigned for the safe transportation of residents who wanted to either be evacuated or were stuck on the roads. On every route, there are three to four buses available.
"But if residents want to bring in their own vehicles, they can do that too."
For this purpose, the spokesperson went on to say, information centres had been set up at various locations across the locality where residents may call for help with anything.
Here are the locations of these help desks:
Gold Mark, Phase II
Ayesha Masjid, Phase VI
Petrol pump at Khayaban-i-Bahria, Phase IV
Clock Tower, Phase VI
Abdul Aziz, the officer in charge of the information desk at Clock Tower, told Dawn.com that he had between 10-12 mobiles, 14 motorcycles and two Rescue 1122 ambulances available for any emergency situation.
"Even if someone is stuck on the roads, they can either call us or come to the information desk and we will help them," he added.
Relief camps
The DHA has turned four of its schools and colleges into relief camps. These include the DHACSS campuses in Phases VII and VIII, SKBZ in Phase VI and the Degree College also in Phase VI.
During a visit to the Creek campus in Phase VIII, however, Dawn.com learnt that the school had diverted all its resources towards other branches and the centre had been shut down.
At the DHACSS Phase VII campus, preparations have been completed with beds set up in 14 classrooms — one room can accommodate upto eight people. The school's principal, Uzma Mehmood, said the relief centres would stay open till June 16.
"We will have round-the-clock food service which will be delivered by the DHA clubs. There will be two nurses present at all times along with the same number of admin, guards and other staff," she said.
Along with residents, Mehmood continued, the centre would also house commuters stuck on the roads during rains. "But no one has been moved here yet," she added.
The one and only relief centre that is currently housing the residents is SKBZ, where approximately 98 people were brought in late last night.
In a hushed tone, Colonel Shamsuddin — the head of the institute — said four of these people had left the centres so the total now stood at 94.
"These families were brought in the wee hours of Monday night and they have been accommodated in 10 rooms here," he said, adding that the residents were being provided food sent by clubs. Doctors from the DHA Medical Centre have also been visiting the camps for medical checkups.
Despite several requests, Dawn.com was not allowed to meet the evacuated families.
Similarly, arrangements were made at the Degree College as well. But evacuees are yet to be brought to the centre. The institute's principal, Syed Zulfiqar Ali, said they were prepared for the worst, claiming that "there is no shortage of rooms here".
Ali complained, however, that there was no electricity at the relief camp since morning. "This is very unfortunate because it would lead to exhaustion of resources."
Other precautionary measures
Apart from evacuations, the DHA spokesperson said other measures had also been taken, especially concerning the roads.
The roads in DHA have been dug up at major intersections such as Khayaban-i-Shehbaz, Saba Avenue, Khayaban-i-Ittehad and Khayaban-i-Nishat due to an ongoing stormwater drainage project. The grubbed-out lanes are as deep as six feet and pose major threats.
To counter this, Rizvi said orders had been issued to fill up the roads again. "By tonight, all the junctions will be re-opened for traffic."
Moreover, he said, posters with diversions would also be put up on buildings along these roads.
Separately, Karachi South Senior Superintendent of Police Asad Raza said the DHA served evacuation notices to eateries and restaurants located in Phase VIII.
He added that 25 people had been arrested for violating Section 144.
Residents' concerns
Amid all the reassurances by authorities, residents have expressed concerns over the precautionary measures.
Humera Khan, a resident and head of the Seaview Residents Association, said DHA vigilance teams along with Rangers barged into the Seaview Apartments at 2am last night and tried to evacuate people forcefully.
"They tore down our gates but we resisted," she told Dawn.com. "We are well-read people and we are aware of the situation better than others … there is no such situation that requires evacuations."
Khan added that upon talking to the DHA authorities, she was told that they had plans to move them to Malir Cantonment.
Another resident Noor Alam narrated a similar story. "They advised me to convince my neighbours, who live on the first floor, and stay with them for a few days."
"They had no information regarding where we were being taken and what things we should take with us," Alam said, adding that there was a clear indication that the storm "will not hit Karachi and only pass through 200 miles from the coast".
"Is the evacuation for the cyclone or the upcoming urban flooding which will happen in DHA due to the dug-up roads?" he questioned.
Alam also raised concerns regarding the safety of their belongings if the residents were to be evacuated. "Everyone in Karachi would know this place has been evacuated, who is stopping the robbers from coming in?"
So far, the communication from DHA's side is unclear and vague, he added. "Social media cannot be your sole channel of communication … posting image files is not enough. There can be situations in which people won't have access to their devices, how will they reach them then?"
Alam also gave a number of suggestions that could be adopted by the authorities for effective relocation.
He said a head count of all the people living near the sea should have been conducted and arrangements should have been made according to that.
Furthermore, details of the relief camps should have been given beforehand and not at the last minute. "They should have also been told about the services available at the camps and the duration of their stay," he added.