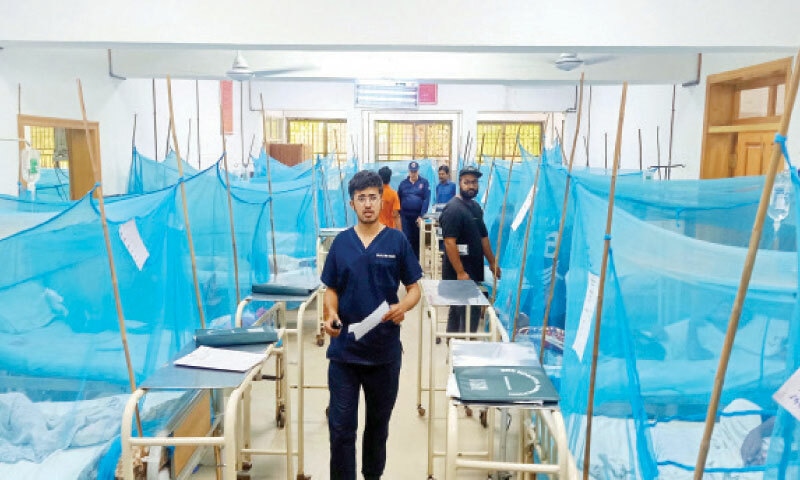 ISLAMABAD: While 57 more people were infected with the dengue virus in the federal capital and one patient passed away, the number of cases for the current season reached 1,388.
On the directions of the deputy commissioner Islamabad, entomologists and dengue teams visited across the city to eradicate the breeding sites of the dengue mosquito.
Car wash centres, tyre shops, junkyards, under-construction sites and other places were checked to ensure that proper preventive measures are being adopted in order to control dengue larva breeding sites.
Moreover, fumigation was also done in a number of areas.
District Health Officer Dr Zaeem Zia, while talking to Dawn, said that 45 cases and one death were reported from the rural areas and 12 cases were reported from urban areas.
The dengue virus spreads by the aedes aegypti mosquito. The most common symptoms of dengue are high-grade fever accompanied by joint and muscular aches.
There is no vaccine or specific treatment for dengue but early detection and proper medical care can lower mortality. Otherwise, the disease may turn into a life-threatening haemorrhagic fever, which in turn may lead to bleeding and dangerously low blood pressure.
Rapid and unplanned urbanisation, lack of sanitation and climate change are all contributing to a surge in dengue infections.
Meanwhile, on the direction of the deputy commissioner following detection of dengue larvae by the district health officer, the Bahria Enclave zoo has been sealed.
Rawalpindi
As many as 41 dengue patients reported in the garrison city's three government hospitals on Sunday.
A total of 290 confirmed dengue patients were admitted in the three hospitals - 69 in Holy Family Hospital (HFH), 122 in Benazir Bhutto Hospital (BBH) and 100 in District Headquarters (DHQ) Hospital.
Among dengue patients admitted in the hospitals, 212 belonged to Rawalpindi district, 66 to Islamabad, two to Haripur, three each to Attock and Abbottabad and one patient each to Chakwal, Kotli, Malakand, Mianwali and Rajanpur.
Eight of the new patients arrived from Dhama Syedan, four from Chak Jalaldin and two each from Chauntra, Lakkhan, Girja and Wah Cantonment.
District Health Authority Chief Executive Officer Dr Anser Ishaq said teams were on their toes and conducted fogging at the union council level even on Sunday.
He said that 15 union councils had been declared sensitive in Rawalpindi and 69 more teams deployed there to check dengue larvae. He said that people had been asked to adopt safety measures to avoid further spread of virus.
Published in Dawn, September 19th, 2022