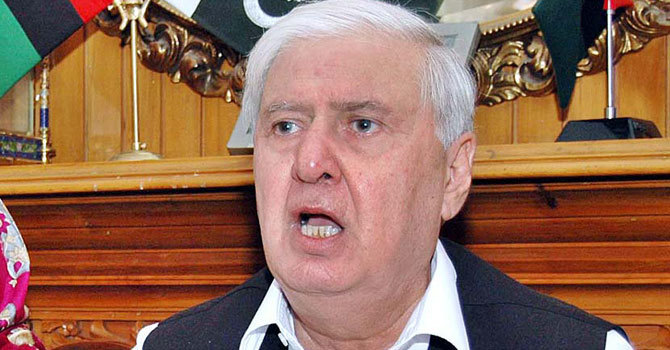 ISLAMABAD: The judgement of the British arbitrator released by Adviser to the Prime Minister on Accountability Mirza Shahzad Akbar disclosed how the National Accountability Bureau (NAB) during former president Gen Pervez Musharraf's era overlooked the 'dubious' transactions of ex-interior minister Aftab Ahmed Khan Sherpao after he joined the former military ruler's cabinet.
Sir Anthony Evans, a London-based arbitrator, ruled in favour of Broadsheet's claim that recovery from Aftab Ahmed Khan Sherpao was inordinately delayed and he was given ample opportunity to safely retrieve $3.5 million.
As per the verdict, in July 2002 Broadsheet informed NAB that it had located assets belonging to Mr Sherpao in a bank account in Jersey.
Broadsheet is a UK-based assets recovery firm.
The account was in the name of a trust owned and/or controlled by him and a total of $3.5 million was held in it. Broadsheet asked NAB to make a formal request to the Jersey authorities for a freezing order in respect of its claims and imposed a temporary freezing order.
Judgement supports Broadsheet's claim that former minister given time to retrieve $3.5m
On Sept 20, 2003 the Crown Advocate in Jersey sought for "an update as to the Sherpao matter". Before he could provide one, Broadsheet received NAB's solicitors' letter dated Oct 28, 2003 purporting to terminate the assets recovery agreement (ARA).
On Jan 30, 2004 the lawyer acting for the government of Jersey wrote directly to NAB asking for detailed information regarding any prosecutions, ongoing or otherwise, against Mr Sherpao.
During the cross examination, a witness, Tallat Ghumman, disclosed that in a meeting between NAB chairman Gen Amjad Hafeez and Mr Sherpao, the letter from Jersey was discussed. Mr Ghumman said in evidence that Mr Sherpao "did not have any answers to our inquiries".
Mr Sherpao remained under investigation by NAB and a registered target for the purposes of the ARA at least until August 2004.
On August 25, 2004, Mr Sherpao was appointed the interior minister.
In November 2006, NAB filed a Supplementary Reference against Mr Sherpao which accused him of committing "acts of corruption".
In August 2007, Mr Sherpao submitted a return to NAB regarding foreign assets, including bank accounts in Jersey, stating that all "have been generated through agricultural income, on which I pay regular income tax" and claiming that funds were routed to Jersey 'for portfolio investments' via London and Switzerland.
In October 2007, the government of Pakistan issued a National Reconciliation Ordinance. In October 2008, NAB wrote an open letter stating that no case was pending against Mr Sherpao "in this Bureau".
However, in January 2010 the NAB director general authorised an investigation into the original reference of Mr Sherpao filed in October 2000. On August 15, 2015 the Executive Board of NAB closed the investigation into Mr Sherpao's assets against the recommendation of its Prosecution Division which had reported "Investigation is incomplete and defective one. Case may not be closed until its logical conclusion".
The claimant alleges that had the ARA continued, NAB would have recovered the funds held in the Jersey account amounting to $3.5 million and would have been obliged to pay 20pc of that amount namely $700,000 to Broadsheet.
Sir Evans observed that there was no clear explanation as to why NAB failed to take action to make the recovery either in 2002/03 when Broadsheet informed it of the bank account or in January 2004 in response to the letter from the lawyer for the government of Jersey inviting it to do so.
He noted that NAB's plea of not having sufficient evidence contradicted the testimony of the witness that "Sherpao had no answer to their queries and that they were close to recovering assets from him".
"Nevertheless, the fact remains that NAB had the opportunity to pursue a claim against the asset in Jersey which Mr Sherpao has acknowledged to be his or his family's property. There is evidence that a claim was justified and there is no clear explanation why none was made," the arbitrator further noted.
"I am entitled to assume that NAB would have performed its statutory duties following termination of the ARA. If Broadsheet had continued to be involved, given its established links with the authorities in Jersey, there was a greater chance that NAB would be induced to press its claim for recovery of the asset there," he went on to state.
Sir Evans held that "there is a significant chance that NAB would have recovered the amount that was held in the bank account in Jersey, and that it would have done so by Dec 31, 2004".
The net recovery would have been (say) 90pc of $3,500,000, equals to $3,150,000. One-third of that figure is $1,050,000 and Broadsheet's entitlement under Clause 4 of the ARA (20pc) therefore would be $210,000.
Published in Dawn, January 19th, 2021