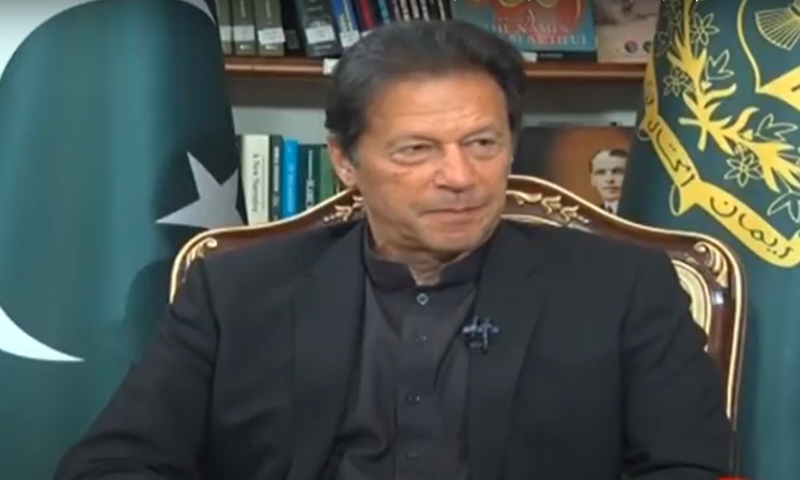 Prime Minister Imran Khan says US President Donald Trump would have easily won the 2020 US Presidential Election despite all the media projections against him, if it weren't for the coronavirus pandemic.
In an interview on Express News programme "To The Point" aired on Saturday, the premier cited the example of Trump's re-election loss to say that although media had a very important role in society, it wasn't a threat to the rule of a country's leader.
"I have no problems with [criticism in] the media. Media can only cause a temporary loss," he told host Mansoor Ali Khan.
"The most classic example is of Donald Trump. The way the entire mainstream media attacked [him], it appeared as if Trump would lose by a landslide. [Instead] he bagged the highest number of votes in American history; it's a separate thing that [Joe] Biden received even more votes."
The prime minister said if Covid-19 had not caused widespread unemployment and deaths in the US, "then Donald Trump would have won no matter what the media did".
He said media had a big role in democracy but it sometimes didn't exhibit "responsibility along with its freedom" and resorted to "propaganda, slander campaign" and disinformation which could hurt the government efforts for economic revival.
Recalling his association with the media since his cricketing days, the premier said "criticism is an asset of society" and freedom of expression was crucial to the progression of human thought.
Asked to comment on the temporary disappearances of journalist Matiullah Jan, reporter Ali Imran Syed and Securities and Exchange Commission of Pakistan joint director Sajid Gondal, the prime minister replied: "I don't have an idea what really happened with them [...] every time we took notice of their disappearance, the missing person was retrieved."
"I don't have an idea because I had left it upon the interior ministry," Imran added when asked whether he had any information who had picked up the three men.
Prime Minister Imran also defended the appointment of Naeem Bukhari as the Pakistan Television chairperson, saying although he was his lawyer in the Panamagate case, Bukhari had "remained a huge personality on PTV for five decades" and therefore he was considered to be the right man for the job.
Asked about Bukhari's comment regarding a 'blackout' of the opposition on state-run PTV, the premier took a different line.
He said the opposition should be given airtime on PTV because the channel would lose its ratings if it only became a government mouthpiece.
'No pressure'
The prime minister rubbished opposition allegations of him being "selected", saying PML-N supremo Nawaz Sharif himself was launched into politics by military generals while PPP founder Zulfikar Ali Bhutto had served as a minister under a military dictator for several years.
He said both PML-N Vice President Maryam Nawaz and PPP chairperson Bilawal Bhutto-Zardari would not have reached their positions if they hadn't utilised their family names.
Asked if he had "resisted" the army leadership on any issue in the past 2.5 years, Prime Minister Imran said: "I would resist the army if it put any pressure on me. The army hasn't ever asked me not to do a single thing that I wanted to do."
He said his government's foreign policy was exactly according to the PTI manifesto, including regarding the Afghan conflict and ties with Muslim countries, and he had not come under any pressure.
The premier also defended the appointment of retired Lt Gen Asim Saleem Bajwa as the chairman of the China-Pakistan Economic Corridor (CPEC) Authority, saying he was the "best option" for the post because of his prior experience working in Balochistan as the commander of the Southern Command, and that there was no pressure to appoint him.
Asked why Bajwa's resignation as special assistant to the prime minister on information and broadcasting was subsequently accepted, Imran said he had been given that charge "temporarily" to help revamp the information ministry.
"We had brought him so that his experience [as the ISPR chief] could be used to devise a reform roadmap," he added.
The premier reiterated that Bajwa had given a "detailed reply" to the corruption allegations levelled against his family businesses but said he could not term him "neat and clean" because it was not his job to do so.
"Those were only allegations. If somebody wants they can approach NAB (National Accountability Bureau) and request it to investigate the allegations against him," he stressed.
Tareen still part of PTI?
Prime Minister Imran dismissed opposition allegations of victimisation through the NAB, saying most of the existing corruption cases against PML-N and PPP leaders were instituted by themselves against each other during their respective terms.
"We have left the institutions totally independent [and] we already have no control over NAB," he said.
Responding to allegations that the government had not taken any action against PTI's 'isolated' leader Jahangir Khan Tareen and Minister for Economic Affairs Makhdoom Khusro Bakhtiar following the report of the sugar inquiry commission, the premier said their cases were underway in courts, the Competition Commission of Pakistan and the Federal Investigation Agency and relevant departments had been asked to act on the report.
Asked whether Tareen was still a part of the PTI, Imran said: "He no longer has any position in the party. I will not interfere with the institutions; they will complete their process and whoever is involved will be punished."
"The case is still ongoing but yes, I feel sad," the premier said when asked about the loss of his former close friend Tareen's companionship. "Jahangir says he is completely innocent [...] but yes, he is passing through a very difficult time."
Answering another question regarding his former aide Firdous Ashiq Awan, who was removed from her post before being appointed the special assistant on information to the Punjab chief minister, the prime minister denied the reported corruption allegations against her.
"There was no corruption case against her. She had problems in the information department and with a couple of our people," he said, adding that he personally investigates against such allegations against government members through the Intelligence Bureau.
'No rift with Saudi, UAE'
The prime minister defended his government's foreign policy regarding Kashmir, saying it was due to its efforts that the issue had been internationalised.
He also denied allegations of a rift between Pakistan and Saudi Arabia, saying the relationship was "just fine", and termed as false reports that Saudi Crown Prince Mohammed bin Salman had recalled his airplane in which he (PM Imran) was travelling while returning to Pakistan from New York last year after addressing the United Nations General Assembly.
"We were returning in his plane but after it developed a fault, we had to return [to New York] and the plane had to be replaced," Imran added.
He said the government was in touch with the United Arab Emirates authorities regarding the suspension of visas for citizens of Pakistan and nearly 10 other countries, and added that he had a good relationship with Abu Dhabi Crown Prince Sheikh Mohamed bin Zayed Al Nahyan.