They often don't get paid for months, are seen with suspicion, and lack PPE, but KP's Lady Health Workers are not giving up.
Misinformation. Mistrust. Fear of the unknown.
As doctors and health care workers around Pakistan — and indeed, around the world — battled an invisible enemy in the form of Covid-19 over the summer, a group of resolute women in Khyber Pakhtunkhwa's outbacks were doggedly pursuing a struggle of their own — the one concerning narratives.
Zohra Zeenat, a health worker in KP's mountainous Shangla district, is one such woman.
Through the long months of Covid-19, when the communities here responded to the pandemic with either fear or conspiracy theories, Zeenat's job as a polio worker got even tougher. For here in the remote villages scattered around the mountains of Shangla, people's impression of the pandemic was coloured by what they thought of the polio vaccination — an attempt on the part of the West to rob them of fertility.
"In our conservative society, people call us 'polio women', a job that is considered shameful," shared Zeenat, who was appointed as a health worker in 2018. "We do not get any respect from them even when we serve them."
For Zeenat, who is one of 327 women health workers in Shangla district, their role as front-line health workers during the Covid-19 pandemic did not get the recognition it deserved. Working in a tough region with a hostile terrain, she didn't just go about performing her duties in remote mountainous villages that included identifying people who had returned from abroad with possible coronavirus infection and creating awareness among women and households about the pandemic. But perhaps more importantly, she had to struggle on a daily basis to change attitudes and behaviours that, like the campaign to eradicate polio, frustrated all attempts at containing the pandemic through collective community awareness and action.
Related: The Covid-19 emergency and prioritising public health in Pakistan
"Come snow or sunshine, I perform my duties during harsh weather conditions for the sake of mother and child health care and to ensure polio vaccination," said Zeenat. This despite the fact that she and other health workers often do not get paid on time, sometimes for months. "We get our salaries for a month, sometimes for two, after a break of six to seven months."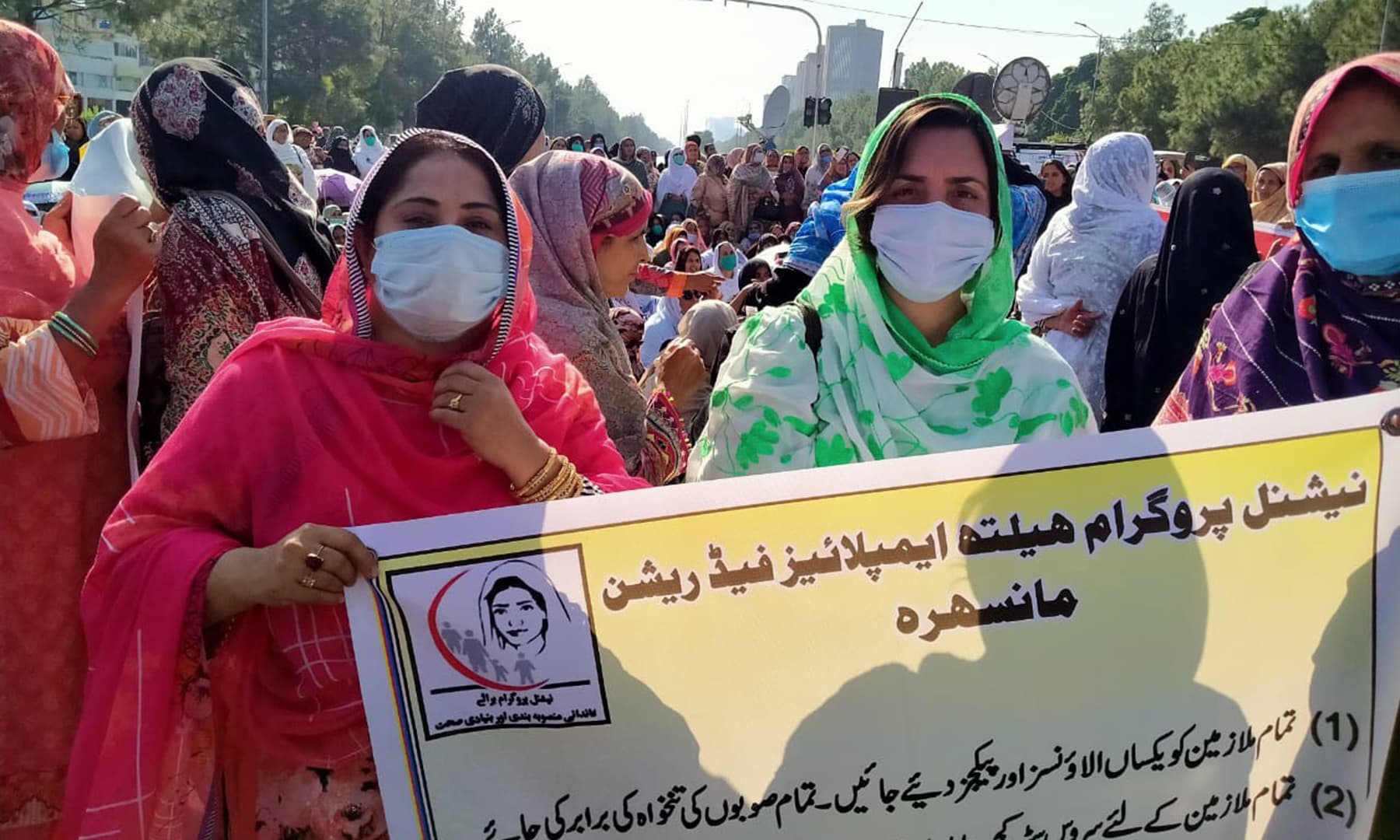 Healthcare at your doorstep
Created in 1993, the Lady Health Workers Programme (LHWP) in Pakistan comprises district-based cadres of lady health workers (LHWs) who are trained to provide specific, basic primary health care treatment and preventive services.
In remote rural settings where they work with little support and in urban areas, their work helps establish a milieu of wellbeing, enhances interaction of patients with health care providers and enables timely treatment, prevention and even screening for diseases. Women from local communities, with at least eight years of formal education, undergo six months of training to deliver health care at the doorsteps of communities. Each LHW is responsible for a population of about 1,000 people, or roughly 200 families.
The training curriculum for the LHWs programme includes promotion of antenatal care, iron and folate use in pregnancy, immediate newborn care, umbilical cord care and promotion of breastfeeding.
Like elsewhere, government-appointed LHWs in Shangla are employed in BS-5 and their supervisors in BS-7. They retire in the same pay scale without pension. In total, there are 15,397 lady health workers providing primary health care to women and children across Khyber Pakhtunkhwa.
A pandemic of troubles
Of the many challenges that LHWs faced during the pandemic, the one that affected their work most was the non-availability of medicines. Fatima, a health worker from the Damorai area in Shangla, said her catchment area consisted of remote, hard to reach villages and houses. In the absence of transport or proper commutable roads, she had to walk for hours over long distances. She said the LHWs stayed committed to their jobs because with scant health care infrastructure, the women and children were dependent on them, especially during the long spells of lockdowns.
"Apart from antenatal care to women and immunisation, we provide medicines to the community women but for the last several months during the pandemic, we have not been provided medicines by the [health] department," she said, "even though it is the first thing that female patients ask for in the field."
Fatima said dealing with conspiracies about the coronavirus was a major challenge for them and such misconceptions also influenced people's behaviour in their households.
Kalsoom Bibi, an LHW from the remote Chidam area of tehsil Chaksar in Shangla, faced similar hurdles from her community where people refused polio and routine immunisation. To make matters worse, she said, the LHWs themselves were exposed to the virus because people refused to take precautions and they had no personal protective equipment (PPE) available. "Despite repeated requests to our supervisors to provide us with safety kits, masks and sanitisers during the Covid-19 door-to-door visits, we didn't get any."
See: Fighting Covid and polio: How the 1166 helpline is working to counter misinformation, address fears
Regularly visiting as many as 123 houses — with a population of 980 people — spread over vast distances is the most gruelling part of Kulsoom's job, especially when she has not been paid for months now.
Delays and uncertainty
Seema Bibi, another LHW from Barkana, said her salary for three months was still pending with the health department due to which her family faced financial problems.
"I have no alternative source of earning and my salary has not been paid for the last several months," she said. "My spouse is jobless. We have to buy groceries from the market on loan and since we haven't paid off our debt for several months now, the shopkeepers refuse to sell us any," she said.
For others like Shahida, a health worker from Mingora in Swat, it is the long uncertainty over the regularisation of her appointment and job structure that worries her.
In this, she is not alone. Even though the Khyber Pakhtunkhwa Assembly passed a bill in June 2014 — the Khyber Pakhtunkhwa Regulation of Lady Health Workers Programme and Employees (Regularisation and Standardisation) Act, 2014 (Khyber Pakhtunkhwa Act No. XXVI of 2014), it is yet to be enforced. The Act is meant to regularise the job status of scores of LHWs in Khyber Pakhtunkhwa.
Ayesha Khan, president of the KP Lady Health Workers Association, regretted that after all their contribution to protecting people's health at the grassroots level, LHWs retired without any pension or packages.
"We want service structure, regularisation of IHP (Integrated Health Project)-LHWs, promotions and pensions for the LHWs on retirement," she said. "The LHWs' job is tiring. Then the government involves them in every emergency; we even provide security to women voters during elections. And yet, for all our arduous work, we remain without salaries for months and on retirement, don't get any pension."
She said during the pandemic, LHWs were sent into the field "forcibly" without being provided safety kits, masks and sanitisers. "Those who could afford purchased them with their own money. We didn't get any support while doctors and paramedics enjoyed all the facilities and were later paid for Covid-19 duties by their departments."
Khan said doctors "working in air-conditioned offices" called on LHWs to perform hard, field duties during emergencies. The doctors, she added, received regular salaries up to Rs300,000 whereas the LHWs only got Rs15,000 after months of delay.
KP Health Minister Taimur Saleem Jhagra could not be reached for comment despite repeated attempts.
However, the provincial coordinator of the KP LHWs programme, Dr Ijaz, while speaking to Dawn attributed the delay in salaries to the suspension of the "integrated Lady Health Workers project" last June. He said the project has now been renewed and LHWs' salaries would be "released soon".
He said initially there was a shortage of PPE across the world, but when LHWs had to be sent on emergency Covid-19 duties, the programme did not have enough funds for purchasing PPE.
Regarding the regularisation and new recruitments, Dr Ijaz said the LHWs appointed between 2015 and 2018 would be regularised but "it will take time". He said he had included the recruitment of 3,000 new health workers in the project cycle (PC-1) but the provincial government did not agree with the proposal citing an issue of funds.
Serving without pay
Shangla lacks basic health infrastructure as most hospitals are located far off from the villages in the mountains, inaccessible to women in particular. Residents take women for treatment to Alpuri, the district headquarters, or to the neighbouring Swat district. But while LHWs struggle to provide first aid, primary health care and immunisation in their areas, only 37 per cent area of the district, in fact, is covered by LHWs, according to the district health department. The remaining 63pc has no health workers.
Also read: Swat LHWs fighting Covid-19 with missionary zeal
While travelling for meetings to hospitals and field visits, the health workers pay the transport fare and all other expenditures from their own pocket. Their BS-5 scale salary is hardly sufficient for their personal needs, let alone professional.
During the pandemic, the Lady Health Supervisors (LHS) were not paid for emergency duties by the health authorities. "Our department deducted the fuel charges from my monthly sum fixed for field visits," said Yasmin bibi, an LHS from Damorai. "They did not provide us safety kits during the emergency Covid-19 duty for which we made daily visits to supervise LHWs and collected reports to submit to the department."
Zubaida, an LHW from Karshat, performed policing duty during the 2018 general elections. Officials promised her that she would be paid for her services but to date, "not a single penny" has come to her and her colleagues. "Similarly, during the pandemic, we were not provided PPEs and were forced to visit every house daily and share information with the reporting officer. If we declined to work for lack of support, we were told we would be terminated from the job."
When questioned, Dr Abdul Samad, the coordinator of the LHWs programme in Shangla, said the election duty was not in the health workers' job description and it happened before he assumed charge as the coordinator. He acknowledged that the health department did not pay LHWs anything for the Mother and Child Week, Covid-19, or emergency duties like the dengue campaign even though he had requested such payment several times.
He said regularisation of the LHWs was essential because due to the months-long delay in the payment of their salaries, they not only faced financial problems but their motivation to work was negatively impacted.