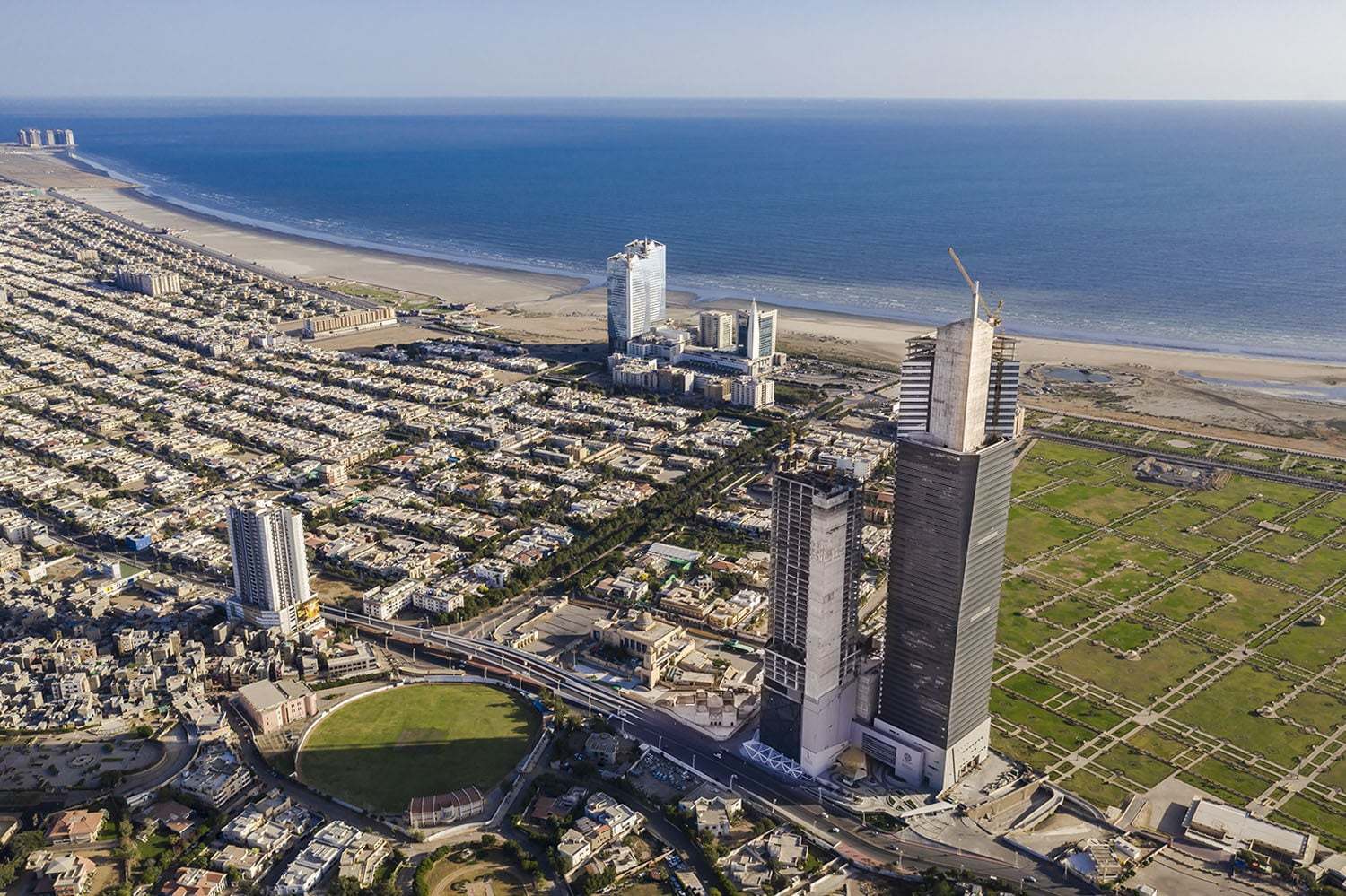 As lockdowns are observed around the world, pollution levels are dropping
Data shows that the closure of businesses and transport has lowered air pollution in cities like Lahore and Karachi. How can we keep this momentum going when the lockdowns are eased?
---
Header: Karachi under lockdown | Amin Desai/Color Shot Filming and Photography
---
For the past four years now, a family in Lahore had been staying indoors as much as possible, and duct-taping their doors and windows shut. They'd wear masks when going out in the city and often elicit stares from curious passersby.
This was a pre-Covid-19 world. Most had then not even considered a future where stay-at-home orders and wearing masks when going out would be the norm.
Ahmad Rafay Alam, a member of the aforementioned family, had written about these rituals in a November 2019 Eos story titled, 'If you haven't seen Lahore…' Alam's piece was discussing the poor air quality in Lahore. That month, the Punjab government had to shut down schools because the Air Quality Index was too high.
"But such individual steps can only go so far," Alam had written. "Air pollution needs to be tamed and before that can happen, it needs to be understood."
A mere six months later it feels like we are living in a completely different world. Schools are once again shut, but this time they are closed indefinitely, and across the globe. Those who can, have been working from home. There is less traffic on the roads and many businesses are not operational.
The lockdown has impacted our lives in many other ways too. But not all of it is for the worse. Many Pakistanis have been seeing a silver lining in the dark coronavirus-shaped clouds hanging above us for the foreseeable future.
Citizens concerned about the rising air pollution in Lahore and other parts of the country — and the world — have noticed that the sudden drop in economic activity and traffic has reduced air pollution. "The skies have become clearer during the lockdown," says Aamir Khan, a Lahore resident, who would hail public transport to his office in the Badami Bagh area. "I am enjoying the clean air," he says.
Khan and others are right. Lahore, one of the most polluted cities in the world, witnessed a sharp drop in air pollution. But it is important not to overstate the good news. The air in Lahore is still laden with harmful pollutants and their levels continue to be above the safe limits.
Besides, the temporary drop in air pollutants we are witnessing will also vanish in thin air whenever the lockdowns are eased. A sustainable change can only come if we learn from this moment and assess what long-term measures can be introduced to fight the challenge of air pollution.
LOOKING AT THE NUMBERS
According to data by the Pakistan Air Quality Initiative (PAQI), Lahore has witnessed a sharp drop in particulate matter (PM2.5) levels since the lockdown began.
'PM2.5' means particulate matter of 2.5 microns or smaller in size and is a complex mixture of gas, aerosols, trace metals and other airborne matter that is dangerous for health above certain levels. The World Health Organization (WHO) has determined 10 micrograms per cubic metre of air (µg/m³) as the safe limit. The Punjab Environmental Quality Standards set the limit 15 µg/m³. Surprisingly, the Sindh Environment Protection Agency has not set an annual average safe limit for PM2.5 at all.
PM2.5 is dangerous. The matter does not only cause respiratory ailments, but also absorbs into the bloodstream and can contribute to pulmonary and cardiovascular issues, affect mental health and has even been linked to cancer and genetic ailments in future generations.
During the period of lockdown, "PM2.5 has reduced by 63 percent, as compared to last year during the same time," according to Abid Omar, founder of PAQI. "The PM2.5 average stands at 32µg/m³ which is more than double the safe limits set by Punjab Environment Protection Department (EPA) of 15µg/m³," he adds.
But even after the reduction, Lahore enjoyed only one day of "good air" on April 6, Omar tells Eos. "Otherwise it was twice the safe limit."
Omar expected the lockdown to have had a greater impact on the particulate matter levels. "The fact that it has not gone down further shows the extent of the baseline emissions from poor fuel sources," he says.
PAQI's data also shows that the lockdown seemed to have no impact in Islamabad at all. The levels remained similar to what they were during the same period in 2019. This may be due to the lack of industrial activity in Islamabad, reasons Omar.
Which brings us to Karachi — the country's industrial hub. According to PAQI's data, the PM2.5 levels have reduced by 35 percent, from 39µg/m³ to 25µg/m³ compared to last year.
One obvious conclusion is that this is because of the lockdown. Analysis of PM2.5 levels also showed increased levels in Karachi when the ease in lockdown began from 15 April. It is possible that the resumption of economic activities increased pollution levels.
But experts also suggest avoiding jumping to conclusions.
UNDERSTANDING THE DATA
While there could be a correlation between the change in PM2.5 levels and the lockdown, the lower numbers in Karachi could also be due to the strong sea breeze around this time of the year, Omar says. The timing of the lockdown has coincided with changes in weather patterns in Karachi.
"The PM2.5 levels witness similar drops at this time of the year, when the wind direction changes," he adds.
Lahore, in comparison, has severer air pollution issues because of less breeze. "Karachi gets much better every year around this time, with air quality close to safe limits," says Omar. Lahore's air, on the other hand, stays unhealthy through the summer months.
Looking at satellite imagery Pawan Gupta, a research scientist with Universities Space Research Associations at NASA Marshall Space Flight Center, says that while PM2.5 levels have "certainly decreased" in Pakistan and the lockdown has "definitely contributed somehow" in reducing the levels, he also says, "...it is difficult to say that it is due to the shut down [alone], as heavy rainfalls and dust storms have blurred the scenario."
Nonetheless, air pollution levels around the world have witnessed an unprecedented decline. According to a CNN report, quoting analysis by IQAir, "Major cities that suffer from the world's worst air pollution have seen reductions of deadly particulate matter by up to 60% from the previous year, during a three-week lockdown period."
The same trends are observed in Pakistan. Gupta compared satellite images over a period of five years (2016-2020), keeping March 24 to April 15 as the baseline. "Not only the 2020 values are the lowest during this time period, if there had been no lockdown and rainfall, the level of particulate matter would have been much higher."
LESSONS LEARNT
The current global pandemic has forced us to introspect and imagine a different world. The lockdowns show that a world with cleaner air is possible.
"Businesses have to vow for cleaner fuel, better emission standards and infrastructure development that is environmentally friendly," says Gupta. "Eventually it comes to reducing emissions to bring down pollution levels and that is where technology comes in. Mitigation strategies must go hand-in-hand, so that particulate matter does not cross the safe limits."
"By addressing air pollution, we are also gearing for climate action," Gupta adds. "It's a win-win situation."
With many factories shut down, transport at a near-complete halt and a substantial reduction in oil consumption, pollution levels may have decreased, but this comes at a cost. And a cost that many businesses, struggling with the economic blow of the lockdown, would not be willing to pay.
Irfan Iqbal Sheikh, the president of the Lahore Chamber of Commerce & Industry (LCCI) believes that a lot is needed for businesses to restructure themselves in a more sustainable way.
"A new system has to be in place whereby every factory and business is compliant to the environmental standards so that they do not pollute the environment," he says. Adding that we need "drastic" measures to bring down air pollution to safe limits he says, "This will require a lot of time and money."
At a time where the economy has been hit hard and even the most profitable businesses are losing money, this is unlikely to be a priority.
When the lockdowns are lifted, the industry and transport sectors' main priorities will be dealing with the economic repercussions of the closures. But policymakers must learn from this moment of clarity and work towards a Pakistan with cleaner air.
"Pakistan's economy has shrunk by 1.5 percent and it will altogether reduce by 2.5 percent during this fiscal year," Sheikh says. "In such an extraordinary situation, we may have to take difficult decisions. Businesses must open and action against Covid-19 must continue side by side, otherwise, unemployment and poverty will further increase," Sheikh says.
Addressing environmental concerns will have to be a longer-term process. And one that the government will actively have to be a part of, Sheikh says. "It is unfortunate that businesses won't adopt environmental safeguards on their own," he says. "The government has to ensure the compliance of environmental laws through strict checks and balances."
Bidya Banmali Pradhan, of the Air Pollution Solutions Programme at the International Centre for Integrated Mountain Development (ICIMOD) in Nepal, says that industry can play a major role in decreasing our air pollution woes considerably. "Many industries in Pakistan use coal as fuel and by using cleaner versions of coal or cleaner fuels such as electricity, [they] can help to bring down pollution levels."
Pradhan stresses the importance of introducing new technologies in industry that can help combat air pollution. "Pakistan has up to 16,000 brick kilns and half of them are in Punjab," he says. "The recently introduced zig-zag technology-driven brick kilns consume 20 percent less coal and produce up to 60 percent less carbon emissions, as compared to traditional brick kilns."
The State Bank of Pakistan is already offering soft loans to brick kiln owners to convert to zig-zag technology, at a nominal interest rate of 6 percent. Failure to convert may result in their operations being shut down.
Pradhan says, "The Punjab government has ordered that brick kilns running on the polluting Fixed Chimney Bull's Trench Kiln technology would be functional only until December this year, after which they won't be allowed to operate."
"It's a carrot and stick approach," she adds. "By offering a solution and that too at a low-interest rate, the brick kiln owners are being encouraged to shift to cleaner technology.
"A similar approach could be adopted for other businesses as well," suggests Pradhan.
A LONG ROAD AHEAD
The lack of transport on roads is likely another factor in the current decline in air pollution. Of course, the transport sector is a major contributor to air pollution. A recent study by the United Nation's Food and Agriculture Organization (FAO) revealed that the transport sector is responsible for nearly half of the air pollution in Punjab.
With many factories shut down, transport at a near-complete halt and a substantial reduction in oil consumption, pollution levels may have decreased, but this comes at a cost. And a cost that many businesses, struggling with the economic blow of the lockdown, would not be willing to pay.
When the lockdown ends and transport restarts, air pollution will also increase.
Adnan Sami Sheikh, a market analyst, says that the labour community obviously needs transport to go to work. "The transport they currently use is outdated which also adds to air pollution," he says. "To address this issue, buses that run on renewable energy must be introduced."
"But this needs to come on a massive scale, as we need thousands of buses," says Adnan.
Pradhan of ICIMOD feels that since Pakistan has a better road infrastructure, "a network of Bus Rapid Transits (BRTs) in urban centres can help to reduce particulate matter from the transport sector." In an ideal world, this would "motivate people to park their cars and bikes in their homes and use public transport for work."
But we do not live in an ideal world. Such changes would require a major rethinking of our priorities and big money to be allocated to make such mass changes possible.
One such ambitious rethink is the recently approved electric vehicle policy of Pakistan, which aims to improve the air quality by revolutionising the transport sector. By 2030, the government wants to have about one-third of the vehicles in Pakistan running on electrical energy, Malik Amin Aslam, the prime minister's adviser on climate change, recently told the media.
While the policy has already attracted criticism, there is little denying that policy changes, and their implementation, are the way forward. "It's a question of relevant policy to be put in place and environmental regulations to be met," says PAQI's Omar. "Instead of subsidies, disincentivising pollution must be the way forward. For instance, if we see black smoke emitting from vehicles or industries, we put a phased moratorium on emissions to curtail them."
While the lockdowns have shown us that a world with relatively cleaner air is possible, this is only temporary relief. Omar notes alarmingly high levels of nitrogen dioxide in Pakistan's major cities. Even during this time, they stand above the safe limit of 40µg/m³ in Lahore (76µg/m³), Islamabad (93µg/m³) and Karachi (104µg/m³).
When the lockdowns are lifted, the industry and transport sectors' main priorities will be dealing with the economic repercussions of the closures. But policymakers must learn from this moment of clarity and work towards a Pakistan with cleaner air.
---
Continue reading: THE BRIGHTER SIDE OF LOCKDOWN
---
The writer is a Chevening scholar and an international award-winning environmental journalist. He tweets @SyedMAbubakar
Published in Dawn, EOS, May 10th, 2020