The company has also organised monetary support programs, ration bag distribution schemes and paid leaves for riders.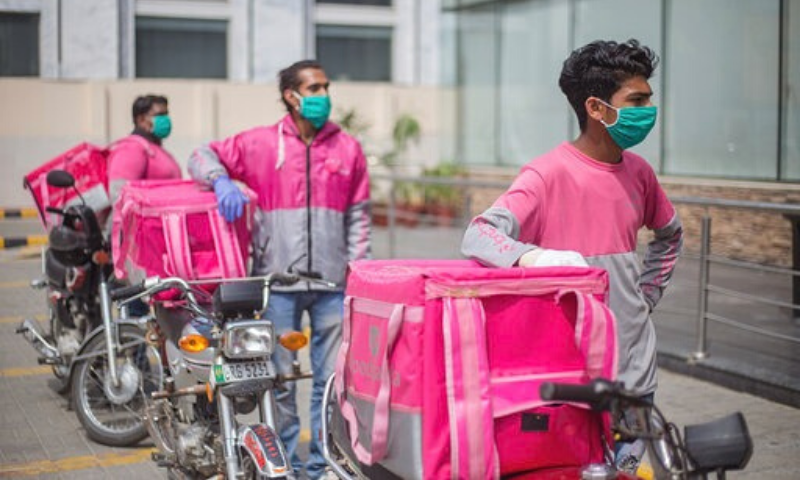 Pakistan's favourite food delivery platform, foodpanda has taken yet another initiative to help people, especially daily wagers, fight the economic distress caused by lockdowns all across the country.
With economic activity slowing down, the Covid-19 outbreak has forced businesses, public services, markets, restaurants, and food delivery platforms including foodpanda to suspend their operations for indefinite periods of time.
How is foodpanda helping?
From providing financial assistance to medical insurance and implementing precautionary measures to ensure health, safety and well-being of their own, the company is doing all to act responsibly and help riders fight financial woes.
In different cities, foodpanda has been giving out ration bags to all their heroes along with monetary support in order to compensate them for the salaries they would have earned under normal circumstances.
In case a hero tests positive for Covid-19, they are entitled to paid leave by the company.
This initiative is part of foodpanda's newly launched two weeks earning support programme under company-funded insurance in collaboration with TPL Insurance.
In addition to this, the programme also covers road accident expense.
After the first round of payments in March, many delivery heroes expressed their gratitude as these steps helped ease worries of many and lessened their financial burden.
The second round of monetary support that covers them for 3 weeks has already gone out; the initiative aims to ensure financial stability throughout the month.
These steps that foodpanda is taking go a long way to show support and care as the company intends to stand by their employees, including heroes, during this difficult time.
Here's a quick look at what foodpanda has been doing so far:
On the delivery front, foodpanda is also ensuring contactless delivery for all orders; customers now have the option to ask the rider to leave orders at a distant spot.
Here are details:
Through initiatives like these, foodpanda does not only motivate their heroes but also gives out an important message that #foodpandaCares.
---
This content is a paid advertisement by foodpanda and is not associated with or necessarily reflective of the views of Dawn.com and its editorial staff.