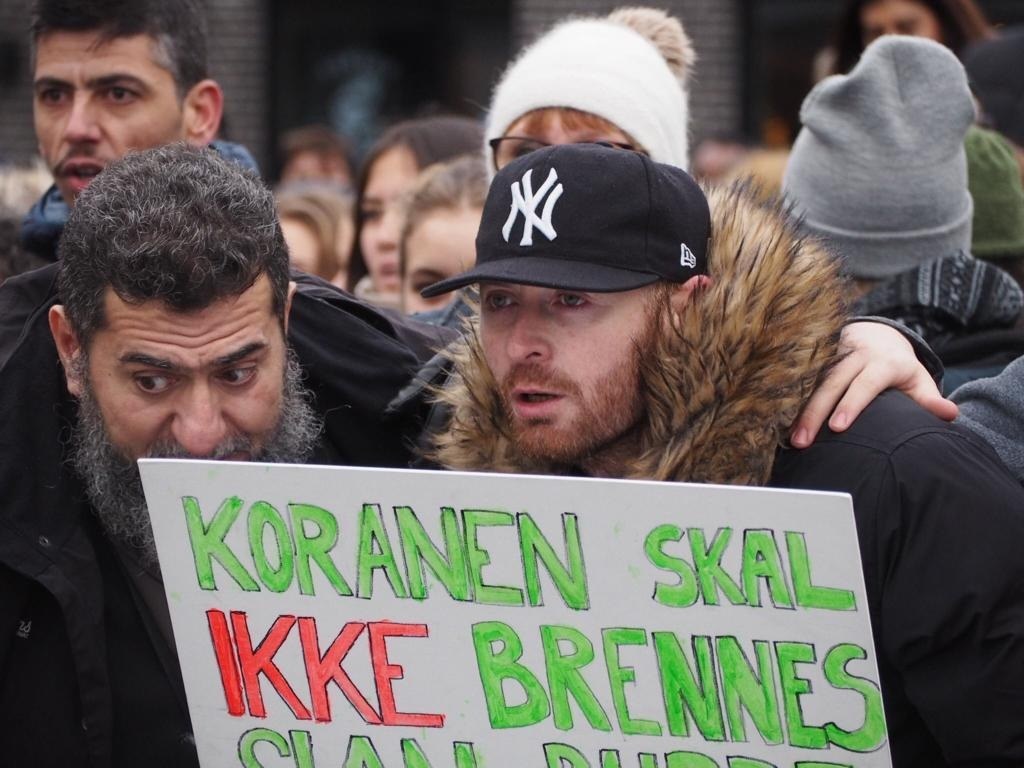 The incident is largely being viewed in the city as an act aimed at provoking the local Muslim community.
Days after an anti-Islam rally turned violent in the Norwegian town of Kristiansand when its leader attempted to set fire to a copy of the Holy Quran despite warnings from police officials, emotions in the small, idyllic town of less than 100,000 are at an all-time high, with much of the general community condemning the hate crime.
The incident took place on November 16 when a small group of people from the little known far-right extremist group 'Stop Islamisation of Norway' (SIAN) held a demonstration in Kristiansand, during which they attempted to burn a copy the holy book.
Videos from the incident that surfaced on social media showed Qusay Rashed, a Palestinian Muslim youth settled in Norway, jumping over a fence and kicking Lars Thorsen, the SIAN leader who was burning a copy of the holy book. Police then intervened and took Thorsen as well as Rashed into custody.
Also read: Islamophobia appetiser: Hate sells, but who's buying?
Earlier this year, Thorsen was also handed a 30 day suspended jail sentence and was fined with 20,000 kroner (Rs 339,396) by a district court in Oslo for violating Section 185 of the Criminal Code, which deals with discriminatory and hateful expression. He was found distributing SIAN pamphlets in Oslo on July 20, 2018, that had targeted Muslims, calling them "notorious sexual predators".
'We will take SIAN to court'
Leader of the Muslim Union in Kristiansand, Akmal Ali, says his group will take right-wing leader Arne Tumyr to court after he created a scene during the Nov 16 demonstration and attempted to desecrate the holy book at the pretext of an anti-Islam demonstration.
"It was a hate crime that Tumyr has committed. He verbally attacked Muslims and violated police instructions," Ali said.
"Despite clear instructions from the police that nobody was allowed to carry firearms or any equipment that could cause fire at the demonstration, these people did not comply. This was a violation that is punishable under Norwegian law," Ali said.
Prior to the demonstration, Kristiansand police had told SIAN leadership that they would not allow them to set the Holy Quran on fire.
What happened on that day
It all started when at the demonstration Tumyr created a provocative scene and attempted to desecrate a copy of the holy book, saying the police had barred SIAN from burning it. Following this, Thorsen set it alight.
Upon this, few Muslim onlookers broke the barricades placed by the police and a brawl broke out.
Five Muslims were taken to the police station for "creating chaos, disturbance, and disobeying police orders", however, all of them have now been released. One of the five, a man from Syria named Omar Daaba, has been fined 14,000 kroner (Rs 237,684) for assaulting a police officer. All the Muslims arrested were from Syria and Palestine, according to members of the Kristiansand Muslim community.
The police also took Thorsen into custody and investigated him for disobeying instructions from the law enforcement agency.
Outpouring of support for Muslims
After the incident, members of the Muslim community have received an outpouring of support from the Norwegian public.
The Mayor of Kristiansand has condemned the incident and has expressed compassion for the city's Muslim community.
"Kristiansand is a city for everyone, and we work systematically to create diversity. Such acts are provocative and regrettable," Mayor Harald Furre told Norway's national broadcaster NRK in an interview.
He said what happened on Nov 16 was "planned provocation", adding that "fortunately, the police were quick to subdue it".
More on this: Rising Islamophobia
This Friday, members of the local Christian community assembled outside the mosque in Kristiansand in a show of solidarity with Muslims.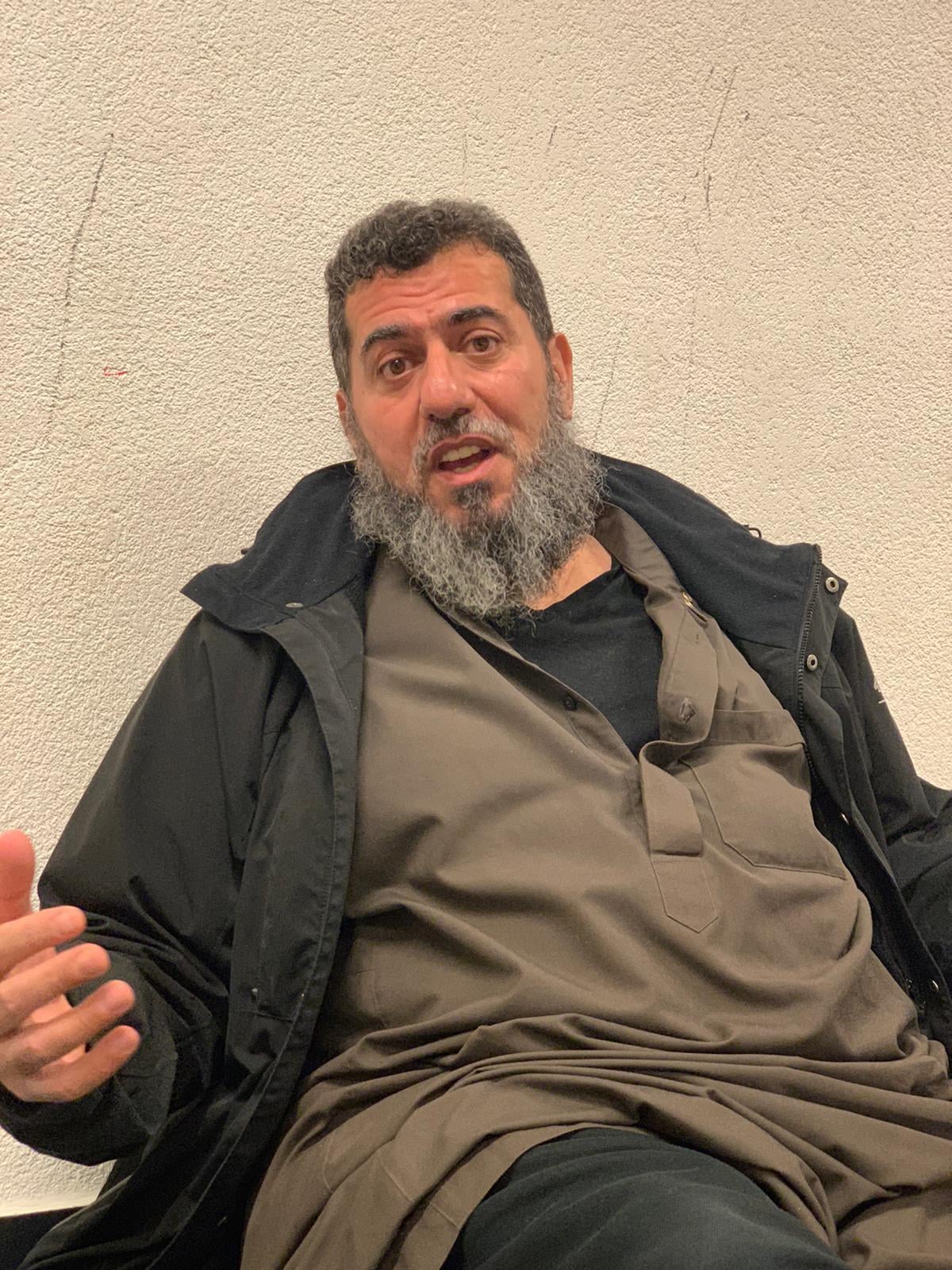 Talal Omar, a senior leader of the Muslim Union in Kristiansand, said a huge number of people who have shown their support for the area's Muslim community include politicians, Christian leaders, and ordinary citizens, who have contacted the local Muslim population to show that all Norwegians stand with them.
"SIAN does not represent Norway. These people are very few in number here, and overall, Norwegian Christians and others are with us," Omar said.
A sinister act of provocation
The incident is largely being viewed in the city of Kristiansand as an act aimed at provoking the local Muslim community.
"I feel that it is disrespectful and an unnecessary attempt at provocation. An act like this creates anger instead of mutual understanding and respect," said Petter Engnes, a student of media and communication in Kristiansand.
"I have spoken to some of my Norwegian friends and they also have the same views as mine...so far, I have not met a single Norwegian who is celebrating this act," said Enges.
During Friday prayers, a group of people from Kristiansand showed up outside the mosque to express their support and compassion for the local Muslim community. They did not let the challenging weather conditions, the heavy rains, and freezing temperatures deter them from letting their fellow Norwegians know that Muslims have the local community's full support. They were holding placards inscribed with slogans that said: "Together, even if we are different".
"We are here to show that we love Muslims. They (SIAN members) are extreme and not many people follow them in Norway. They did this to gain publicity and make headlines in the press," said Solveig Skaara, Chairperson of Forum for Tro og Livssyn (Forum for Faith and Dialogue), an organisation working to promote mutual understanding and respect between different communities residing in Kristiansand.
Explore: The roots of Islamophobia
"Not many of us thought it could happen here because in Norway we believe that everybody is free to choose what religion he or she wishes to follow. Everybody is free to practice here but very few people think that that should not be the case," she said, adding that "it is a hard time for Muslims, and I am here to show them my support".
Ali greeted the group outside the mosque and said those who had attempted to burn the copy of the holy book wanted to provoke Muslims and their aim was to propagate a negative image of Islam, but we have all come together to challenge their narrative.
He added that despite the provocation, the Muslim youth remained patient and the designs of those who sought to create divisions among the people of Kristiansand had failed miserably.
Since the incident, leaders of the Muslim Union in Kristiansand have been calling upon fellow Muslims to remain peaceful and in line with Islamic teachings.
"Seeing this incident broke my heart but Islam does not allow us to be violent. We have taken all the legal steps to stop it from happening again...the police is taking care of the situation," said Talal, adding that no one should try to take the law into their own hands because "Islam doesn't permit us to go and attack others".
'We are disappointed'
On the other hand, a group of Muslim youth have expressed "extreme disappointment" with the police in Kristiansand and have been criticising the authorities for detaining the five Muslims from the site of the demonstration in the first place.
"Many of us were deeply affected and it was very disturbing what happened. The things they [members of the anti-Muslim far-right] were saying were very provocative, and the act of burning of the Holy Quran was extremely hard for us to witness," said youth leader Omar Haider.
"Young people reacted in various ways. Some youth have criticised the police because they detained those who reacted to the act of burning of the copy of the holy book," Haider said.
"We told the youth that the police did its job and passing over the barricade was against the law...the truth is that this incident has saddened each one of us here, Muslims and non-Muslims," Haider concluded.
Hate crimes and incidents of anti-immigrant hatred have sharply risen in Norway after the Christchurch attacks in New Zealand, which were carried out by Australian anti-Muslim right-wing extremist Brenton Tarrant.
In Norway too, Kristiansand's is not the first incident of violence aimed against Muslims. In August 2019, one person was injured in a shooting inside a mosque near Oslo in what police classified as "an act of terrorism".
In that incident, a retired Pakistani air force officer had seized the attacker, pinned him down, and took the weapon from his possession before more harm could be done.
---
Kiyya Baloch is a freelance Pakistani journalist currently based in Norway. He can be found on Twitter @KiyyaBaloch