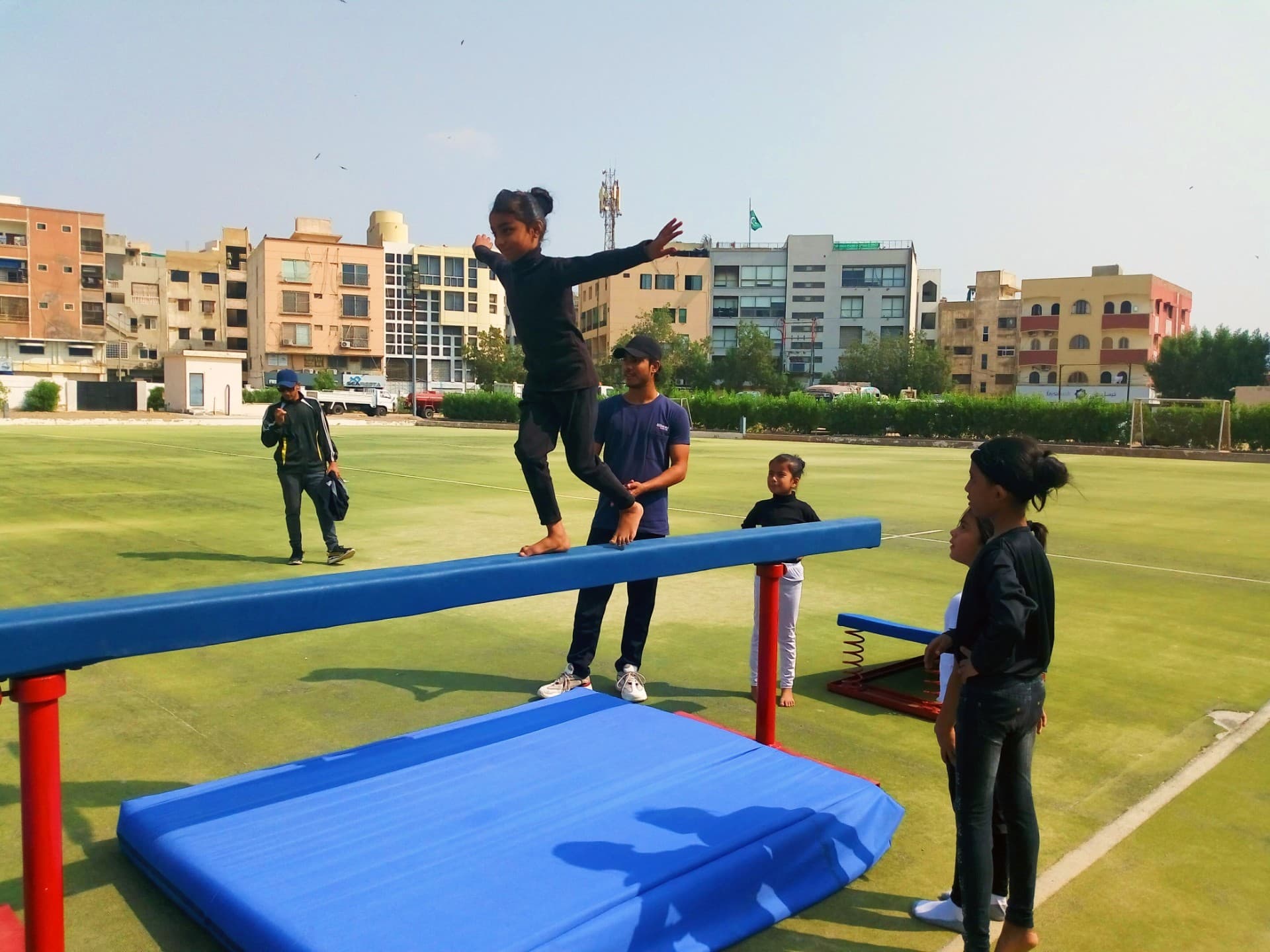 The city-wide championship was an opportunity for women and girls of all ages to showcase their talents in gymnastics.
The main stand at Karachi's DA Zamzama Club's hockey stadium has the liveliest of audiences with frequent bursts of applause for the gymnasts; the objects of their praise were busy doing their routines on the floor, the beam and pommel horse before the judges during the inaugural for the Urtaay Sitaray: All-Women Gymnastics Championship.
Organised and hosted by Imkaan Welfare Organisation, the city-wide championship presented itself as an opportunity for women and girls of all ages to showcase their talents in gymnastics and provide them with a preliminary platform to hone their skills ultimately up to a professional standard.
As many as nine schools and educational institutions took part in the event and the students were there to encourage each other. Other than their teachers, coaches and class fellows, there were some parents there too, especially mothers, who came to encourage the contestants. Some of these parents were themselves involved in sporting activities other than gymnastics.
Good at all sports
"I play football and I take karate classes too," says Ayesha Siddique, a class eighth student at Kiran Foundation in Lyari. "My only problem is with studies. I don't enjoy my studies as much as I do sports. But if I drop out of school for the love of sports, there will be no sports for me. The two things are interlinked," she explains her predicament.
Maria Qaiser, her class fellow, was smiling as she listened in on the conversation. "I don't have any such issue. I get good marks as far as my studies are concerned. The problems begin in sports," she says, giggling.
Also read: Lyariites' passion for gymnastics
When asked why does she takes part in sports then, and that too something difficult such as gymnastics when she didn't feel confident enough, Qaiser giggles some more and says, "Just look at me! I do it to lose weight and get fit." Everyone in her team joins her in the laughter.
"For now, I just take part in warming-up exercises because the first time I climbed on the beam, I fell," says Maria.
Mothers and daughters
Next to Qaiser is seated an even younger Nimra Pervez with her mother Reshma Pervez. Reshma tells me that she herself is quite active. "I go to the gym regularly," she says. "Had I been younger, I too would have learned gymnastics but I am enjoying my daughter live up to my dreams," she adds.
She also says that Pervez's father initially objected when she first enrolled her for the gymnastics class, "But now that I go to my gym classes too, it is two against one. He has stopped objecting, though he still doesn't approve. But that is his problem, not ours. We enjoy our sports," she says.
Samira Baloch is another mother there accompanying her nine-year-old daughter Mahi Kan and seven-year-old Imaan.
"We have also faced much opposition on the home front, and not just from the girls' father but the entire family. Still, they have not been able to stop me from sending my daughters to gymnastics class," she says.
Father and daughters
Next to the Kiran Foundation girls were the Imkaan Welfare Organisation Khel Centre gymnastics team in their signature cheerful bright budgie yellow jerseys and black tights. This team had many boys too. When asked what were the boys doing there in an all-women gymnastics championship, Imkaan's director Tahera Hasan explained that the boys were there for the planned demonstration before the start of the event.
Another male standing out among the group was Jafar Iqbal, and he was cheering at every performance. Iqbal was there to lend support to his daughter Kiran and niece Aqsa. "My prayers are with my girls and their team. I'm sure they will do great," he said, proudly glancing at them.
Asked if he had come with the girls' mothers, Iqbal shook his head. The mothers were at home but he said he just couldn't miss the event.
Iqbal, who works as a guard at Imkaan Welfare Organisation, says, "I had admitted my daughter to a private school when she was little. But then that school shifted from Machhar Colony and she was out of school for a while until we discovered Imkaan. Now, I work there as a guard and my daughter and niece study there."
More on this: 'Sports can help advance women's status in society'
"God has blessed me with six daughters. The older two are married and not very well educated. But the mistakes I made with them I am not going to repeat," says Iqbal, adding "therefore my four younger ones are all studying".
Teaching and coaching
Nasira Amin, a teacher and coordinator at Imkaan, escorted the team of Kiran, Aqsa, Sonia, Maryam, Anwara, and Kulsoom to the ground when they called out for Imkaan Khel Centre. "That's you all! Come on, hurry up. Let's get there quickly," she tells them, leading the way.
"They are very hard-working students. Imkaan is off only on Sundays so the school is open six days a week with a gymnastics class happening on Monday, Tuesday and Thursday from 10 a.m. till noon. The other days are reserved for studies alone. They also do regular school work after gymnastics practice, mind you," she says.
Amin shares that besides gymnastics, they also have a very strong table tennis team.
"In fact, our table tennis team is also currently playing at a championship at Shahwilayat School," she says.
Once on the ground, the Imkaan team is introduced to the judges by chief gymnastics coach Mohammad Furqan.
The coach knows exactly how his students feel. Growing up in Lyari himself, he was just like them once.
"I love gymnastics...I started practising myself when I was only 12 but it was against my family's wishes. They thought it to be a waste of time and wanted me to work for a living, which I did too, finding work as a cleaner at the Karachi Port Trust. But then my own coaches encouraged me to keep practicing gymnastics. They made me take part in national championships. And then when I was winning medals my family also realised my potential and backed off," the coach says, sharing his own story.
Back to the Urtaay Sitaray All-Women Gymnastics Championship, among the nine school teams participating there were big names such as Foundation Public, Beacon Askari, Wisdom House, Little Gymnast, etc., but the yellow team, with lithe bodies and hair neatly pulled back and done in buns like ballerinas to looks like real professionals, are actually what they look like.
Called to the floor one by one, they prove their mettle in flexibility, agility, and strength. They even walked off with the championship trophy at the end.
Explore: Gymnastics: Cartwheeling to hope
National championships for the stateless?
Unlike their coach, most children of Machhar Colony cannot participate in national competitions.
Tahera Hasan, Imkaan's director says: "The reason behind organising this championship was to provide a platform to all women gymnasts, irrespective of whether they were with school teams, with gyms or were learning individually. There aren't many opportunities for this kind of exchange especially in gymnastics."
Speaking in particular about the winners of the championship, she says: "Khel's team comprises of children that are stateless and without any identity. They can be trained to compete at the national and international level if given their right to identity."
She hopes Imkaan will be holding the championship on a national level next year.
---
The writer is a senior staff reporter with Dawn.
She tweets @HasanShazia