The trauma of eviction experienced by women is hardly discussed.
In the wake of the recent Supreme Court decision to revive the Karachi Circular Railway (KCR) and remove the encroachments along the route, a support workshop and follow-up counselling sessions were organised by the Karachi Urban Lab in collaboration with the Urban Resource Centre for the female residents of Umar Colony.
This neighbourhood is one of the most anxiety-ridden due to the impending evictions. The first session was dedicated to discussing stressors and anxieties, and was attended by more than 40 women and girls.
The community was extremely eager that we hold the session. When we arrived, our host told us:
"We've been waiting desperately for days. These girls and women asked me every day when will you come. They're happy that someone's here to listen."
Even though protests have been held against the Supreme Court's ruling, these events are dominated mostly by men. On ground and in media reports, women are largely invisible.
First-hand accounts: 'The woman was stricken as they demolished her house. She went into coma and died'
We started the session talking about the developments taking place in Karachi, the news circulating about the anti-encroachment drives all over the city, and how this is triggering stress and anxiety among the women in the colony.
We talked extensively about what qualifies as stress, anxiety, anger and depression, and how to understand the symptoms among people around us.
The following stories emerged from the follow-up counselling sessions.They signal the trauma experienced by women and their families, something that is hardly discussed in urban planning and development circles in Pakistan.
The cost of eviction is not only financial; it also impacts mental health with consequences that can persist for years.
The testimonies have been translated from Urdu and edited for clarity. Participants' identities have been kept anonymous.
***
"Being women, we suffer more"
"From the safe space of our homes to the immediate lanes outside and beyond this neighbourhood, it's the women who run all the chores and keep life going. Therefore, whenever there's any panic, the women are the first ones to be affected.
"Our men go outside; they meet other men, they talk to other men, they take part in the protests. They can do all of this. Men can go out and show their agency and anger.
"Homes have a special meaning for women; it's their safest space. With our efforts, we turn these houses into homes. Now that our homes are at risk, we're really anxious and vulnerable.
"Being women, we suffer more. Being a woman, you'd understand. We're more fearful and our men are aware of this.
"We support our men. If not on the streets, then in other ways. We're willing to lie down on the rail tracks if our men ask us to; our children will do the same.
"It's not only older women; young girls are also extremely anxious, but they're not expressing their feelings.
"There're no safe spaces in Karachi. All our relatives live here in Umar Colony. If all of us lose our homes, no one will be able to help one another.
"Imran Khan and the government should think about our daughters. I'm sure they also have daughters and can understand how vulnerable we are and how painful it'll be for our children.
"Why can't the rich people of this city and Imran stand by our side?
"The girls aren't talking about their problems with anyone; not even with their parents. They know their community is in a weak position right now. Can you imagine how hard it is on our children when they see us worrying and even crying?
"Please leave us where we are; let us live; let our children stay in schools; let our girls live out their youth in this community where they feel safe and protected."
*
"We voted Imran, but now look"
"Since I've heard this news, I've been mentally paralysed. I can't concentrate on any work. I've severe headaches and cannot sleep even for a few minutes.
"You know my daughter used to live with my brother. But now that my brother has lost his house, she has returned and isn't able to adjust living with me. What if we also lose our house?
"At the madrassa today, a young girl asked me:
"'My mother works in other people's homes everyday but today, she didn't go to work. Can you ask Imran Khan why this is happening? I'm the eldest so I've to take care of all the chores at home but today, my mother was very upset so we didn't do anything. My Father is very angry these days. He wasn't like this before.'
You see, we only have support from other women in this neighbourhood; we rely on each other for all kinds of support. If some of us are forced to leave this place, where will we go and who will we reach out to?
"The Naya Pakistan government is not forgiving to anyone except the rich and the powerful. We're just voters who're used when they want votes from us.
"We voted for Imran and now see what his people doing to us. We have been fooled by all governments, but only this government is so cruel as to promise millions of houses and then demolish others at the same time!
"Everyday we pray our homes are not turned into rubble."
*
"My heart is sinking"
"What we've heard today, pray that not even an enemy has to hear such news. We're not illegal; illegals are those who get away stealing poor people's homes.
"We've been living here for 30 years and now China needs our land. Everyone is afraid.
"Because of the events in other places in Karachi, people can't sleep; they're terrified their homes will be demolished.
"All these women with chronic headaches and insomnia — the reason is fear of eviction. I know of a woman who was so stressed that she had a heart attack and died. Some people cannot deal with such distress.
Only Allah can save us. We hope our prayers will soften the heart of the Chief Justice of Pakistan. Since this morning, all of us have been praying and reciting the Holy Quran; praying that someone with a heart in this new government will save us and our homes.
"Some of us have come from the northern areas of Pakistan and others are Muhajirs, who have already been displaced repeatedly.
"Haven't we lost enough already? Imran should remember that these are our own people, they belong to Pakistan and he should protect us.
"My heart is sinking. There are so many elderly women in our colony and we haven't even told them the news yet. You see, they've very weak hearts."
*
"We're facing an emotional breakdown"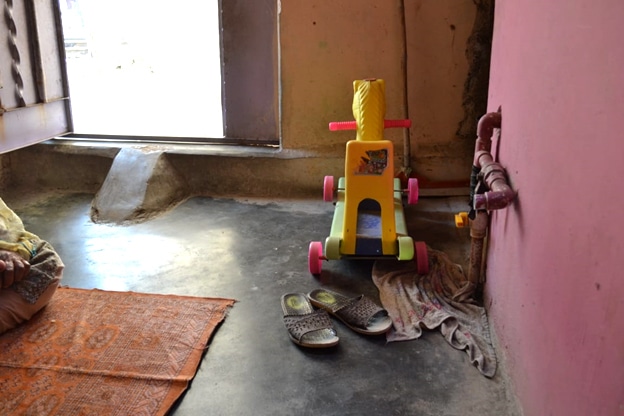 "No one can imagine the nightmare I'm living right now. If they destroy my home, I've nowhere to go.
"I have daughters and a 21-year-old son with special needs. All the social support I have is here, right here in this neighbourhood. My son cannot survive without the support of the people here.
"The government shouldn't destroy our homes just because we are poor. We have many children, elderly and people with special needs (both physical and mental).
"At least give us some alternative first, then you can demolish our homes or give them to China or do whatever you want.
"Everyone in our community is facing an emotional breakdown. Men are angry and women are feeling immense stress and anxiety. They aren't being told what's going to happen and how tomorrow will unfold.
"We're dying slowly due to this uncertainty."
***
---
Are you working on Pakistan's urban dynamics or have faced evictions? Write to us at blog@dawn.com