Ten stories about residents who stand to lose their homes as KCR is revived.
On Saturday, November 18th, Justice Gulzar Ahmed of the Supreme Court directed the concerned authorities to revive the Karachi Circular Railway (KCR).
Justice Ahmed, who was chairing a meeting at the apex court's Karachi registry, also issued directions for the removal of encroachments from railway lines in the city.
Around 40,000 people living in informal settlements along the railway tracks will now have to be relocated.
Earlier in August, the Sindh government and the Karachi Urban Transport Corporation proffered a timeline of two months to present a resettlement and compensation plan that does not infringe the fundamental rights of the residents.
The court hearing has been delayed until an unspecified date. With the court not summoning the stakeholders to present the plans and the chief minister of Sindh, Syed Murad Ali Shah, announcing the compensation for the affectees on "humanitarian grounds'', it leaves those affected with no hope for redress; neither from the courts nor from the concerned government departments.
Related: The 'clean-up' of Empress Market doesn't have to be this way
In popular discourse, the residents of the 28 informal settlements along the railway lines are often classified as qabza mafia or drug addicts or encroachers.
But from Ghareebabad, Moosa Colony to Mujahid Colony, Wahid Colony, Punjab Colony and more, the ethnically heterogenous mix of people have lived in these neighbourhoods for well over 50 years.
They are recyclers who sort rubber, plastic leather; drivers, labourers, shopkeepers, security guards, housewives, cattle farmers, tailors; maids who work in Karachi's upper-middle class homes; and an emergent generation of teachers, bankers, technicians and lawyers.
The residents represent an inter-generational mix that aspires for a peaceful life and a future where a certain material standard of living is secured for upward mobility.
News of the recent anti-encroachment demolitions in Saddar has reverberated across these settlements, raising people's anxiety levels as they foresee bulldozers heading their way.
Below are 10 stories about some of these residents. The accounts have been translated from Urdu and have been edited for clarity.
***
"Where will we go?"
"These shoes you see come from outside for sorting. They come from big countries and we set them into different categories.
"The ones in almost perfect conditions are sent to countries like Indonesia, Malaysia… all parts of Asia. The second quality is sold here in the markets near lighthouse and Sunday Bazaar.
"And then there is this third category which no one will wear, so we remove the buckles and the soles and sell them separately to companies. These are of really good quality, so we have willing buyers, and the rest of the shoe, including its leather, is burnt in a kiln and we use it to make clay pots and other items. Previously, we used to dump them in the drain, but now we found a better use of it.
"We are earning legally. We don't steal, we are earning by working hard, by doing labour, and then the government sends us away without thinking.
"Where will we go? What happened recently at the Empress Market? What is going to be the fate of those who were employed on daily wages?
"If they make me leave from here, how will I take care of my family? One day you might see me being taken away in handcuffs and you'll say, 'Oh look how this seemingly fine man got involved in wrong activities'.
"We want to earn lawfully, but these people are not willing to let us do so."
*
"They wouldn't do it to the rich"
"We work on contract for shops at the Jama Cloth Market. I own this shop and have been doing the same business for the past 15 years. I don't live in this colony, but you'll find me here, at my shop, from morning until evening.
"You see my son there working on a piece; he has been coming here since he was a kid and now, he must be older than you.
"Who doesn't want progress in their neighbourhood? Do you see the piles of garbage outside? Our kids have suffered from diseases due to all this filth. We've tried so many times to get it removed. We Went to the Karachi Municipal Corporation to complain.
"But these are powerful people. I'm talking about the garbage mafia; they have links to China and other places, but we don't have those kinds of connections. They threaten people, so everyone has to back off.
"This area also hasn't had gas for the last three years and even right now, there is no electricity after six in the morning.
"Now look at this kid [gestures to a boy in his early 20s]; he works all day to earn Rs800. What will happen if he loses his job?
"He might have to rob someone. And the thing is, he won't rob a rich person living in a bungalow with a Pajero and three guards; this poor man will rob another poor man.
"If you crush the poor, where will they go? They wouldn't do these things to the rich."
*
"This is my world"
"I came to this neighbourhood after the war between West and East Pakistan. That was a time when plots were being sold for Rs500.
"We came in a ship. They put injections into our arms; I still have the marks. They did it because the journey was long and gruesome. People would get ill; some were carrying diseases, so they had to make sure these didn't spread.
"It was Bhutto's time and we were given cards as proof of citizenship. But we didn't get national identity cards, which makes it very hard… it makes it hard to even exist.
"They deliberately make our lives difficult. There are a lot of Bengalis here, but we don't get opportunities to prosper. They want to line us up and shoot us.
"We're just surviving. It's not easy living; I have three daughters and two sons. My grandson loves me a lot; as soon as he sees my face, he wants to be with me and loves spending the entire day with me. His parents don't mind, so he just plays here with me.
"This is my world."
*
"Land is everything"
"If this storage space is demolished, how will I make a new one? After all, you need land even for that. Land is everything.
"They have sold everything. The high-rise you see there, it was sold for crores. Get rid of the poor and make the country clean — this is their thinking. What's happening in Saddar right now, it's the same.
"If it were up to them, we would be roaming around in our undergarments and nothing else.
"We have been here since the train was operating and saw it pass through daily. Back then, there were fewer people in this area.
"Everyone here is living on government land and the landlords are receiving rent.
"This government is making a fool out of us using slogans for change; we're just entertainment for them.
"They have millions but even then their eyes are fixed on a poor man's land worth Rs10,000."
*
"Times are hard"
"My shop is open until 11pm every day. Most of the workshops in this area close by sunset, but teenagers and children come here to play so we keep the shop open late.
"Times are hard; we must do this to earn a living.
"We charge about Rs10 for a football game and the kids just come and hang out here with their friends. At night, the place is alive; the men gather on the street here. The road is clear, so traffic also increases.
"All the houses here are small, so people often sit outside for air. No, not women; they stay indoors. In our area, women don't go out unless for work or a specific reason.
"Most of the women work as maids and they come back in the evening, make dinner and then they don't really have enough time to hang out outside."
*
"We are happy here"
"You see, plastic is made from petrol and we use it to make a compressed version of plastic called daana, which is sold at Rs600 per kilo. We do this work from 8am to 5pm.
"Our Suzuki comes all the way from Sher Shah, where we send the plastic once it has been sorted. The round trip costs Rs900.
"All restrictions are on the poor, all the decisions, all the hurdles. You see that building there? It can collapse anytime, but someone from government took money from the developer and allowed its construction.
"Even though the government later on decided to demolish the building, it hasn't happened yet. A court case is ongoing and people are living in the building.
"What happened in Saddar recently? The shop owners pay very high rents and they sold a part of their shops to kiosks so they could earn Rs5,000 per month to make it a little easier to pay the rent. The shops are gone and so are their livelihoods.
"About 30 years ago, I was paying Rs700 per month in rent inclusive of electricity and gas. Now, the rents in this area are as high as Rs6,000, but people still want to live here because it's a safe area.
"Although this is an ethnically mixed locality, I've never witnessed a single problem. I'm Sindhi and most of the factory owners are Bengali. But no one ever bothers anyone. We are happy here."
*
"We don't have anything left"
"Inflation is high these days and it's not easy to find work. This roof over our head is the only support we have. Even though we have found our messiah [referring to Imran Khan], in the end look what is happening.
"When they remove these houses, they will need money to make new buildings. Wherever they get the money from for the new construction, can't they give some to us too? Where will we go?
"I sold all my gold and put it into this house. We don't have anything left. Today, if you try buy a house, they will ask for an advance. A person like me can't afford advance.
"Just yesterday, I was talking to my nieces who live a few houses away and they told me that some houses have received notification of eviction.
"I haven't gotten a notice yet. It's all hearsay right now with all kinds of news floating and lots of confusion.
"Tell these people to spend one day of their lives living like us. Just one day. We buy Rs20-30 worth of sugar, we count the amount of flour we can buy; that's how we spend our lives.
"Don't steal our house from us."
*
"That family's life is now ruined"
"We collected money slowly over the years and put all of it into this house. Back then, there was a pit here; not even a proper floor.
"When it rained, the water from the drain would flood my house, ruining the furniture, making everything dirty.
"There was no one here to help. Whatever money we had, we used it to fix the drainage.
"My husband is old and sells chickpeas, but at least he earns an honest living. But how will we find money for a new house?
"Every time I see the railway tracks on TV, fear grips my heart and I start thinking that now they will talk about throwing us out.
"When my nephew visits, he doesn't mention anything to my husband about what is being reported in the newspapers regarding the eviction.
"My nephew feels my husband is old and something might happen to him if he hears the news about the eviction.
"Two months ago, the railway people came and without any notice, demolished the house at the corner of the street.
"The woman in that house was stricken with grief as she watched her house being taken down. She fainted on the spot, went into a coma and a few days later, she died.
"That family's entire life is now ruined."
*
"It takes a lifetime to build a house"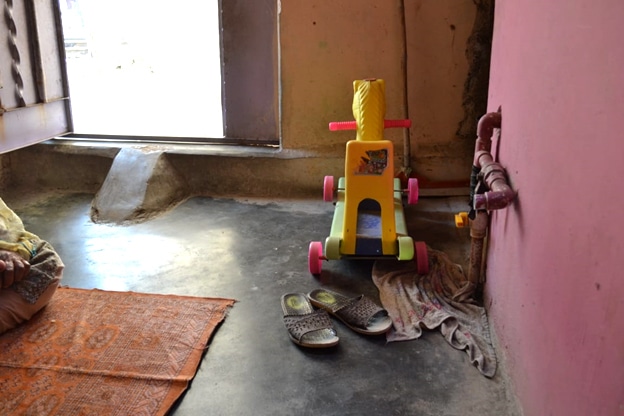 "I have difficulty standing up without assistance. I stay in these four walls the entire day. When I hear the news about evictions, my blood pressure goes up. Mine gets high and my daughter's gets low. Who is going to look after whom?
"We have a little bit of furniture; it's not like we are living in a palace. When we hear about the evictions, the only thing that comes to mind is: where will we go?
"You know, a house is like a garment. If a house is demolished, the garment is snatched from the body.
"We made these little huts we call home using branches and bamboos. When it rained, the water would come inside the house.
"Eventually, my son made this house pakka by taking loans. It takes a lifetime to build a house and barely five minutes to demolish it.
"They have caused so much damage in Saddar. Those people have been there for 50 years; the shops belonged to their fathers and mothers.
"All we say is that no one should be forced out of their homes. We have just this one house and if we don't have peace even here, where will we go?"
*
"No one cares about the poor"
"We earn a respectful living; we don't have any property to back us up and we don't have acres of land in our villages.
"If we had these, why would we live here in Karachi? Where will we go if we get evicted? Imran Khan has promised so many things and now the clock is ticking for us.
"I am constantly watching the news and whenever Ghareebabad's name comes up, I get goosebumps. Everything is for the rich, no one cares about the poor.
"We don't want anything except our house. We're not asking for money, nor are we asking for any more property."
***