Afghan brilliance, Sarfraz's temper, Imam and Malik's rescue acts, plus more.
Pakistan managed to defeat Afghanistan by the skin of their teeth in the Super Four stage of the Asia Cup 2018. Here are the 5 takeaways from that match:
1-Afghanistan are no joke
Before the dropped catches, before Imamul Haq's maturity and before Shoaib Malik's clutch innings, Afghanistan need to be talked about. Sporting teams representing war-torn countries mostly compete to make up numbers but not this Afghan side.
These are no push-overs or flukes, these are serious cricketers who pushed Pakistan to the limits for a reason. Their batsmen have sound technique, they have world class spinners and their temperament is just amazing. If they can grow a decent fast bowler or two, they can go a long way.
2-Pakistan's chronic problems reappear
Dropping catches, throwing away wickets and making a match of the most comfortable of situations has unfortunately been Pakistan cricket's hallmark. The team's form in the last year and a half had fooled us into thinking that those issues have been resolved. It turns out, we were wrong.
In yesterday's game, Sarfraz and co dropped four catches, absolutely did not value their wickets and then time and again allowed the Afghans to come back into the game. I guess some things don't ever change.
3-Sarfraz needs to rethink captaincy style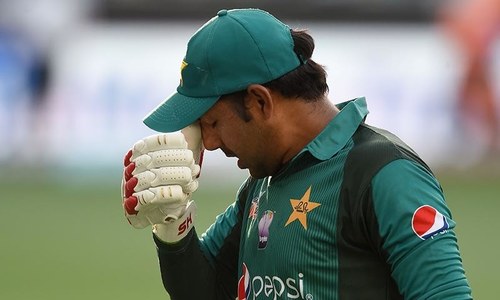 For a captain to be hands-on and keep your players on your toes is usually considered a quality. But when you overdo it to the extent that Sarfraz Ahmed is doing it these days, it could also be counterproductive, which it proved against Afghanistan.
One cannot help but wonder if all those dropped catches also had something to do with the added pressure of the captain yelling out expletives in the microphone for the world to hear.
We get it that Sarfraz has been under pressure following the defeat to India. But it does not have to mean that you turn into an ultra-critical, obnoxious leader and create a pressure cooker so intense that it gives the players the jitters.
As Waqar Younis correctly suggested to the skipper, he needs to take today's rest day to cool himself off.
4-Amir — a victim of his own former brilliance
When the team sheets were disclosed, the major talking point was of course dropping Mohammad Amir in favour of the young Shaheen Afridi. It was a gamble but it worked. In his 10 overs, the youngster gave away just 38 runs and picked up two wickets, and could easily have had a fiver on debut had the Pakistani fielders not dropped three catches off his bowling.
But at the same time, Amir's exclusion also seems a tad unfair. He may not be picking up wickets the way he did before Salman Butt masterminded what he masterminded, but then who is. We shouldn't forget that these UAE pitches are made for batsmen and spinners, not for pacers.
5-Imam and Malik's rescue acts
Will all the critics eat their humble pies over the fuss they created on Imam ul Haq's place in the side? Probably not because now the counter argument will be: "well it was only Afghanistan" just like it was only Ireland and only Zimbabwe earlier.
The young left-hander bailed the team out at a time when his strike partner was struggling. If he hadn't, the underbelly of Pakistan's batting would have been exposed by the Afghans right there and then. As explained here, we all need to accept how wrong we were about him and that his uncle did actually make the right call. The kid is special.
Read: An open apology to Imamul Haq and his uncle Inzamam
Who else is special? Shoaib Malik! How many times have we seen Malik Steel (how is that for a nickname?) rescue Pakistan in these late-game situations. He wasn't the most talented when he first emerged on the scene, but over the years he has turned into one of Pakistan's most important players. As Ramiz Raja rightly said, he will be missed when he retires.
Honourable mention: From a Pakistan cricket fan's perspective, the Asia Cup finally delivered a watchable match in the third time of asking. There was tension, there was anxiety and it went down to the wire. This wasn't a nail-biter, this was a finger-biter. And that's just the way I like my cricket to be.
---
Kumail Zaidi is a cricket aficionado based in Karachi.
---
Header photo: Mohammad Nawaz (R) celebrates after he dismissed Afghan batsman Mohammad Shahzad during the one day international (ODI) Asia Cup cricket match between Pakistan and Afghanistan at The Sheikh Zayed Stadium in Abu Dhabi. Photo: AFP