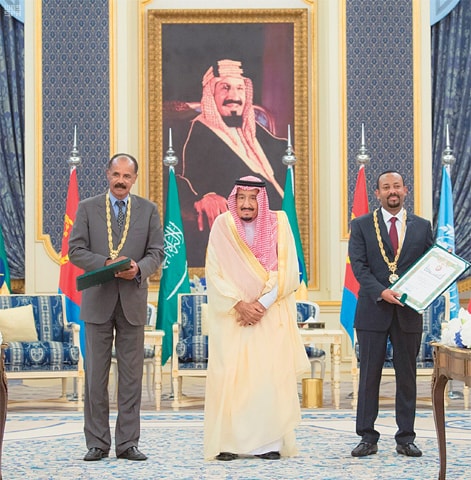 DUBAI: Leaders from Ethiopia and Eritrea signed a "peace agreement" on Sunday during a summit in Saudi Arabia, yet another sign of warming ties between two nations that have face decades of war and unease.
Terms of the agreement signed by Ethiopian Prime Minister Abiy Ahmed and Eritrean President Isaias Afwerki weren't immediately clear. Saudi authorities did not respond to specific questions about the accord, which earlier had been described as being a further endorsement of a historic deal reached between the two nations in July.
"The peace deal resulted in restoration of normal relations between the countries, on the basis of the close bonds of geography, history and culture between the two nations and their peoples," Saudi Arabia said in a statement, calling the accord the "Jeddah Agreement."
"The kingdom of Saudi Arabia praised the leaders of Ethiopia and Eritrea for exercising leadership and courage to restore the brotherly relations between the two countries, thus forming the foundation for a new phase that will bring significant developments in the relations between the two nations in all fields," the statement added.
Saudi King Salman and his assertive 33-year-old son, Crown Prince Mohammed bin Salman, were on hand for the summit in the Red Sea port city of Jeddah. Also attending was Emirati Foreign Minister Sheikh Abdullah bin Zayed Al Nahyan and United Nations Secretary-General Antonio Guterres.
The Ethiopian and Eritrean leaders also were awarded for their efforts the Order of Abdulaziz Al Saud Medal, the kingdom's highest civilian honour.
Abiy and Isaias signed a "Joint Declaration of Peace and Friendship" on July 9, ending 20 years of enmity and formally restoring diplomatic relations between Ethiopia and Eritrea.
Landlocked Ethiopia fought a bloody war with Eritrea from 1998 to 2000 over a border dispute that killed tens of thousands of people. The conflict ended in an uneasy peace with Eritrea, which earlier fought a decades-long war of independence from Ethiopia.
Yet that suddenly changed with the election of Abiy as prime minister in April. A whirlwind of talks suddenly ended the long conflict between the two nations in July, with telephone calls and flights suddenly possible between the two nations.
It was particularly surprising for Eritrea, a closed-off nation of 5 million people ruled by Isaias since 1993. Eritrea's system of compulsory conscription that led thousands of Eritreans to flee towards Europe, Israel and elsewhere. Ethiopia is home to 105 million people.
Published in Dawn, September 17th, 2018