LAHORE: Pakistan Tehreek-i-Insaf candidate Dr Yasmin Rashid has challenged the nomination papers of PML-N candidate Maryam Nawaz for NA-125.
Dr Rashid filed 20 objections against Ms Nawaz before Returning Officer Asif Bashir.
The PTI candidate stated Ms Maryam Safdar was neither qualified to contest an election as per the strict provisions of Article 62 nor the nomination papers filed by her fulfilled the requirement of law particularly sections 60, 61 and 62 of election laws 2017.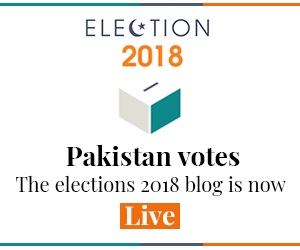 According to election laws, she stated all contesting candidates were bound to declare their assets and liabilities of their spouses and dependents. In the instant matter, she stated that Ms Nawaz had misdeclared and concealed information about her and her spouse's assets.
Dr Rashid said Maryam was using different name spellings in her wealth tax returns, in his father's wealth tax and in her passport. She stated that the PML-N candidate should be asked to file copy of passport she used for opening accounts in Saudi Arabia, the UK and elsewhere and for offshore companies.
She stated that Ms Nawaz had lied in a TV telecast about her property and concealed her tax returns and wealth statements as well as income from agricultural land.
Published in Dawn, June 14th, 2018