I used the phone as my prime camera during a recent trip, and without hesitation gave it an 8/10 score.
There is something unique about the north of Pakistan.
The serene beauty of its mystical places have always impacted my soul deeply. I have felt attracted towards them as the needle of a compass towards the North of the world.
There were times when I visited these places just to roam around and feel the very essence of the north. Time flew by and it's been more than a decade to my first trip. This is how I started photography. I wanted to capture the mesmerising beauty on the camera frame to last forever.
It all started with a film camera and as time passed, the film was soon replaced by a digital lens. For years, my only companion into the wilderness was a DSLR camera and it never disappointed me.
As film cameras were replaced by DSLRs, technology didn't take long in providing another substitute to photograph our precious moments more often and instantly than ever before in the form of smartphone cameras.
Though for a photographer like me, it was a strange feeling to carry a smartphone on a photography trip and to use it to capture ecstatic images of nature. It eventually did happen, and I was impressed by the results.
I used a HUAWEI P20 Pro as my primary camera during a recent trip to the North of Pakistan, and without hesitation I can say that it has the best camera that any smartphone is offering today. It's a handy substitute for a DSLR on many occasions without any doubt.
The HUAWEI P20 Pro is the first smartphone in the market to offer a tri-camera – a 40MP RGB colour sensor (f/1.8), a 20MP monochrome sensor (f/1.6) for depth and texture, and a standard 8MP image sensor (f/2.4). The latter has Optical Image Stabilisation (OIS), while the first two sport Artificial Intelligence Stabilisation (AIS).
All three sensors are designed by German optics industry giant Leica, with each being assigned a specific role. The 40MP sensor captures colours in the scene, the 20MP monochrome sensor ensnares more detail, as well as texture and depth for a bokeh effect (if required), and the 8MP sensor is used to zoom in.
The new HUAWEI P20 Pro packs one of the most powerful processors currently available for smartphones. In the HUAWEI P20 Pro, each sensor pixel measures one micron, or a thousandth of a millimeter. The standard P20 has 1.55 micron sensor pixels. The image quality from the primary camera in daylight is superb.
Most of the images captured in daylight have excellent details and vivid colours. I did not find any hints of noise or over-sharpening effects in these images. Even though the camera misses out on dual-pixel autofocus, the combination of phase and laser detection auto-focus works flawlessly. The focusing is fast and accurate and not once did the camera show signs of lag or delay in focusing during my entire review period.
I was also left impressed by the lens quality of the HUAWEI P20 Pro. Just a few days into my testing, it became evident that Leica lens enables distinct reduction in the amount of lens flare. The lower lens flare helps the camera capture more details and endows it with superior dynamic range.
The main camera comes with an unusually large 1/1.7-inch sensor, which is approximately twice the size of the smaller sensors in most direct competitors. At F1.8 the aperture is not the largest, but thanks to the increase in sensor surface the HUAWEI P20 Pro's main sensor is still capable of capturing around 20 percent more light than most rivals.
The HUAWEI P20 Pro's optically-stabilised tele-camera offers 3x zoom factor—approximately a 80mm equivalent focal length. Huawei has been able to implement this longer reach while the 20MP monochrome is already contributing to decent zoom quality at 2x, allowing the tele to focus on 3x and larger magnifications.
Telephoto lens delivers lossless image quality till 3x zoom however, if you zoom further image quality will suffer due to digital zoom.
HUAWEI P20 Pro has significantly better low-light capabilities of the large main sensor, with ISO values up to 102,400 allowing for usable exposures in very dim conditions.
Other imaging features include phase detection and laser assistance in the AF system, predictive focus, motion detection, and a zero shutter lag for minimal delay before capture.
Here are some examples of different shooting modes.
Aperture mode
I was particularly impressed with the HUAWEI P20 Pro's aperture mode, which can blur or focus the background of the image. This gives better depth of field in the photos you take. On this smartphone you can control this setting manually just like you can on a DSLR camera.
However, it wasn't the easiest setting to work with. I found it frustrating sometimes, as the focus kept shifting and jumping around.
Portrait mode
Portrait mode is one of the main settings people use on their smartphone cameras and this feature really stood out for me. The mode blurs the background of the image with an emphasis on the focus.
I feel this makes the images look clear. Anyone can do a portrait image in this setting and it would look similar to what a professional photographer can do. Though, that is slightly frightening for me.
Night mode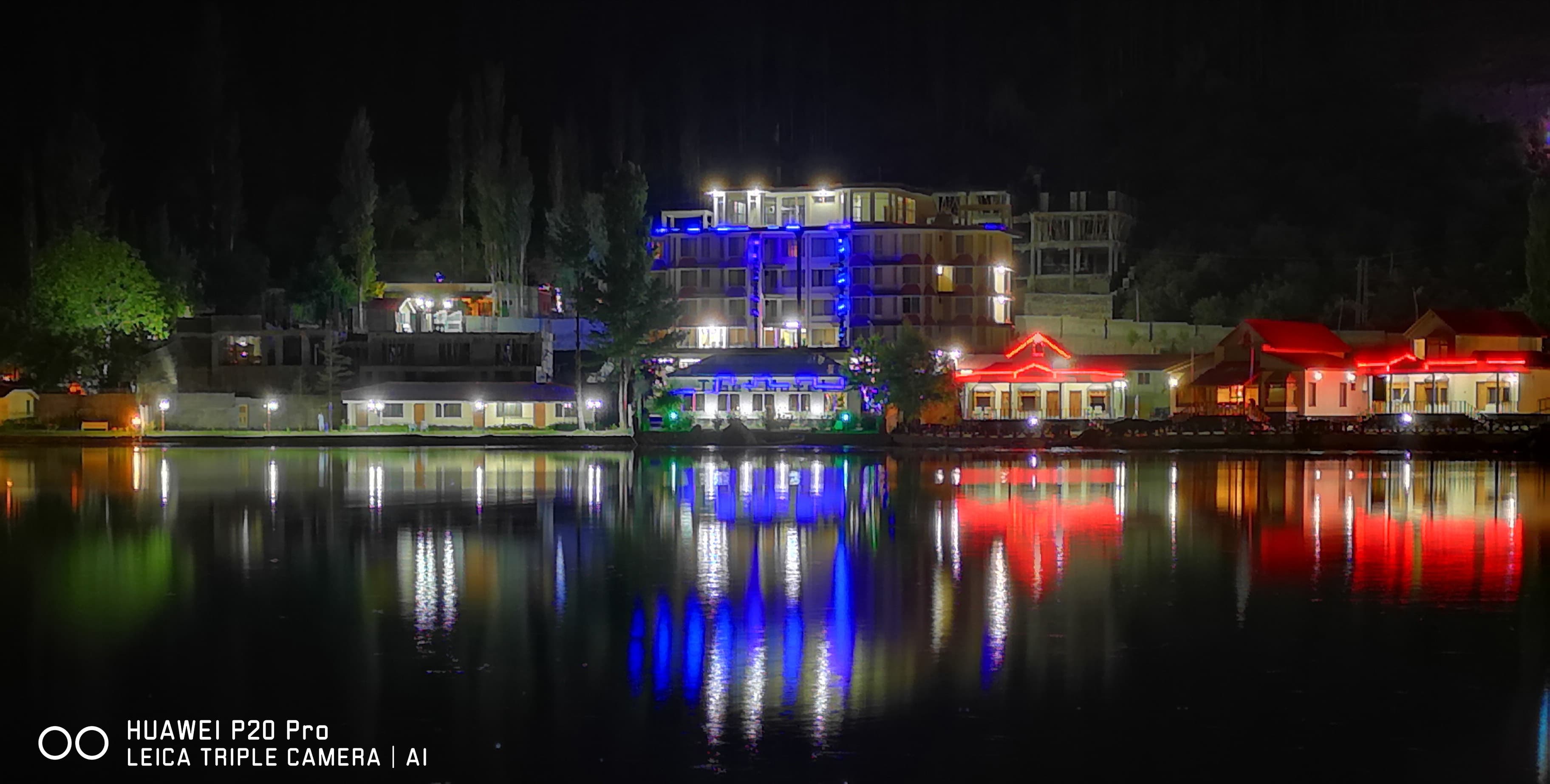 The HUAWEI P20 Pro also offers ISO 102,400 for low-light shooting to try and ensure you get the shot no matter what. Don't expect miracles, of course, as there'll be some diminishing of quality at this amped-up level, but only few other cameras dare to compete.
More importantly for the Night Mode, this real-time handheld option creates a composite image which is a bit like HDR (high dynamic range) but without the need for a tripod. In short: shoot a scene at night with light and dark areas and it will balance out the shadows with the lights to a sensible degree.
More impressively, it'll create a time-lapse style single image, so if people walk through the frame you'll see their blurry figures, while the rest of the image retains its fixed form. It's almost like magic; a mode no competitor can yet match. These exposures can go up to eight seconds in length.
Photo mode
It is like an automatic mode, if you don't know about technicalities of camera functions this mode is for you. Just snap it and shooter will automatically adjust the exposure according to your scene all thanks to AI (Artificial Intelligence) sensing.
Pro mode
It is worth pointing out what settings you can actually change in this mode; these include ISO, shutter speed, EV (exposure value), auto-focus mode and white balance.
There is no aperture control straight through the glass itself; the RGB sensor's aperture is locked at f/1.8 whereas the monochrome sensor has a wider f/1.6 and the telephoto lens has a narrower f/2.4 aperture.
While it's good to have control over the exposure, my main complaint about the HUAWEI P20 Pro's camera was that the image processing was too aggressive, giving a slightly artificial 'sharpened' look to the images. While Pro mode doesn't seem to apply any less of an aggressive sharpening algorithm to images, that is not to say that it is not useful. In pro mode, you can shoot RAW files for further editing with superb details.
Monochrome mode
If you are keen to shoot some black and white photos for classic touch, this mode is for you. The phone has a dedicated monochrome lens in the camera setup. Co-engineered by Leica, it produces true black-and-white photos.
HDR mode
Like any good smartphone, the HUAWEI P20 Pro has an HDR mode, which takes three differently exposed pictures in rapid succession and combines them to create the most realistic shot.
Unlike many phones, though, the HUAWEI P20 Pro's HDR mode cannot be turned on all the time; it's a separate mode that you have to activate manually, and in that mode, you can't take 40-megapixel photos (10 megapixels is the maximum) and the optical zoom is disabled.
I found out that HDR photos coming out of the HUAWEI P20 Pro are extremely sharp as per my taste which I honestly don't like.
Panorama mode
The HUAWEI P20 Pro captures crisp panoramas with a vertical resolution around 3,000px. Stitching is flawless, and there are no issues with varying exposure.
Based on the camera alone, I would give the HUAWEI P20 Pro an 8/10 score. I will discuss its Light Painting, Silky Water & Star Trails mode in the next article.
Note: All images are straight out of camera on its different mode (Standard Colors/Vivid/Smooth)
All photos and videos are by the author.
---
This content is produced in paid partnership with Huawei and is not associated with or necessarily reflective of the views of Dawn.com and its editorial staff.