Thousands of people gathered at Sohrab Goth in Karachi on Sunday for the Pashtun Tahafuz Movement (PTM) rally.
PTM leader Manzoor Ahmed, aka Manzoor Pashteen, reached the venue late Sunday night after briefly being detained at Bahawalpur and then Hyderabad.
Other PTM leaders, including Ali Wazeer and Mohsin Dawar, were also present at the venue.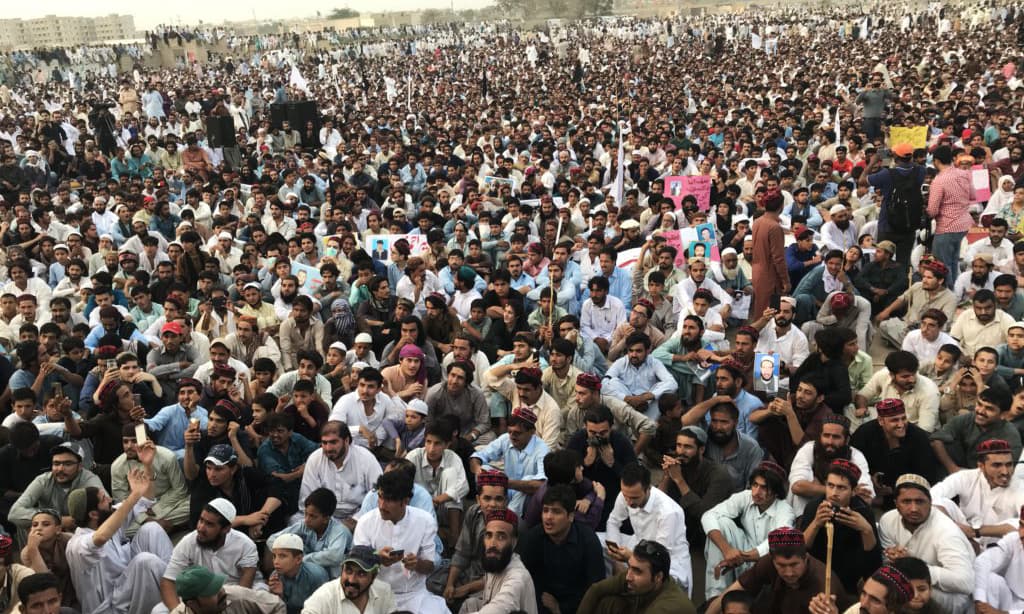 The participants of the rally started gathering at the venue in the evening.
Initially, the movement was going to hold its rally at Karachi's Jinnah Bagh but the venue was changed after the authorities gave permission for the ground near Al-Asif Square in Sohrab Goth.
A police official had told Dawn that the authorities had given permission to the PTM to stage a rally at the ground with 'certain conditions'. Dawar had also confirmed this.
Earlier on Saturday, after "being denied" air travel — first from Islamabad and then from Lahore — Pashteen finally proceeded to Karachi by road on Saturday to attend the rally in the city.
Talking to Dawn by telephone while crossing Okara, Pashteen had claimed that he had booked a seat on a private airliner from Islamabad to Karachi on Saturday morning. When he reached the check-in counter, he was refused the boarding pass on "technical grounds" and was told that there was no booking in his name.
However, his three colleagues were issued boarding passes and they departed for Karachi in the flight, Pashteen had said.
An official of the airline had confirmed that Pashteen was not issued the boarding pass because his booking was not there in the system. In response to a question, he had denied that the airline had cancelled the booking after receiving instructions from somewhere.