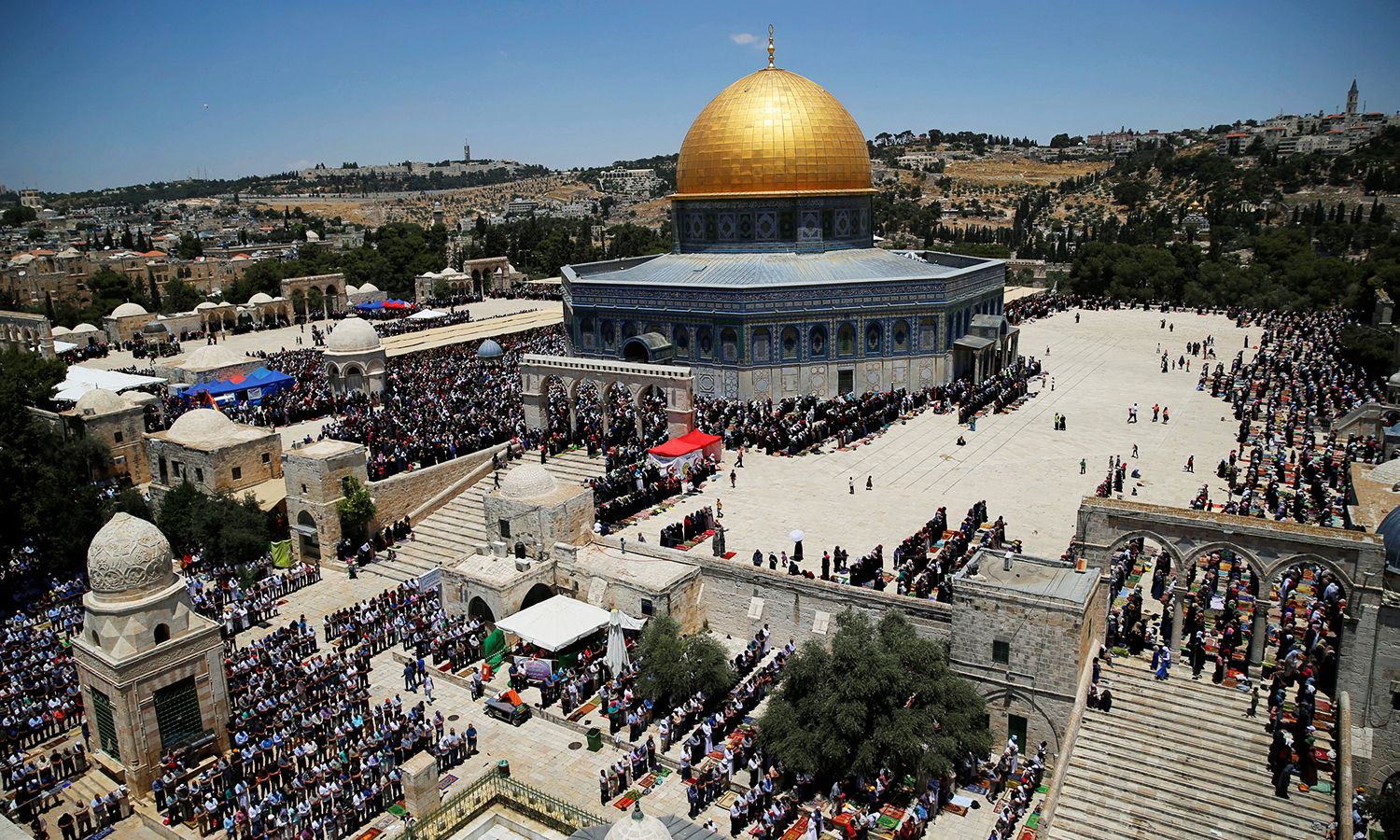 Pakistan on Wednesday reaffirmed full solidarity with the Palestinian people and expressed concern over the proposed move by the United States to shift its embassy in Israel to Jerusalem, saying "such a step would constitute a clear violation of international law and UN Security Council (UNSC) resolutions".
A statement issued by the Prime Minister Office stated that shifting the US embassy to the "occupied City of Al-Quds Al-Sharif will alter the legal and historical status of the city".
US President Donald Trump told Arab leaders on Tuesday that he intends to move the US embassy in Israel to Jerusalem, a decision that breaks with decades of US policy and risks fuelling further unrest in the Middle East.
"It would also sidestep decades of global consensus on this issue, undermine regional peace and security as well as derail any prospects for a lasting peace in the Middle East," read the PM Office statement.
PM Office said the people and government of Pakistan are unequivocally opposed to the reported plan of shifting the US Embassy, adding that, "Pakistan fully endorses the recently adopted final communique of the Organisation of Islamic Conference (OIC) on this issue."
On Monday, the OIC had said that its 57 member states should sever ties with any state that transfers its embassy to Jerusalem or recognises Israel's annexation of East Jerusalem.
Know more: Erdogan warns Trump, Saudis voice alarm over possible US move on Jerusalem
Pakistan has called upon the United States to refrain from any move that alters the legal and historical status as well as the character of Jerusalem, and urged it "fully comply with all applicable UN Security Council resolutions including UNSCR 478".
"Pakistan renews its call for the establishment of a viable, independent and contiguous State of Palestine, on the basis of internationally agreed parameters, the pre-1967 borders, and with Al-Quds Al-Sharif as its capital," read the statement.
Senior US officials said Trump is likely to recognise Jerusalem as Israel's capital on Wednesday while delaying relocating the embassy from Tel Aviv for another six months, though he is expected to order his aides to begin planning such a move immediately.
Washington's endorsement of Israel's claim to all of Jerusalem as its capital would reverse a long-standing policy that the city's status must be decided in negotiations with the Palestinians, who want East Jerusalem as the capital of their future state.
The international community does not recognise Israeli sovereignty over the entire city, home to sites holy to Islam, Judaism and Christianity.