A pictorial timeline of the nation's most telling moments.
Future founder of Pakistan, Muhammad Ali Jinnah, on the April 1946 cover of TIME. He is shown in the midst of a geopolitical struggle in British India.
Cover of a press release sent to newspapers on the first Independence Day of Pakistan in 1948.
A 1950 promotional card displaying new uniforms of the air hostesses of Pakistan's first airline, Orient Airways.
The original bottle of Pakistan's first soft-drink brand, Pakola. It was launched on Pakistan's third Independence Day in 1950.
1950 launch poster of the country's first 5-star hotel, The Metropole, in Karachi. The hotel was inaugurated by the Shah of Iran, thus the (Romanised) Persian copy.
An ad announcing the introduction of traffic signals in Pakistan. They were first introduced in Karachi in the 1950s.
The diary page on which poet Hafeez Jalandhari penned the country's national anthem. The music for the anthem was composed by Ahmad G. Chagla in 1949. The words were written in 1952 and adopted by the government in 1954.
List of holidays in Pakistan in 1953. Many of these are not holidays anymore.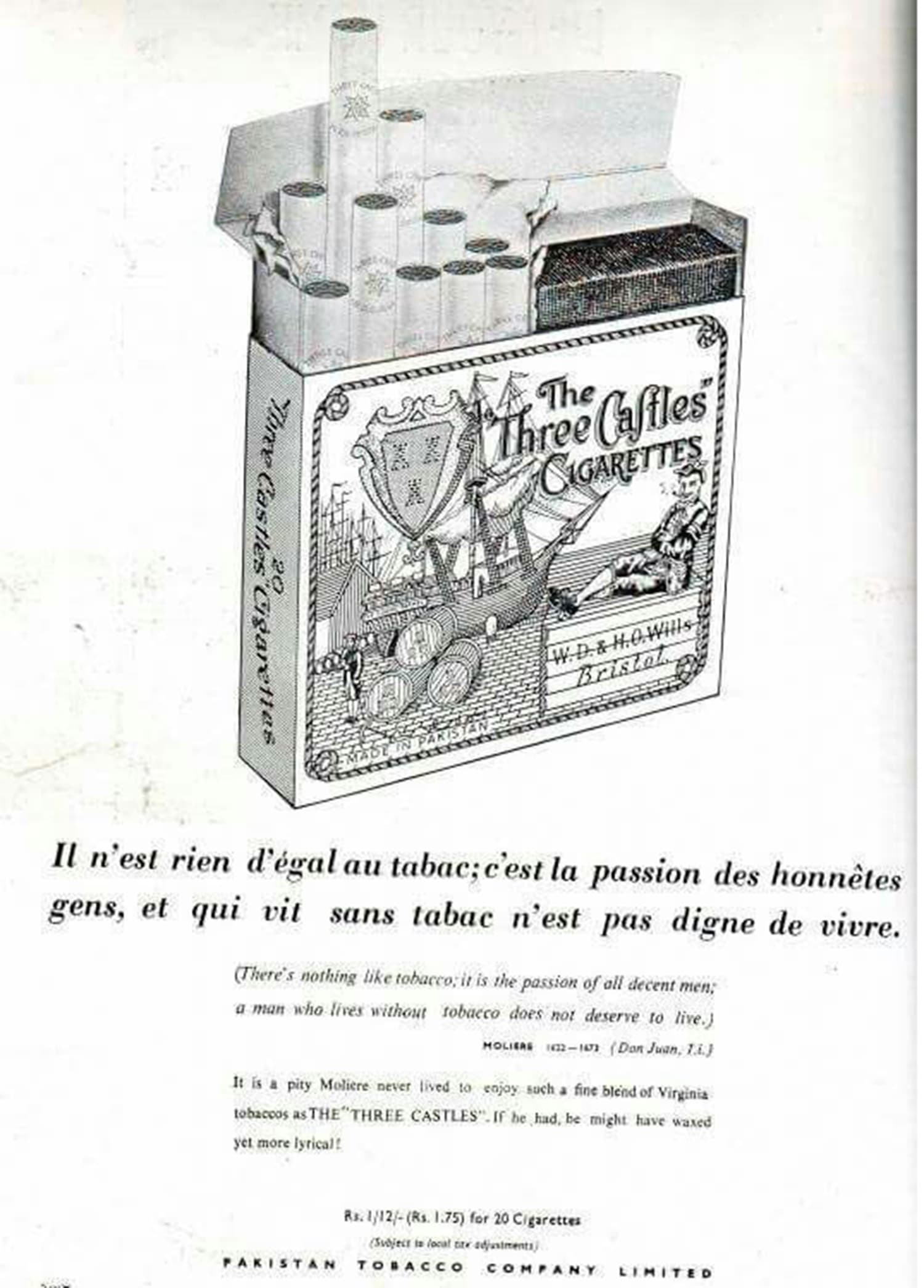 Pakistan Tobacco Company's launch ad for the Three Castles cigarette brand in the 1950s. The ad uses a quote from fictional Spanish romantic and libertine Don Juan in the copy.
A 1956 handbill of Pakistan's first 'beauty cream' brand, Tibet Snow. The pack and bottle design of the cream have remained exactly the same ever since.
Fast bowler Fazal Mahmood was the first Pakistani cricketer to be used as a model by a commercial brand. He appeared in a Brylcreem ad in 1955.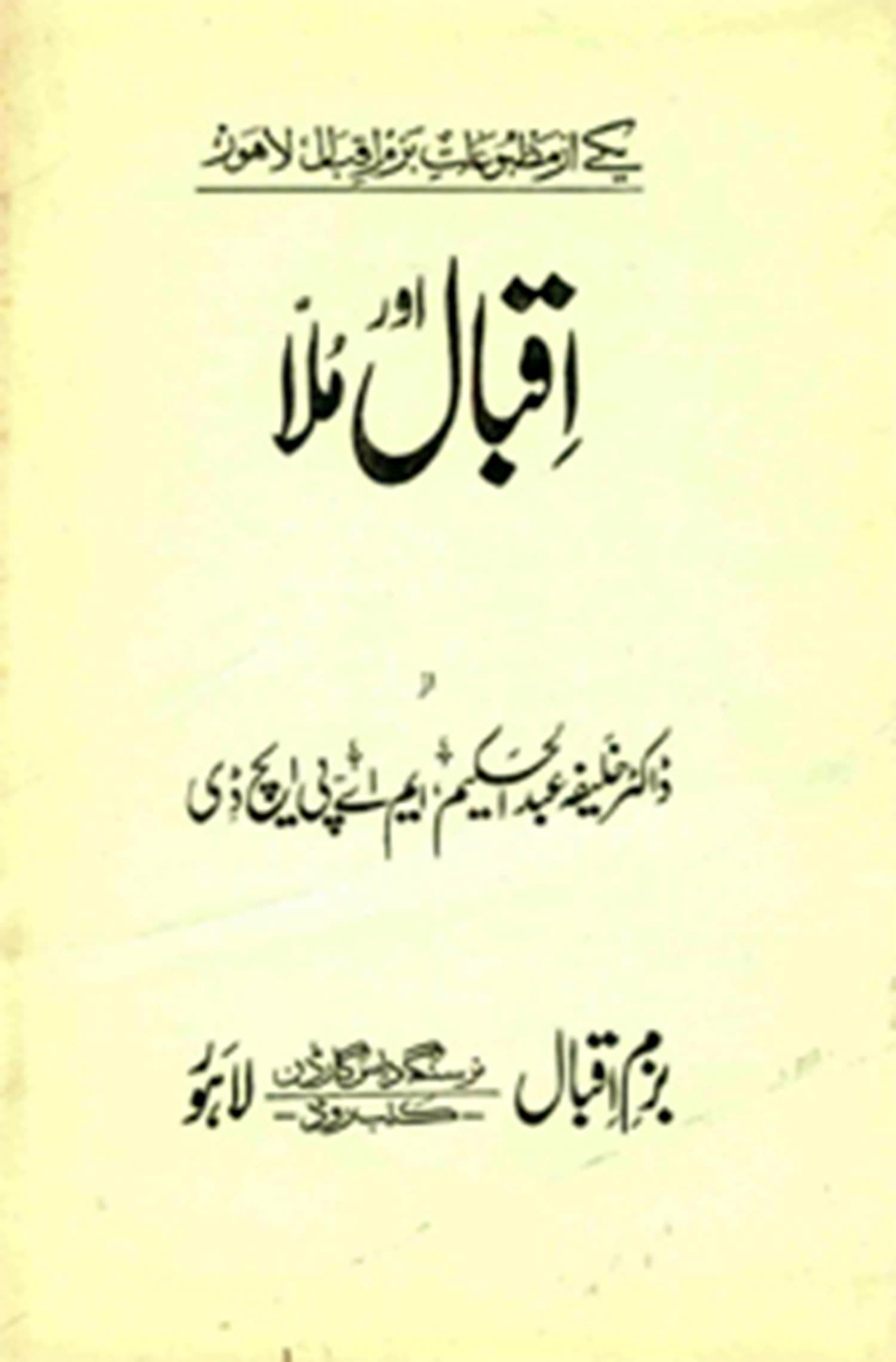 Cover of the pamphlet Iqbal Aur Mullah authored by Islamic scholar Dr. K. A. Hakeem in 1953. The pamphlet differentiated between the 'progressive faith' of poet and philosopher Muhammad Iqbal and the 'dogmatic' and 'retrogressive' faith of the clerics. The pamphlet was distributed by the Pakistan military during its action against rioters during the 1953 anti-Ahmadiyya movement on Punjab.
A 1955 promotional picture of an air hostess of the Pakistan International Airline (PIA). PIA was launched in 1955 after the government nationalised Orient Airways.
A 1956 ad of Pakistani soft-drink brand, Rogers. Rogers was owned by a Zoroastrian family and was most famous for its lemon drink and soda water. The brand folded in the early 1980s.
Poster of 1956 Hollywood film, Bhowani Junction. The film was mostly shot in Lahore.
Cover of the famous 1957 Urdu novel Khuda Ki Basti by Shaukat Siddique. The novel depicts life of crime, economic exploitation and social strife in the refugee camps of Karachi which had turned into shanty towns.
1959 cover of LIFE magazine showing US President Eisenhower travelling on a horse carriage with Pakistani president, Ayub Khan, on the streets of Karachi.
Article in an Ohio magazine on Pakistan's squad at the 1959 Olympic Games in Australia.
Egyptian belly dancing comes to Karachi in 1960.
A 1962 Pakistan tourist brochure.
A 1962 East Pakistan tourism brochure for the jungles of Sunderban.
A 1964 Johnnie Walker ad in a Pakistani newspaper.
Front page of Dawn during the 1965 Pakistan-India War. The war ended in a stalemate.
1966 promotional picture of the new uniforms of PIA's air hostesses. The new uniform was designed by the famous French fashion designer, Pierre Cardin.
A 1966 tourism poster for Lahore.
An ad highlighting the Ayub regime's Decade of Progress. The economy and industrialisation witnessed rapid growth between 1958 and 1968. But, paradoxically, the growth also created wide gaps between classes. Ayub resigned in 1969.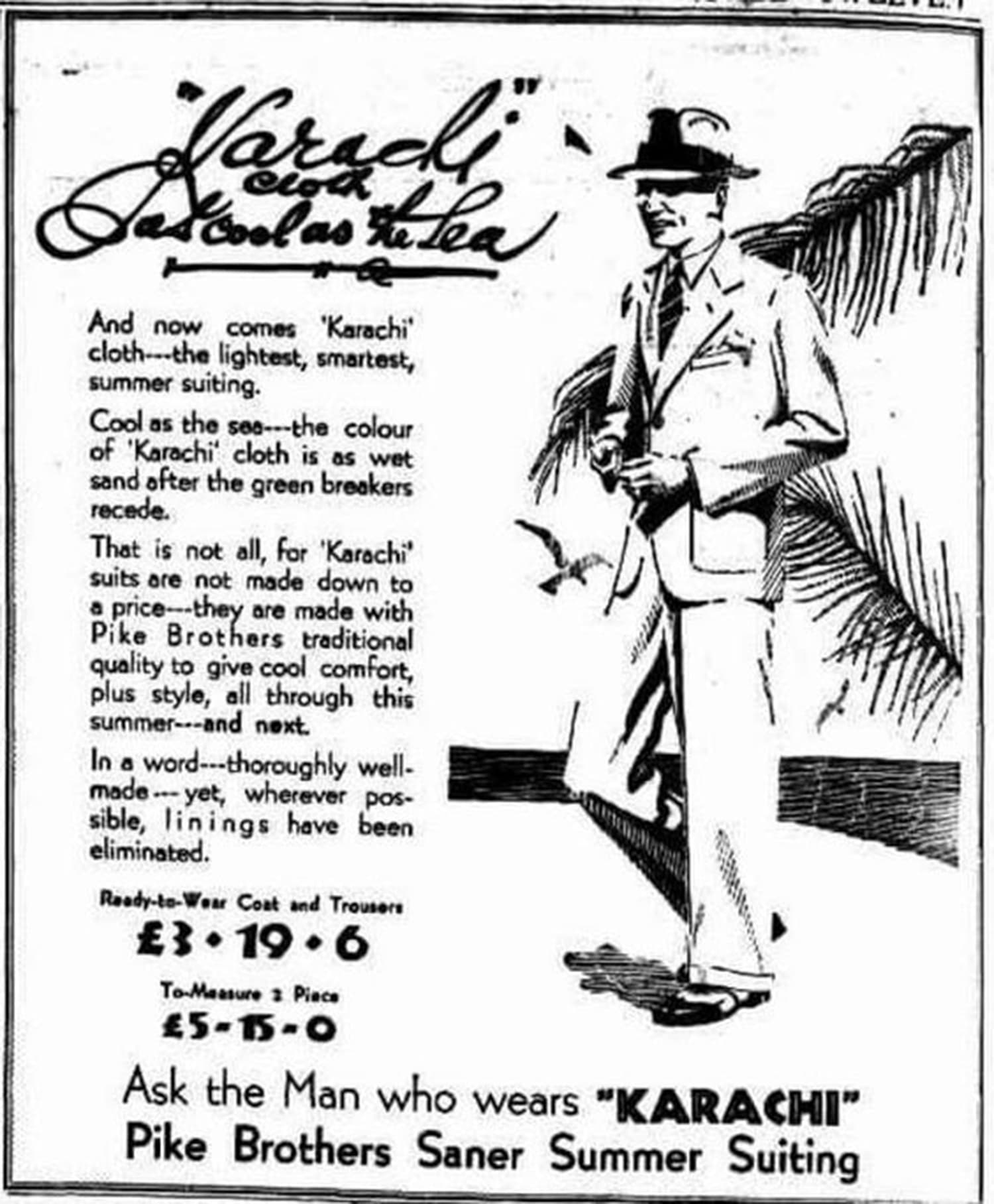 An American cloth brand called Karachi.
A 1968 coaster of Pakistan's beer brand, Murree.
A newspaper feature in a Karachi tabloid on a 1971 pop festival in Karachi.
Pakistan president, Yahya Khan, and Indian PM, Indira Gandhi, during the 1971 civil war in East Pakistan and subsequent war between Pakistan and India. East Pakistan broke away to become Bangladesh.
A 1972 pack of Pakistani cigarette brand K-2. K-2 was known as a working-class cigarette brand. It was upgraded in the 1980s and phased out in the 2000s.
An election poster showing ZA Bhutto as the Salauddin of Asia. Bhutto's socialist PPP came to power in December 1971.
One of the first copies of the 1973 Constitution.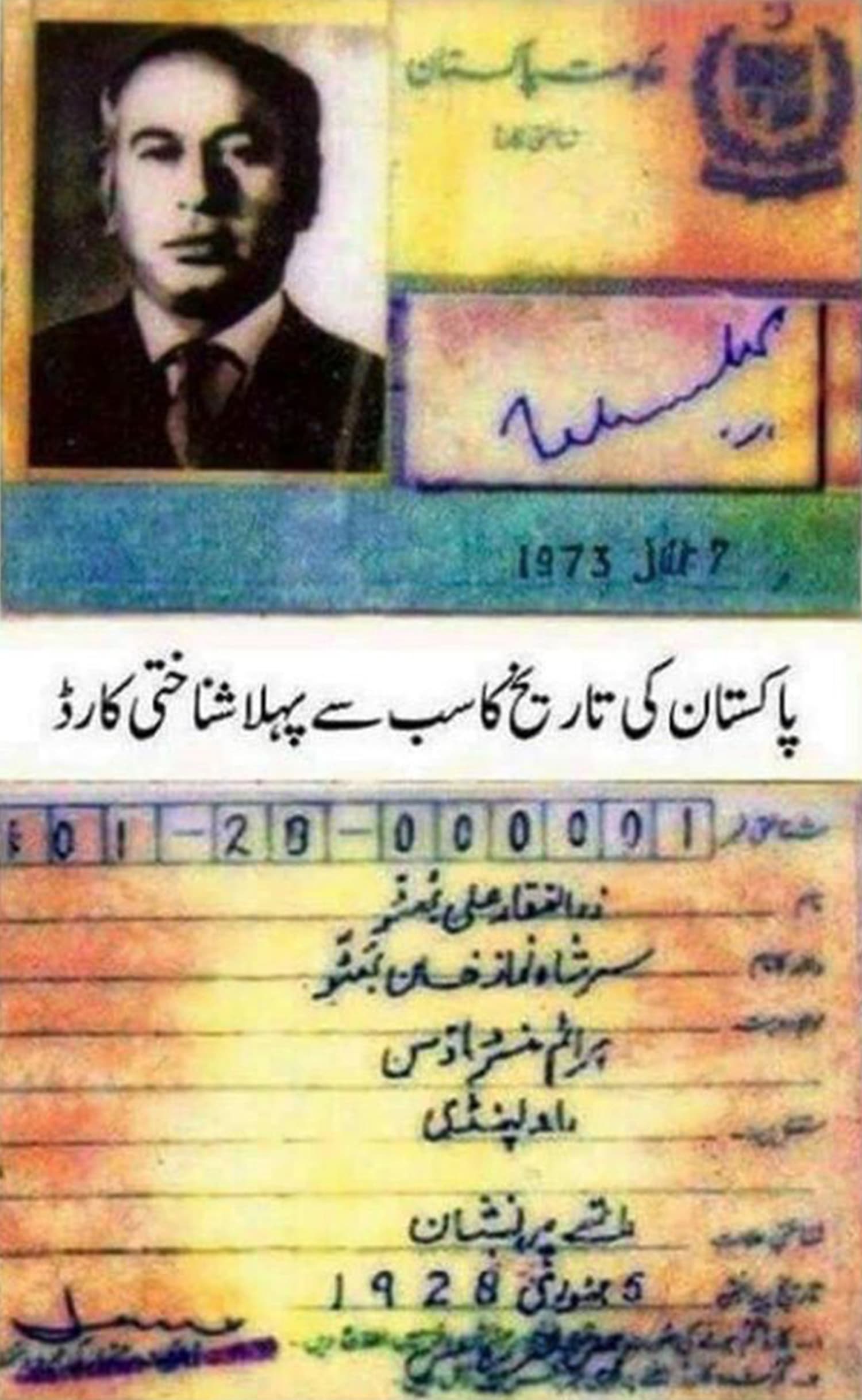 National ID cards were introduced in Pakistan in 1973. The first ID card made was of PM Bhutto.
A page from a 1973 tourism book on Karachi's nightlife and list of the city's nightclubs.
A PIA ad welcoming the many Muslim heads of states who arrived in Lahore to attend the 1974 Muslim Summit.
A 1973 poster in New York publicising a Pakistani classical dance performance.
Urdu poster of 1973's horror film, The Exorcist. The film was a huge hit in Pakistani cinemas.
A 1971 ad of Intercontinental Hotels in Pakistan.
Ad of the famous Pakistani concentrated fruit drink brand Rooh Afza, which claimed that westerners loved the drink too.
A 1975 ad urging Pakistanis to know their country's rich heritage.
Shop-board of a hashish store (International Hashish House) in Pakistan's Dir District in 1976.
1977 promotional image of the new uniform of PIA hostesses.
A 1977 poster in Europe of the visiting Pakistani Sufi qawaali group, the Sabri Brothers.
A January 1977 cover of a magazine showing leaders of the right-wing anti-Bhutto electoral alliance, the PNA. Bhutto was toppled in a reactionary military coup in July 1977.
1978 stamps that were issued to mark the centenary of Karachi's St. Patrick's Cathedral.
February 1978 cover of The Herald.
Promotional poster of Pakistani pop singer Nazia Hassan's first album, Disco Deewane. The album was released in 1980.
In 1980, international tennis star Ilie Nastase visited Pakistan to play a series of matches with Pakistani tennis champion, Saeed Meer.
A 1981 poster to attract recruits to fight Soviet forces in Afghanistan. Such posters were mostly printed in the US and distributed in Pakistan.
Stamps which were issued to celebrate Pakistan's Hockey World Cup win in 1982. This was Pakistan's third hockey world title.
List of the 31 international flights arriving at the Karachi Airport on 26 October, 1982. Such lists were published daily.
A 1982 Indian Airlines ad announcing the addition of extra flights between Bombay and Karachi.
1986 promotional image of the new uniform of PIA air hostesses.
Label of a 1987 Pink Floyd t-shirt made in Pakistan.
A Coke poster for the 1987 Cricket World Cup which was held jointly by Pakistan and India.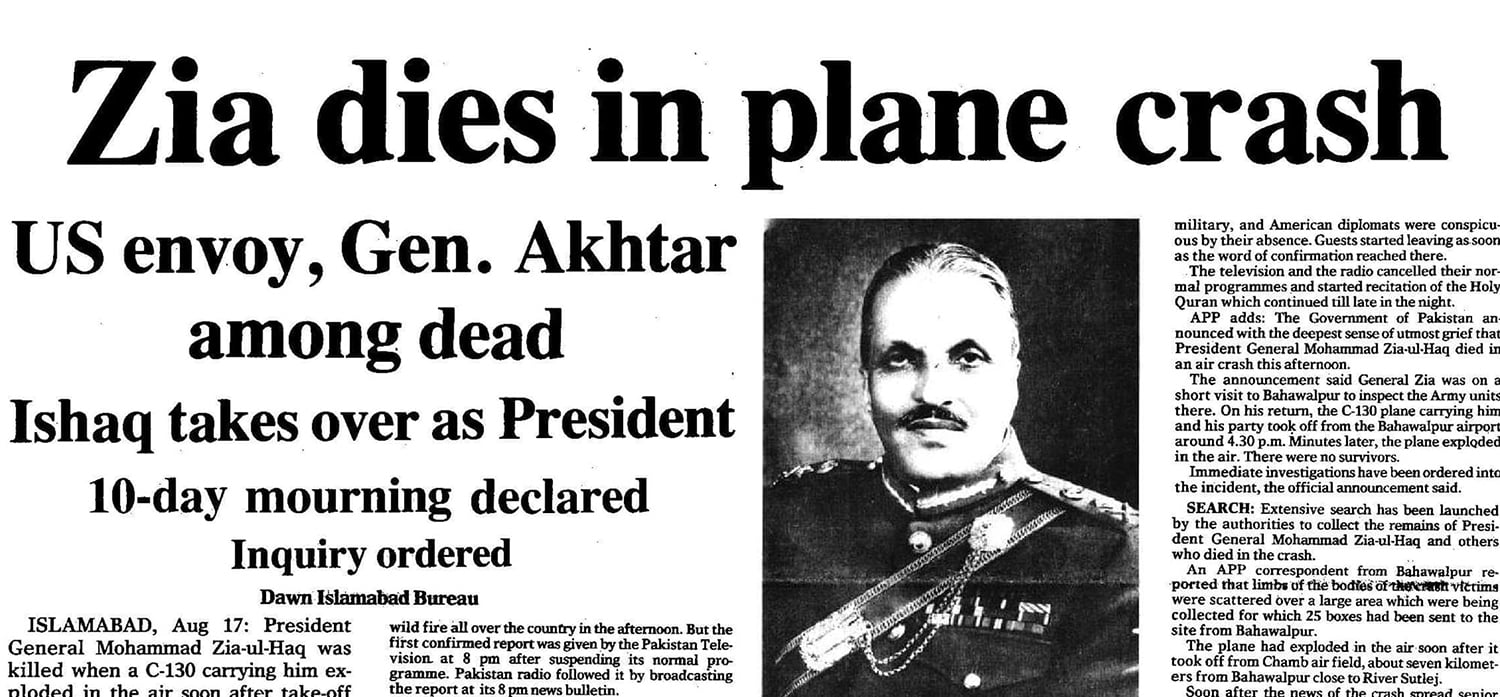 August, 1988. Zia dies in a crash. Sabotage was suspected.
A 1989 newspaper report on a suit filed against a pop concert/show on PTV.
A 1988 promo picture of Pakistani pop band, the Vital Signs. The band became the leading pop act of the country across the 1990s.
A Servis Shoes ad featuring the new international squash champion, Jahansher Khan. He replaced fellow Pakistani, Jahangir Khan, from the top slot.
Introductory brochure of the 1990 Hockey World Cup which was hosted by Pakistan.
A magazine cover showing Pakistan's first woman Prime Minister, Benazir Bhutto, with her son Bilawal in 1990.
Front page of Dawn the morning after Pakistan won its first Cricket World Cup in 1992.
Logo of the 1996 Cricket World Cup which was jointly held by India, Pakistan and Sri Lanka.
Poster of the 1998 film on the life of Pakistan's founder, Muhammad Ali Jinnah.
A 2001 poster of Saudi militant, Osama Bin Laden, which was illegally printed and sold in Peshawar.
2004 promotional picture of PIA's new uniforms.
Cover of the September 2007 National Geographic. The magazine carried a detailed story on the rise of extremist violence in the country.
A 2015 sticker of Zarb-e-Azab – Pakistan military's operation against extremists.