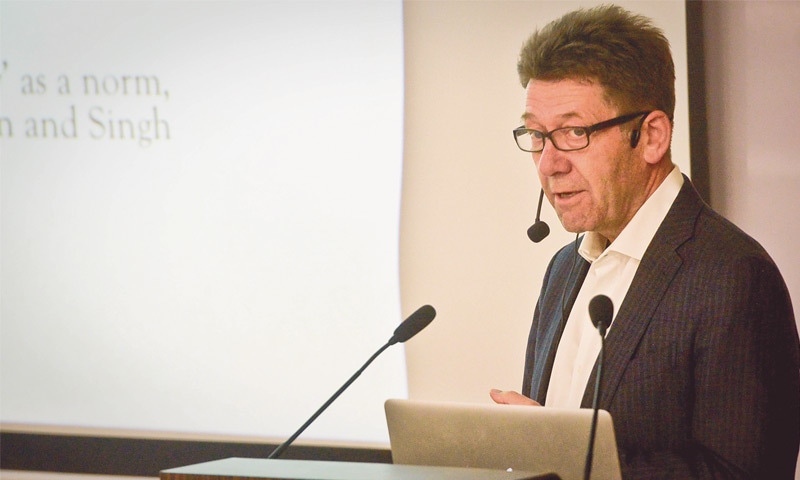 KARACHI: It was overwhelmingly depressing and alarming to listen to professor in South Asian Studies and Anthropology at Stanford University Dr Thomas Hansen's talk titled 'The India that does not shine' about how Muslims became the poorest community in India at the Habib University here on Thursday.
The power dynamics going against the Muslim community in India go back to before partition. There were many conflicts then too. And not much has changed since then. Actually, the past was left unfinished as its frictions carry on. "India has not been taking care of its Muslim population after independence," said Dr Hansen.
Read more: How oppressed are Muslims in India?
He said that one of the problems for Muslims in India now was the informalisation of their economy, and it was an old story.
"There is a tendency to hire within their community. But then this is also because Muslims have been kept away from formal employment," the professor said.
"The Muslim decline has happened alongside the riots of lower-caste Hindus in India over being discriminated [against]. Now they get most formal government jobs. So the Muslims in India are not even enjoying the status given to Dalits in the country's constitution." he added.
"The Muslim elite in India are based on land holdings," he said. "Otherwise 30 per cent Muslims there live below the poverty line. There is a marked social stagnation of Muslims in other ways, too," Dr Hansen said.
Also read: The decline of Indian Muslims
"In education, the dropout rate of Muslim children in schools is very high. They are below the national average at the graduation level. And at the postgraduate level there are no sizeable numbers of Muslims in the universities. Most Muslims prefer getting their education from Muslim institutions in India," he pointed out.
"They don't have bank accounts, they don't have insurance. The segregation of Hindus and Muslims is very strong. Food practices and other aesthetics also have a part to play here," he said.
"Muslims are also responsible for most of the crimes in India. There are more police stations in the Muslim areas. Muslim men are also harassed by police. And at four per cent there is under-representation of Muslims in police force. There are also more custodial deaths of Muslims in India," he said.
About communal violence in India, the professor said that it happened a lot but since it was under-reported, the situation was not being controlled.
Coming to politics, he said the whole idea of creating Muslim seats in Indian parliaments had been a non-starter since the 1920s. "Thus the political representation of Muslims has greatly declined. It is easy to put blame on rising Hindu nationalisation in India but the truth is that politics among the Muslim community has fallen into irrelevance as many lower Hindu communities have gained relevance due to their coming into politics," he said.
Published in Dawn, February 10th, 2017