Rain is a blessing in more ways than one.
The annual rain shower is a blessing for people living in the Thar desert.
The desert is suddenly buzzing with activity as people become occupied with cultivating the land as the dull, arid landscape transforms into a luscious green.
With a population of 1.4 million people and five million livestock, the Tharparkar district is spread over 19638 sq kilometres in southern Sindh.
Known for its rich culture, natural beauty, and peace, Thar is a fertile desert and the livelihood of Thari people depends on rainfall agriculture.
This year, nature worked wonders as rain showered across the desert after three years.
The desert resembled a forest as it became alive with trees, grass, herbs, and crops.
78-year-old Devji, a farmer in Chelhar, sowed seeds right after the first rainfall and has high hopes that this year will bring about a big harvest.
He invested Rs40,000 in seeds, ploughing and other expenditures for 12 acres of land.
Tractors are becoming a common trend as the use of animals for farming is becoming obsolete.
Ploughing now takes four to five hours, compared to the four days it used to take before.
But with technological advancement comes some environmental cost. Farming expert Bharumal explains how tractors destroy small trees, bushes, and herbs, which form an important part of the desert ecosystem.
I saw an old man throwing small stones to keep the birds away from crops in a field near Islamkot. The 55-year-old farmer, Jawaro, thinks one more rain shower is necessary to have a big harvest this year.
But problems remain. Youth activist Govind Mantharani explains how the seed prices rise just before the rain, resulting in an increase of profits for the suppliers but a loss for the farmers.
The average income of the farmers isn't enough to fulfill their needs, and as the population increases, there is more pressure on the meagre resources.
It leaves us with the question: how much longer can the Thari people depend on rainfall for agriculture?
Groundwater is one solution but it needs proper infrastructure.
Severe drought hit the desert continuously between 2013 to 2015.
Hundreds of children died from malnutrition and lack of healthcare.
Livestock perished, forcing people to migrate to surrounding areas in search of livelihood.
Yet, the eyes of the people of Thar remain fixed on the skies, praying for a miracle.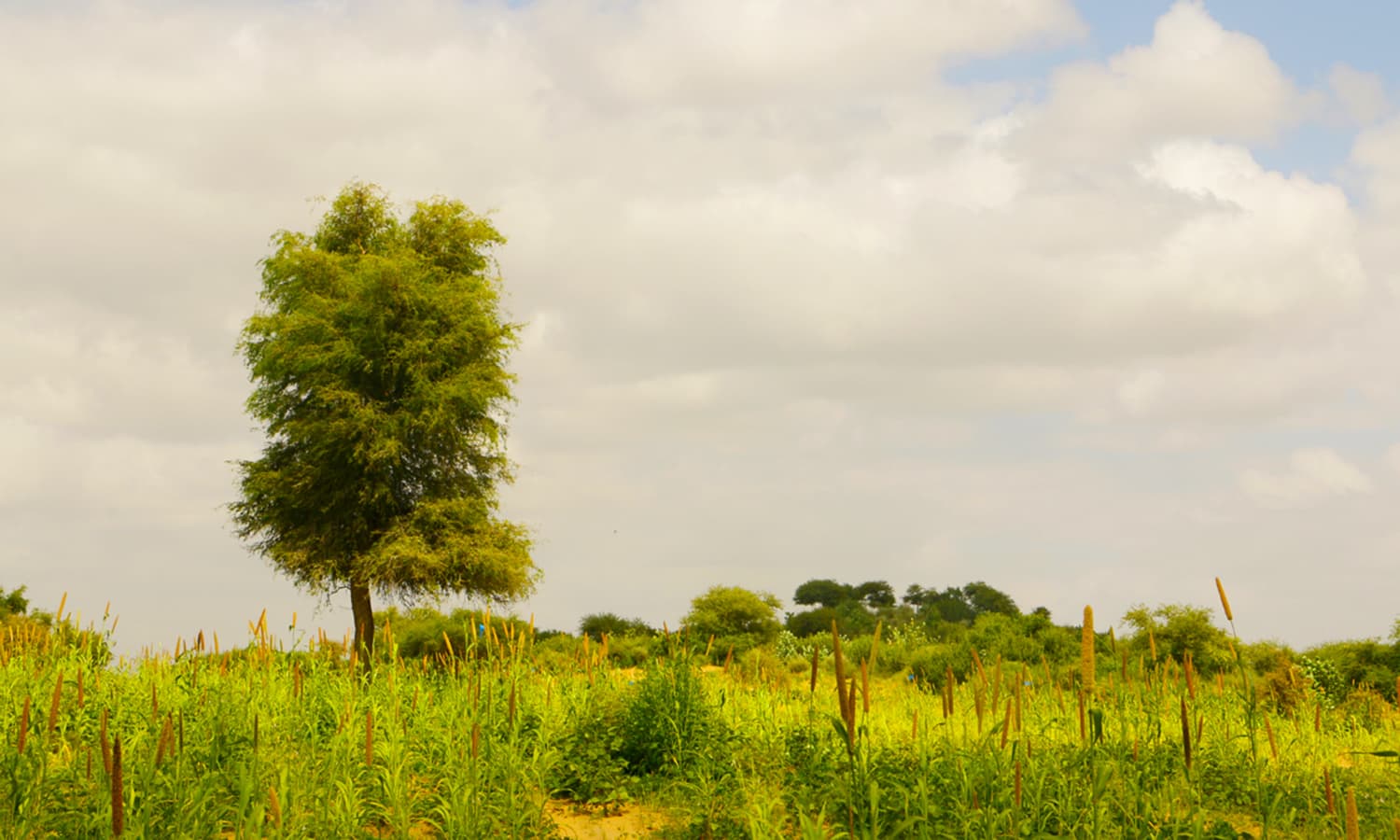 All photos are by the author