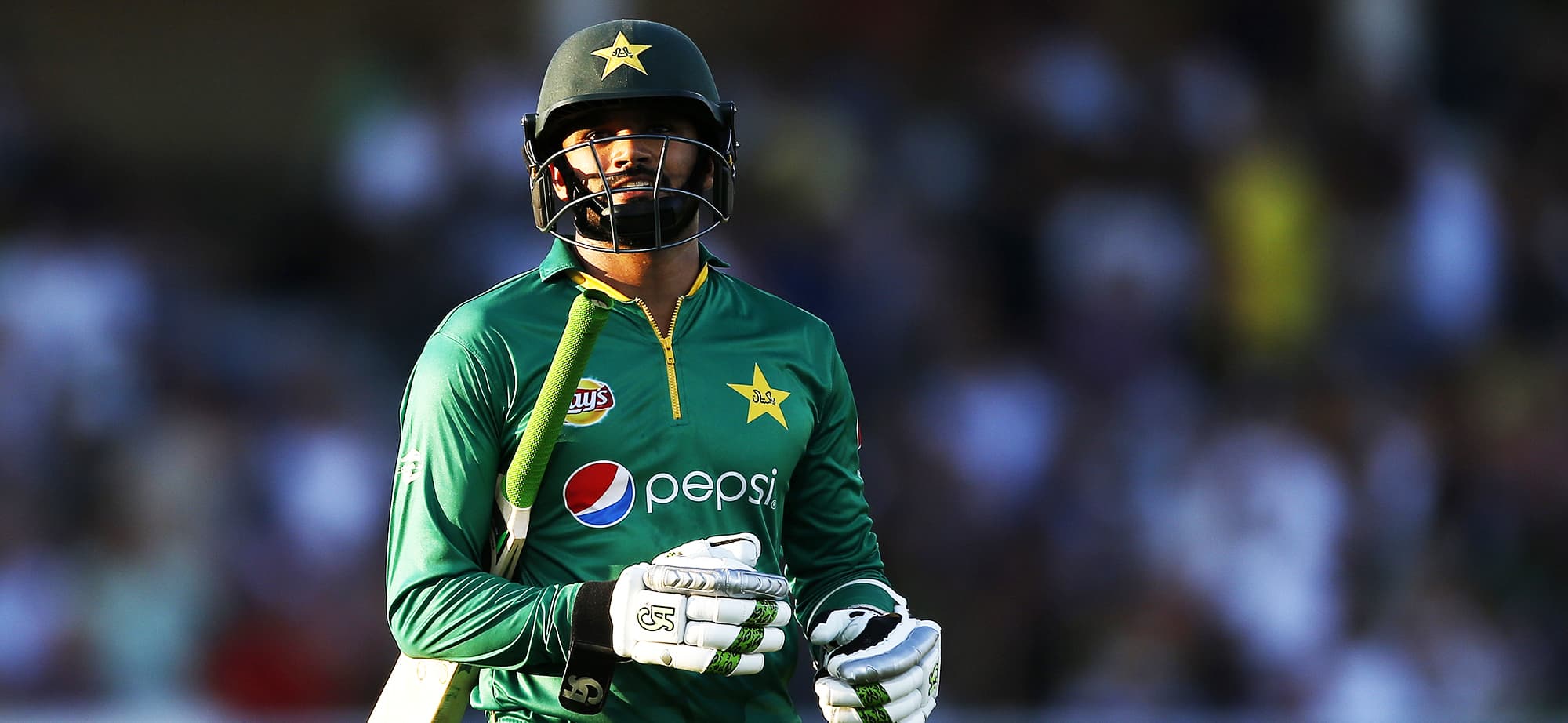 They were careless and the events that unfolded last night scream aloud why Pakistan are so low in one-day rankings.
Mohammad Amir runs in for the fourth time in the innings and bowls a fuller delivery, searching for his trademark late swing.
Considering the left-armer's failure to extract lateral movement throughout the tour, one is heartened to see him target full-length.
The pressure built on England opener Jason Roy is eased as the delivery, after taking a thick edge of the right-hander's bat, smashes into the advertising skirting at deep square-leg.
Mohammad Nawaz guarding the fence does everything right to execute the dive. But he doesn't show willingness to stretch his hand towards the ball out of anticipation that his teammate, who is chasing the ball alongside, will secure the boundary.
Three deliveries later, Babar Azam commits a heinous crime as he lets the ball pass through his legs at the cover region for Alex Hales to steal a four off Hasan Ali's short of the length delivery.
That is how the benevolence of Pakistani fielders allows England's openers to break their shackles and open their accounts.
England are one down for 137 by the end of 22nd over, cruising at 6.22 runs per over. Eager to induce a breakthrough, Azhar Ali introduces himself.
Hales, nearing his fourth ODI century, is offered a juicy short-pitched delivery at 53.4 mph which is begging to be smoked out of the park, but he settles with a cross-bat drag that garners him a four.
---
Read: Pakistan need a '300'
---
The second ball, a bit fuller this time, gets spanked over mid-wicket for a six. Two singles give Pakistan a breather, but the last two balls are again muscled for fours.
England are 157 in no time. Hales, who has scored 77 from 73 balls at a strike rate of 105 so far, clocks his next 94 runs at a telling rate of 190. What follows next is the 27-year-old's immaculate hitting that pushes Pakistan on the verge of a series defeat.
However, this carnage would have not taken place had Wahab Riaz not transgressed two overs ago.
Hales deposits his good-length delivery into Sami Aslam's hands but a buzz on the on-field umpire's watch reveals it to be a no-ball.
The master of erratic line and length bowling, Wahab transgresses again: in the death overs on this occasion when he cleans up the mighty-hitting Jos Buttler.
---
Take a look: 'Pakistan need attacking middle-order batsman'
---
England's wicketkeeper batsman, whose unbeaten 94 comes at a staggering strike rate of 184, starts to walk off but is told to come back and continue smacking Pakistan all over the park. Wahab bowled a no-ball again. Buttler hits eight fours and seven sixes in total to complete Hales' unfinished task.
Meanwhile Wahab, who by now should have been spearheading the Pakistan bowling attack, goes on to surrender 110 runs at a towering economy of 11.
In the days of free-hits, when it is a sin to bowl no-balls, Pakistan bowlers bowl seven — five coming from their new entrant Hassan Ali — contrary to just one by England, in the first three ODIs.
With a mammoth 444 set on the board, Sharjeel Khan holds his end by smashing cracking fours and seeks support from the other. He is eager to see his senior team members step-up and assist him in providing Pakistan a much-wanted start.
But the left-hander is left to deal with the task alone as his captain Azhar Ali's nerves get the better of him. In the eighth over, Azhar charges down the wicket to edge Chris Woakes into the third-man's hands.
Azhar, who has hit a four eight balls ago, falters due to pressure of accumulating just five runs since his last boundary.
Nine overs later, Shoaib Malik, veteran of 348 international matches, departs after adding just one run in his chase of a wide delivery by Liam Plunkett.
---
See: 'I can win matches with both bat and ball,' says Imad Wasim
---
Twenty-six overs later, Pakistan give in the five-match ODI series after a 76-run resistance for the last wicket by Amir and Yasir Shah.
The 10th-wicket stand, which goes in the scorebook as the best of the innings, sees the left-arm bowler match highest score of Sharjeel (58 off 28) in almost the same number of balls (30) with five fours and four sixes.
These pitiful scenes infuriated millions of cricket followers around the world as fielding lapses, no-balls, and soft-dismissals laced with unthoughtful captaincy allowed England batters to club a record 444 runs to a bowling line-up, once touted as the best in the world.
The gruesome Tuesday-contest not only saw Pakistan surrender a five-match ODI series to England, but also emptied their claim to be a much-better side than what the rankings show.
Pakistan has hit a low from which a return seems to be a daunting task in the near future.
They were careless. And the events that unfolded at Trent Bridge last night, the grim seven-and-a-half-hours show, scream loudly why Pakistan are No. 9 in the ODI rankings.