Pakistan are no longer the plucky underdogs trying to prove they are worthy of their number three Test ranking.
It is like a dream sequence. Mohammad Amir is flying through Lord's on his way to the Pavilion, a whole team, a whole nation, follows him.
But it is not a dream, Pakistan has just won at Lord's. The ground with the most history in Test cricket, and the one that has haunted Pakistan for six years.
This time there they are flaunting right in front of that famous Pavilion, and Younis Khan, that grizzled cricket veteran, leads them excitedly in an impromptu military performance, of stepping to attention, a few push-ups, and then a salute.
Some of the younger guys forget about the army side of it and jumps out of line early, because they have just won a Test at Lord's.
It's 1-0.
An Indian victory at Lord's
Another team was 1-0 against England two years ago. India had come to the UK at the exact right time, England had been losing what made them a top side due to injury, overplaying, and a basic lack of enjoyment of cricket.
And then they ran into Mitchell Johnson. And then they ran into Angelo Mathews. Their whole game plan was about to change, even the way they thought about their cricket was due to change.
India used all that confusion, bad form, and strange times to beat England, at Lord's.
In the third innings, Ravi Jadeja was flashing his blade. Jadeja and Anderson already had a fabled altercation in a hallway at Trent Bridge the Test before, and now Jadeja was throwing his bat like a crazy man on his way to a 50. His celebration for a 50 was an elaborate sword move using his bat.
It was Jadeja's partnership with Kumar that won them the Test. In the chase England played like the confused struggling team they had become, when it seemed like the whole team was out hooking to Ishant Sharma.
The next Test Sharma was injured and Ravi Jadeja was at slip. He dropped Alastair Cook, England lost only two wickets that day, and won the series 3-1.
Bowling arsenal perfect for English conditions
There has been no team who has come to England with a bowling attack so seemingly perfect for the modern English conditions in a very long time.
There was a time when you could turn up with quality seamers, a holding spinner, and get through. But England pitches aren't as English as they used to be. They are often CEO brown lifeless hunks of clay that do little for batsmen or bowlers.
The ball didn't really seam at all at Lord's, the ball didn't spin that much until day four, the ball didn't bounce all that much all game, it was a poor wicket.
The swing, which obviously has little to do with the pitch, was the only positive.
It isn't just Lord's that does it. It is quite often than the opening day of an English Test will have a pitch where not all the balls carry, where the ball doesn't seam, and where the batsmen struggle for timing.
For pitches like that, you need swing bowlers, reverse swing bowlers, and a quality spinner.
Pakistan have all of that. Other than an all rounder (and Hafeez with a legal action would be that) this is the ideal bowling set up for England.
It seams at Edgbaston, Rahat and Amir should be brutal, if it is quick and bouncy at Old Trafford, Wahab will love it, and if it spins at the Oval, Yasir should destroy.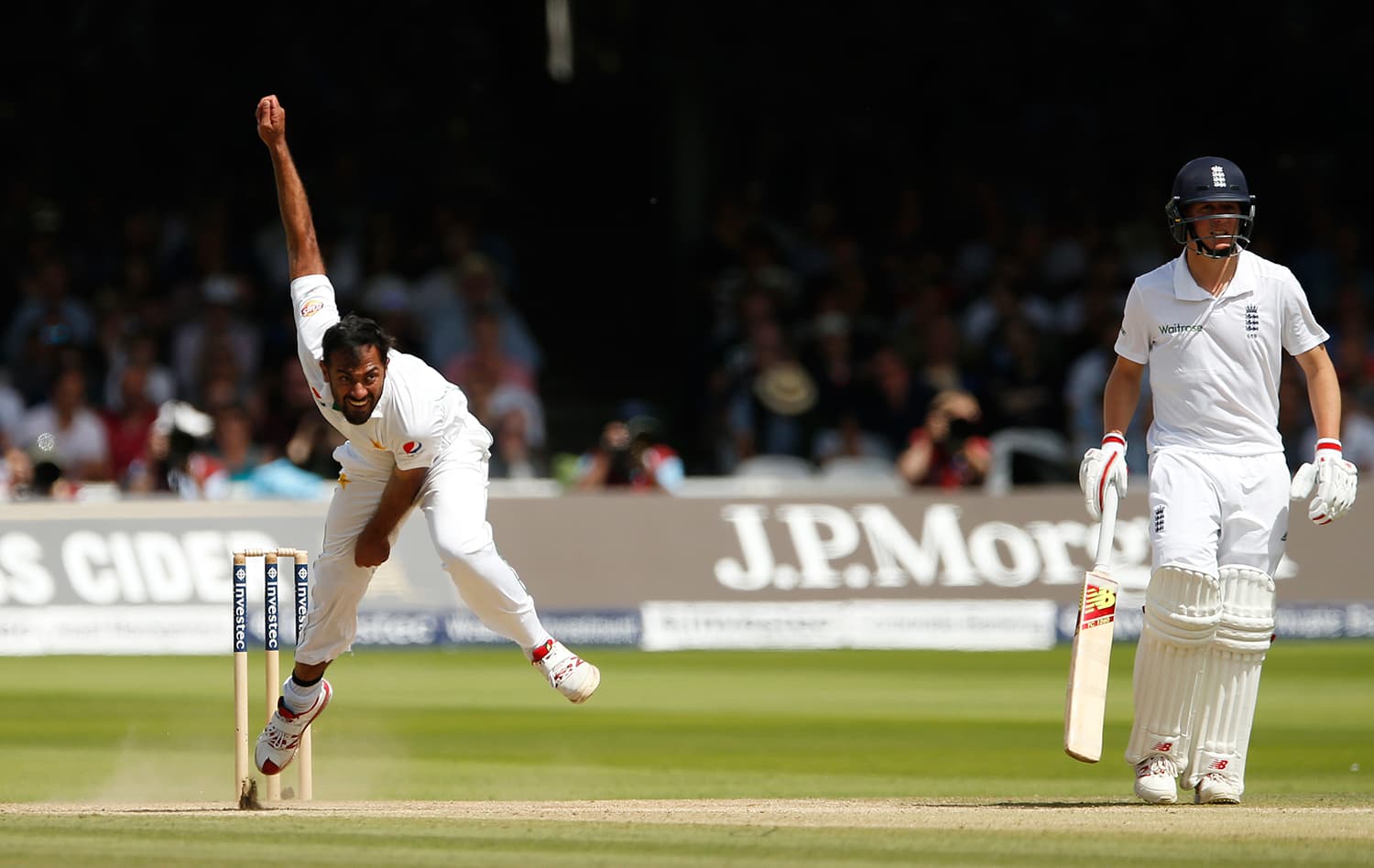 England's home legacy under threat
Sometimes a visiting team can prepare for a tour far better than a home team, meaning they hit the ground quicker.
The army camp, the two warm up games, no Jimmy Anderson and the fierce passion to do well at Lord's all came together and was brilliantly celebrated in front of that pavilion.
England played a sleepwalking Sri Lanka, were never truly tested, and couldn't pick Jos Buttler because he hadn't played enough red ball cricket.
But this is a nation that in eight years have lost two series at home. That is two out of 15 series. One of those was against the best side of the era, South Africa, the other was a two Test series against Sri Lanka that they lost on the second last ball of the series.
England, like pretty much everyone in world cricket right now, win Tests at home. Opposition batsmen often go harder at the ball, and feed the slips. Opposition bowlers often try too hard, when the ball is swinging or seaming.
The captains get caught up in the press game, and worry about the colour of grass. Not to mention that it is still the biggest tour in cricket.
This is the old empire, this is the country that invented cricket, this is the country that gave the other countries cricket. It isn't like playing in New Zealand or the West Indies. This is different, for your career, for your legacy.
A veteran, yet concrete middle order
The Pakistan middle order may be incredibly old, but it is also incredibly strong. Younis averages over 50, Misbah very nearly 50, Asad Shafiq averaged over 50 in Test cricket last year, and Sarfraz Ahmed is averaging 45 at seven. That is quality.
Sarfraz should have made two 50s in this game, Misbah made the hundred that set up the match, and Shafiq played two quality innings. Even Younis with his jumpy tickle-me-Younis style of batting made important contributions in both innings. No one is questioning their middle order.
Their top order, well, there are questions. Azhar Ali is a quality player, but still struggles a bit away from the UAE, but technically and mentally, should cope well with the new ball in England. He was unlucky twice, the last few millimetres of his leg stump keeps letting him down.
It is the openers who are a worry. Both men had a debutant replacing Jimmy Anderson. They had dropped catches. Stuart Broad not at his absolute best. And they still didn't look up to it.
Shan Masood seems to be set up to score runs only off his hip. He looks like every struggling second division county opener who will just never truly make it.
His first-class and Test record so far don't inspire either. With his family connections and English education he seems like the kind of player that would have been picked in another era, and done a job. Maybe he can do that job here, but it doesn't look likely.
Mohammad Hafeez averages 52 in UAE, and 33 in away Tests. If he can average 33 in this series he will be a success.
At the moment that only looks likely if the English slips and keeper continue to drop or not go for catches. At times it is hard to see the difference between Hafeez and the coach who gives slips practice before the game.
Openers are so important in England, because the new ball lasts longer. There is an evolutionary reason why England opening batsmen are Hobbs, Boycott, Atherton and Cook, and the rest of the world produces Trumper, Srikkanth, Hayden, Sehwag and Gayle.
The partnership in the first Test of 38 (drop assisted), was good, but Masood went out at the 12.1 over mark, that is when the dukes really start to swing.
Really the top three need to be batting out the first 30 overs to give your middle order the best chance of making a big score. Maybe this top three can do that, but it won't be easy.
And it only gets tougher as Jimmy Anderson come in for Ball or Finn, and Ben Stokes may come in as well. Anderson was in such good form against Sri Lanka it looked like the only role the Sri Lankan's had against him was victim.
It's not like England's batting is perfect, it is by far their current weakness. By the end of the summer Hales, Vince, Ballance, and Mooen may not be playing, some may not make the next Test. And Bairstow probably won't be keeping.
But last summer against Australia it was the bowling that won the Tests. Australia were out by lunch in one Test, and by tea in another, it lost them the entire series. That new ball threat is real.
Grace restored at Lord's
There is a Lord's jolt. Opposition teams have been feeling it for centuries. When you arrive at Lord's, you are entering a holy place of cricket. This is all you have been thinking about, dreaming about, and now you are there, and you want to show the world, show England, what you can do.
It is also the most gentile crowd in England. The crowd might get drunk, but they don't often get loud, or abusive.
They are old, conservative, often cultural cricket fans, rather than ravenous English fans. They embrace opposition teams, they like good cricket and some of them sleep in the afternoon. It is a home game for England, but it is about as close to a neutral venue as you get in England.
And when Pakistan arrived they fired up because of what happened here last time. They won a World T20 here only a few years back, and then disgraced it in their last Test. They had something to prove.
They proved it. Once. That is all 1-0 means. They are no longer the plucky underdogs trying to prove they are worthy of their number three Test ranking and making up for their misdeeds. They are now leading a Test series in England, and they have all the pressure that comes with that.
Old Trafford and Edgbaston are proper English Test grounds, with proper English fans and proper English pitches. Jimmy Anderson will be there as well. They had the dream start, now the real work starts, making sure it doesn't turn into a nightmare.