The latest protests have invoked emotionally charged statements from different elements in the Indo-Pak region.
When Indian forces announced they had killed Hizbul Mujahideen's Burhan Wani, they called it a major victory and did not expect what followed — an outpouring of public anger, daily protests and dozens dead in the streets.
The killing of Burhan Wani drew tens of thousands to renew demands for freedom from Indian rule. At least 42 people have died in clashes since Wani's killing with hospitals struggling with hundreds of injured.
The protests have invoked emotionally charged statements from different elements in the Indo-Pak landscape but Kashmir is virtually a perennial issue when it comes to New Delhi and Islamabad and sparks fly on both sides of the border.
Following is a compilation of statements top leaders have made on the dispute in the past one year.
---
MAMNOON HUSSAIN
---
'Kashmir is the jugular vein of Pakistan'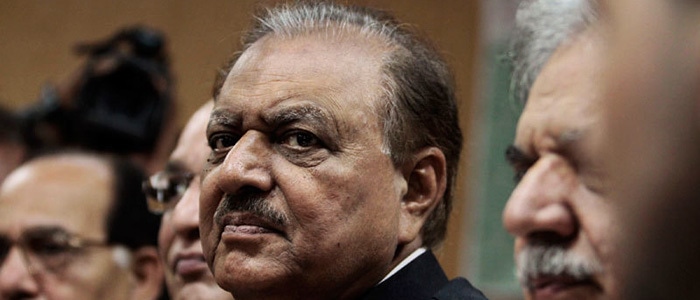 Speaking to a delegation of Kashmiri leaders in January, President Mamnoon Hussain recalled and reiterated a statement of the Quaid-i-Azam who had said that the 'K' in Pakistan stood for Kashmir.
"The view of the Quaid-i-Azam that Kashmir is the jugular vein of Pakistan is a guiding principle for every Pakistani," Mamnoon said at the time.
---
NAWAZ SHARIF
---
'Kashmir issue raises questions about UN goodwill'
The United Nations has to tell the world why it has failed to implement its own resolutions, Prime Minister Nawaz Sharif said on Kashmir Solidarity Day earlier this year.
"This question is not just linked to the Kashmir issue or Pakistan-India dispute, but to the goodwill, prestige and authority of the world body," he said.
Recently, the premier said that it was "deplorable" that excessive force was used against civilians who were protesting against Burhan Wani's killing.
Just this week however, the UN said its Secretary Gen­e­r­al Ban Ki-moon stands ready to mediate peace talks between Pakistan and India amid heightening tensions, provided the two neighbours accept his good offices.
---
GEN RAHEEL SHARIF
---
'Kashmir unfinished agenda of partition'
"Kashmir is an unfinished agenda" of Indo-Pak partition and must be resolved to establish lasting peace and stability in the region. This was said by Chief of Army Staff General Raheel Sharif while addressing a gathering at Royal United Services Institute during his visit to the UK in October, 2015.
Recently during July's Corps Commander Conference at the General Headquarters, the army chief also condemned the killing of Kashmiri youth by Indian authorities.
---
NARENDRA MODI
---
'Kashmir will rise again'
"Kashmir has suffered a lot ... the dreams of several generations have been shattered, but I have the confidence that my Kashmir will rise again," said Indian Prime Minister Narendra Modi during his first visit to Kashmir last year.
Modi steered clear of politics in his speech and pledged 800 billion rupees in funds for the disputed region, prompting opposition to term his address "nothing but full of rhetoric".
Security forces in Kashmir had detained nearly 400 separatists to prevent them from holding an anti-government protest march during Modi's visit.
---
INDIAN EXTERNAL AFFAIRS MINISTRY
---
'Statements on Kashmir reflect Pakistan's attachment to terrorism'
When Pakistan called for restraint in India-held Kashmir this month, India told Islamabad to desist from interfering in the internal affairs of its neighbours.
"We have seen statements from Pakistan on the situation in the Indian state of Jammu and Kashmir. They reflect Pakistan's continued attachment to terrorism and its usage as an instrument of state policy," spokesman for India's Ministry of External Affairs Vikas Swarup was quoted as saying.
---
MIRWAIZ UMAR FAROOQ
---
'Indian state's definition of peace unacceptable'
The people of held Kashmir are ready to come to the table if the Indian government is "seriously willing to talk resolution based on the principles of justice and not surrender", senior Kashmiri leader and chief of a faction of the All Parties Hurriyat Conference (APHC) Mir­waiz Umar Farooq wrote in Dawn.
"The Indian state's definition of peace in Kashmir isn't acceptable to us...instead of listening to our genuine political demands, their only response is to use military force to kill us."
Farooq in January condemned the terrorist attack on the Indian airbase in Pathankot and called it a conspiracy to derail talks between Islamabad and New Delhi.
---
IMRAN KHAN
---
'Pakistan, India should resolve Kashmir issue'
Pakistan and India should resolve long-standing problems, particularly the Kashmir issue and move forward in developing cordial relations, said Pakistan Tehreek-i-Insaf Chairman Imran Khan in December last year.
He was talking to media upon his return from India, where he also held a meeting with premier Narendra Modi.
"The leaders of both countries should decide they will no more let any element sabotage the peace process for the sake of well-being of the poor on the both sides as well as in other neighboring countries," said Khan.
---
BILAWAL BHUTTO ZARDARI
---
'Sharif-Modi friendship causing damage to Kashmir cause'
"Sharif-Modi friendship" is causing irreparable damage to the Kashmir cause, PPP Chairman Bilawal Bhutto Zardari said in a recent statement condemning the killing of ordinary Kashmiris in India-held Kashmir over the past few days.
"While Muslims celebrated Eidul Fitr across the world, our Kashmiri brethren marked the day of festivities amid violence carried out by the Indian army."
---
JNU'S PROF. NIVEDITA MENON
---
'India illegally occupying Kashmir'
A new controversy involving India's prestigious Jawaharlal Nehru University (JNU) erupted in March this year when a video surfaced showing a professor of the varsity saying Kashmir is not a part of India and that raising of pro-independence slogans by Kashmiris is justified.
"Everyone knows that India is illegally occupying Kashmir. Everybody accepts (it)," Prof Nivedita Menon was seen in the video clip as telling a gathering of JNU students on Feb 22.
"When the whole world is talking about India's illegal occupation of Kashmir, then we should think that pro-azaadi slogans in the valley are justified."
---
OBAMA ADMINISTRATION
---
'All sides should make efforts for peaceful resolution'
The Obama administration expressed concern over recent violence in India-held Kashmir.
"We encourage all sides to make efforts towards finding a peaceful resolution," said State Department spokesperson John Kirby.
Another spokesperson at the US State Department said the US wants to see "dialogue between India and Pakistan and the Kashmir on the – on how to resolve the conflict in Kashmir" and that the American position [in support of the self-determination right of the Kashmiri people] hasn't changed.