Michael Hussey's blitz against Pakistan in the semi-final of the 2010 World T20 proved to be a defining moment.
Pakistan's performance in Twenty20 Internationals can be easily segregated into two phases, with Michael Hussey's assault on Saeed Ajmal in the semi-final of the 2010 World T20 being a defining moment.
If performances of all the teams in T20s up until that 2010 semi final are analysed, Pakistan were clearly dominating.
They had the most victories in the format, they had the best W:L record, they had played two of the three World T20 finals, winning one of them. They would have played a third straight final in 2010 as well if it weren't for an Aussie superhero.
Since that dramatic day in St. Lucia, Pakistan's T20 fortunes have changed dramatically and the gap between their wins and losses has narrowed. At the same time, teams like India and New Zealand have improved significantly in T20 cricket over the past five years.
Pakistan's less than ideal build up to the 2016 World T20 sums up their woes in the shortest format.
From being the most natural T20 team to one which is unsure of how to tackle the format, Pakistan suffered T20 series defeats to England and New Zealand, and failed miserably in the Asia Cup T20 recently.
The reasons for this decline are multi-layered, however, none stand out more than the performance of their top three batsmen.
In the past year and a half, Pakistan's top order batsmen have been among the worst in the world. A look at their averages and strike-rate since the beginning of 2015 provides for a very sorry reading.
The biggest problem here has been the presence of Mohammad Hafeez. Even though the 'Professor' has been in scintillating form in Tests and ODIs over the past two years, he has been pedestrian at best in T20 cricket.
An average of 14 and only one fifty-plus score in the format over the past two years across 21 innings does not justify his constant presence in Pakistan's top three in the T20 line up. This is a clear example of how Pakistan's selectors and team management have failed to differentiate performance across formats.
There is no question about Hafeez's presence in Tests and ODIs; but that in no way means he should be playing T20s as well.
Another reason for Pakistan's decline has been the performance of their captain Shahid Afridi.
Arguably the best T20 player to represent Pakistan, Afridi's form in the past two years has been indifferent to say the least.
The player of the tournament at the 2007 World T20, and the man of the match in the semi-final and final of the 2009 tournament, Afridi is now a shadow of his former self.
The form of both Afridi and Hafeez is imperative for Pakistan going into the World T20. They are key players and when they fire, Pakistan win games. One doesn't have to go too far back down the road to realise their importance to the team. It was in New Zealand in January this year when Hafeez scored 61 and Afridi put in a man of the match performance with a 23 off 8 balls, two wickets, four catches, and a run-out in Pakistan's only win on the tour.
Along with these two senior cricketers, Pakistan's batting will also be reliant on Shoaib Malik, Umar Akmal, and Sarfraz Ahmed who have been in fine form in T20 cricket over the past year. Despite the failures of Pakistan's top three, the middle-order has not been too bad.
However, in order to ensure that each of these batsmen play to their full potential, Pakistan will have to get their batting order right, which should be Sarfraz, Umar, and Malik at 3, 4, and 5 respectively.
Pakistan's bowling seems to be in the safe hands of Mohammad Amir, Mohammad Irfan, Wahab Riaz, and Shahid Afridi. I feel the further away Mohammd Sami (injured and out of the first match against Bangladesh) and Anwar Ali are from the team the better.
Malik will need to bowl more and the spin department can be further strengthened by the inclusion of either Imad Wasim or Mohammad Nawaz.
There is no doubt that Pakistan are up against a gargantuan task in the World T20. Their group comprises hosts India, Australia, New Zealand, and Bangladesh. Despite Pakistan's recent losses to these teams, they can take heart from the fact that they have won more T20 matches against each of these opponents, barring India, than they have lost.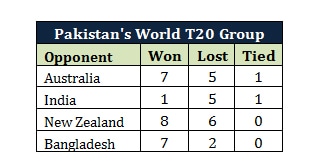 Another factor going for Pakistan is their ability to rise to the occasion.
Even though it has not happened at the last two ICC World events, there is always a tendency in the side switch itself in big tournaments.
Their World T20 record is bettered only by India and Sri Lanka, and besides the 2014 World T20, Pakistan have managed to qualify for the semi-finals of all other World T20 tournaments.
With India's scintillating T20 form and home advantage, it is going to be a tough race among Pakistan, Australia, New Zealand, and Bangladesh for a place in the semi finals. New Zealand and Bangladesh are currently playing their best cricket ever, while Australia is coming fresh from a series win over South Africa and is finally finding their footing in the only format they have not dominated.
On paper, it seems that Pakistan's chances are bleak; their recent form is mediocre; and their match- winners are not firing. But if they can get their combination right from the very beginning, they can set the stage on fire, like they have done in the past.
---
Umair Qazi is the founder of wellpitched.com, co-founder of the popular facebook group 'Boys in Green', and he tweets @wellpitched