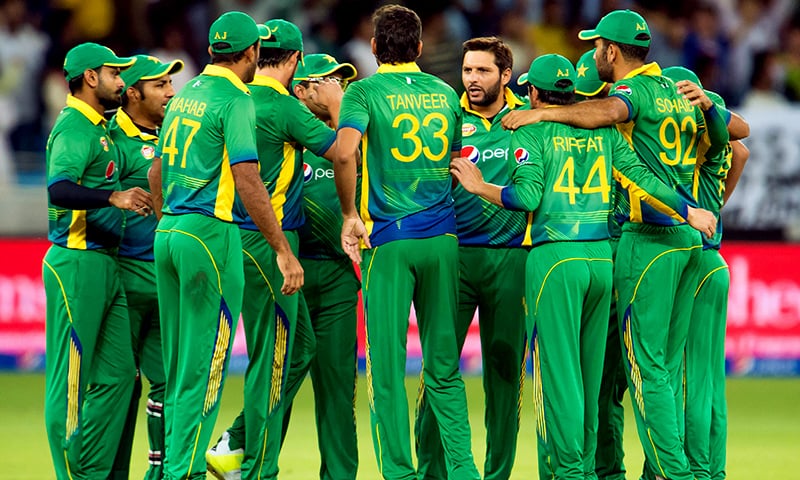 From being the second best T20 side in the world, Pakistan are now placed at 7. What happened?
A 2-1 series loss to New Zealand and the preceding 3-0 loss to England resulted in Pakistan slipping drastically in the ICC T20 rankings.
From being the second best side in the world, they are now placed at 7, just above Australia, who have also been dismal in the format, followed by Afghanistan and Scotland in the top ten.
With the World T20 just over a month away, Pakistan's preparation has been far from ideal.
Until a few years ago, the popular perception was that the shorter the game, the better Pakistan was. However, the numbers tell a completely different story. Since the turn of the decade, Pakistan has been a superior Test team as compared to their fortunes in ODIs and T20s. The disparity between results is clear.
This gap becomes even more glaring when you consider results among the top 8 teams i.e. excluding matches against Bangladesh and Zimbabwe in the past five years.
Pakistan has maintained a steady upwards trend in Test matches over the past five years, winning more than they have lost. In the limited-overs formats, the Green shirts have been found wanting and one apparent reason for this stark difference is the continuity factor.
While Misbah-ul-Haq has been at the helm of the Test team throughout this period, Pakistan has seen the ODI and T20 captaincy change hands several times. From Shahid Afridi to Misbah to Azhar Ali in ODIs and from Afridi to Misbah to Mohammad Hafeez and back to Afridi in T20Is. The revolving door scenario can hardly benefit a team. Pakistan's Test team has had a stable batting line up for a long time now, unlike the ODI and T20 teams that have witnessed a lot of chopping and changing.
The difference between the number of players tried by Pakistan at each batting position across formats is also quite evident. Sure one should be more flexible in limited overs games but the number of different batsmen used by Pakistan at each position over the past five years is not only mind-boggling but testament to the fact that players were not provided with an opportunity to settle down in any one position.
What is difficult to understand is why the same board, selection committee, and team management has not applied the Test formula to the other formats. Continuity has been key in ensuring positive results in Tests, so why the impatience in dealing with the ODI and T20 squads?
With the World T20 around the corner, the biggest dilemma facing Pakistan is that of selection. The majority of the squad should have been decided but with Afridi giving statements like "time is running out for Ahmed Shehzad and Umar Akmal", that clearly does not seem to be the case.
The most shocking part about that statement, which resonates with the fans, is that Shehzad and Akmal are two of Pakistan's best batsmen in the shortest format of the game. Not only are both of them among the leading run-scorers for Pakistan in T20Is over the past five years, they also have outstanding averages and strike rates.
I am really not sure what more they need to do to prove their abilities, but both are definitely two key members of Pakistan's T20 team. They just need to win more matches for their side.
There is no reason why any of these five batsmen should not be on the plane to India in March.
While the five batsmen above have displayed consistent form, there have been a few batsmen that have been extremely disappointing. Sohaib Maqsood has always looked out of sorts in T20Is; and it was no different in the recent series against New Zealand and England. Mohammad Rizwan has also been a disappointment in T20s. Haris Sohail and Rafatullah Mohmand have also not displayed anything extraordinary in the few T20s that they have played for Pakistan to consider them.
A name that has been doing the rounds with respect to World T20 selection is Kamran Akmal. His recent domestic form has been remarkable and he was the leading run-scorer in the recently completed domestic one-day competition. Kamran has always been a prolific scorer on the domestic circuit and I can understand the urge for the selectors to include him in their World T20 plans. However his T20I record over the past five years is mediocre at best.
I do not see any reason why any of these batsmen should be a part of Pakistan's World T20 squad.
While Sohaib and Rizwan seem to have got plenty of chances in recent times, I fail to understand what wrong Mukhtar Ahmed, Sharjeel Khan, and Nauman Anwar have done for Pakistan to discard them after only a handful of games.

It is absolutely, bewildering that with those averages and strike-rates (Nauman Anwar has played only one game so it may not be a fair assessment) why neither of them have played more T20s for Pakistan.
Another batsman who should walk in to the World T20 squad is Babar Azam. He is yet to make his T20I debut for Pakistan, however, if his ODI innings are anything to go by then one can easily see why he is a must have in the shortest format. He has demonstrated immense character in his short career thus far, and his wide range of strokes shows that he is one for the future.
The wicketkeepers. Sarfraz Ahmed has done nothing wrong to be dropped and has easily been the pick of the glovemen that Pakistan has tried in T20Is in the past five years.
Pakistan's depth in the bowling department should make the selectors job relatively easier, hopefully.
For the World T20 squad, the bowling attack should led by four pacers and two spinners. Mohammad Amir, Wahab Riaz, and Imad Wasim pick themselves given their recent performances.
Even though Amir was not at his best in the T20 series against New Zealand, he showed improvement with every international outing. Wahab has been carrying the attack on his shoulders for some time now, while Imad has been a revelation in the limited overs formats.
The other three members could be anyone from Mohammad Irfan, Umar Gul, Anwar Ali, Sohail Tanvir, Zafar Gohar, Yasir Shah (if cleared), and Saeed Ajmal who recently announced that he is aiming to be a part of Pakistan's World T20 plans.
The Pakistan Super League will allow the selectors to judge all the players, though, ideally, Pakistan should seek continuity rather than stop-gap solutions.
It is about time Pakistan adopts an effective selection strategy for the world events, similar to what they have done for the Test team. Four years for a World Cup and two for a T20 world championship is enough time to plan ahead.
Pakistan seem to be in a little bit of trouble before a big tournament. It is typical of the team which often surprises at ICC events but the Asia Cup, which precedes the World T20, should sort some issues out, provided they stick with the same team.
This is the 15 I would go with:
Shahid Afridi (C), Mohammad Hafeez, Ahmed Shehzad, Umar Akmal, Babar Azam, Shoaib Malik, Mukhtar Ahmed, Sharjeel Khan, Sarfraz Ahmed (WK), Imad Wasim, Mohammad Amir, Wahab Riaz, Umar Gul, Anwar Ali, Yasir Shah (if cleared) or Zafar Gohar.
---
Umair Qazi is the founder of wellpitched.com, co-founder of the popular facebook group 'Boys in Green', and he tweets @wellpitched