HBL Publishing Partner
It is time for Pakistan cricket to head into a new era.
In the deserts of the UAE, the stage is set for the Pakistan Super League; preparations are nearing completion, and team combinations are being finalised ... it is time for Pakistan cricket to head into a new era
Game changer
Despite tentative beginnings, the potential offered by the PSL goes beyond cricket. But for the PSL to succeed, it needs to be developed at a Test-match pace rather than a T20 one
It's a case of better late than never: Pakistan might be the last to board the premier T20 league train, after India, Australia, West Indies, and even Bangladesh, but here we are nonetheless, without an overdose of Bollywood song and dance, without an array of celebrity power, and despite much antagonism at home.
To be hosted in Sharjah and Dubai between Feb 4 and Feb 23, the Pakistan Super League (PSL) pledges to propel the cricket-starved country and the cash-starved Pakistan Cricket Board (PCB) towards commercial viability and greater professionalism.
The first instalment of the tournament features only five teams — Islamabad United, Karachi Kings, Lahore Qalandars, Peshawar Zalmi and Quetta Gladiators — and in all probability, will return a negative net profit margin despite a total investment of $93m.
On the surface, in this day and age of broadcast and sponsorship rights, this investment pales in comparison to the money brought in by other T20 leagues being played around the world. The Indian Premier League (IPL), for example, boasts franchise values of around $700m, not to mention the $1.75billion from the sale of TV rights for a decade. In comparison, the PSL has only been able to muster $20m for three years from broadcasting rights.
But a closer inspection of the fine print reveals that even in comparison to the IPL, the PSL has done well till now. Back in January 2008, when eight IPL teams were first auctioned, the Indian cricket board generated a combined $724m from franchise sales. But this amount was to be paid in 10 annual instalments, thereby handing each team about $9m every year.
In comparison, Islamabad United's sale at $1.5m fares well, as Pakistani products' value is gauged on a 1:10 ratio against Indian products. In effect, the inaugural value of Islamabad United would be calculated as $15m, which is over and beyond the $9m average earned by IPL teams. By the same logic, therefore, Karachi Kings' sale at $2.6m is a major coup.
PCB sources define this period as a "teething process," from which the Board, franchises, sponsors and other stakeholders have already drawn many lessons.
"The biggest chunk of revenue generated is always from broadcasting deals, but the underdevelopment of sports broadcasting in Pakistan has meant that we are somewhat handicapped on that front," explains a PCB source.
Industry insiders believe that scheduling of the PSL has come at an inopportune time, which might see advertisers invest cautiously in the PSL.
"A limited pool of advertising money is now being split four ways: to the MCL, PSL, IPL and then the T20 World Cup. With the MCL being played simultaneously as the PSL, we are already seeing the first signs of advertising money being split between the two leagues," says one advertising executive.
Another argues that with Habib Bank bagging title sponsor rights for the first edition of the PSL, there will be some advertising impetus, but again, its extent is likely to be limited. "Advertising on television might see a spike during matches since those are prime slots," he says.
But both advertising executives assert that the market is clear about not gauging PSL's success over the first year.
"It is a new product; it will take time to become established. Its success will be evaluated after three or four years, once its teething problems are over. Only then can we have a discussion about whether the league is sustainable or not, or whether sponsors still retain their interest or not," says the first advertising executive.
"The mere fact that the PSL is being held is 'success' at this stage," says the second. "In the first attempt, success cannot be gauged in terms of money but in organising the competition."
It is clear that the financial side of things will take a bit more time to become established, but the PSL having to be played abroad and not in Pakistan has a major impact on the numbers floating around.
Consider, for example, ticket sales: all tickets are being sold in UAE dirhams and the PCB will also be paying the cost of organising the tournament in dirhams. Were the league to be held at home, ticket sales would arguably be higher and franchises would have greater control over gate money received.
But in the meantime, till the PSL doesn't return home, there are plenty of opportunities for franchises to grow, both on the field and off it.
Since the teams participating are all private entities, set up to encourage greater professionalism in cricket, there are larger plans among the franchises to launch cricket academies and attract local talent. Peshawar Zalmi, for example, have announced setting up an academy in the Federally Administered Tribal Areas (Fata), for which land has already been allotted by the Khyber Pakhtunkhwa government.
For young Pakistani talent on show at the PSL, there is great opportunity to share a dressing room with international stars and seniors from the Pakistan team. They'll be coached by big-name coaches and their talent will be honed by specialised trainers. Away from the grind of domestic cricket, the PSL offers elite exposure and experience to those selected. In turn, youngsters selected for the national team will be more aware of what is needed to cut it at the international level.
Encouragingly for most franchises, Pakistani consumers have already begun warming up to the idea of a premier T20 league that they could call their own. Lahore-based online seller Ahmed Majeed has been receiving orders for fan merchandise, but he says that the Rs950 price point is proving to be prohibitive for clients.
"We receive orders largely through Facebook. I have already sold over 350 Lahore Qalandars t-shirts and a fair few for Karachi Kings. But many clients often make phone calls to simply ask if we can reduce selling prices; we always refuse, of course, and nearly all of them declined to place an order," he says.
Majeed explains that cloth for the fan merchandise is being sourced from Faisalabad and stitched locally. But while t-shirts are being made in Lahore, replica kits are being sourced from Sialkot and sold at shops across Lahore.
Meanwhile, in Karachi, unofficial fan merchandise has also made its way to Zainab Market and Tariq Road, the city's two main commercial hubs. Mohammad Naeem, a seller in Zainab Market, explains that his Rs300 t-shirts have sold like hot cakes, to the extent that he had to re-order them thrice ever since the Karachi Kings launch show.
"We ordered t-shirts for three teams: Karachi Kings, Lahore Qalandars and Quetta Gladiators. We thought that demand for these teams will be high, and so it proved. Till now, we have had three consignments for Karachi Kings shirts, each with 500 shirts. And we'll be ordering again this week," says Naeem.
According to him, unofficial low-cost fan merchandise is being manufactured in Karachi and distributed to shops and sellers across the city. "Everyone is excited about the PSL but tentative at the same time. These low-cost t-shirts have allowed us to check the mood of clients and what they want. Nobody is prepared to invest big money at this stage," he argues.
But over at Lord's Sports, among the oldest sports goods shops in Karachi, owner Zohaib Iqbal reports only a mild interest in PSL merchandise. "Two out of 10 customers," he says, when asked to quantify consumer interest.
"The performance of the Pakistan team is also a huge factor in determining consumer interest. Since the team is not doing well in New Zealand, demand is low these days," says Iqbal, who terms the PSL replica kits as a niche product at this stage.
"Availability of the product is low too, so that also has an impact. Unless someone is particularly putting replica kits in their store fronts and marketing them, sales of official merchandise are bound to be low," he argues.
On its part, the PCB has been looking to clamp down on the sale of unofficial merchandise, claiming that it is illegal to use PSL teams' logos for private businesses. Some legal notices have already been served on offending parties and PCB lawyers are pursuing these cases with great intent.
"Replica kits and merchandise that we see popping up on Facebook are in fact illegal. The business model of the PSL is designed to allow franchises to generate revenue from the sale of official kits and merchandise since they own their respective brands," says one source. "In practice, this means that franchises will be the ones to source, market and sell merchandise, and not any other vendor who pops up on Facebook."
The Karachi Kings, for example, have already started marketing sales of collar t-shirts at Rs1,700 each and round neck t-shirts at Rs900. When asked if such price points will drive consumers away, the PCB source claims that the plan is to have replica kits and merchandise that are affordable to all.
"Fans might want Rs300 shirts, and in due time, you will see official merchandise catering to that customer segment too. The idea is to have different quality merchandise selling at different rates, thereby allowing fans to buy whatever is feasible for them," he explains.
"In the US, for example, there are three or four different types of shirts sold by the NFL, each of a different quality and price. Fans buy whatever they can afford, some even go for the quality that is worn by players on match days, which costs far more than the ordinary t-shirt that most will wear on a day-to-day basis. The idea is to replicate those practices," says the PCB source.
Despite the complications, the PSL is a golden opportunity for PCB to build upon. A successful first edition of the PSL might open up the possibility of having a few matches being hosted at home in the second season, thereby increasing chances of international cricketers returning to Pakistan.
Then there are on-ground branding and sponsorships opportunities to be leveraged and a potential increase in broadcasting revenue to be registered. Although scheduling conflicts have put the PSL in a fix this time around, gathering as many eyeballs as possible for the second edition will be key. But that will only happen after a first PSL edition is successfully concluded, thereby giving all stakeholders a precedent to build on.
If the PCB can eke more revenue out of broadcast deals from the second season, the roster of international superstars playing in the PSL will also improve and add more value to the league, both in terms of marketing as well as invaluable exposure for the Pakistan's younger lot.
Off the field too, franchises will be able to leverage greater marketing opportunities. Imagine the branding opportunities presented by the PSL: branded credit cards for fans, schools and colleges activated to support local teams, home delivery nights from food sellers, more television sets sold too as has been a clear trend in World Cups.
It seems like an irony in terms, but the success of the PSL will have to be gauged at Test-match pace and not a T20 one. The beginnings are slow and humble, but if handled carefully, PSL will have a truly transformative impact on Pakistan and its cricket-crazy people. Ab khel ke dikha.
Tauqeer Muhajir is a media consultant and serial entrepreneur. He has been associated with the launch of T20 cricket in Pakistan as a media consultant to the initial sponsor bank. He is also the editor of T20 portal, infot20.com
Additional reporting by Ahmed Yusuf
---
The circus rolls into town
Mushrooming T20 cricket leagues set the tone for the game's future
For the most part of its 140 years of existence, and with due respect to women players, cricket has been known as the 'gentleman's game'. High values, strong traditions, elaborate rules, pedantic officials, impeccable white flannels and interludes for lunch and tea make it the most original, the most enigmatic sport known to humankind.
The advent of limited over games in 1971-72, however, altered much of that. The purists scoffed at the ODIs and were quick to announce that this was just not cricket. They found the concept of teams battling it out for nearly hundred overs within a span of seven hours to decide a winner to be quite nerve wracking and ridiculed the ODIs by dubbing it as 'slap and tickle' stuff.
But opposition from the purists notwithstanding, the ODI format caught on famously and found a large audience in the cricketing world since it had more appeal for the younger generation who didn't have the patience to sit out the five-day Tests where they had nothing much exciting to do but twiddle their thumb and clap only when necessary.
Soon, an ODI World Cup came about in 1975 and the world of cricket fell in love with it.
Gradually, the pundits of the game, too, began to reconcile with the new format. But just as they were beginning to experience a change of heart for50-over cri-cket, Ker-ry Packer stormed the scene to comp-letely revo-lutionise the gentleman's game with his 'circus.'
---
This shortest, craziest form of the game may have had the likes of Sir W.G. Grace and Sir Neville Cardus turning in their graves.
---
And it was a circus alright. Day-night matches, coloured clothing, white balls, innovative stroke-making, black sight screens, stump mikes; it was clearly a culture shock for the purists, akin to a rude awakening — from black and white to technicolour, from classical to heavy metal. Needless to say, the connoisseurs loathed it, but the public adored it and insisted that Packer had given the game a new lease of life.
However, the Packer Circus folded rather abruptly in only its third year since the Aussie tycoon achieved his eventual goal by winning a long-winding battle for TV rights to set up his Channel 9 broadcast. A yawning 30-year period goes by thereafter without any further 'damage' to the game. The purists heaved a sigh of relief, believing that the game of cricket has weathered its worst storm.
Enter Twenty20 cricket to turn the game on its head, once again. Every rule in the cricket book is thrown out of the window as the frenzied format catches on like wildfire while the purists bury their heads in sand.
The 21st century generation has, indeed, been swept by the T20s' electric appeal and insist that it is the epitome of Sir Don Bradman's doctrine that 'every ball that can be stopped can be hit'.
This shortest and craziest form of the game may have the likes of Sir W.G. Grace and Sir Neville Cardus turning in their graves, but the recent mushrooming of the T20 leagues around the world is a testament to the fact that the format has become a massive crowd-puller.
Here, we take a look at the various Twenty20 international leagues that are being played/launched around the world:
Pakistan Super League: Pakistan cricket fans are eagerly awaiting their own T20 league, the PSL, to happen in Dubai and Sharjah from Feb 4.
The PSL is easily the most ambitious project ever undertaken by the Pakistan Cricket Board and is seen as the ideal tonic for salvaging the declining standards of Pakistan cricket. Both critics and former players feel that PSL is a huge step towards reviving international cricket in the country after the ghastly 2009 attack on the Sri Lankan cricketers in Lahore had effectively put an end to all foreign teams' visits to Pakistan.
The PSL, which comprises five franchises namely Peshawar Zalmi, Quetta Gladiators, Lahore Qalandars, Karachi Kings and Islamabad United, will provide a golden opportunity for the local players to polish their skills and lift their game by playing alongside brilliant international players such as Chris Gayle, Kumar Sangakkara, Kevin Pietersen and many other.
Indian Premier League: The original and most lucrative of all Twenty20 leagues being played around the world, the IPL was established by the Indian cricket board (BCCI) in 2007 and will be staging its ninth season in 2016.
Mumbai Indians will be defending the title this year in IPL which is played in the months of April and May in India. However, in 2009 and in 2014, the IPL was shifted to South Africa and to the UAE respectively due to general elections in India.
The IPL was originally launched with eight teams while three other outfits joined in later. However, owing to the many controversies the league has attracted over the years, including fixing rows and player auction ruckus, it has now been reduced to eight teams namely Delhi Daredevils, Kings XI Punjab, Kolkata Knight Riders, Mumbai Indians, Rising Pune Supergiants, Royal Challengers Bangalore, Sunrisers Hyderabad and Team Rajkot.
Players from all cricket playing nations, except Pakistan, compete in IPL. The Pakistan players had participated in the inaugural season but were subsequently disallowed due to strained relations between the two neighbouring countries.
Big Bash League: The BBL is an Australian domestic T20 league which was established in 2011 by Cricket Australia. It features eight city-based franchises instead of the six state teams which used to participate in the season previously.
BBL matches are played in Australia with a number of international players competing in the months of December and January. The outfits taking part are Perth Scorchers, Sydney Sixers, Brisbane Heat, Adelaide Strikers, Hobart Hurricanes, Melbourne Stars, Melbourne Renegades and Sydney Thunder.
Bangladesh Premier League: The BPL is a professional T20 cricket league held annually in Bangladesh. It was founded in 2012 by Bangladesh Cricket Board but was suspended after its second edition in 2013 after some of the local players including former Bangladesh skipper Mohammad Ashraful were found involved in match fixing.
The BPL, played during November and December, has been revived this year with six franchises namely Dhaka Dynamites, Rangpur Riders, Comilla Victorians, Chittagong Vikings, Barisal Bulls and Sylhet Super Stars which also feature a number of international players.
Sri Lankan Premier League: SLPL is a professional T20 league launched by Sri Lanka Cricket (SLC) in 2011 but could not take off that year due to financial problems. Its first season was finally played in 2012 with eight teams but has since been cancelled due to organizational hazards and lack of sponsorship.
Caribbean Premier League: CPL T20 is an annual cricket league in the Caribbean, launched in 2013. Since then, it is played in July-August each year with six franchises namely Jamaica Tallawahs, Trinidad and Tobago Red Steel, Barbados Tridents, Guyana Amazon Warriors, St. Lucia Zouks and St Kitts and Nevis Patriots.
Masters Champions League: MCL is the latest T20 league to enter the fray. Planned for veterans and retired cricketers, it takes off this month with a bang in Dubai and Sharjah. Put together by East Africa-based businessman Zafar Shah, the league has already drawn a huge response from fans all over since it stars several legendary players including Sachin Tendulkar, Shane Warne, Wasim Akram, Graeme Smith and Adam Gilchrist to name a few. MCL comprises six teams namely Libra Legends, Gemini Arabians, Virgo Super Kings, Capricorn Commanders, Leo Lions and Sagittarius Strikers.
The writer is Sports Editor, Dawn
---
Time to shine
ISLAMABAD UNITED: UMER AMIN
It is a very big thing to have our own league now. The emerging players, especially, will benefit from this exposure and working so closely with international players. We have all watched them play, of course, but having them in the same squad and sharing the dressing room with them will be something new.
QUETTA GLADIATORS: BISMILLAH KHAN
I am the only player in Quetta Gladiators who is actually from Quetta. I've been playing cricket since my school days. Then during college I was also part of the Pakistan under-19 team. Then came first-class cricket followed by my selection in the Pakistan A team. And now I have been picked up by Quetta Gladiators for the PSL, hopefully this will catapult me into the national team. I hear there is big money in the league but honestly, money is not as important for me as is playing for my city, my province and my country.
PESHAWAR ZALMI: TAJ WALI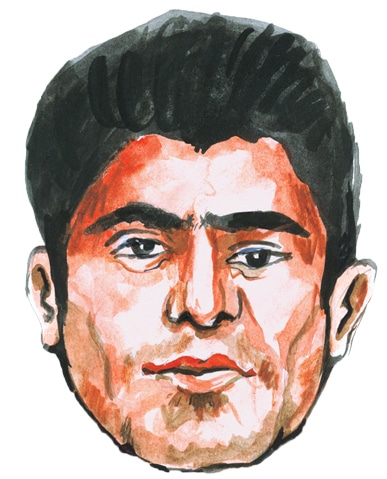 The PSL is an exciting opportunity for me. I know that if I perform at this big stage, my career will blossom and I might get the chance to play for Pakistan. I have had a good first-class season and my performance against Port Qasim Authority [four wickets in four balls] has given me great confidence and belief in my ability. If my team needs me to turn it up and perform, and if I win them the final with a burst like the one against Port Qasim Authority, I will be elated.
KARACHI KINGS: USAMA MIR
I hope my performance in the PSL will get me into the Pakistan national team as that is what I really want to do, serve my country. I am not from Karachi. I belong to Sialkot but hopefully there will also be a Sialkot team in the league by next year. Being a fan of my captain Shoaib Malik, I am glad to be playing under his leadership.
LAHORE QALANDARS: ZIA-UL-HAQ
Rubbing shoulders with giants like Chris Gayle is something that I am really looking forward to. As a junior, I can learn from seniors like him as those younger than me can learn from me. The exposure would be great as well. With so much hype and with the matches being shown live, my performance in the PSL would really matter as the responses would be spontaneous and immediate.
In conversation with Shazia Hasan
---
KARACHI KINGS
Owned by ARY Group
Purchased at $2.6 million
Captain: Shoaib Malik
Coach: Mickey Arthur
(South Africa)
International players bought: Shakib ul Hasan (BD), Ravi Bopara (Eng), Lendl Simmons (WI), James Vince (Eng), Mushfiqur Rahim (BD) and Tillakaratne Dilshan (SL)
LAHORE QALANDARS
Owned by Qatar Oil
Purchased at $2.4 million
Captain: Azhar Ali
Coach: Paddy Upton (South Africa)
International players bought: Chris Gayle (WI), Kevon Cooper (WI) and Dwayne Bravo (WI) and Mustafizur Rahim (BD)
PESHAWAR ZALMI
Owned by Haier
Purchased at $1.6 million
Captain: Shahid Afridi
Coach: Mohammad Akram
International players bought: Darren Sammy (WI), Tamim Iqbal (BD), Jim Allenby (Eng), Dawid Malan (Eng) and Brad Hodge (Aus)
QUETTA GLADIATORS
Owned by Omar Associates
Purchased at $1.1 million
Captain: Sarfraz Ahmed
Coach: Moin Khan
International players bought: Kevin Pietersen (Eng), Jason Holder (WI), Luke Wright (Eng), Elton Chigumbura (Zim), Mohammad Nabi (Afg) and Kumar Sangakkara (SL)
ISLAMABAD UNITED
Owned by Leonine Global Sports
Purchased at $1.5 million
Captain: Misbah ul Haq
Coach: Dean Jones (Australia)
International players bought: Shane Watson (Aus), Andre Russell (WI), Samuel Badree (WI), Brad Haddin (Aus) and Sam Billings (Eng)
---
FIXTURES
Published in Dawn, Sunday Magazine, January 31st, 2016
To view Dawn.com's coverage for Pakistan Super League 2017, click here