Backpackers Morten Hübbe and Rochssare Neromand-Soma are now hitchhiking in India.
This is the travel blog of backpackers Rochssare Neromand-Soma (28) and Morten Hübbe (30) who met at the same university in Germany, where they both studied Literature and Media. They finished school in 2011 and started travelling immediately.
Their journey started with a trip to South America. They planned it as a six-month visit but ended up falling in love with the warm people and the breathtaking beauty of the region. It all started with hitchhiking (which is really common in Argentina and Chile) and enjoyed it so much that they kept travelling until they had discovered the entire continent.
They ended up staying back for over two years, and had by then, hitchhiked more than 50.000 kilometers, mostly with truck drivers. On the way, they met a Frenchman who told them about his hitchhiking adventures in Europe. He went from Paris to Istanbul all in just four days. This impressed the couple enough to decide to hitchhike all the way from Germany to India.
Today, they are in India. And look forward to travel throughout the country before proceeding to their next destination. Read Part-I and II here. You can also follow them on Facebook and Instagram.
---
India: First impressions
Crossing over to India was an overwhelming feeling. As we walked under the image of Mahatma Gandhi and watched the man behind the counter stamp our passports, we knew we had made it.
After seven months and three weeks, we had completed the first leg of our travel east. After hitchhiking for more than 19,200 kilometres and getting more than 200 lifts, we had finally entered India.
As we reached the city of Amritsar, we immediately felt the extraordinariness of the country. Crowded streets were littered with burning garbage, while donkey carts and cows shambled slowly through the narrow alleys.
People were rushing about their work, all the while giving us heart-warming smiles. On top of all this, there was the incessant noise of honking cars, motorbikes and rikshaws. We could easily spend hours just watching all that was happening around us and not get bored.
India's streets are no less than a movie. Real, live Bollywood. But within the bustling city, there is a small oasis of peace and quiet. The place we admired the most in Amritsar was the Golden Temple — the holiest place for the Sikh community which became our base and refuge in an ocean of voices, feelings and happenings.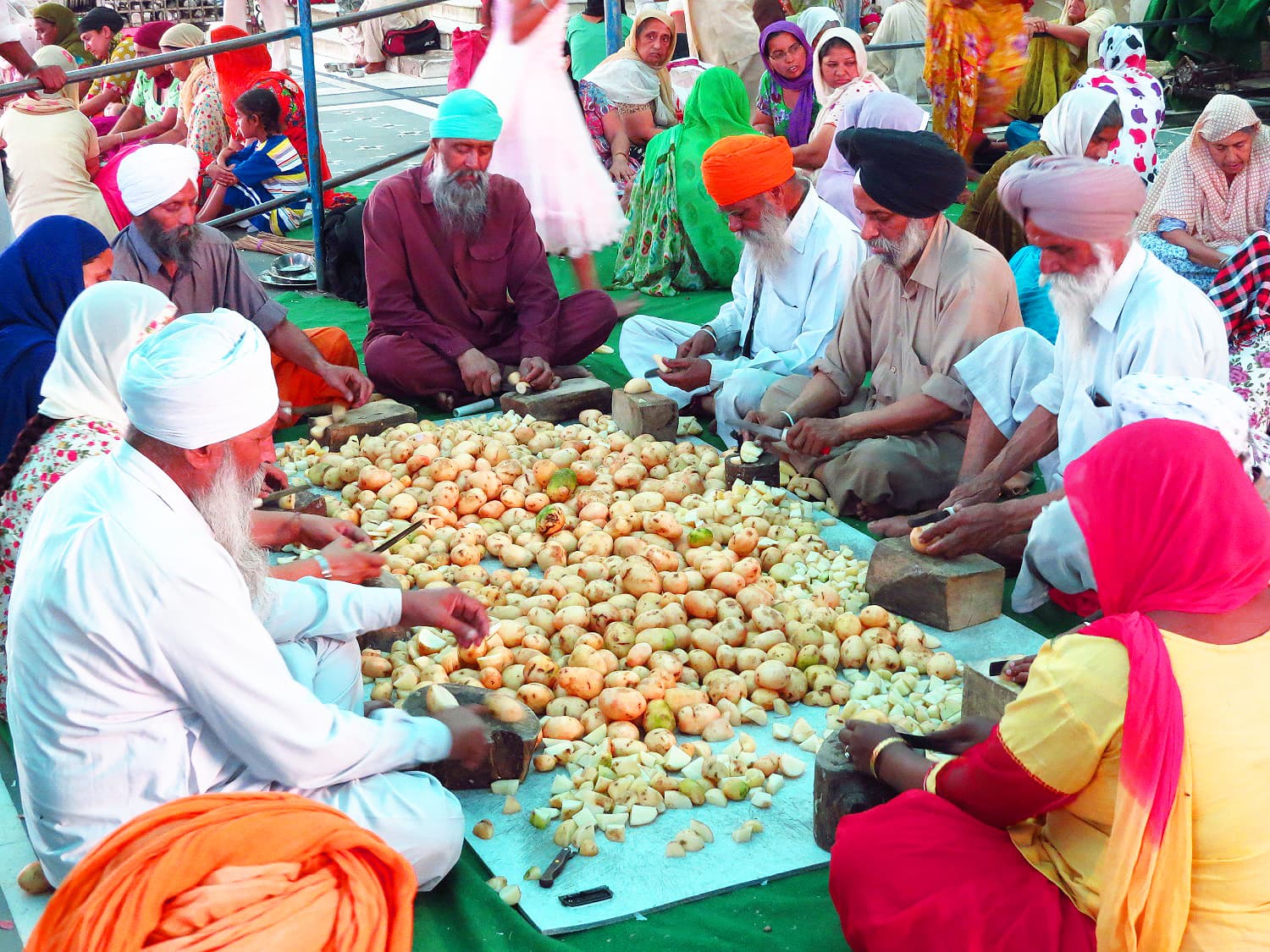 Although the Golden Temple is a religious place for the Sikhs, it is also a melting pot where everybody is welcome to stay, eat and sleep. There is no segregation of religions. People from all over the world come together and share in the harmony the temple has to offer. The Golden Temple has several dormitories and a huge eating hall.
For Sikhs, it is an honour to serve at least one meal a day in the Golden Temple and you can see dozens of people peeling potatoes, dicing onions and chopping all kinds of vegetables. People can be seen washing the dishes happily. Seeing hundreds of people with different backgrounds come together and enjoy themselves is truly inspiring. Here, you feel that all human conflicts can be resolved.
Of course, being with so many people is a great opportunity to get accustomed to the varied cultures and customs of India. Soon enough, we understood that Indians love to take photos, and even more so if there was a foreign face in their 'selfies'. Never before were we asked so frequently for a snapshot.
Also read: From Germany to India: Chai and contradictions in Pakistan
Hippies, hills and hedonism
After Amritsar, we headed towards the hills of Mcleod Ganj. Surrounded by a beautiful forest, the town is the headquarters of the Tibetan government-in-exile. It is the permanent residence of the Dalai Lama and a favourite spot for young foreigners and old hippies in search for some good pot and spirituality.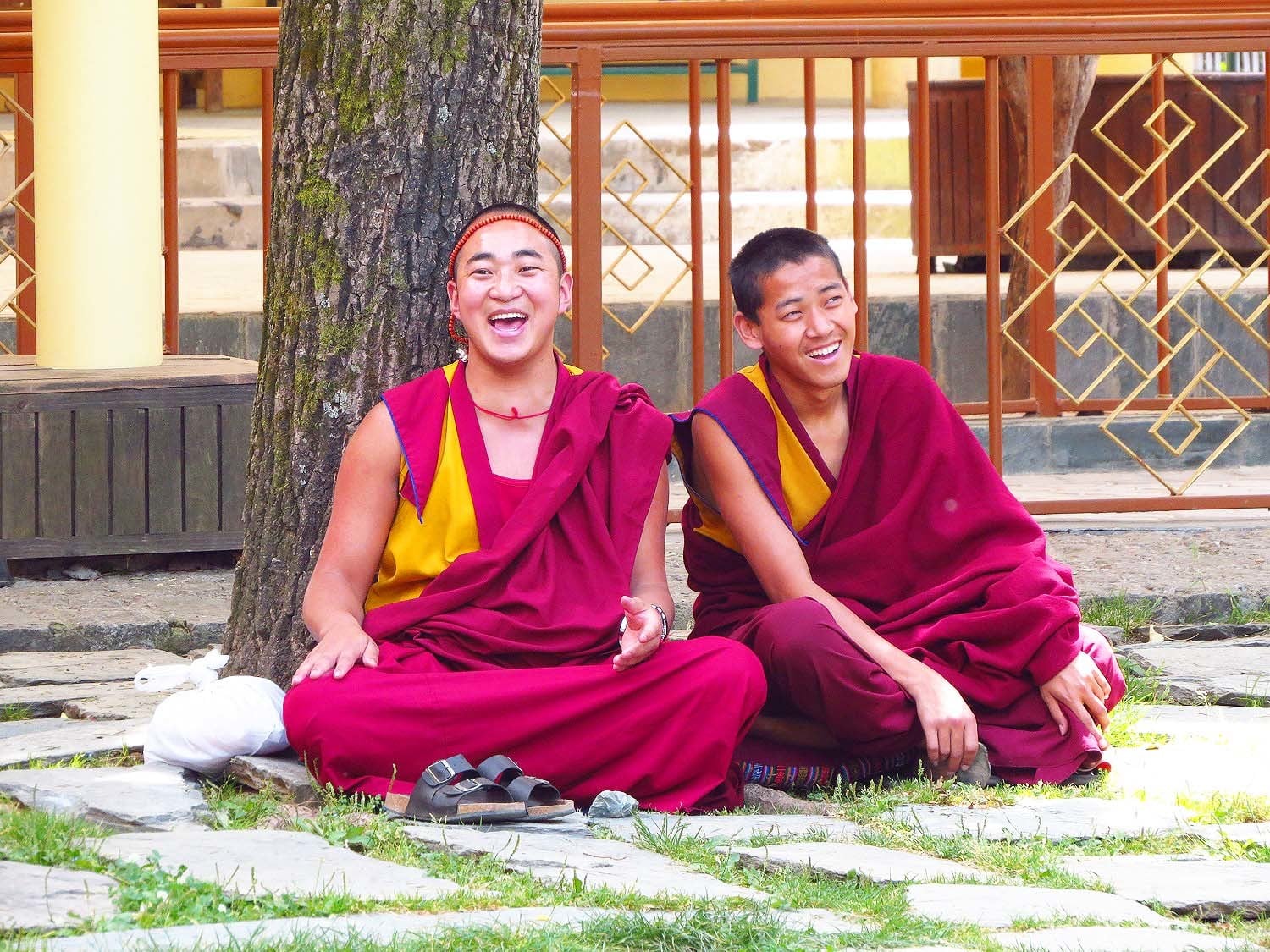 McLeod Ganj is home to one of the biggest Tibetan settlements in the region. Unfortunately, most of the people who visit the town miss out on the actual beauty of the place, and are too busy getting high.
Kashmir — the jewel of India
Our next destination was Srinagar, Kashmir. We hitchhiked to the bustling city all the way through Chamba and its thousand-year-old shikara temples. It took us a while to travel through the rocky, mountainous areas, although the distance was not too long.
The road is dusty, and damaged mostly by multiple landslides. It is crowded with goat herds on their way to summer pastures. Indian drivers do not make the situation any better as they race across the narrow roads, bounded by a steep valley on one side and a high rock on the other.
Everyone tries to overtake other vehicles, disregarding the tight space and oncoming traffic, sometimes making the travel very perilous. On top of all this, a dozen or more drivers honk their horns simultaneously, drumming up the image of Indian city streets.
After eleven exhausting hours of travel across the mountains, we finally reached Kashmir's picturesque Srinagar. We felt as if we were back in Pakistan. There are a huge number of Muslims in Kashmiri Srinagar. The call to prayer by the Muezzin, people wearing Shalwar Kameez, the bustling street life and the food — all evoked beautiful memories.
But there is one thing that makes Srinagar stand out from every other place: its famous Dal Lake. Surrounded by hundreds of houseboats introduced by the British around 200 years ago, the water with its glassy surface stretches far into the city.
Shikaras, small gondola-like boats, cross the lake carrying goods and people from one side of the river to the other, or are seen giving excursions to tourists, or used as make-shift shops selling saffron and souvenirs. Many tourists can be seen taking pictures dressed in the traditional Kashmiri attire on the lake.
We decided to relax for a while by spending a few days in a houseboat on the shore of the scenic lake, enjoying Kashmiri Kahwa — a tasteful yellow tea brewed with saffron — and immersing ourselves in the beauty of its golden sunsets.
Ladakh — welcome to the high mountains
After some days of rest, we started hitchhiking further east towards Leh in Ladakh. On our way to the town, we crossed lush green fields and pastures, rivers, steep gorges and snow-capped mountains. We soon reached Sonamarg — one of the most scenic places we have ever seen. Intense bursts of greens, whites and blues made us feel as if we had stepped right into a fairy tale.
Slowly, the colours faded into browns and greys and we knew we were close to Leh. On an altitude of 3,500 metres, we slowed down a notch. There was not enough oxygen to breath. Life in Leh is slow. The region is strongly affected by Tibetan Buddhism with prayer flags, wheels and impressive Gompas (Buddhist monasteries) spread all over the valley.
Monks can be seen wandering through the narrow alleys. The atmosphere is peaceful and quiet. We spent hours under the mountains, observing the simple Buddhist life. After passing through Christian Europe and the Muslim Middle East, we experienced Buddhism to be the third largest world religion, judging from their presence in the north of India.
The risk of trekking at high altitude
After we felt that we had done enough acclimatisation, we started looking for some active entertainment, and visited the nearby Nubra Valley for which we took the Khardung La — the highest road in India. The Pangong Lake on an altitude of 4,250 metres is probably the highest salt lake on the planet; it was definitely the highest we have ever been to.
Our final excursion led us to the Markha Valley — one of the most famous trekking sites in Ladakh. For eight days, we were hiking from village to village, enjoying the extraordinary landscape at this high altitude. It is a great feeling to open the flap of your tent early in the morning and see nothing but pure white snow.
But in between, we also experienced unpleasant, sometimes even dangerous situations.
Snow and frost surprised us more than once. Many times, we got lost and had to find our way out. Once, we wandered around without any success with a heavy storm expected. It was nearly dark when we found some shepherds who guided us. Our adventure was cut short after a blizzard kept us locked in for four full days.
— Photos by author