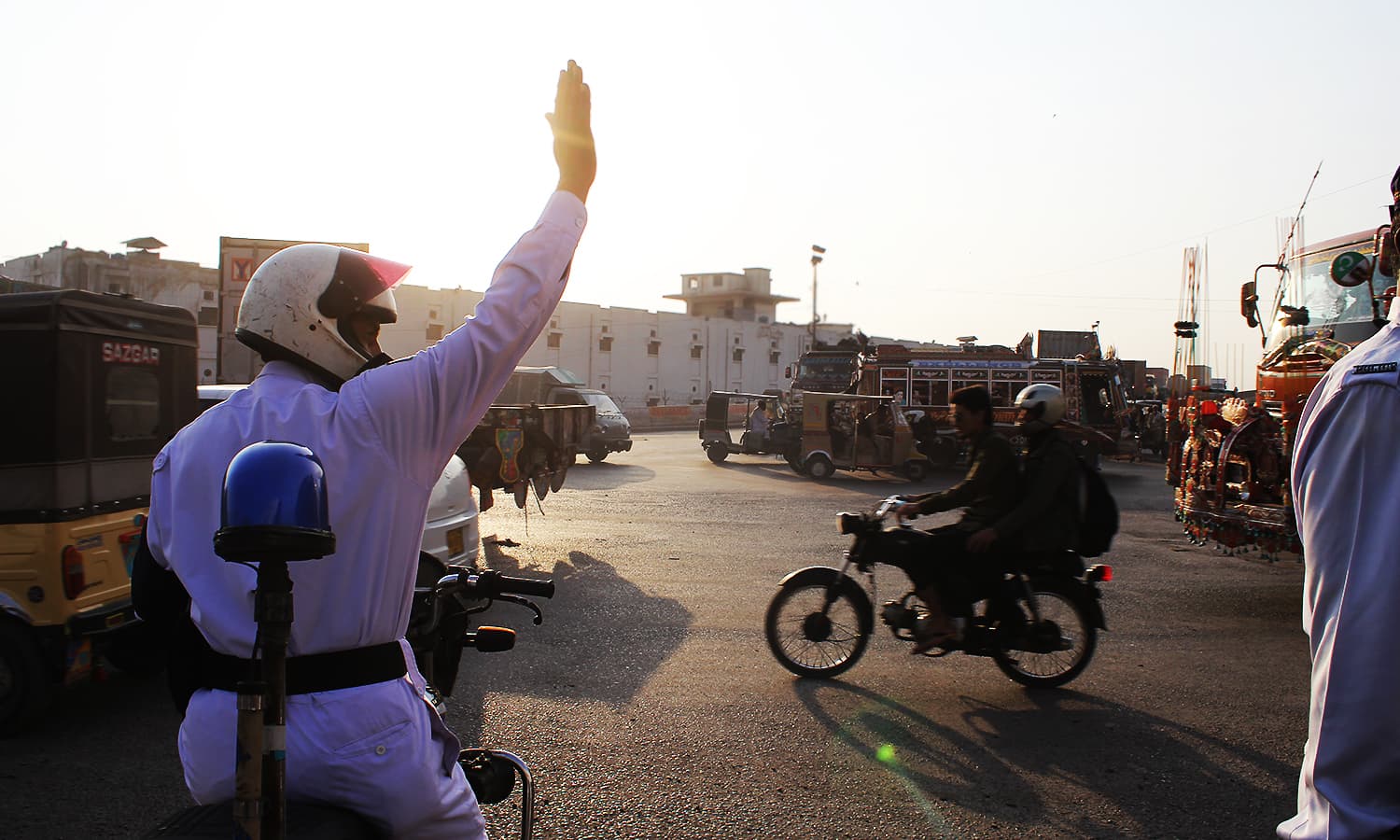 "When I step out of the house, I don't know if I will be coming home."
KARACHI: In the heart of one of the world's most densely populated cities, the roar of traffic is deafening. In the midst of the din, the smog, and the sweltering humidity, stands Sub Inspector (SI) Ahmed, stoically waving his hands and gesturing to the sea of monstrous 18-wheelers, weaving motorcycles and honking cars.
Irate drivers and pedestrians ignore his gestures and directions. They pass by him hurriedly, almost mowing him over. But Ahmed stands his ground.
"I brave the dust, the pollution, the head-splitting rumble of traffic day in and day out," he says.
His job is thankless, he faces abuse by traffic violators daily, and he hasn't received a promotion in over three decades. At a salary of Rs35,000 per month, and shifts that can stretch for over twelve hours, it's a wonder that he and the other traffic policemen continue to show up for work every day.
Standing amidst a battlefield
SI Abbasi, another veteran of the traffic police force, gestures to the four other policemen standing around the intersection of Sher Shah Chowki. None of them are wearing the bulletproof vests they have been instructed to.
"Recently, we've been told to be careful and take extra precautions," Abbasi says. "But not everyone is vigilant about it."
Examine: Lightweight bulletproof vests sought for traffic police
In the wake of a renewed wave of killings of traffic policemen in the metropolis, traffic police authorities have introduced stricter safety measures, and deployed armed traffic personnel at around half a dozen sensitive areas.
Explore: Rangers help sought for security of traffic police personnel
Sher Shah Chowki is one such 'sensitive' area, since Lyari, MT Khan Road and Mauripur are all a stone's throw away.
"This place used to be a battlefield," Ahmed says, gesturing towards the roaring intersection. Back in the day, his senior did not let him walk around the streets alone. He was cautioned to stick to his duty instead of helping strangers.
"If a car breaks down in the middle of the street and halts traffic, what can I do?" Ahmed asks. He has to leave his post and go help push the vehicle out of the way. "My job is to help and provide guidance to people," he reflects.
These days though, it is safer – barring the targeted attacks on traffic policemen.
"But what is there to be afraid of?" Ahmed asks. "Death will come when it comes."
A thankless job
Not everyone can do his job, Ahmed feels. "It takes a stomach of steel to direct traffic in Karachi."
Traffic policemen, for example, are routinely harassed by traffic law violators. "They get mad at us even when they are in the wrong," he says. All kinds of insults and lectures are thrown at them when they're simply doing their job.
SI Abbasi agrees. He and his companions have faced all sorts of abuse and difficulties, when all they are concerned for is others' safety. "We tell people to wear helmets, seatbelts, licenses, and they act like it's some kind of crime!" he exclaims.
Often, he feels people incorrectly assume they are being fined just so the policeman can make some extra money.
"It's infuriating," Ahmed says. He feels if someone else stood in his place for even an hour and happened to have a gun in their hand, he or she would be killing people at the end of that hour.
Life goes on
Traffic policemen stand under the hot sun all day, each shift stretching up to nine hours or more. The dust, smoke and pollution fill their lungs. Although they wear surgical masks as a safety measure, the masks prevent inhalation of toxic fumes and dust only minimally.
Their job is a health hazard. When Ahmed had breathing problems, he was told by the doctor that the amount of dust he inhaled every day on duty was the same was the amount of dust that came off his uniform every day – at least a pound.
Aside from falling sick from time to time, the roar of traffic also affects their hearing. I know he isn't exaggerating. The traffic is so loud, one needs to yell to be heard, and has to strain their ears to catch what someone is saying. "The roar of traffic is deafening," Ahmed says.
There are no breaks either: those who come for the morning shift arrive at 7:30 and leave at 3:30 in the afternoon. The second shift stays till 11:30pm. If there is a rally, protest, traffic jam or a VIP movement – the nine-hour shift can stretch to 12, 16 or even 24 hours. No day is off – not even weekends.
Abbasi grins and shrugs. "We have to do our jobs," he states matter-of-factly. "Bas, zindagi chalti rehti hai ─ life goes on."
'God is with us'
Before SI Ahmed leaves his house every morning, his wife and children say a prayer for him and kiss his hands. They remind him to be careful, worrying for his life. But Ahmed doesn't worry: he says he has left it all on God. "What do I have to be afraid of when He is protecting me?"
Once, he stopped a man for driving in the wrong direction. The man pulled out a rifle and pointed it at Ahmed. "You can't hurt me," Ahmed remembers telling him.
The man remained undeterred and threatened Ahmed: "Why can't I hurt you? I'll show you."
"I told him, 'You can't hurt me," Ahmed recalls, pointing to the sky. "'He is always with me.'" At these words, the man with the rifle turned around, and drove off.
An easy target
Traffic policemen in Karachi have been attacked at least six times in 2015, according to data available with Dawn. This is an anomaly. Until this year, a targeted attack on a traffic cop was unheard of.
Police suspect three militant groups of being 'active' in targeting policemen.
Around August, the attacks picked up after the Rangers-led Karachi operation intensified. Authorities then decided to introduce armed traffic personnel at sensitive areas.
"Carrying a gun is a policeman's job," Abbasi says disapprovingly. His job, he feels, is to regulate traffic, not deal with militants.
But shootouts among rival gangs used to be commonplace at Sher Shah Chowki. There would be periods when the fighting would take place daily, and the traffic policemen had to divert traffic and close off the streets. "We'd be in the thick of it," Ahmed says. Luckily, though, nothing has ever happened to him.
Abbasi believes they are being targeted by the transport mafia. "I'm not sure," he shrugs. He mentions the qinqi mafia he has heard of: they earn between Rs3 million to Rs5m a month through extortion, and the policemen hamper their revenue.
Ahmed has a different idea. Traffic policemen are easy targets, he feels, since they stand on the streets all day with little protection. "Anyone can drive by and kill us," he says.
After 34 years in the service, Ahmed says people might not believe the things he has seen, and the situations he has been in. But he no longer sees the point in being afraid.
"Why should I be afraid of anyone on this earth, when I have Him protecting me?" Ahmed asks. "If I was afraid all the time, I wouldn't be able to do my job properly."
Abbasi, however, is not as confident. "When I step out of the house," he shares. "I don't know if I will be coming home."
No jobs, fewer promotions
Ahmed sat for the police force exam in 1981 – becoming a "sipahi" was a matter of pride for him. Traffic policemen have to take additional exams before being promoted to higher grades. Unfortunately, Ahmed only managed to pass the first two.
One day, a DSP was visiting his station. He was a young, handsome man at the time – like most of his colleagues. Ahmed remembers carrying something heavy when he was pulled aside by the DSP, and directed to stand in a lineup for active duty. He was assigned duty for a procession happening that day. After that, the DSP told Ahmed he would do well in the traffic police, and he was drafted. "I've been a traffic policeman ever since."
His salary – a meager Rs35,000 – has not gone been increased in a long while. Meanwhile, Ahmed tells me that officers on bike earn twice as much. "They have an easier job than ours, but are paid Rs75,000," he complains.
DIG Traffic Amir Shaikh confirms this claim. He notes how Lahore's traffic wardens earn about one and a half times more than Sindh's traffic police. This is partially because they are specifically recruited for the job and possess the necessary skills, and partially because of "backing from above".
"If they notice someone big, they have the chief minister's backing," Shaikh says. Sindh's policemen, he feels, are afraid to do the same since they are not supported as much.
But the real problem is that there simply aren't enough open positions in Karachi. "They might have enough experience and skills," Shaikh explains. "But they continue receiving a lower salary because there is nothing to promote them to."
SI Abbasi, for example, joined the police force in 1993 as an Assistant Sub Inspector. A few years later, he was promoted to SI. "You think you'll keep getting promoted," he says. "That when you're at higher positions, you will have more perks."
Abbasi thought he was set for life. But a second promotion never came, and still hasn't – it has been 16 years.
Take a look: 6,000 traffic police personnel to be recruited for Karachi
Corruption and red tape
Traffic policemen used to earn commissions ticketing traffic violators, and kept a small percentage of the fine. "Since 2008, we haven't seen a penny of this amount," SI Abbasi says. It was a small amount, but now he can't even rely on that.
The money would accumulate and be transferred into their bank accounts after a month. The 15 per cent commission per challan was part of the government's policy, but the disbursements stopped around 2007, 2008. "It must have gathered in crores now," Abbasi speculates.
DIG Shaikh says there has been an enquiry into the matter. In 2014, the government released Rs105m but the money is yet to reach the cops' pockets because of "red tape and technical issues".
But DIG Shaikh is optimistic. The SC has been approached to take notice, and Shaikh is confident that the rewards will be released soon. "The department is introducing a new technology based initiative in January 2016," he adds. Some of the difficulties traffic policemen face on the job should be tackled effectively.
"If it is [paid], the men won't fall in to corruption," Shaikh says.
A simple life
But the fact is that Rs35,000 a month is simply not enough. The traffic policemen are forced to live a simple live – Ahmed tells me they survive on onions and chatni.
Abbasi laughs. "If we also ate broast everyday, then maybe we would not be able to meet our expenses." They have to spend in relation with how much they earn, after all.
It doesn't help that the policemen are given no insurance or benefits. Their medical allowance per month is a pittance of Rs200 to Rs300. Families are not provided any cover either. Abbasi goes to the police hospital for medical treatment, but the hospitals are neither well-equipped nor properly staffed. He can't go anywhere else either.
"You know how expensive it can be," Abbasi says. A doctor's fee – often a minimum of Rs1,500 per visit – is simply not feasible.
Despite his humble salary, Ahmed has sent all his children to college. He has five children – two sons and three daughters – the eldest holds a Bachelors degree and the youngest is a sophomore at college. Ahmed's face brightens up when he tells me about them.
His children are in their mid-twenties. "My son wanted to join the force too," he says. "But his head just wasn't in his studies." It wasn't that Ahmed discouraged him – in fact, when he found out his son had been selling stolen SIM cards, he started giving him a monthly allowance so he would focus on his life and education.
Ahmed says he wants to tell me a "ghar ki baat" – something plain.
"My wife still has the same makeup she brought with her when we got married 25 years ago," he begins. "She has never been able to buy new makeup."
— Hufsa Chaudhry is a Dawn.com staffer.