A journey through the city's historic music shops and the stories of those running them.
Karachi has a distinct soul. While the thriving metropolis is reported in the media for all the wrong reasons, it is not too hard to find pockets of inspiration here.
And there can be no better way of getting inspired than finding music shops here that deal in classical instruments and have been doing so for over 50 years!
Below, I share the journey of a weekend spent exploring some of the city's oldest music shops – some located in the most unexpected areas – and uncover their stories.
Tyre Market — Where it begins
I am in Tyre Market and have been bargaining with a mechanic over a vintage Vespa. The mechanic is closely observing my moves and as soon as I dig inside my pocket for cash, he orders tea to celebrate closing the deal.
The rich, creamy doodhpati is way too sweet for my town-bred taste pallet but I gulp it down.
It's still early in the day and I want to spend a little more time out in the street. So, I ask my mechanic if there is a music shop nearby. He tells me there is in fact one at walking distance.
"Here in Tyre market?" I ask him amused.
"Yes, indeed."
Saleem and Sons Musical Store
After walking a few minutes, I find myself in front of 'Saleem and Sons Musical Store' where Waqar, the proud owner of the shop dealing with customers. I take my shoes off and enter the shop.
There is a rug on the floor and a couple of craftsmen are repairing harmoniums. Waqar asks me to come inside his office which is overloaded with a wide assortment of musical instruments.
Waqar ecstatically tells me about his father, Saleem sahib, who after migrating to Karachi bought a portion of what is a much larger shop now and turned it into a premier music instruments' shop.
Saleem sahib had purchased the premises for Rs 2,000 and invested another Rs 45 to stock up the inventory back in the 60s.
"Those were the good days," Waqar quotes his father.
The shop was right behind the Radio Pakistan building and therefore was frequented by iconic musicians such as Mehdi Hassan. They visited the shop not only to buy instruments but to get their harmoniums tuned by Saleem sahib.
Over time, the number of craftsmen adept at manufacturing and tuning the harmonium have dwindled, but Saleem and Sons is one of the few places in Karachi which still manufactures, tunes and repairs them.
While Waqar is immensely proud of his shop's legacy, he is bitter about the recognition his late father received. While Radio Pakistan's role in the entertainment industry has subdued, his shop still exists at the very place it was founded.
As we speak about the challenges of operating a music shop in Tyre Market, I notice a customer walking in with his harmonium. Waqar tells me that that particular musician has come all the way from Hyderabad.
"If we continue to serve our customers well, we will continue getting good business."
Sohail Music Palace
We settle back on our Vespa and ride towards Duarte Mansion. A musician friend once mentioned a shop in one of the streets there.
After a few wrong turns, we finally find ourselves in front of a music shop tucked between auto workshops.
'Sohail Music Palace,' as the name reads on the signboard above the entrance, has been serving its customers since the 60s. It was known as Saeed Music Shop back then, named after the father of the current owners.
We enter the shop and find Sohail – one of the two brothers who own the shop – dealing with customers. It has to be the most exquisitely decorated music shop in Karachi.
The assortment inside is much wider in range. There are guitars hanging from the wall and the racks are stacked with ek taras (one stringers). To my right, I see harmoniums stacked on top of each other and on the back wall, colorful tambourines are arranged neatly.
Sohail is not as talkative as Waqar. I had heard from my friend that Sohail was considering switching professions on personal religious grounds.
But when we finally strike conversation about the shop and his late father's legacy, I notice a glimpse of pride in his eyes.
His father, Sheikh Saeed, migrated to Karachi from Delhi and set up his shop with the help of expert craftsmen such as Badruddin Meeruth. Many craftsmen and entrepreneurs have mastered the trade in his shop, Sohail tells me.
More customers step in. A lady enters accompanying a child who wants to get his guitar tuned. Another is looking for a used harmonium. Sohail has something for everyone.
I wander around the shop and stop to look at the exquisitely crafted ek taras, tambourines and harmoniums.
Sohail later tells me they don't manufacture instruments now and buy them off traders in Sialkot and Lahore. His brother, who is a fantastic painter, adds colourful motifs to them. The instruments look like pieces of art.
Waheed Music Centre
Sohail and Waqar both mentioned a certain Waheed who had worked with their respective parents back in the 60s and now runs a shop in Laloo Khet.
I had visited his shop a few years ago but still ask for directions since Karachi's landscape changes every year. I leave my Vespa home and drive all the way to Laloo Khet, picking up a friend on the way.
Everyone knows Karachi's traffic can be a nuisance but if someone wants to experience it at its worst, driving from Hassan Square to Laloo Khet should be enough. My friend, who has recently shifted from Lahore, looks at the traffic and wonders if a visit to Waheed's Music shop is worth it.
We try to recall the directions to the shop but give up after few wrong turns. I call my musician friend and get fresh instructions which also prove insufficient.
Finally, we turn to technology, and use Google maps to look up the shop. We end up driving in streets so narrow only one vehicle can pass through them at a time.
We battle for driving room with bikes, vegetable sellers and hordes of pedestrians. Finally, we end up in the service lane of a major thoroughfare where Waheed's humble shop is situated.
There is a canopy installed in front of the shop and we find Waheed repairing a harmonium under it. Two elderly gentlemen are sitting beside him, both of whom appear to be frequent visitors.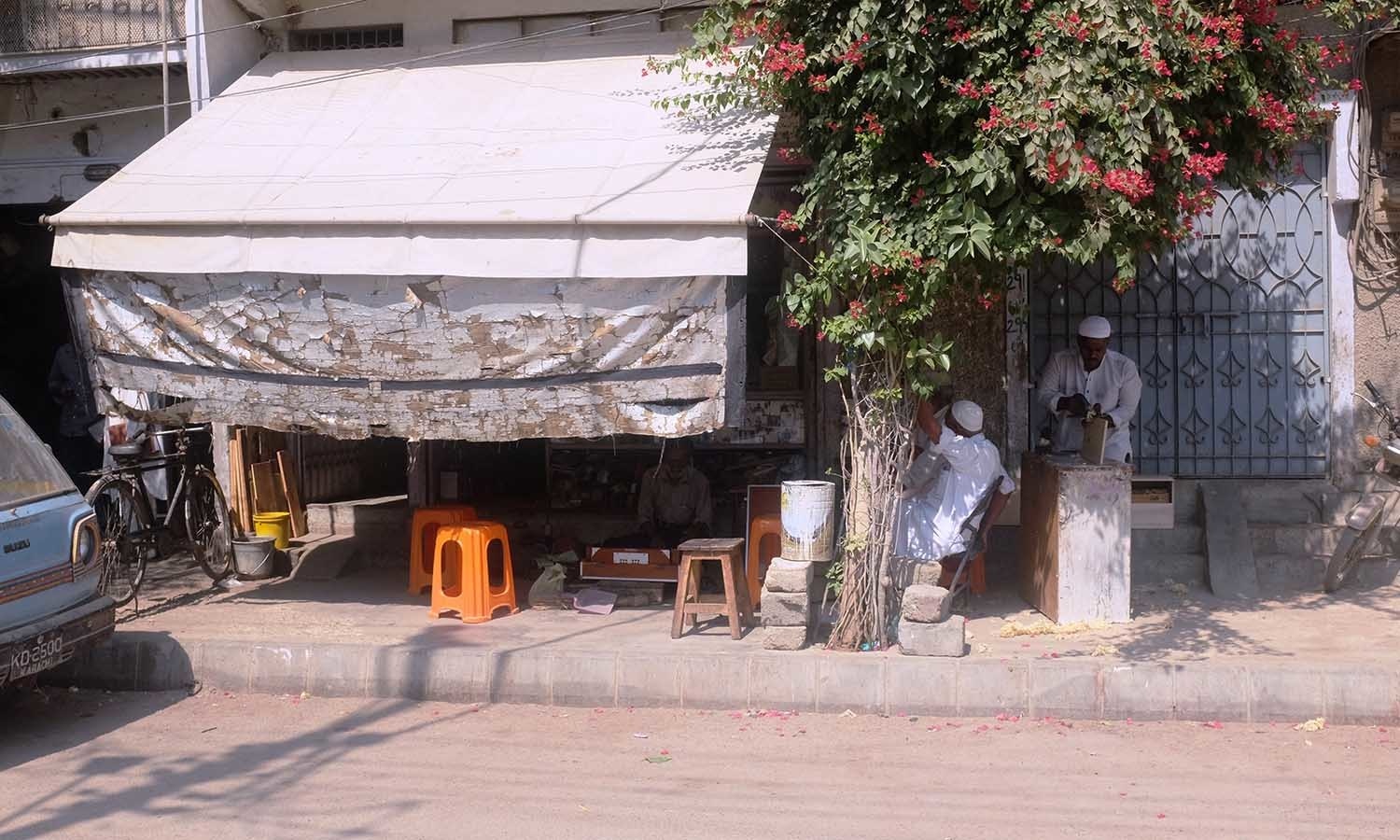 On the glass window of the shop, several photos are pinned, celebrating Waheed's moments with music icons of the era. The jewel among these mementos is Waheed's photo with the great Mehdi Hassan.
We tell Waheed we have driven all the way from Saddar to see him. Upon hearing that, he disappears inside his shop and brings chilled water for us. We gulp it down and thank him for his hospitality. He adjusts back into his spot and resumes repairing the harmonium.
Waheed is perhaps the only craftsman alive who has seen the Pakistani music industry's glory days of the 60s. But he doesn't brag too much about it.
Gradually, he starts speaking of times long gone and the state of the music industry now. Waheed learnt his trade with Saeed sahib but shifted to Laloo Khet later because of high rentals in the Saddar area.
Business was good, even in an area hardly known for cultural activity, as enthusiasts found their way to his shop. He tells me wistfully of shops and craftsmen who have disappeared over time.
As he speaks, his fingers continue to weave their magic, untangling copper wires and connecting the chords of a harmonium. His helper works on assembling a new harmonium.
He tells me he manufactures 25 to 30 of them on order every year using kel, which is procured from Khyber Pakhtunkhwa.
He says customers prefer harmoniums manufactured in Lahore and Amritsar, which are made from lassani wood and are hence cheaper.
Beatles Centre
Beatles Centre near Jhel Park is one of the oldest music shops in the city and has taken its business to a whole new level.
Aamir, the second-generation proprietor, proudly tells me the history of his shop and some of the later innovations introduced.
Aamir's father, Gulzar Khaliqdina, founded this shop on Tariq Road's Dupatta Gali in the 60s.
Like the rest of the shops, Beatles Centre dealt in classical instruments also. But there were lots of Christian and Goans musicians who frequented the shop for guitars and drums.
Over time, Beatles Music shop stopped manufacturing classical instruments and now focuses on dealing in some of the biggest brands in the music industry: D'addario, Walden, Promark, Planetwaves and others.
Aamir frequently attends exhibitions – most notably in Shanghai, Frankfurt and Los Angeles – in his quest to bring the best of global brands to Karachi.
Beatles Centre has also been a trendsetter in the online community and has an active website that displays the merchandise. They also deliver music instruments across the country via courier.