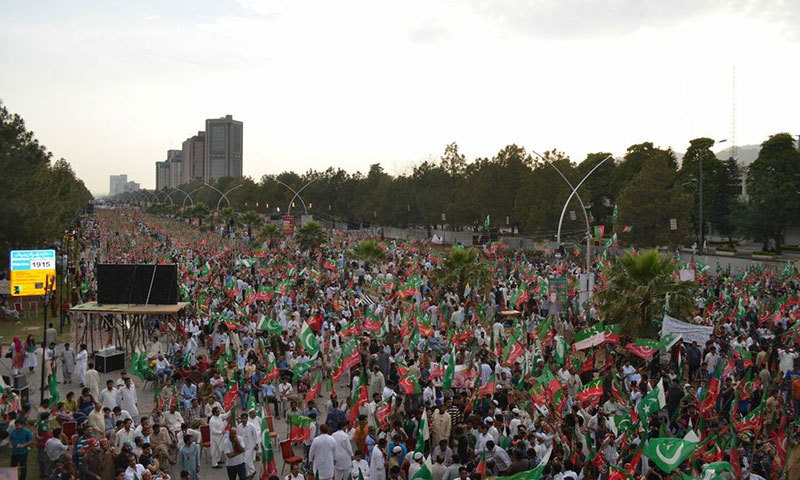 Major anti-government protests by three political parties – the Pakistan Tehrik-i-Insaf (PTI), Awami Muslim League (AML) and Pakistan Awami Tehreek (PAT) conclude amid much saber-rattling between government and opposition.
In Islamabad, PTI and AML march down Jinnah Avenue onto D-Chowk, while PAT's protest takes place in Rawalpindi.
PTI chief Imran Khan, during his speech at D-Chowk, demanded formation of a new fully independent Election Commission and vote verification in four constituencies his party has pointed out before.
An estimated crowd of around 25,000 came from around the country, particularly the northwestern province of Khyber Pakhtunkhwa which Khan's party governs as well as from the populous Punjab province to demonstrate in front of the Parliament.
Critics have accused the protest leaders of undermining the civilian government led by Prime Minister Nawaz Sharif at a time when relations with the all-powerful army, which has ruled the country for half of its history, are at a low.
Addressing the protestors, Khan lashed out at the government for its alleged role in rigging the 2013 parliamentary elections, disputing the outcome in four constituencies. He also called for the election commission to resign, and railed against power shortages and inflation.
"We demand the election commission to immediately resign because the nation has no confidence in them," Khan said.
"The government has accused me of attempting to derail democracy, but how can it claim of democracy with a fake mandate?" he added, to roars of approval and applause.
Supporters meanwhile waved flags and chanted "Who will save Pakistan? Imran Khan, Imran Khan!" amid a charged atmosphere.
Both Khan and Qadri, meanwhile, have backed the military in its push to shut down Geo News TV channel, after it aired allegations accusing Pakistan's main spy agency, Inter-Services Intelligence (ISI) of attempting to assassinate Hamid Mir – a leading journalist and anchorperson.
---
Read: Another weekend, another PTI party | PTI's perplexing protest | Looking for chinks in Imran's May 11 show