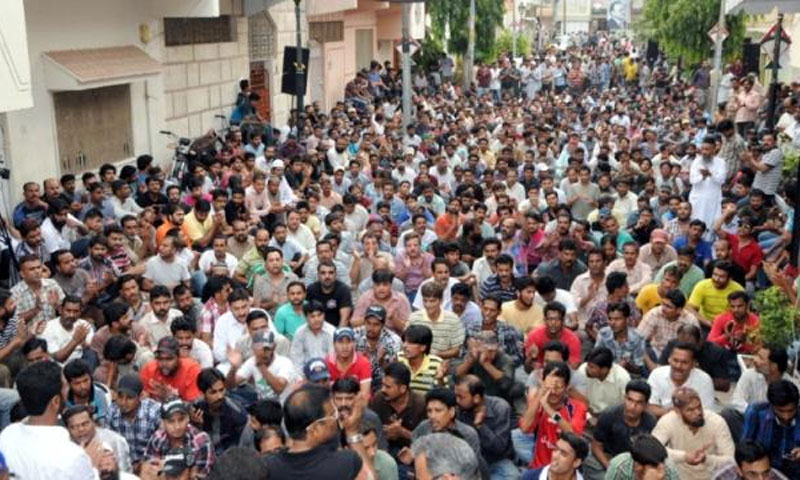 KARACHI: Few hours after announcing his surprise resignation as the chief of the Muttahida Qaumi Movement (MQM), Altaf Hussain withdrew his earlier decision on the appeal of his party workers.
Moreover, the party had announced that its workers would stage a sit-in in front of the British High Commission to protest against what the MQM chief called as a conspiracy hatched against him by the British government to unnecessarily drag him in the investigation of Imran Farooq's murder.
Heavy contingent of police, rangers, and other security personnel reached the site. Water cannons and riot police were also deputed at the High Commission to avoid any untoward incident.
Earlier, Altaf Hussain, the founder of the Muttahida Qaumi Movement, resigned as chief of the party in the wee hours of Sunday. Following his announcement, hundreds of MQM workers gathered at Nine Zero in Karachi's Azizabad area, requesting the MQM leader to take back his resignation.
After receiving emotional appeals by party workers, Altaf retracted his decision of leaving reins of the party. Following his latest decision, celebrations erupted at Azizabad, which is the MQM stronghold.
Hussain had earlier said that he was voluntarily handing over all authority and responsibilities as party leader to the MQM's Rabita (Coordination) Committee.
Speaking to media via telephone from UK, Hussain said Scotland Yard police had raided his residence some days ago and had seized some material, following which he decided to voluntarily step down as party leader on moral grounds.
Hussain said he would not seek legal counsel or a solicitor but would plead his case himself if he were to be produced in court in the Imran Farooq murder case. He said that he would accept any decision by the courts.
Dr Imran Farooq was one of the founding members of the MQM, then known as the Mohajir Qaumi Movement. The party later transformed into the Muttahida Qaumi Movement, the largest political party in Karachi.
Farooq, who had also been living in exile in London since 1999, was stabbed to death on his way home from work in Green Lane on Sept 16, 2010 outside his residence.
Recently, the London Metropolitan police had stepped up investigation into the murder, and police searched two residential properties in London earlier this month as part of the ongoing probe. It conducted several raids, arrested some eight suspects, questioned several people and scanned through thousands of documents.
Sunday's announcement came as a shock to party workers and supporters as Altaf Hussain has served as the chief of the MQM ever since its inception in 1984.
In his telephone conversation with media, Hussain called on his party workers "to stay united, and to continue the struggle that he had once started."
He also urged his party workers to accept all decisions by the MQM's Rabita Committee in the same manner that they acted upon his directions.
Shortly after news of the announcement on TV channels around 5 am, a large number of party workers and supporters were started gathering at the MQM's 'Nine Zero' headquarters in Karachi as well as offices in other parts of the country. The members have requested Altaf to take back his resignation.
Addressing MQM workers in a telephonic speech at 10 am from London, Altaf said until the Imran Farooq murder case investigation was not completed; the party's Rabita committee would manage MQM affairs.
Moreover, he added that he was being dragged unnecessarily in the investigation of Imran Farooq's murder, adding that it was a conspiracy hatched against him by the British government.
On this occasion, MQM workers chanted slogans and appealed to Altaf to take back his resignation.