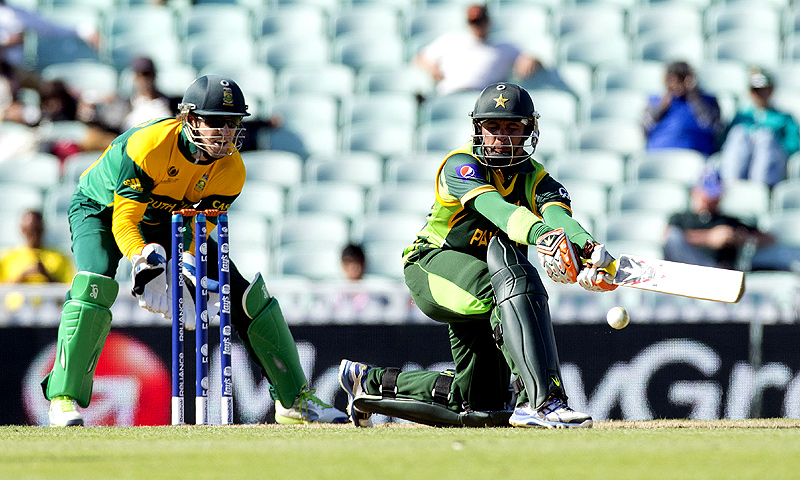 Pakistan will only have pride to play for when they meet India at Edgbaston on Saturday. The batsmen may find it difficult to play on these terms as pride in performance has been in short supply in this year's Champions Trophy.
Pakistan's batting has been so miserable that captain Misbah-ul-Haq admitted his batsmen were a "total flop". Pakistan may beat India, as improbable as that sounds, but the result is irrelevant since the abilities of Pakistan's batsmen have become an international laughing stock.
A country that produced Hanif Mohammad, Zaheer Abbas, Javed Miandad, Majid Khan, Saeed Anwar, Inzamam-ul-Haq, Mohammad Yousuf and Younis Khan is left in the unreliable hands and unmoving feet of Imran Farhat, Mohammad Hafeez and Shoaib Malik. Are these players really the best that Pakistan, a nation of 180 million and rising, can present to the world?
A brain as intelligent as Albert Einstein's was not required to predict the failure of these men on this tour. They are serial flop-artists, flat-track bullies, whose footwork and reflexes have failed them for over a decade at international level.
Any schoolboy or illiterate street hawker knew what would happen. Yet Pakistan's selection panel, our experts on the game, our cricketing Einsteins, placed full faith in these men, refusing even to pack the Champions Trophy squad with adequate alternatives.
Only Misbah and Nasir Jamshed have emerged with credit. But the pitches have been friendly, Edgbaston was a passable impression of the Gaddafi Stadium, and the bowling Pakistan have faced, from both West Indies and South Africa, has been nearer to club class than first class.
As worthy as Misbah and Nasir have been, their fellow batsmen who have been scandalously poor in serene batting conditions. Expectations are so low that once South Africa passed two hundred, most observers believed the game was lost.
This tragedy is compounded by the simple truth that Pakistan's bowling has been sensational. Mohammad Irfan, Junaid Khan and Wahab Riaz, each left-armer with a different style and posing a different challenge, have bowled tight lines of genuine aggression.
With Saeed Ajmal to follow, Pakistan's bowling attack is possibly the best in the tournament. Pakistan's fielding, a regular source of doom and gloom, has been energetic and effective, even competent.
The bowlers and fielders have given many tens of thousands of Pakistan fans at each stadium plenty to cheer. The support provided by British Pakistanis has been extraordinary, turning each match into a home tie for the Pakistan team. Instead of savouring victory, the fans have suffered torture courtesy of the inept displays of Pakistan's batsmen, which have been a woeful insult to their dedication.
It is a mistake to over-analyse Pakistan's failure in this year's Champions Trophy. The simple explanation is that the wrong batsmen were selected. It is the same batsmen who have failed time and time again, and whose techniques are inadequate for the rigours of international cricket.
There is no mystery to this. It does not take a genius to reach this conclusion. But the Pakistan selectors and Pakistan Cricket Board whose responsibility is to select the best players are certainly failing to pick the best batsmen.
The question is: why are they doing this? It is a question that needs to be answered urgently. Whatever political and personal favours are being repaid by the persistent selection of certain players, it is not being done in the best interests of Pakistan cricket or Pakistan.
At this moment in history, the world thinks that Pakistan is a country capable of producing only two international class batsmen.
The blame for this infuriating misconception lies squarely at the feet of the PCB and its panel of selectors. We may be ashamed of their ruination of Pakistan's batting but clearly these people, these men of power, have no shame.