Follow our simple steps to find out your polling station, and what you need to do (and not do) on election day.
This article was originally published on July 24, 2018 on Dawn.com
July 25 — the day of the 2018 general elections — is upon you and, being 18 or older, you are going to be making history at the ballot box.
If this is your first election as an adult, you may not be familiar with the rules and procedures of election day. You are not alone. A total of 8,100,000 new voters have registered with the ECP ahead of the forthcoming elections.
We spoke to the Election Commission of Pakistan to put together this guide for first-time voters — and others who could use a brush-up. Follow the simple steps below to cast your vote on election day:
Find your polling station
First things first. Do you know where you will be casting your vote?
Text your CNIC number (without spaces or dashes) to 8300. The ECP will send you that information promptly.
Next, figure out the location of your polling station. Google Maps can come in handy.
Polling starts at 8am and will close at 6pm. Head to your designated polling station well before 6pm in order to avoid the lines and vote on time.
Anybody not inside the polling station by 6pm will not be allowed to cast their vote.
Do NOT forget to carry your original CNIC. No photocopies, and no other document will be allowed, the ECP has said.
Also remember to leave your cellphone in a safe place. You will not be allowed to carry it inside.
At the polling station
As you step inside, law enforcement personnel will frisk you. Be polite and patient. They are there for your safety.
Once inside, ask someone where the voter lists and list of polling booths have been put up. Find your name on the lists, see which booth you have been designated, and proceed towards it.
The first person you interact with at the booth will be the polling officer. They are responsible for ensuring that every eligible voter is carrying a valid CNIC.
They are also responsible for confirming the identity of the voter from the voter's photograph as it appears on the electoral roll provided at the polling station.
They will ask to see your CNIC and verify your name in the voter list. The officer will then call out your name loudly so that the polling agents of various political parties present in the polling booth there can verify your particulars and strike off your name from their own lists.
This is just a system of check and balance to avoid double-voting. The polling agents are the political parties' eyes and ears at the polling station. They are only there because they want to make sure that no rigging is taking place.
Do not feel pressured by their presence. Remember: your vote is solely your prerogative.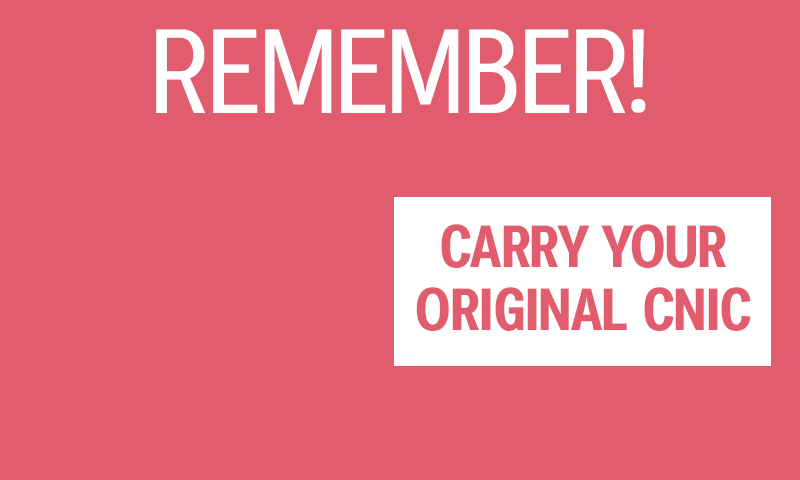 Stamping your vote
After getting the go-ahead from the polling agents, the polling officer will mark your thumb with a special, non-erasable ink and obtain your thumb impression on the electoral rolls as proof that you have exercised your right to vote.
You will then turn to the person sitting next to the polling officer. He or she is the assistant presiding officer. This official will provide you two ballot papers, one each for the national and provincial assemblies, after you have printed your thumb impression on the counterfoils (the part of the ballot paper they keep for their own record).
Remember: the green ballot paper is for the National Assembly, and the white one is for your provincial assembly.
Make sure the assistant presiding officer has signed on the back of each ballot paper as well as on the counterfoil.
If this isn't done, a polling agent can call your votes into question and have them cancelled during the counting process. Therefore, make sure your ballots are valid before you stamp them.
Once you are satisfied, proceed to the polling booth, which is a space usually hidden behind a screen.
Take precautions
Be mindful that your vote will be deemed invalid and your visit to the polling station would be a waste, if your ballot paper is:
missing the official code mark or assistant presiding officer's signature

missing the ECP's watermark

missing the official nine-matrix seal

has a paper or anything else attached to it

has stamps on more than one candidate's election symbols

appears equally in more than one candidates' boxes
You will not be issued a replacement ballot paper, so before you go into the booth, make up your mind about who you are voting for. There's no going back once the paper has been stamped.
Make sure that there are no cameras around and no person can see who you're voting for. If someone tries to tell you who to vote for, report that individual to the polling officer immediately.
Remember: your vote is your vote; not your friends', not your parents'. Cast it wisely.
Once you've stamped your ballot papers, make sure the ink is dry before folding the ballot paper correctly. You will be told how to fold the ballot paper.
Walk over to the ballot boxes, which are usually placed in the middle of the room, and slide the green ballot paper into the box with the green top, and the white ballot paper into the box with the white top.
Congratulations, you are now done.
Leave the polling station peacefully and enjoy your day.
Don't forget to take a picture of your thumb marked with the special ink. Post this picture to your social media accounts, highlight the importance of voting, and encourage others to do so too.
Illustrations by Mushba Said
---
This article was originally published on July 24, 2018 on Dawn.com
Be a responsible voter and be mindful of what you're not supposed to do on the day of the election — like trying to take photos of the ballot paper.
The Election Commission of Pakistan (ECP) has delineated the 'crimes' that will fall under the jurisdiction of district returning officers (DROs) on July 25 — and anyone found involved in the following acts will be treated as having violated the ECP's code of conduct and prosecuted under the law.
These crimes are:
• Evicting a voter from the polling station.
• Any direct or indirect attempt to influence a voter in connection with his or her decision to cast or to not cast a vote, either through giving a gift, making an offer or promise will be considered bribery.
• Using force or violence to coerce someone into casting or not casting a vote.
• Intimidation, inflicting harm or threatening someone with the anger or approval of a religious personality.
• Abducting a voter, intimidating, duping or influencing him or her through illegal means.
• Spoiling ballot paper or the official stamp.
• Taking ballot papers from a polling station or inserting fake ballot papers in the ballot box.
• Providing a ballot paper to someone without permission, lifting ballot papers or boxes, breaking the seal on a ballot box, disturbing polling staffers, affecting the polling process with the help of a government official, any attempt to cast a fake vote, or cast multiple votes.
• Showing or possessing firearms during polling process, torturing officials, creating disruptions near a polling station to disturb voters, attempts to affect the working of a presiding officer or other staffers, and convincing a voter to vote for a particular candidate within 400 metres of a polling station.
• Pasting a notice, electoral sign or flag within 100 metre radius of a polling station, or within the special area allotted to election agents.
• Attempting to know for whom a voter has cast his or her vote.
• Attempting to take a picture of your vote/ballot paper.
A DRO/sessions judge can sentence offenders to up to three years in jail, or Rs100,000 in fines, or both.
---
This article was originally published on July 24, 2018 on Dawn.com
Signs of possible rigging voters should watch out for
• Absence of any party's polling agent from the polling station. Could mean that a rival political party has control of the station.
• Your vote has already been cast when you get to the polling station. This is a clear sign that rigging in the form of 'ballot stuffing' is taking place.
• CNICs not being duly checked by the ECP-appointed polling officer. If the identity is not being verified, one person can vote more than once. This is illegal.
• Polling officer not announcing loudly the name of the voter so agents can strike them off their list: Polling agents will not know the identity of the voter so rigging can happen with connivance of polling officers.
• No stamp on vote and/or counter file: Vote will not be considered valid.
• Camera/gaps on secrecy screen at the booth: means the ballot is not secret.
• Polling time is shortened due to any reason except an act of God or security-related emergency.
How can I act against rigging?
• File a complaint with the political party you support.
• Approach the monitoring teams appointed by the ECP. Their numbers should be available on their website.
• Inform the presiding officer of anything amiss on election day.
• Report any malpractices/discrepancies on social media. Make videos wherever allowed. DO NOT BREAK THE LAW IN DOING SO.
• Report to independent national and international election observers.