On International Rural Women's Day, Sindhi women share stories of challenges they face.
Celebrated on the 15th of October every year, International Rural Women's Day often goes unnoticed in Pakistan, just as the voices of the millions of women who live in rural areas go unheard in the halls of power.
Rural women make up a large proportion of the agricultural labour force and make significant contributions to the national economy through farming, food production and livestock rearing.
However, power and gender inequalities combine to deny these women access to healthcare, education and employment opportunities. And increasingly, climate change is presenting a new set of challenges for rural women, undermining livelihoods and exacerbating food insecurity.
Living off the land, often without electricity and gas, their own carbon footprint is negligible but women in rural areas with unequal access to natural resources, decision-making and limited mobility are disproportionately affected by climate change.
On this Rural Women's Day, we hear from women in Sindh living in communities already grappling with the impact of climate change.
No water for the poor
Ama Singha lives in village Chanesar Mallah in district Badin in rural Sindh. Like most women in her community, she is unsure of her age but says she is well over sixty.
She recalls a time when there was enough water for everyone's crops. But over the years, climate change coupled with poor water governance and structural inequalities led to serious water shortages. The distribution of canal water favours the rich.
Powerful landowners use their influence to take more than their fair share for farms and industries. They also have the resources to install machinery which pumps out saline water from their fields. But smallholder farmers like Singha don't have such options.
Singha says that her fields, at the tail end of a water course, would hardly receive any irrigation water. Year after year, crops were destroyed leaving them with an ever-increasing burden of debt. Eventually her family was forced to sell their ancestral land.
Today, their only source of livelihood is wage labour on the farms of rich landowners. "Lack of water forced me to sell my land but there isn't even enough water for my animals. Rich and poor should have equal access to water" she says.
Dwindling produce
At 50 years old, Mukaan claims to be the best cook in Banhoo Mallah, a village in Badin. Her neighbours agree. She says she makes excellent chicken and vegetables, but her people are Mallah, a caste of boatmen spread over India, Pakistan and Bangladesh, so her expertise is seafood.
Mukaan's recipes for cooking shrimp, fish and crab have been passed down through generations, however today, the catch at sea has dwindled significantly.
The Badin district is amongst the areas worst hit by climate-change. Rising sea-levels and subsiding river deltas have led to greater intrusion of seawater inland turning shallow lakes and creeks brackish.
This means far less fish for fishermen and increased food insecurity. "Most days there is only red rice bread to eat and I have to water down my curries. We were a fishing community, but now we don't even have enough to eat," she says.
Increasing burden of debt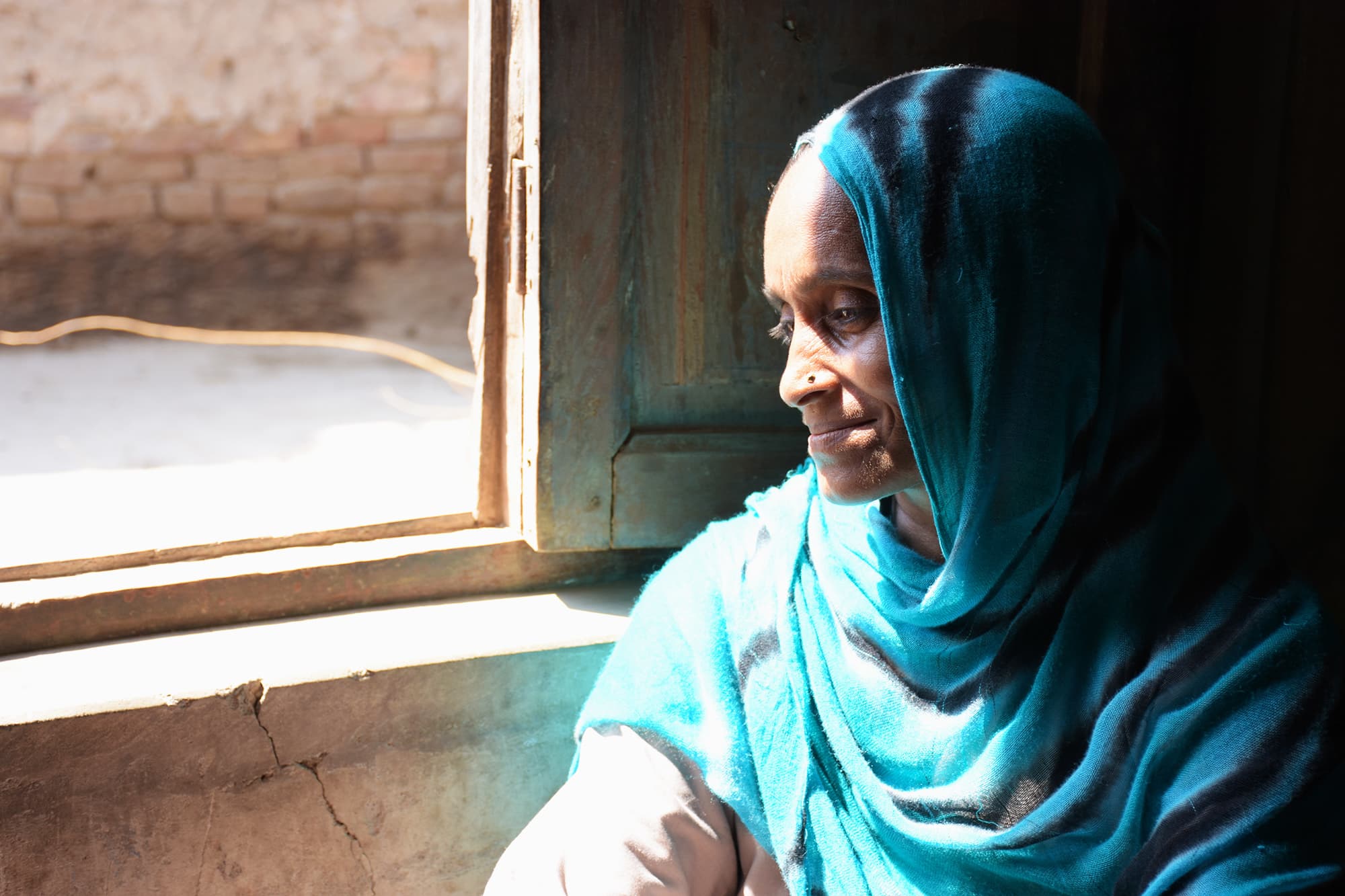 40 year old Allah Deeni is from a village called Shafi Mohammed Solanghi in Hyderabad. Her family owns around eight acres of land where they grow rice, vegetables and wheat.
Last year, she says, their wheat crop was destroyed because of a lack of water. Villagers like her are heavily dependent on loans from local money lenders.
"We borrow money for seeds, fertilisers and to pay for other expenses. We even borrow for groceries. We were only left with a few of sacks of wheat last year to feed our very large clan so our debt ran into lakhs," she says.
Allah Deeni muses that if she was educated, she would have more options for earning a livelihood than picking vegetables in other people's farms. "Other people are flying in the skies and women like me are stuck in our little corners. Illiterate and hungry," she says.
Denied the right to own land
Duraan is the oldest living person in her family. Like most women in her community in rural Hyderabad, she was married at the age of 12. Soon after her marriage, her husband died.
"People said he was possessed by a djinn. But they blamed me. Some told me I had brought bad luck to the family. Others said my family had put a curse on my husband. I was just a girl. I cried a lot," she says, visibly saddened by the memory all these years later.
She came back to live with her parents and never married again. Life wasn't easy for her as a woman without a husband or children. She inherited close to 25 acres of land from her father and her husband, but in rural Sindh women are often denied land entitlements, so all her land is legally owned by the men in her family.
Even at nearly 70, she works as a wage labourer on land which actually belongs to her. "I labour on my own land for Rs150 a day. No one respects me. Maybe if I had children, they would have treated me better," she says.
Forced to leave home
Rizwana is a 30 year old mother of three from Hyderabad. Her family owns enough land to make agriculture their main source of livelihood, but as the poorest members of her community they are treated unfairly in water distribution.
Wealthy landlords, who often hold political offices routinely direct irrigation water to their lands and allow others to take water through Direct Outlets as political favours.
"After years of bad harvest, my husband decided to leave the village and find work in the city as a labourer," she says. Unable to earn a living from land, many young men from rural areas are being forced to leave their homes and find work in the cities.
The lack of investment in rural development is spurring rural-urban migration, putting increased pressure on cities. For the women who are left behind, this means an increased burden of responsibilities.
Rizwana worries about the future of her children. "My husband is away most days and I have three little boys," she says.
She understands that without an education, her children will fall into bad company. But the school is far and money has to be spent on transportation. Money, which she often doesn't have. "We are farmers. If there was enough water for our crops we wouldn't leave our villages," she says.
Struggling for an education
For three years, 30 year old Fatima struggled to get a school constructed in her village, Phull Mallah in rural Badin. Three of her children are hearing impaired and she was worried that without an education, their future would be bleak.
The coastal areas of Badin are prone to disasters. Her village is flooded almost annually and loss of livelihoods has forced many to migrate to urban areas. "I know that without an education, my children would not be able to find jobs," she says.
Every few days, Fatima would travel to district government offices in Badin city and put in applications for the construction of a school. Finally, Sindh Educational Foundation (SEF) approved her request on the condition that a building will be arranged by the community.
Fatima mobilised the resources to build a mud-hut and classes began. Today, 150 children are enrolled in the school. "I never went to school myself, and can only sign documents with a thumbprint. It makes me feel like a lesser human. I want to make sure my children don't end up like me," she says.
All photos by the author.
---
The writer is a former member of staff. She works as a Communications Manager at Oxfam. She tweets at @shiza__malik.