Touring this Central Asian country is incomplete without visiting its fabulous bazaars on the legendary Silk Road.
Most people visit Uzbekistan for its unmatched treasure of centuries-old Islamic architecture in the shapes of turquoise and blue-coloured mosques, madrassahs and mausoleums. However, any tour of this Central Asian country is incomplete without visiting its fabulous bazaars located on the legendary Silk Road.
In fact, the bazaar is the heart of every oriental city, the centre of public life, and the breadwinner of the whole city. Since the dawn of time, bazaars appeared on the intersections of trade roads, and on big squares of cities.
On our recent trip to Uzbekistan, we spent a disproportionate amount of time in the grand bazaars of Tashkent, Samarkand and Bukhara and were impressed by their scale and organised display of produce and merchandise.
I was accompanied by my wife and daughter, who pride themselves for being discriminating shoppers. They have practiced their craft over years of rummaging through all kinds of merchandise in stores and malls of various countries. In the process, they claim to have acquired not only an eye for discovering hidden gems reflecting local culture, history and tastes, but also a sense of proper valuation that can be attributed to the purchase.
Explore: Living the good life in Alaçatı, Turkey's chic seaside town
Confident of their ability to haggle over price, they are never bothered by the occasional failure to consummate a deal.
The bazaars of Uzbekistan offer ample opportunities to satisfy the cravings of the die-hard shopaholics as well as onlookers like me.
Tashkent's Chorsu Bazaar, the age of which is more than a hundred years, is located on the main square of the city.
The central part of the bazaar is the main, magnificent domed construction, patterned with oriental ornaments, with a diameter of nearly 300-350 metres.
On the counters there, we found fresh fruits, amber-coloured dried fruits, toasted bread, cookies, pastries, freshly-killed meat, horse meat sausages, and other common and exotic produce.
The vast meat section had every conceivable type of meats and cuts with no trace of waste in inappropriate places. I didn't even see flies on the meats or vegetables and fruits.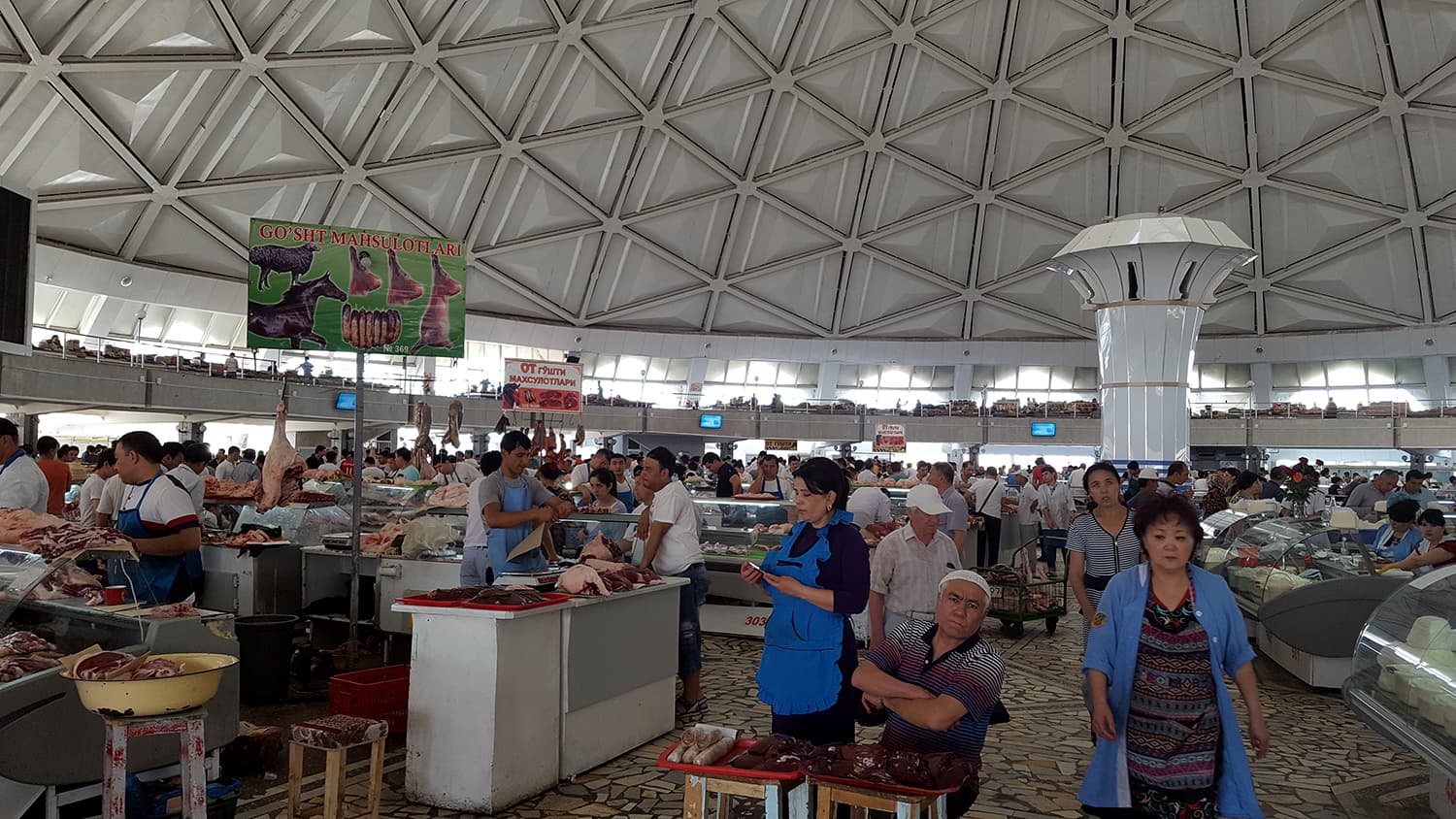 Next to the bazaar there are tea houses, where we tasted amber yellow pilaf, fragrant grilled meat and hot shurpa (soup). Having refreshed ourselves, we proceeded to handicraft shops, where masters of applied art sell handmade souvenirs. All these things were so attractive that we spent quite some time strolling through different sections of it.
In Samarkand, right around the corner from Bibikhanum Hotel where we stayed, near the entrance to the Bibi-Khanym Mosque and Mausoleum, is located a bustling, huge central bazaar consisting of many buildings and open shades with orderly rows of stalls displaying fresh and dried fruits, spices, meats, vegetables, bread, cakes and cookies.
Though not of any historical significance, this is a must-visit place for those who like to get a feel for the local culture.
In addition to the variety of produce, the cleanliness of the whole bazaar was instantly noticeable, with no garbage or discarded produce, no filth on the floor, no flies or stray dogs, and no beggars or peddlers to harass customers.
We bought some pistachios, cucumbers and their ubiquitous freshly baked round bread.
In Samarkand and Bukhara, we found that materialism has trumped spirituality and most of the madrassahs are immersed deep in the exercise of capitalism.
The rooms that housed students and teachers many centuries ago have now been converted into souvenir shops and the central courtyards into open-air tea shops or restaurants.
We visited one souvenir shop in Samarkand selling Uzbek caps and after listening to the history behind various types of caps for 15 minutes, bought one for my grandson for $10. When we checked other less glamorous shops later on in our journey, the same caps were selling for $5. We paid $5 for learning some valuable history lessons – not bad.
In Bukhara, my wife walked into one of those souvenir shops and came out triumphantly with a beautifully carved wooden stand for placing and reading open books (rehal). She was able to haggle its price down from $12 to $8.
While strolling in another part of the bazaar, the same book stand was openly selling for $8. But of course, the pleasure of haggling was missing, since there was a sign on the wall saying 'firm price'.
In Bukhara, we walked from Lyab-i Hauz, the main city square, to the monument of Ark and passed through Taki-Sarrafon Bazaar, a long, covered bazaar full of shops selling souvenirs, carpets, local handicrafts and toys.
The area attracts a lot of foreign tourists and is keenly watched by the shopkeepers who have honed their selling skill through centuries of experience on the Silk Road. Since we had some spare time before dinner, we allowed ourselves to be lured by an English-speaking saleswoman into her shop that was full of handmade carpets.
Authentic handmade silk carpets from Bukhara and Samarkand have always been an object of admiration and desire in a corner of my heart. But I admit that it never got to the point that I would learn the intricacies and true worth of expensive carpets. Moreover, I have been unable to find a justification for squandering a bundle of money on objects of dubious utility just for the joy of possession.
Earlier in Samarkand, we had visited a carpet factory where we attended a workshop absorbing some of the finer details to look for in a carpet. Knots per square centimetre, wool vs silk, patterns and colours were explained with some hidden sales pitches. However, we managed to come out relatively unscathed and just bought some inexpensive handicrafts as souvenirs.
Entering the Bukhara carpet store, we gave a passing look all around to the display of silk carpets, woolen carpets, suzanis and other local handicrafts in fabulous colours, patterns and varieties.
Undeterred by our lacklustre interest in any kind of transaction, the saleswoman directed her assistant to unfurl dozens of carpets in numerous sizes shapes and materials.
The guy was an expert in giving his presentation a fabled magical touch by waving the carpets high in the air, as if they were ready to take us on and fly away to a distant enchanted land.
She continued making small talk and after learning about our two small grandchildren, she played the emotional card by describing how her four children safely roll over and play on one of those kinds of natural fibre carpets with natural dyes and no chemicals whatsoever.
Seeing that it had caught my attention, she elaborated that all her carpets were made from the silks produced by the silkworms, happily chomping over leaves from organically grown mulberry trees, using no chemical fertilisers or pesticides.
The saleswoman also made us believe that she routinely sold those kinds of carpets for three times the price she was asking when she toured the USA. Now, that was something for which I was not prepared.
For a fleeting moment, I lost control of my restraint and justifying my indulgence as the deal of a life time, moved quickly to grab an expensive carpet.
Also read: Why heavenly Bosnia deserves to be your next travel destination
While the carpet was being packed, the reality started sinking on me that after all, we had surrendered easily our claims to astute buying talent and supposedly superior haggling expertise.
The saleswoman tried to assuage our skepticism by promising to give us next day a certificate from some government department authenticating our carpet's noble lineage.
She also suggested a restaurant around the corner, where we could have dinner to relieve our carpet-induced stress.
After we had dinner at the suggested restaurant, we came to know that it was also owned by the carpet-shop owner.
The carpet, in one corner of our living room, has yet to attract the attention of any of our guests commensurate to its purported rare beauty and price. Perhaps my wife's plan to hang it up conspicuously, on an entrance wall, will succeed one day in winning a few complimentary words.
Otherwise, as the saleswoman suggested to me, we just need to turn to YouTube to educate people on the intricacies and eternal loveliness of handmade organic silk carpets of Samarkand and Bukhara.
In the meantime, I try to get some satisfaction that my grandchildren, though clad in pajamas sprayed over by chemical fire retardant, cuddling polyester-stuffed teddy bears and munching Pringles potato chips washed down with Coke, can play on an environmentally friendly carpet made from natural silks and plant-based dyes.
---
Have you travelled to places that are not commonly visited by tourists? Share your experience with us at blog@dawn.com