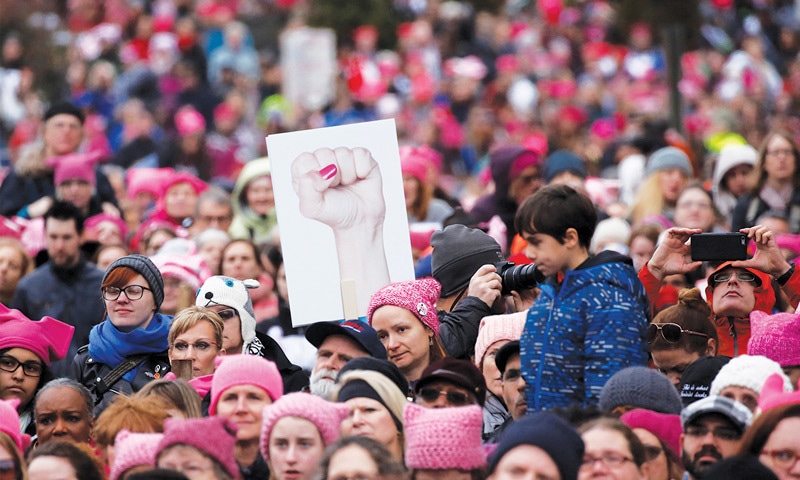 WASHINGTON: Large crowds of women, many wearing bright pink knit hats, poured into downtown Washington by bus, train and car on Saturday for a march in opposition to US President Donald Trump only a day after the Republican took office.
The Washington event was expected to be the largest of a series of marches across the world in cities including Sydney, London, Tokyo and New York, to criticise the new president's often angry, populist rhetoric.
The flood of people put the city's Metro subway system under stress, with riders reporting enormous crowds and some end-of-line stations temporarily turning away people when parking lots filled and platforms became too crowded.
---
Protests held in European capitals as well
---
Trump has angered liberal Americans with comments seen as demeaning to women, Mexicans and Muslims, and worried many abroad with his inaugural vow on Friday to put "America First" in his decision making.
On Friday, the nation's capital was rocked by violent protests against the businessman-turned-politician, with black-clad anti-establishment activists smashing windows, setting vehicles on fire and fighting with riot police who responded with stun grenades.
The Metro system reported 275,000 rides as of 11am on Saturday, 82,000 more than the 193,000 reported at the same time on Friday, the day of Trump's inauguration and eight times the normal Saturday volume.
The crowd filled six city blocks of Independence Avenue, with more people spilling into side streets and additional marchers pouring into the area as of 11:30am.
The Women's March on Washington is the brainchild of Hawaiian grandmother Teresa Shook and is intended as an outlet for women and their male supporters to vent their frustration and anxiety over Trump's election victory.
Organisers said they expected several hundred thousand people to attend.
A disparate line-up of organisations including reproductive health provider Planned Parenthood, gun-control group Moms Demand Action and Emily's List, which promotes female candidates for office, sent large contingents to the event.
Many participants wore knitted pink cat-eared "pussyhats," a reference to Trump's claim in the 2005 video that was made public weeks before the election that he grabbed women by the genitals.
Other capitals
Tens of thousands of people took to the streets of London, Paris and other cities across the world chanting "dump Trump" in solidarity with the US protesters.
In London, a largely female crowd, which also had many men and children, packed a Trafalgar Square rally in solidarity with women-led demonstrations throughout the United States.
"Our Rights Are Not For Grabs — Neither Are We", said one of the banners held aloft at the protest. Another one read: "Make bigotry wrong again."
In Paris, at least 2,000 people gathered near the Eiffel Tower, holding up banners that read "liberty, equality, sorority", in a reference to France's national motto.
"I am here for women and for all minorities because Trump is a threat to all humanity," said a US national Kendra Wergin, who is in her mid-30s.
Right-wing populists and nationalist groups in France and elsewhere in Europe have been emboldened by Trump's victory as well as by Britain's vote last year to leave the European Union.
While Trump won 42 per cent of the women's vote in the US, many worry that gender rights and other progress on women's health, contraception and abortion could be chipped away.
In Barcelona, Rome, Amsterdam and Geneva too, protesters were enraged by Trump's derogatory remarks on women.
"We are here for women and for human rights," one of a large contingent of American expatriate women told SkyTG24 news channel in Rome.
"Make America sane again," read a banner in Amsterdam.
In Budapest, up to 400 people gathered in solidarity with the Washington marchers.
Published in Dawn, January 22nd, 2017