"I have never felt more at risk for myself and for others who identify themselves as Muslims."
By Iman Sultan
Fifteen-year-old Sophia Qureshi may be too young to vote, but she is already more politically active than many adults. The Democrat party supporter interned for the Hillary Clinton campaign. In the run-up to the US elections, she proudly displayed a large Clinton sign in the window of her West Chester, Pennsylvania home. Living in a majority white neighbourhood, surrounded by Trump signs and many Trump supporters, her poster stood out.
One night, she woke up to her parents calling the police to report a break-in. She went back to her room and switched on the lights only to see glass shards everywhere; the window had apparently been broken.
Explore: A tougher US line is on the cards for Pakistan
Pennsylvania State Troopers ruled the incident was "criminal mischief", but Qureshi does not buy the explanation.
"I know how tense the election climate was, and people often resort to things that are not exactly well thought-out," she tells Dawn. "I do not think it was somebody throwing a rock just for the heck of it."
While Qureshi does not know if the property damage was racially-motivated, she does believe it was politically-motivated.
Soon enough it was Election Day, and Qureshi's candidate lost. Like so many others, the Clinton supporter was devastated but the election results have not caused her to lose hope.
"I have to remain active in local politics especially and continue to support marginalised groups," she says. "And [I have to] push for policies and efforts that work towards inclusion and support, rather than exclusion."
---
More of the same
Darakshan Raja, an activist and co-director of the non-profit Washington Peace Center, stresses the need to organise after the election. But she adds that Trump's Islamophobia, including the idea of Muslim registries, is not exactly novel.
"Registries against Muslims already exist, [such as the] no-fly list, surveillance, informants [have been in place]," she says.
The National Security Entry-Exit Registration System (NSEERs), which was formed by George W Bush after 9/11, is an example of a long-operating registry of Muslims, she adds.
Raja moved from Pakistan to the Bronx in New York City when she was eight years old. She grew up in a working-class Pakistani migrant community, where many people were undocumented or lacked citizenship. The now 28-year-old says she saw many disappear after 9/11 because of NSEERs.
"The community I knew no longer exists," she tells Dawn.
Raja was not surprised when Trump won, and finds his proposed policy against Muslims a "continuation" of the Obama presidency.
Read: Threading Pakistani roots with life in America
She adds that she's optimistic about the mass outrage against the president-elect's Islamophobia, but she thinks it's necessary for people to educate themselves about state Islamophobia.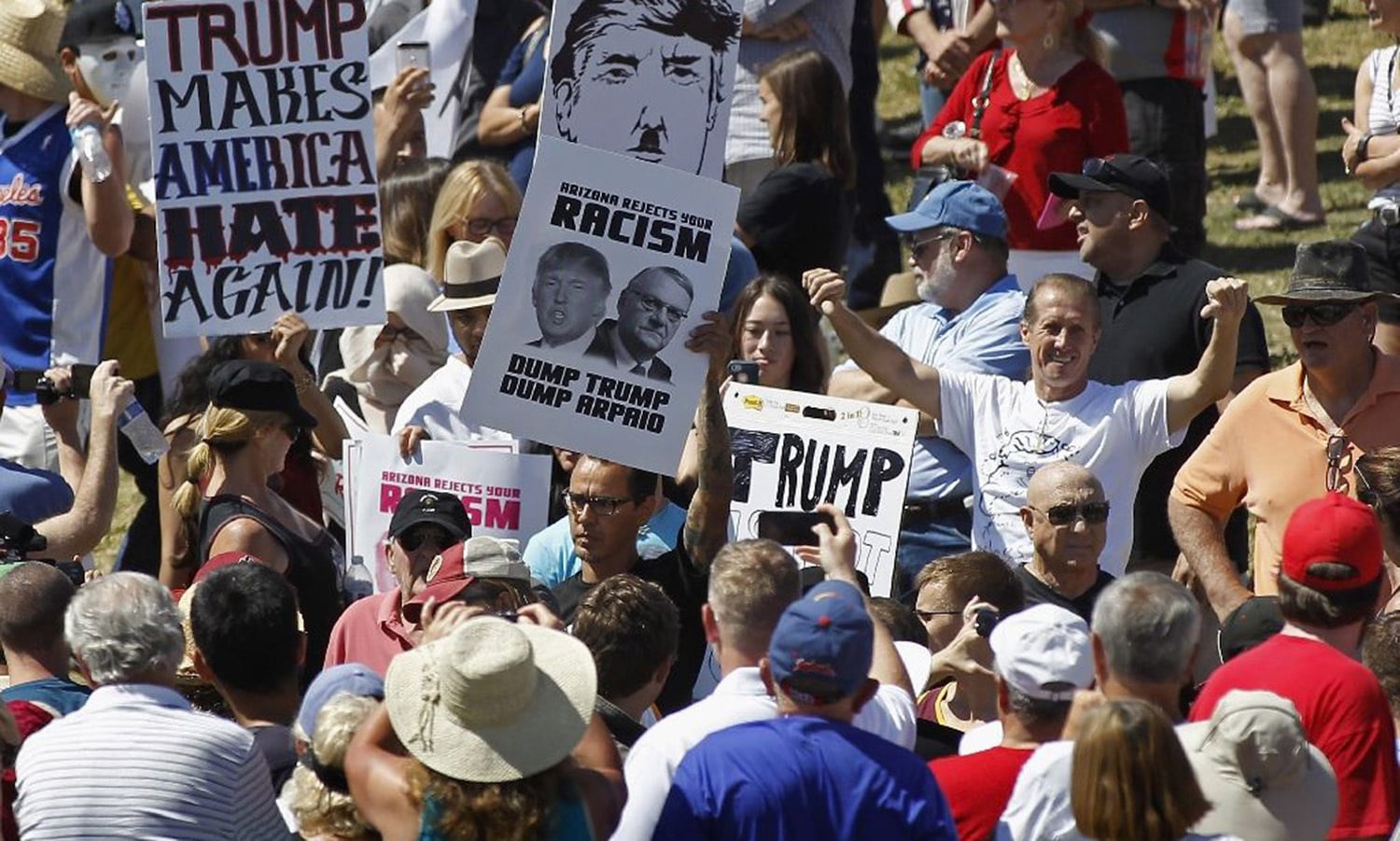 The class question
Class plays a significant role in how Pakistanis in America are affected by racism and Islamophobia, but even class security won't protect upper-class Pakistani-Americans from racism, Raja believes.
Khalid Kahloon, a 52-year-old Kentucky-based lawyer who first immigrated to the US in 1989, does not agree. He believes discrimination after Trump's win will not affect his life.
"I'm educated, I'm a professional, I interact mostly with educated people," he says. "I faced discrimination when I worked at a Dunkin' Donuts about 27 years ago, and somebody yelled, 'go back home'. It all depends where you are. Where I am, as an attorney, I do not see it."
Being financially secure, however, does not always guarantee safety in America. In 2015, Kahloon represented the family and estate of Mukhtar Ahmed, a Pakistani-American business owner, who was killed by a white man in an act of road rage in Louisville, Kentucky.
Explore: UK to begin 'Brexit' in March: May
Kahloon says he had known Ahmed in Louisville's close-knit Pakistani community, and he was very upset about the murder.
"I found out he had been murdered in a case of what I would describe as road rage with overtones of perhaps—perhaps—racial motivation," he says.
He adds that neither he nor the police found any evidence of racial motivation in Ahmed's murder and it was not treated as a hate crime.
Ahmed left behind a widow and three children. Shamy Nabil, 35, is an ER nurse. Originally from Morocco, she immigrated to the US with Ahmed in 2003. She says she still does not know if her husband's murder was a hate crime, even if other people speculated it was racially motivated at the time of his death.
---
Hate crimes, race and religion
Adesh Dasani, 21, an Indian-American student in political science, worked briefly for a civil rights lobby specialising in hate crime legislation. "It is really hard to prosecute hate crimes because unless the person explicitly says, 'I'm doing this because you're [a minority]', you must present an adequate burden of proof around one's motives," he maintains.
Dasani and his family experienced a violent incident when he was a child, which he believes was a hate crime. The experience inspired him to become involved in hate crime prevention and advocacy for victims.
"Things are happening to people who do not have any sort of control over how to even react to [them]...I wanted to prevent that in any way I could," he tells Dawn.
Dasani saw how many wealthy Hindu Indian-Americans campaigned for Trump. Trump has reciprocated the love in the past, stating that if he is elected president, "the Indian and Hindu community will have a big friend in the White House."
However, he believes that being wealthy does not mean Indian-origin Americans will be safe from racism.
"We [Indian-Americans] need to stop seeing ourselves as powerful and so distanced from racism, so distanced from the issues of other people of colour in this country," he says.
Dasani also fears Trump's appointment of attorney general Jeff Sessions will adversely affect hate crime prosecution and legislation, including civil rights in general.
"The attorney general is the one who is responsible for prosecuting hate crimes," he says. "And our president-elect has nominated a man who for decades has been vehemently opposed to voting rights, who lost his judgeship for calling the black [assistant] in his office 'boy' constantly."
"This is a man who doesn't see hate crimes as any sort of problem."
Read: Pakistanis worry that President Trump may favour India
---
On a wing and a prayer
Even people in the Pakistani-American community who have never faced racial violence in the past find themselves aware of the threat following Trump's win.
Lisa Khan, 47, is a white American woman, who has been involved in the Pakistani-American community for years. She first visited Pakistan with her friend's family when she was 15, and she married her husband, a Pakistani man, when she was 24.
Khan tells Dawn that she felt like she was in mourning the day Trump won.
"I honestly just have been praying that it is not as bad as we think it is going to be," she says. "I do not know what else we can do, just wait and see."
Trump is scheduled to take office on Jan 20. Time will tell whether he will actually implement the more radical policy proposals that charged his campaign. But some feel it is too late, since the worst damage of Trump's campaign and election victory is already done.
"This man who embodies all the bigotry and hatred that causes so many people of colour to fear in America is elected to the highest office," Dasani says. "A true white supremacist nationalist movement is given the strongest figurehead in the world."
---
Click on the tab below to read about how American Muslims are counteracting Islamophobia.
By Imran Ahmad Khan
"I have never felt more at risk for myself and for others who identify themselves as Muslims," says Sheikh Ali K Mashhour, Imam at the Islamic Cultural Center of New York.
Hate crimes against Muslims in America went up by 67 per cent in 2015, according to FBI's latest report released in 2016. In 2014, this number went up by 14pc.
So, what are the reasons for this increase in Islamophobia? Mashhour blames American politicians and the news coverage of Muslims.
Explore: What the US media ignores — Pakistan through the eyes of an American
"Journalists are telling us what Islam is, what to think of Muslims," he complains, referring to the coverage of violent extremism in the US.
President-elect Trump called "for a total and complete shutdown of Muslims entering the United States" in the aftermath of the San Bernardino shootings in December last year. Since then, Trump has altered his statement and softened his stance on banning the entry of all Muslims. Instead, he now supports banning the entry of Muslims from "terrorist states".
Nonetheless, Trump's statements have only fuelled fears in the American-Muslim community.
Read more: One year on, San Bernardino recalls terror attack
---
The Muslim 'others' of America
Imam Mashhour says Trump was a "lead reason" for this otherisation of Muslims in America. "It has become, 'If you are truly an American, then you would support these ideas,'" he believes. "One of those ideas is that these people [Muslims] are our enemy."
Albert Cahn, director of strategic litigation at non-profit CAIR (Council on American-Islamic Relations), sees this as a "disturbing normalisation of Islamophobia by people at the highest levels of American politics".
Clinton also talked about this polarisation during her unsuccessful run for presidency. "He [Trump] is becoming ISIS's best recruiter," she said in a primary debate last December. "They are going to people, showing videos of Donald Trump insulting Islam and Muslims in order to recruit," added Clinton. She repeated these sentiments this year in the second presidential debate in St Louis, Missouri, on Oct 9.
"Extremists on both sides feed from each other," says Mohamed Khater, president of the Islamic Society of Central New York. "This rhetoric, when it goes to people like ISIS, they say, 'See, we told you that the west is against Islam.'"
Khater adds that an "industry of Islamophobia" has begun to rise in the US and that some people are being funded to spread disinformation about Islam.
Explore: Islamophobia in China and Pakistan's vow of silence
74 groups were identified as actively promoting Islamophobia according to a report released by the Council on American-Islamic Relations and University of California Berkeley's Center for Race and Gender. Of these 74 groups, the report alleged that 33 had access to funds close to $206 million between 2008-2013.
---
Preparing for the Trump administration
To deal with these rising tensions, community leaders and organisations in Islamic centres are making a cautious effort to educate both the Muslim community and the American people to counter negative sentiments attached with Islam and Muslims.
In Syracuse, New York state, for example, representatives of the Islamic Society have gone to multiple churches and three synagogues to answer questions about Islam, jihad and violence.
The Council on American-Islamic Relations, New York City, offers a variety of workshops to educate members of the Muslim communities about their constitutional rights, interactions with law enforcement and responding to discrimination.
Read: Power of prayer: an all-women mosque in America
The Islamic Cultural Center of New York uses the weekly Friday congregation prayers, where roughly 3,000 Muslims show up on average, to encourage Muslims not to feed into the hatred and instead create a positive impact on a personal level, says Mashhour.
As Trump prepares to take over as America's 45th president, Muslims in America will have to wait and see if he can counter this wave of Islamophobia—and, indeed, if he has any interest in doing so.
---
Pakistan-origin Americans share their experiences, click the tab below to continue reading.
ADD YOURS
---
If you are a Pakistani-American with a story to share, join the conversation. Send your personal accounts and predictions, along with your name and state to features@dawn.com