A vast network of players sustains the kidney trade racket.
Sometime last October, Allah Wasaya, a labourer in Karachi, sold his only valuable possession, a small house in Future Colony, Landhi, for Rs1,700,000 to buy a kidney for his eldest son, 32-year-old Mohammed Afzal. The young man had been suffering from kidney problems for some years. Allah Wasaya himself had high blood pressure and his wife had a different blood group which made them unfit as donors. Their other son, who had refused to donate his kidney to his brother, was so angered by the sale of the house that he severed his ties with his family.
Around Nov 14, Mohammed travelled by train to Rawalpindi. There he was met by Amir, an 'agent' or middleman of the kidney trade, who drove him in a Suzuki van with tinted windows to a house about 30 minutes away where he was to stay for the next few days. "No one else seemed to be living there," said Mohammed. "Amir would bring me my meals. He'd say 'don't go out, don't talk to anyone, there's a lot of sakhti by the government. If you get caught, it'll be difficult to get out of it'."
Mohammed underwent several tests including a CT scan on Nov 15 and cross-matching on Nov 19. On the latter occasion, he met Hassan, a bonded labourer from Hafizabad who would end up becoming his donor. "He was about my age and was there with his wife," said Mohammed. "I asked him why he was selling his kidney. He told me he wanted to put the money towards buying a house."
This is the sordid reality of Pakistan's organ trade, where one individual's desperation to regain health meets corresponding desperation arising from dire poverty. This need not be the case if government health authorities set up a deceased organ donor programme (see box), which is a viable and ethical alternative to preying on the most disadvantaged sections of society. But as long as organ trafficking continues with impunity, bringing fortunes to well-connected individuals in the medical community and the other players in this racket, there is little incentive to do that, or even to implement the law against the practice.
A second chance at life
An estimated 50,000 people die each year in Pakistan from end stage organ failure. Deceased organ donation can give patients suffering from failing organs a second chance at life. The Transplantation Society of Pakistan explains deceased organ donation as "acquiring organs from a person after death to be transplanted into other persons who are dying from organ failure, in order to save their lives. It is an established medical procedure and is considered as an act of profound generosity."

Unfortunately, in a country of over 200 million plus people, there have so far been only seven deceased organ donors, the most well known of them being Abdul Sattar Edhi. Their organs were transplanted into deserving patients, each of whom could now, by virtue of a stranger's altruism, live a fuller life. Sri Lanka, with one-tenth of Pakistan's population, has so many deceased cornea donors that they export surplus corneas to other countries. In 2014, its Eye Donation Society exported 850 corneas to Pakistan.

Many in Pakistan are either unaware of the concept of deceased organ donation or have reservations about it on religious grounds. However, a number of religious scholars, including those from Pakistan, have issued fatwas in support of the procedure, which is carried out in a number of Muslim countries including Saudi Arabia, Egypt, Jordan, Morocco, etc.

For more information about deceased organ donation, and to become a donor, click here.
Organ trafficking was criminalised in Pakistan first by the Transplantation of Human Organs and Tissues Ordinance in 2007, followed by the Transplantation of Human Organs and Tissues Act 2010. According to the law, organ donation must be "voluntary, genuinely motivated, not under duress or coerced": if a donor is not available within a patient's immediate family (parents, siblings, spouse and offspring), then "a non-close living blood relative" can be a donor provided no financial consideration is involved. Only in very special circumstances — such as unavailability of a family donor — can a non-related person donate an organ, but after a thorough evaluation process to ensure that he/she is doing so on a voluntary basis.
Most illegal transplants, almost invariably of kidneys, are known to take place in Punjab, specifically in Rawal­pindi, Lahore and Islamabad. Although the incidence of illegal kidney transplants fell sharply from an estimated 2,000 per year before the 2007 ordinance, it began to rise again in the wake of weak implementation.
On Sept 16, 2016, Dawn carried an expose of organ trafficking titled 'Of human organs, desperate poverty and greed'. This is the sequel to that story.
COVERING THEIR TRACKS
Close to midnight on Nov 20, five days after he arrived in Rawalpindi, Amir drove Mohammed to a large, double-storey building — a "kothi" as he described it — that seemed to be a long distance away. He was prepared for his surgery and taken straight into the operating theatre. His transplant took place in the early hours of Nov 21. Mohammed claims he never met the surgeon but had been told he would be coming from Lahore. His patient file, however, is that of Heart International Hospital in Rawalpindi. Although the documents do not mention the word 'transplant', the cross match test result notes the patient name as "M. Afzal + Ghulam Hassan". And the name of the referring clinician? Dr Khalid Farooq, the urologist at Heart International Hospital.
Mohammed said he had no idea of the location of the building where his operation took place, only that the drive was around two hours long. There are two blood test reports among the documents in his file, one dated Nov 21 and the other Nov 23, the period immediately following his transplant. Both have been issued by Wahid Clinical Laboratory, located in Abbottabad. It takes about two hours to drive from Rawalpindi to Abbottabad.
There are more indications of attempted subterfuge. The documents in his file also include a sheet of paper with a detailed record of the medication administered to him. The top of the page has been carefully torn off, apparently to avoid revealing the printed header. At the bottom, however, is an address: Behind Al-Najam Plaza, Mandian Abbottabad.
That, it turns out, is the address of a hospital named Al-Shifa. In any case, whoever was taking these precautions failed to notice that the test reports from Wahid Laboratory in Abbottabad say that the patient, Mohammed Afzal, was referred by Al-Shifa Hospital.
Last August, the Supreme Court took suo moto notice of a letter written by Dr Adib Rizvi of the Sindh Institute of Urology and Transplantation (SIUT), in which he had said that transplant tourism — in which kidney patients living abroad visit Pakistan for the purpose of transplantation with vended organs — was earning the country a bad name. SIUT, Karachi's leading public sector hospital in the field of kidney transplantation, is in the forefront of the campaign to promote ethical, legal transplantation in Pakistan. In his letter, Dr Rizvi had cited Rawalpindi's Kidney Centre, also known as Al-Sayed Hospital, as a major offender in this context and reproduced emails from overseas urologists to support his claim.
Located on an elevation alongside GT Road in the city where the armed forces medical corps is headquartered, the Kidney Centre has been the subject of at least a couple of police raids in the past. But the owner, retired Colonel Dr Mukhtar Hamid Shah, and his sons Drs Tauseef and Zahid Mukhtar Bukhari are well connected within the power elite. That, and their financial clout, had managed to thus far ensure that matters never came to a head.
On August 30, during a stormy hearing of the suo moto case at the SC in Islamabad, high-powered lawyers for the Kidney Centre demanded that Punjab Police be restrained from delving into their client's internal records. The apex court had directed the police to look into the allegations against the medical facility.
Unknown to the judges presiding over the case in Islamabad, the very same day in Rawalpindi's Bahria Town, in a red and gray multi-storey building named Al-Rehman Plaza, several individuals were being held captive in five flats for the purpose of harvesting their kidneys. Almost all of them were bonded labourers, and had been brought to the location at different times; some had been lured by the promise of employment. According to the building owner, Zafar Iqbal, the space had been rented to the same tenants since 15 months. "I was told it was needed to house the male staff of Al-Syed Hospital, and that it was convenient because the hospital isn't far and they sometimes have to do night duty."
When police raided the building at 5.30pm on Oct 15, they found 24 individuals inside — 20 men and four women. The period of their captivity ranged between one to three months. There would have been two more men there, but they had been taken that very morning to have their kidneys removed. "I was held captive for a month, during which they ran tests on me eight or 10 times," recalled one of the detainees named Bashir, 29. "They used to take us to the Kidney Centre for the procedures."
He told Dawn that everyone's cell phones had been taken from them when they were brought to the plaza. "We were instructed not to go near the windows or call out to anyone passing because this was an army area and the police would think we were terrorists and kill us." For an illiterate farmhand from Kasur, that did not seem a far-fetched notion. Ironically, Al-Rehman Plaza, which lies on a main road in the upmarket locality's commercial area, overlooks a private zoo with caged deer and other animals.
The recovery of the 24 individuals caused a furore.
Among those arrested were building owner Zafar Iqbal and Kidney Centre employees Faqeer Hussain alias Faqeeria, Shahzad Qayyum alias Shani, and Bilquis Hussain. An investigation has been launched into the circumstances surrounding the people's detention and their allegations that the Kidney Centre was involved in organ trade. The three doctors named in the FIR, retired colonel Mukhtar and his sons Zahid and Tauseef, disappeared. They have applied for bail before arrest.
However, Mohammed's transplant in Abbottabad on Nov 21 illustrates that despite the media coverage of the Kidney Centre detainees' case and the fact that the issue of organ trafficking is in the Supreme Court, the lucrative business continues in the country.
On Nov 25, four days following his operation, Amir the agent put Mohammed on a flight to Karachi from Islamabad and told him to get his follow-up visits done at a private hospital, an impossible proposition for a man working as menial labour. But things were about to get much worse. A few days after he returned home, now living in a rented house with his family, Mohammed began passing blood in his urine. When doctors at Liaquat National Hospital told him his transplanted kidney was failing, his father brought him to SIUT where surgeons had to extract the non-functional organ. Mohammed is now back on dialysis.
"We keep transplant patients in hospital for eight or nine days at the very least," said Dr Rizvi who heads the transplant programme at SIUT. "To send him back on a plane, alone, given his low immunity, was asking for trouble. By the time he came to us, he had high fever and was nearly at death's door. It was also a case of a very bad transplant."
THE KIDNEY FIELDS OF PUNJAB
Meanwhile, Mohammed's donor, the bonded labourer Hassan, was discharged the day of the operation itself — a common practice by those involved in the business of trafficking organs in order to get rid of the evidence of their crime — and put on a bus to return to his village. At SIUT, donors are discharged after at least three days of post-operative care and then too only if they are healthy, and have convenient access to medical facilities. They undergo regular checkups, initially on a monthly basis. That gradually extends to annual visits to monitor their health so their remaining kidney functions properly. "Morally, legally, ethically, the donor is more important than the recipient," said Dr Rizvi. "Through his altruistic act, he has saved someone's life. That's why donors remain our lifelong responsibility."
Naziran, a mother of six, wasn't fortunate enough to have such care. In 2005, the brick kiln worker travelled from her home in Kot Momin, Sargodha, to the Kidney Centre, 210 kilometres away, to sell her kidney so she could pay off some of her family's debt to the kiln owner. It was almost expected. Every one of her six brothers had done the same. One month ago, Naziran died after her remaining kidney failed. She went to the only place she knew with kidney specialists — the Kidney Centre. "They did see her, but their treatment only gave her short-term relief," said her neighbour Zafar. Naziran was 35 years old.
For 'agents' like Amir, who procure donors for patients needing transplants, villages across Punjab are a fertile hunting ground for people driven to sell their organs. They tend to focus on areas such as Faisalabad, Sargodha and Sahiwal where bonded labourers work on landlords' farms and in their brick kilns, and live in grinding poverty.
"I haven't seen any bhatta mazdoor [brick kiln worker] living a good life," said Farooq Tariq, labour rights leader and spokesperson of the Awami Workers Party. "They are the most exploited of the working classes."
Brick kiln workers toil from 3am to 11am; some do a second shift in the evening as well. It is arduous, backbreaking work. Rather than a salary, they are usually paid according to the number of bricks they make; each brick earns them Rs2 at the most.
Meanwhile, the owners rake in obscene, eye-watering profits. The official sale price per brick is Rs.10.35 and the cost for the owners, including coal, land and workers' pay, comes to no more than Rs3-4 per brick. With each kiln producing some 50,000 bricks per day, a kiln owner can make a daily profit of up to Rs350,000 or Rs10 million a month. While he takes a mere two months to recoup his original investment, entire families of workers are enslaved for generations through the peshgi system, in which the initial debt they owed the owner continues to increase through usurious loans they have to repeatedly avail for necessities.
"The bhatta mazdoor is a very important player, because this is skilled labour," explained Mr Tariq. "So they make it very difficult for them to run away. The landlords employ gangsters to round them up and bring them back." It is the modern version of the slave patrol in pre-emancipation United States.
In the aftermath of the Kidney Centre detainees' case, the Special Branch of Punjab Police was ordered to compile a report for the chief minister. Sketchy and superficial as it is, it lists the names of 61 peasants/labourers in Kot Momin tehsil, who "had sold their kidneys during the last few years…[A]fter donating the kidney, proper post-operation [sic] care is not provided to them. Consequently, they usually develop infections of complicated nature resulting into [sic] life threatening diseases". The report names the Kidney Centre, Hearts International Hospital and Jinnah Memorial Hospital — all in Pindi — as three hospitals that some of the donors identified as the place where they were operated on. Many donors did not know where the surgery was performed.
In the end, the report comments on the findings: "This is the picture of only one district ie Sargodha and one can imagine the situation in other districts which are under developed and known for poverty, unemployment and backwardness."
AN EXPLOITATIVE SYSTEM
The Special Branch police report names eight agents, two of whom are employed by hospitals where transplants are carried out. Khalid Masih — the document gives him the dubious honour of bringing in the most donors — is described as an employee of the Kidney Centre, and Tanao Masih is said to be in the pay of Jinnah Memorial Hospital. The report barely touches the main players and their modus operandi that this Dawn investigation has uncovered.
Describing her personal experience of how the middlemen operate, a woman, who prefers to stay anonymous revealed: "They're very well organised and have the organ broker business divided up by region." And curiously enough it seems, by social class as well. "Afzal deals with the upper and middle classes, Naeem and Nadeem deal with [the rest]," she said, referring to three agents that she has come across.
The name of Afzal the agent — not to be confused with Mohammed Afzal the aforementioned kidney patient from Karachi — frequently came up during the course of Dawn's research. And not only in connection with kidney transplants. Afzal is said to have developed extensive contacts among the bureaucracy, something that is very useful because he sources donors for liver transplants as well. (The latter is not considered a major problem in Pakistan yet, if only for the reason that there is still very limited capacity for liver transplants in this country. Most liver transplant patients go to India or China for surgery. Some of them take living unrelated donors with them, and it is once again the agents who put patients in touch with potential donors.)
According to the daughter of a patient who had a transplant done in India a few years ago, Afzal "is a one-stop shop. He managed to get a passport for [my parent's donor] during the period when passports were barely being printed in Pakistan because of lack of printing material. He knew [a top passport official] in Islamabad, to whom he gave Rs10,000 to process the passport. This was in summer 2012."
Given the extent of his contacts, it should hardly be surprising that Afzal seems quite cosy with local law-enforcement as well. Recently, when an FIR filed by one Tasleem bibi at Mela police station in Kot Momin tehsil named Afzal as the agent — the tehsil has been one of his many haunts — he promptly went underground. In November, a resident of the area told Dawn the police had picked up Afzal's nephew in a token effort to apprehend him but had since released him. By late December, Afzal was back in a nearby village in Kot Momin tehsil. The Special Branch report barely mentions him.
DSP Saleem Khattak, who is investigating the case, believes the agent network operates as follows: "The main agents outsource the task of hunting for donors to others. Sometimes the latter are themselves those who have sold their organs and they then approach others in their family or village to do the same." The system is weighted against the people who toil the earth and in the brick kilns in these areas.
Institutions and organisations that should ensure their rights are either negligent or complicit. The Human Organ Transplantation Authority (Hota) Punjab is supposed to enforce the transplantation act. The law stipulates a rigorous screening process if the potential donor is anyone other than a first degree family member — spouses, parents, children and siblings — to preclude commercial transplants.
Back in September, the Hota Punjab administrator, Dr Faisal Masud, had told Dawn, "We don't allow unrelated transplants. I interview the donor and recipient in each and every transplant case to ensure there is no duress or money involved."
On the surface at least, all the boxes are ticked. Each of the 24 detainees in the case against the Kidney Centre was taken to notaries at the district court where they were asked to put their thumbprints on blank stamp paper. Videos were also made of them in which they were told to say they were donating their kidneys to close relatives without financial compensation. In reality, each had been promised Rs290,000 for their kidney.
According to DSP Saleem Khattak, among the records and material seized at the Kidney Centre, the police found a huge file containing donors' affidavits about their close relationship with the recipients. He was reluctant to divulge how many donor statements it included, but gestured to show it was at least six inches thick.
When Dawn spoke to Dr Masood earlier in September, he admitted that three hospitals — Kidney Centre in Pindi, and Badar and Genex in Lahore were "on the watchlist". Interestingly though, Hota only a few months back in May had officially recognised the Kidney Centre as a transplantation facility despite its reputation for carrying out transplants with vended organs.
In 2009, the Kidney Centre and Genex, better known as Aadil Hospital, were the subject of a suo moto notice in the Supreme Court for organ trafficking. Doctors from Aadil hospital had even been arrested but were released after two days following intervention by influential contacts in Lahore. The chief executive officer of Aadil Hospital, Abdul Waheed Sheikh, had assured the court that the hospital management had decided not to carry out any transplant of human organs of any sort or description in future for all times. However, the hospital's website prominently displays the following notice: "Awaiting approval from Punjab Hota for organ and tissue transplantation."
For this story, Dawn tried multiple times to contact Dr Masud on the phone, through text message and by email, but he did not respond.
A SHARE IN THE SPOILS
Advocate Syed Yasir Shah Tirmizi is representing the 24 Bahria Town detainees pro bono. "I normally charge between Rs100,000 to Rs200,000 per case, but I believe you should also do work that furthers the cause of humanity." In the present case that also means resisting offers of "a share in the spoils" and even veiled threats. He contended the law-enforcement system is too corrupt and compromised for any real investigation to take place. "Despite the crime being such a serious one, the judge simply remanded the culprits to prison when the police produced them in court next day, instead of letting police interrogate them. The police for its part did not even ask for custody. It is acting in connivance with the main culprits to make things easier for them."
According to lawyer Amir Raza Naqvi, "If the police don't demand custody of a suspect, the court's presumption is that the investigation is complete". Another lawyer, who is familiar with the case, added a caveat: "The court at all times has the discretion to demand that the police carry out a thorough investigation. It doesn't have to function as a post office".
The police however, insist they are doing everything possible to bring the culprits to book. Indeed, a visit to the Kidney Centre revealed a different scene than earlier. The need for strict security at the gate is no more, and the interior has a neglected air. However, at least two doctors — an eye specialist and a general practitioner — continue to run their consultancies within. Only the urology section seems deserted while the urologists seek bail. One may well ask why, given it was allegedly the scene of the crime of organ trade, why is the hospital being allowed to function at all, even if partially?
The CCTV camera footage from the Kidney Centre has been sent to the forensics lab for analysis. When asked why the police could not review the footage themselves — a simple enough task — DSP Khattak claimed they "did not want to delete anything on the record by mistake".
The provincial government has notified the setting up of district vigilance committees in all districts of Punjab; each includes the executive district officer health and district police officer among others, to investigate any violation of the organ transplantation act. There is already a mountain of evidence if the police choose to put it together. After all, a number of hospitals and doctors are notorious for organ trade. DSP Khattak described the goings on at the Kidney Centre, for example, as "something that even children were aware of". Notwithstanding that, he and other senior officials such as CPO Rawalpindi Israr Ahmed Khan Abbasi are claiming that it is only now, with the formation of the district vigilance committees (DVC), that the police are part of the process.
So far, that has made no difference. One of the cases registered against the Kidney Centre on the DVC's recommendation has already been discharged by a magistrate on Dec 17, 2016.
The Lahore police too must do their duty — even though it may be a political hot potato. A number of sources, including kidney specialists from whom transplant patients have to receive follow-up care for the rest of their lives, alleged that Sharif Medical City Hospital is one of the places where illegal transplants take place. A Lahore-based urologist told Dawn: "According to a resident who used to work with me and is now at the urology department at Sharif Medical, more than 200 illegal transplants were carried out there last year." He alleged that the same was happening at the National Hospital in the city's Defence Society, with Dr Rafique Zaki carrying out the procedures at both medical facilities. Incidentally, Dr Zaki was one of four urologists arrested in 2007 for their involvement in organ trafficking; he was with Masood Hospital at the time. Dr Zaki however denied the allegations. "There has not been a single case of illegal transplant at either of these hospitals since the law was made." He stressed the importance of promoting deceased organ donation in Pakistan.
The UN describes organ trafficking as "an organised crime, involving a host of offenders". Unless the law comes down on the side of the exploited peasants who offer their organs for sale, instead of shielding the corrupt and powerful who profit from their despair, the kidney fields of Punjab will continue to flourish.
Illustrations by Reem Khurshid.
With additional reporting by Mohammed Asghar, Imran Gabol and Asif Chaudhry.
Clarification
Apropos of a report pub­­l­ished in Dawn on Monday un­der the headline, 'Organ trafficking: doctors, police and middlemen', the Shafi Medical City Hospital (SMCH), Lahore, has described as incorrect some of the contents of the report.
According to a press release, the hospital administered only 29 kidney transplant operations last year. All documents and approval of government departments and regulatory bodies were obtained before conducting these operations, the statement said.
Mohammed Bashir's statement before the judicial magistrate:
---
Detainee Shehbaz Ali's statement before the judicial magistrate: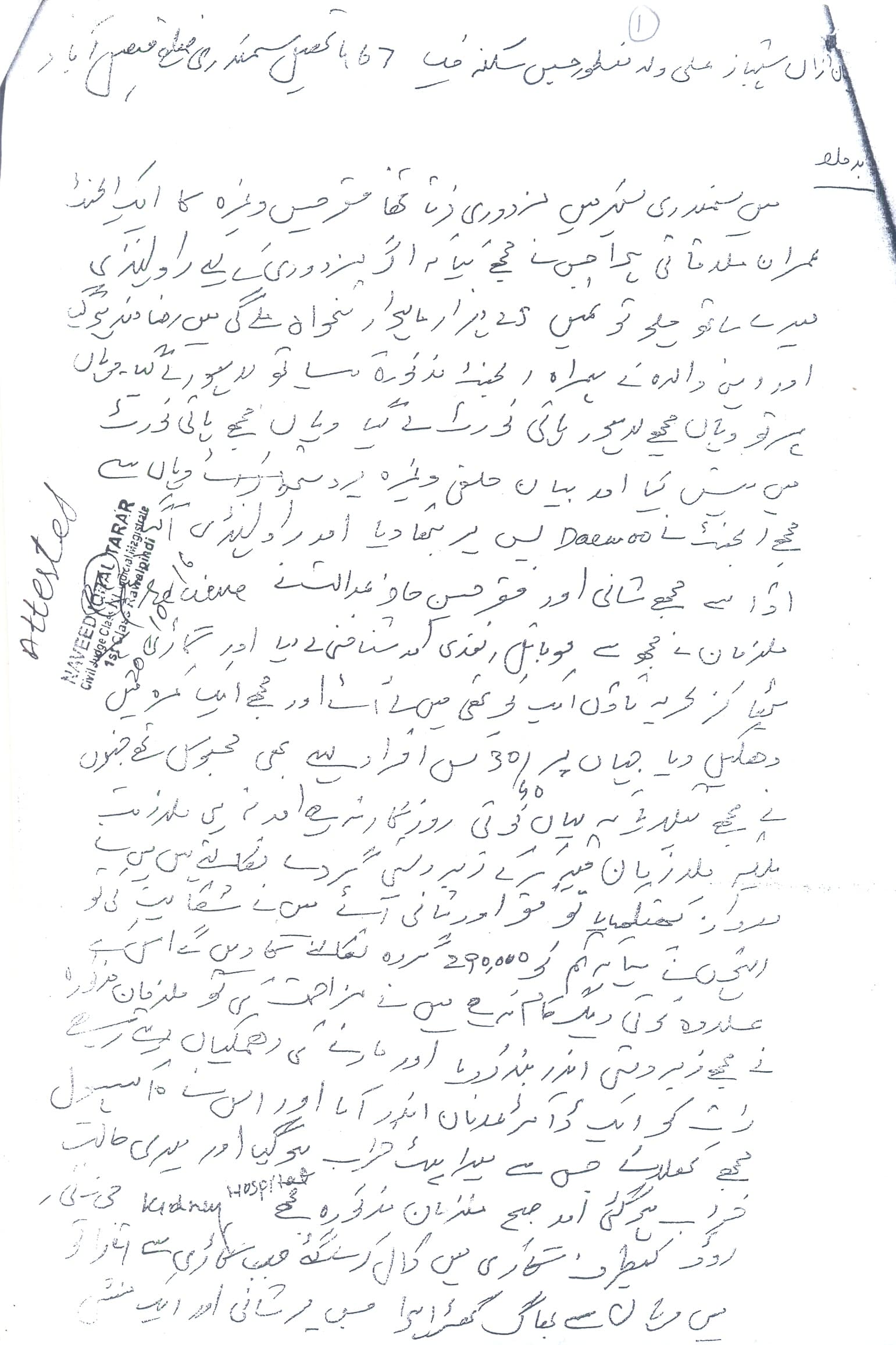 ---
Mohammed's CT scan report from Hearts International Hospital:
---
Mohammed's cross match report showing the name of the donor and referring doctor:
---
Mohammed's blood report that shows he was referred by Al-Shifa Hospital:
---
The sheet of paper listing Mohammed's medication schedule. Note the torn off top edge:
---
Reverse side of the same sheet that shows the dates in November 2016 when Mohammed was kept in hospital following his transplant:
---