Pakistan's upper hand over England comes down to the weaponry they have in their talented arsenal.
"Ghar ki murghi daal barabar"
This is a very common saying in Pakistan. In the literal sense it means "chicken made at home is equivalent to lentils" ─ and I don't need to get into what it implies.
What I will get into is that the same term of 'endearment' can also be applied to Pakistan's Test team.
Ranked No. 3 in the world, Pakistan is unbeaten in the United Arab Emirates (UAE) and boasts the second best win-loss ratio among all Test playing nations since October 2010, the second best win-loss ratio at home since October 2010, and the second best win-loss ratio away from home since October 2010.
Misbah's men have achieved all of this without playing a single Test in their own country.
For most Pakistan fans and critics, the side's success at 'home' is not a satisfactory prospect despite the fact that the word 'home' translates to UAE for the Pakistan side.
These fans are more likely to acknowledge the team's efforts more when they win matches Down Under or in England, where difficult conditions for batting play out as a big advantage for the home side.
Pakistan's Test team under Misbah has done what no other Pakistan side has ever done.
Misbah has led Pakistan to more Test triumphs than any other Pakistan skipper and has managed to beat all sides that have toured the UAE to play against them.
Pakistan's climb in the Test rankings and overall performance of the players under Misbah-ul-Haq has proven historic for Pakistani cricket.
However, since his appointment as team leader in 2010, the country's most successful Test captain, fortunately or unfortunately, has not led the side either in Australia or in England ─ leave alone winning there ─ which makes his portfolio somewhat incomplete.
The upcoming England series which will be followed by Pakistan's tour to Australia later this year provides a near-perfect situation for this void to be filled and for 42-year-old Misbah to make his story legendary.
Both tours can truly prove to be the final frontier for the Mianwali-born cricketer.
Although Australia is a big assignment, what deserves more focus from the Pakistan side at present is the four-Test series against England, the first of which kicks off at the iconic Lord's on Thursday.
Pakistan's last visit to the English shores saw them return with grief and shame due to the infamous spot-fixing scandal which obviously brought punishments to the culprits but also gave the national team's setup, which was damaged by instability caused by a lack of integrity in some senior team members, a chance to start over — and this time with an intent to not repeat past mistakes.
The chance was taken — and Misbah, who was not even a regular part of the Pakistan side in the longest format of the game, was brought in to lead the team through the difficulties it was reeling from after the scandal-hit England tour.
The records, since his appointment, have spoken volumes for Misbah. The fans' trust in the captain has given birth to the belief that the solid middle-order batsman can lead Pakistan to Test series triumph against England for the first time since Wasim Akram did it back in 1996.
Although, Pakistan have made the most of their 'home' advantage to achieve success in Test cricket for the last six years, their success in five out of the last six outings against England holds big significance and keeps them above the Three Lions in the Test team rankings.
Pakistan's upper hand over England can be credited to the weaponry they have in their talented arsenal which has fired on target with consistency:
Yasir Shah
Over the years, the wickets at Lord's, Oval, and Old Trafford have become conducive to batting.
High scores have been posted here regularly and spinners have played a bigger role in matches than seamers, especially in the later stages of the game.
Three of Pakistan's four Tests this summer will be at these venues, and one can count on leg-spinner Yasir Shah to be a handful in such conditions.
Since off-spinner Saeed Ajmal, who was once Misbah's got-to option, lost his Pakistan place following a ban after his bowling action was declared illegal by the International Cricket Council (ICC), Yasir has almost replaced him as Pakistan's leading spin prospect.
The leggie has been exceptional against all opponents he has faced in Tests, and his lethal wicket taking ability made him the fastest Pakistan bowler to reach the 50-wicket mark and one of the very few bowlers to achieve the feat.
In terms of time, no one has done it faster than Yasir.
Yasir has shown us why Shane Warne keeps saying he is the best leg spinner in the world today.
Since his Test debut in October 2014, he is among the leading wicket takers in the world; behind only Nathan Lyon and Stuart Broad, both of whom have played far more Tests than Yasir has.
While Pakistan's series victories in England in 1992 and 1996 are remembered for Wasim and Waqar's toe crushing yorkers and the havoc they ran through England's batsmen, the guile of Mushtaq Ahmed played as big a role in those wins as the 'Two W's' lethal bowling.
Yasir will undoubtedly play a major role in the upcoming series and he, along with Amir, can potentially replicate the bowling exploits which led Pakistan to series triumphs against the Three Lions in 1992 and 1996.
Sarfraz Ahmed
The Karachi wicketkeeper has been a revelation for Pakistan at number seven and has played a key role in the team's success in Tests for the past three years.
Sarfraz has transformed into the best wicketkeeper batsman Pakistan have ever had.
He has also been the leading wicketkeeper batsman in Test cricket in the last three years scoring more runs, more centuries, and more fifties than any other wicketkeeper during this period.
One of the key traits that make Sarfraz special is his strike rate which has helped Pakistan stay on the front foot and eventually win Test matches.
And Sarfraz not only scores runs — he does it fast.
The 29-year-old takes full advantage of bowling attacks who are tired out by top-order batsmen Azhar Ali and Younis Khan and middle-order experts Misbah and Asad Shafiq to drive home the advantage for Pakistan.
He possesses all the tools required to take the game away from the opposition very quickly and is a game changer that England will need to be wary of.
Mohammad Amir
Hailed better than former left-arm pace maestro Wasim Akram at the same age, Mohammad Amir is unarguably one of the best pacers to be ever produced by Pakistan.
Unfortunately, his career hit a roadblock six years ago at Lord's, but the 23-year-old is set to feature at Lord's again this Thursday.
Amir, in his last visit to England, bagged 19 wickets in four Tests and won the Man of the Series award for Pakistan.
Before that series, he had tormented the Australians over two Tests in England.
Amir's spells during summer 2010 were some of the best fast bowling spells I have ever witnessed in Test cricket.
If Amir can produce anything similar to that during the upcoming series, then Alastair Cook and company are going to have a very tough time at the crease.
Misbah-ul-Haq
The most successful captain in Pakistan's history has also scored the most number of runs as a Pakistan captain.
Not only that, but in the past six years he is among the leading run-scorers as Test captain and also boasts one of the highest batting averages as skipper.
His seven Test centuries during this period includes the fastest century ever scored in a Test match, a record that he jointly held with former West Indies great Sir Viv Richards, until aggressive Kiwi skipper Brendon McCullum surpassed it earlier this year.
Younis Khan
The 'Khan from Mardan' is the highest run-getter and century-maker for Pakistan in Test cricket.
Arguably the best Test batsman produced by Pakistan, Younis is also among the best Test batsmen in the world at the moment.
Since Misbah has been at the helm, the world has seen Younis at his peak.
The last time Younis was in England, the world witnessed a monumental innings of 170 odd.
Becoming Pakistan's highest run-scorer and his march towards becoming the first Pakistani to score 10,000 Test runs have added more fuel to Younis's already burning desire to be the best.
He is at his peak and England are going to find it very tough to remove him from the crease.
Azhar Ali
A batting average of 43 is dwarfed in front of the numbers that Misbah and Younis have mustered over the past six years, however, Azhar Ali has more often than not proven that he is among one of the best number three batsmen Pakistan have ever had in Tests.
Since Azhar's debut in England in 2010, he is Pakistan's second-highest run scorer, behind only Younis.
During this period he has hit nine Test centuries. Only Younis has hit more for Pakistan during this time.
Azhar's debut series was in England and his 50's against Australia in Lord's and Leeds coupled with his unbeaten 92 vs England at the Oval showed his mettle.
Asad Shafiq
Along with Azhar Ali, Asad Shafiq has also been a key component of Pakistan's middle order that has transformed the team into world beaters.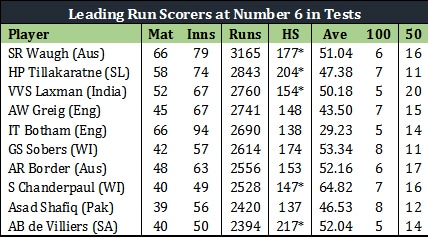 Asad's eight centuries at number six equal a record held by Sir Gary Sobers for over 40 years; One more ton, and Asad will have the most centuries at number six.
Umair Qazi is the founder of wellpitched.com, co-founder of the popular facebook group 'Boys in Green', and he tweets @wellpitched