The most beautiful sight for me was the Rainbow Lake that takes on different colours at different times of the day.
This is the second installment of a four-part travel blog. Read the first one here.
---
After a strenuous hike that lasted for an hour, I came to a grinding halt. I had only covered a 1.5km distance.
With the sun out in full blazing glory and the treeless plateau of Deosai lending no place to hide, the weight on my back was bearing down hard. It was impossible to keep pace with the occasional cloud that chanced the wide open blue skies, providing a fleeting glimpse of a shadow.
At my current pace, it would certainly take me another couple of hours to hike up the few kilometres before the descent to Chilam started.
I had only recently heard about Minimarg — a scenic town close to the Indian border, and was hoping to catch a ride there the same day.
While the army has carried out developmental work to pave the road heading to Minimarg, there are still plenty of dangerous patches yielding to several hundred metres of deadly falls on a miscalculated turn. Travelling at night is virtually impossible.
I had no option but to continue on foot. After another hour of slow and deliberate trek, the dirt track gave way to a well-tarmacked road. A lone wooden shack also came in sight, with a few kids playing in the adjoining field.
Curious as to who this lonely stranger with a big backpack was, they came to investigate.
All of them hailed from a village close to Chilam, in the same direction that I was headed. After a little rest with no signs of a lift, I got up to continue. By now, my entourage had grown from a solo traveller to a traveller with four young and eager companions.
Asghar Ali, who worked as a librarian in Skardu, had made an early start to visit his family in his hometown of Astore. Instead of choosing the longer but well-paved route via Karakoram Highway, he had decided to take his Honda 125 on a bumpy but scenic ride cutting across the Deosai Plains.
Upon hearing the sound of a bike in the distance, my travel companions created a huge raucous, and flagged his bike from a mile away.
Bidding farewell to them, I jumped on the bike. In half an hour, we were at Chilam Chowki (checkpost). I had requested permission to visit Minimarg prior to leaving Skardu, and was hoping that someone had already informed the checkpost about my arrival.
A sentry came out of the guard room at the checkpost. After sizing me up, he asked a few questions before inquiring, "Aap kis ke mehmaan hain?" (Whose guest are you?)
My father happened to know the Commanding Officer in the Northern Areas at the time. His name was bound to expedite permits and open gates fast, I thought.
"Main Commander Northern Areas ka mehman hoon." ("I'm the guest of Commander Northern Areas"), I replied confidently.
A look of amused disbelief shot across his face; he looked me up and down again, and asked me to confirm my father's name.
It took a while before my credentials were finally verified at the checkpost and I was escorted to a waiting area.
After some time, I was finally on the road to Minimarg — a beautiful little town nestled between mountains covered in dense green foliage and trees, at an altitude of 2844 metres. Jamal, a local building contractor, had an errand to run there.
High on naswar, he seemed like the perfect companion-cum-driver, one wished to take on a ride on this perilous road with tumultuous turns and deadly falls.
Due to Minimarg's proximity with the Indian border, I had to restrict my camping and trekking ambitions and was forced (read: glad) to swap my tent for a cosy shell-proof underground bunker.
Minimarg served as the perfect prelude to the spectacular lakes and roving green mountains of Domail.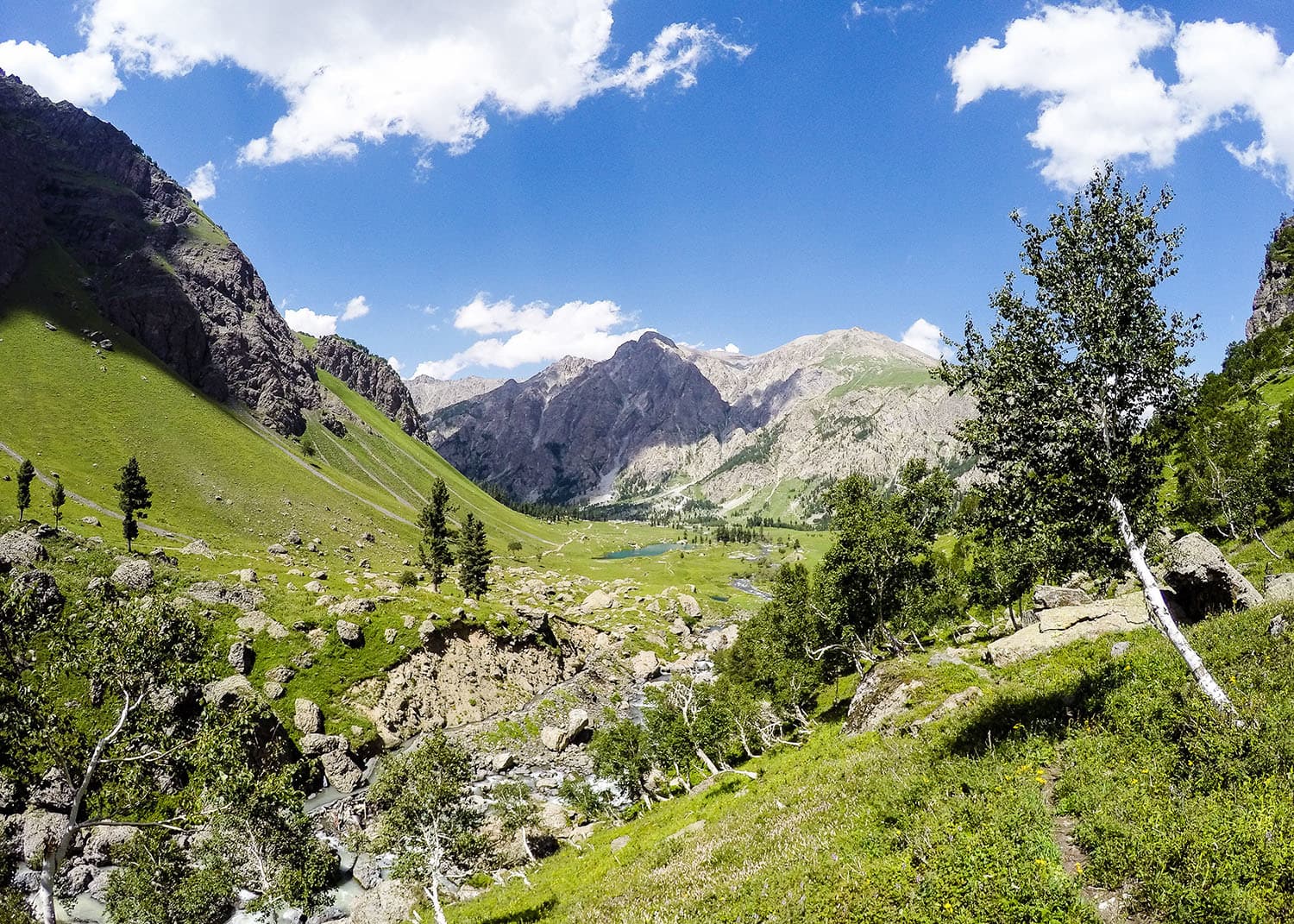 The fact that both these places are hard to get to, coupled with their special permit requirements, means that they are out of reach for the typical tourists, who would otherwise throng these places and litter them. In fact, it's refreshing to see that both places are absolutely pristine.
My original plan was to get to Domail on horseback but a trip to the riding stables in Minimarg proved that the riding skills I had acquired as a toddler needed more than just a mere brush up.
With my riding hopes dashed, I resorted to my proven and tested method — asking around if someone was heading to Domail. And sure enough a 4x4 was going there the next afternoon.
The striking little village of Nagai, comprising identical wooden cottages, appeared on the route to Domail — the sight of which is camouflaged by trees.
The crown jewel of the region is the beautiful Rainbow Lake that takes on different colours at different times of the day.
The water, which is crystal clear, is sourced from the streams and springs that course their way down the mountain. It was hard for me to resist taking a plunge in the lake, especially when I saw a wooden ramp leading to what could be the perfect diving platform.
If only protocols did not get in the way...
So instead of a dip, I hopped onto a raft that took me across the lake to the other side where lunch was already waiting in a picture-perfect wooden hut overlooking the lake.
It was delicious and a far cry from the paratha rolls I had been consuming for the past few days. Rumour has it that the cook responsible for catering had been personally enlisted by the 'powers that be' in that region. A wise choice and one that I fully endorse.
Minimarg and Domail proved to be as ravishing for my visual cortex as they were for my salivary glands. However, my wandering spirit felt subdued by the restrictions imposed on venturing off the designated tracks and trails.
I was told about a scenic Ansoo (tear) Lake which is a few hours hike from Domail right on the border. Sadly, I was prohibited from trekking there. One day, I hope Pakistan and India can get over their differences and that citizens can fully explore the beauty of each other's countries without inhibitions.
After spending three days in Minimarg and Domail, I was ready to head to Astore. Filled to its 16 strong capacity, I paid an extra Rs100 for the front seat in the local jeep van that left promptly at 9am for Astore and saw Minimarg disappear in the distance.
— All photos by author