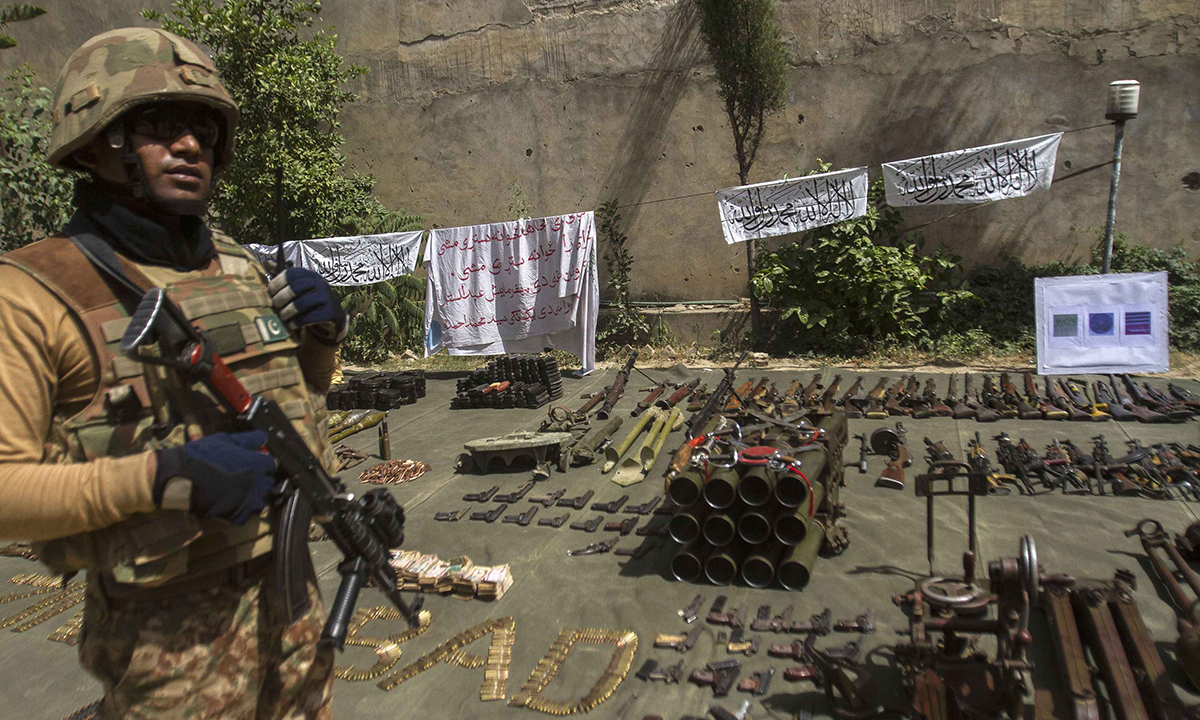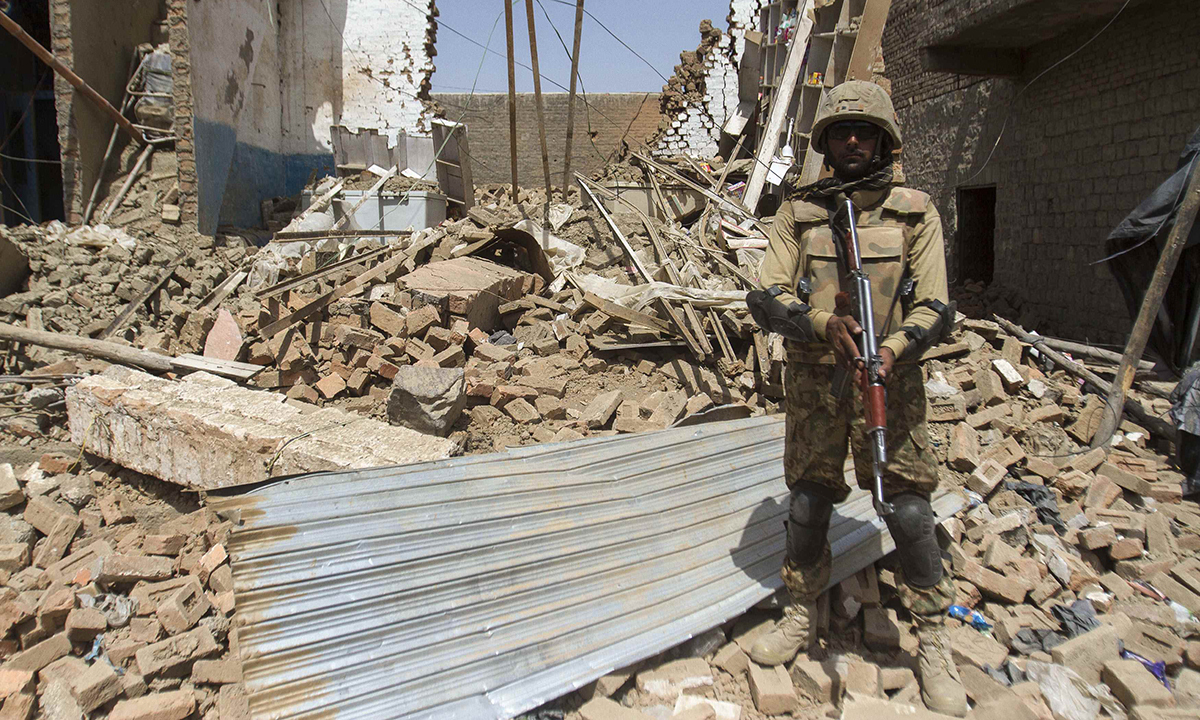 Pakistan Army announced its military offensive had cleared 80pc of Miramshah during the ongoing Zarb-i-Azb operation.
Pakistan Army announced on Wednesday that it has now taken control of 80 per cent of a strategic town, Miramshah in North Waziristan tribal region in its military offensive against militants belonging to outlawed outfits in a northwestern tribal area, named as Zarb-i-Azb.
This photograph taken on July 9, 2014 shows a soldier patrol during a military operation against Taliban militants, in the main town of Miramshah in North Waziristan. — Photo by AFP
Pakistan's military launched a long-awaited offensive last month, aimed at wiping out longstanding militant strongholds in the North Waziristan tribal region, which borders Afghanistan.
The operation followed failure of peace talks between the government and Tehreek-i-Taliban Pakistan negotiators and a brazen Taliban-claimed attack on Karachi's International Airport.
More than 800,000 people have fled a major military offensive against the Taliban in a Pakistani tribal area, officials said Wednesday.
This photograph taken on July 9, 2014 shows a soldier keeping watch on top of damaged mosque minaret during a military operation against Taliban militants, in the main town of Miramshah in North Waziristan. — Photo by AFP
Soldiers patrol at an empty bazaar during a military operation against Taliban militants in the main town of Miramshah in North Waziristan on July 9, 2014.— Photo by AFP
A black Jihad flag, handcuffs and chains are displayed in a house used by Taliban militants as a prison after a military operation against the militants in the town of Miramshah in North Waziristan July 9, 2014. — Photo by Reuters
Soldiers stand by seized weapons at an empty bazaar during a military operation against Taliban militants in the main town of Miramshah in North Waziristan on July 9, 2014. — Photo by AFP
Pakistan Army display confiscated ammunition, reportedly from militants Miramshah, after driving out militants from Pakistan's tribal region of North Waziristan along the Afghanistan border, Wednesday, July 9, 2014. — Photo by AP
Soldiers walk past seized weapons at an empty bazaar during a military operation against Taliban militants in the main town of Miramshah in North Waziristan on July 9, 2014.— Photo by AFP
Media personnel take footage of seized weapons at an empty bazaar during a military operation against Taliban militants in the main town of Miramshah in North Waziristan on July 9, 2014. — Photo by AFP
A soldier stands by ammunition seized during a military operation against Taliban militants, in the of town of Miramshah, North Waziristan July 9, 2014. — Photo by Reuters
Soldiers stand beside seized weapons at an empty bazaar during a military operation against Taliban militants in the main town of Miramshah in North Waziristan on July 9, 2014. — Photo by AFP
Media personnel take footage of seized weapons at an empty bazaar during a military operation against Taliban militants in the main town of Miramshah in North Waziristan on July 9, 2014.— Photo by AFP
Soldiers stand beside seized weapons at an empty bazaar during a military operation against Taliban militants in the main town of Miramshah in North Waziristan on July 9, 2014. — Photo by AFP
A soldier stands in front of closed shops during a military operation against Taliban militants in the town of Miramshah in North Waziristan July 9, 2014. — Photo by Reuters
A soldier stands beside a house which was destroyed during a military operation against Taliban militants, in the town of Miramshah, North Waziristan July 9, 2014. — Photo by Reuters
Soldiers stand guard at a destroyed empty bazaar during a military operation against Taliban militants in the main town of Miramshah in North Waziristan on July 9, 2014.— Photo by AFP
A soldier walks at a house which was destroyed during a military operation against Taliban militants, in the of town of Miramshah, North Waziristan July 9, 2014. — Photo by Reuters
Soldiers stand guard at a destroyed empty bazaar during a military operation against Taliban militants in the main town of Miramshah in North Waziristan on July 9, 2014. — Photo by AFP
Soldiers stand near the debris of a house which was destroyed during a military operation against Taliban militants in the town of Miramshah in North Waziristan July 9, 2014.— Photo by Reuters
A soldier stands in an armoured vehicle during a military operation against Taliban militants in the town of Miramshah in North Waziristan July 9, 2014. — Photo by Reuters
Pakistani Army soldiers patrol in Miramshah bazaar after driving out militants from Pakistan's tribal region of North Waziristan along the Afghanistan border, Wednesday, July 9, 2014.— Photo by AP
This photograph taken on July 9, 2014 shows soldiers patrol during a military operation against Taliban militants, in the main town of Miramshah in North Waziristan. — Photo by AFP
This photograph taken on July 9, 2014 shows soldiers patrol during a military operation against Taliban militants, in the main town of Miramshah in North Waziristan.— Photo by AFP
Soldiers patrol with an armoured vehicle at an empty bazaar during a military operation against Taliban militants in the main town of Miramshah in North Waziristan on July 9, 2014.— Photo by AFP
This photograph taken on July 9, 2014 shows soldiers patrol during a military operation against Taliban militants, in the main town of Miramshah in North Waziristan. — Photo by AFP
Pakistan Army soldiers patrol in Miramshah bazaar after driving out militants from Pakistan's tribal region of North Waziristan along the Afghanistan border, Wednesday, July 9, 2014. — Photo by AP
Soldiers patrol at an empty bazaar during a military operation against Taliban militants in the main town of Miramshah in North Waziristan on July 9, 2014.— Photo by AFP
This photograph taken on July 9, 2014 shows soldiers patrol during a military operation against Taliban militants, in the main town of Miramshah in North Waziristan. — Photo by AFP
Soldiers patrol with an armoured vehicle at an empty bazaar during a military operation against Taliban militants in the main town of Miramshah in North Waziristan on July 9, 2014.— Photo by AFP
This photograph taken on July 9, 2014 shows Pakistani soldiers patrol during a military operation against Taliban militants, in the main town of Miramnshah in North Waziristan.— Photo by AFP